For businesses, inventory is a key component of ensuring product availability. However, making sure there are enough stocks of the items you need is not an easy task. Having too many items can mean possible spoilage if production doesn't pick up. Still, if you have too little stocks, the company could end up facing production delays, product shortages, and angry customers. This is where inventory control software come in handy.
While inventory management software takes care of the entire inventory life cycle, inventory control tools focus on maintaining the right number of parts and products in stock to avoid shortages, overstocking, and other costly problems. As such, inventory control implements processes that manage the traffic of inventory between the date of purchase and the time it becomes a final product.
With these solutions, you can streamline the way you control inventory levels and graduate from spreadsheets and manual data input. In this way, you can eliminate the risk of human error and ensure you're fully equipped with the materials, products, and other store items you need for your day-to-day operations.
In this article, we'll discuss the nitty-gritty of inventory control systems. From their key features and benefits to the emerging trends in the industry, this article will provide you with all the information you need about this type of software. We've also included some leading examples of inventory control software to help you choose one for your company.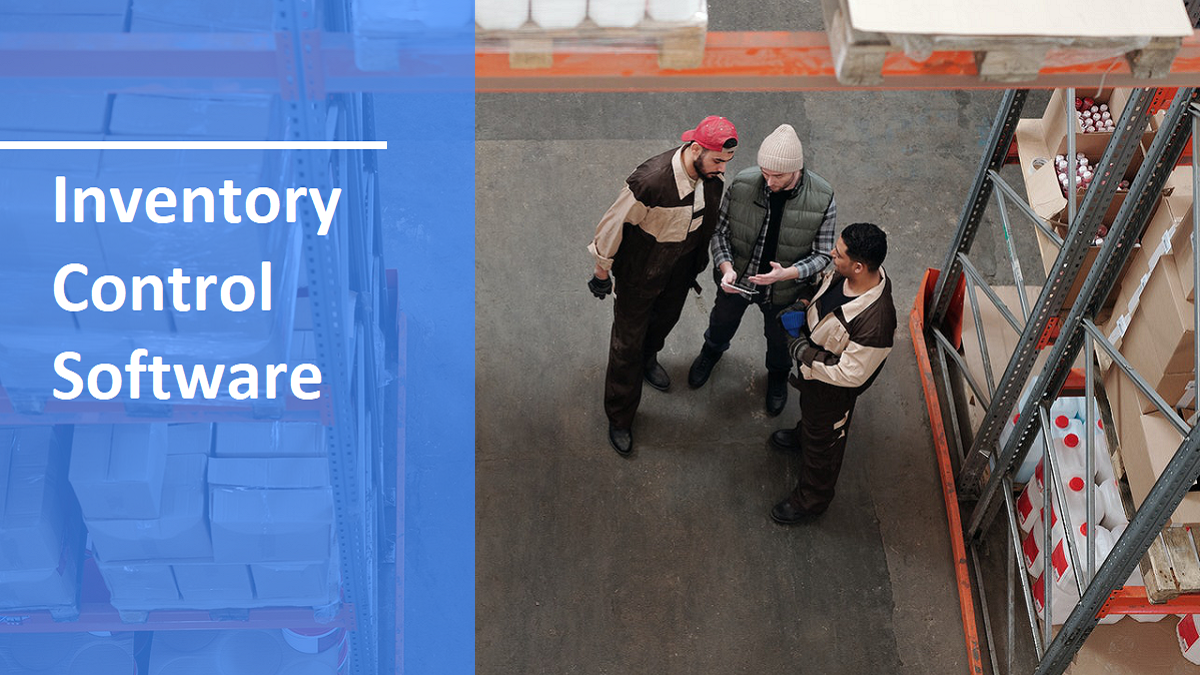 Inventory Control Software Table of Contents
What is Inventory Control Software?
Using the right inventory control software helps identify which items are moving and which items are most likely staying for a while. As a result, items move regularly, without the dangers of over or understocking. As such, inventory control is ensuring that companies are fully aware of how much inventory is present in stores, stockrooms, and warehouses across their business. It helps the orderly and efficient flow of goods in the warehouse, ensuring that each item has optimal stock levels based on the forecast. Consequently, it also helps reduce idle stocks in warehouses and provides disposal plans–whether as a sales promotion or outright disposal.
While inventory control software is available, they are sometimes listed as a feature/module for inventory management system suites. For others, inventory control is integrated with the other processes within the system. This helps explain why searching for inventory control software often takes you to a list of inventory management software.
List of Best Inventory Control Software
With the plethora of inventory control systems on the market, it can be difficult to zero in on which ones are reliable. So, to help you out, we've listed some of the leading products on the market:
Zoho Inventory: A platform featuring an inventory control system that helps manage in-house inventories, allowing you to develop sales strategies based on existing stocks and tailor-fit your item replenishment, and ensure product availability for your customers. The software automatically updates inventory information across the entire system whenever a sale is made. This guarantees complete control of warehouse inventory, limiting your overstocks and letting you create timely promos based on item availability.
inflow Inventory: A complete system software where you can manage purchasing, inventory, and sales in a single suite. This easy-to-use software includes a barcode scanning system that manages inventory without the need for Bluetooth or USB scanners. Using commonly available iPhone and Android devices, you can receive and transfer stock items using barcode technology.
TradeGecko: This inventory control software lets you manage inventory across locations, and even when using multiple currencies. It helps you manage your existing inventory so you can automatically get updated stock levels, plan reorders properly, and avoid stockouts and overstocks.
EazyStock: A full-featured inventory software system that helps maintain optimal inventory levels. It also provides alerts on surplus inventory so you can come up with timely promotional strategies on stock reduction. It also integrates with ERP software and automates common inventory processes.
DEAR Inventory: A cloud-based inventory management system that provides complete and updated inventory information anytime, anywhere. The software continually refreshes stock levels and order statuses so you can manage even extensive product lines and raw materials/parts. It features an easier time to compile your inventory setup by automatically creating product profiles from existing sales channels, so you don't have to manually enter items and descriptions into your database.
Finale Inventory: A cloud inventory software designed for high-volume and multichannel warehouse management. It helps track inventory across multiple warehouses and provide an updated count in a centralized hub. The continuously-updated stock levels help avoid both overselling products and accumulating overstocks.
Fishbowl: The vendor's Manufacturing and Warehouse systems feature inventory systems that increase efficiency in managing inventory. This includes Top and Bottom, which automatically processes purchase orders when item inventories start going below recommended levels; Backup which ensures reserve items are available to avoid shortages; and Three-Tier System, which assigns items into expensive, medium-cost, or inexpensive items and applies different management rules accordingly.
EZOfficeInventory: A web-based asset tracking system where you can access asset information on-demand from any device. It helps manage assets throughout their complete lifecycle. Apart from assets, you can track stocks and consumable items based on inventory levels and location.
RFGen: A barcoding and mobile data collection software that integrates seamlessly with popular ERP systems, including Oracle, SAP, Microsoft Dynamics, Deltek, and others. It provides a faster and easier way to digitally manage inventory through mobile barcoding technology. With RFGen, you can reduce the time and effort needed to enter item information by utilizing the pre-validated interconnection with ERP software. This lets you get the system up and running in no time at all.
Hector: An automated and flexible asset inventory management solution that improves asset tracking in terms of efficiency and cost and waste reduction. Using live synchronized data, information regarding your assets becomes available anytime, anywhere so that you can manage the flow of inventory without losing track of even a single item.
Difference Between Inventory Control and Inventory Management
While the terms inventory control and inventory management are sometimes used interchangeably, there are some differences between the two concepts. Both deal with the management of raw materials and finished products; they tackle different areas of concern. Inventory management covers the supply chain from sourcing of raw materials to finished products to delivery to end-users. Meanwhile, inventory control tasks itself with managing stock already in storage, ensuring proper utilization, and preventing stock wastage.
Features of Inventory Control Software
Inventory control software is an important part of a complete inventory management system. They should be able to exercise full control of what happens to items in your warehouse and provide crucial and up-to-the-minute data on inventory levels on demand. The functions listed below are some of the standard features that should be available when considering inventory control software:
Cloud availability. A cloud-based inventory control software provides the best means to access the latest information on inventory items, no matter the location or the time. In addition, having a mobile app that can access the same data makes even off-site workers updated at all times.
Stock Inventory level monitoring. This is a standard feature that monitors items coming in and items coming out of the warehouse. Stock levels are critical to ensuring that you have enough items based on demand, but not too much to cause overstocking.
Multiple warehouse inventory monitoring. Inventory control software must have the availability to monitor across multiple locations, and generate inventory reports based on one or all warehouses. This information lets you manage transfers of items between warehouses, ensuring stock availability where they are needed most by offloading inventory in low-demand areas.
Automated replenishment. With automated monitoring, the ideal inventory control software can alert you when inventory levels are nearing wipeout and initiate the process of reordering. By considering the purchase order processing time and the time it needs for deliveries to be completed, you can be more assured of timely replenishments without fear of zero inventory.
Kitting and Bill of Materials (BOM). Kitting allows for the bundling of related products to create a new bundled product, which can provide convenience to customers and help deplete inventories for low-demand items.
Ecommerce integration. Integrating inventory control software with your ecommerce systems help reduce the overselling of products where sales outnumber the actual available items. This helps avoid angry customers and ensures a healthy and accurate inventory level.
Obsolete inventory planning. Inventory control software should help identify slow-moving or outdated items in the warehouse so they can be properly disposed of through various methods: markdown sales, recycling, or even donations. This also helps free up valuable warehouse space for other items.
Benefits of Inventory Control Software
There are many benefits from having inventory control software look after your item stock levels. They help maintain a healthy balance of incoming, stored, and outgoing items without breaking the warehouse. Also, they track whether items are moving too fast or too slow so that you can adjust strategies based on real-time developments. Some of the other benefits include the following:
Product availability. Nothing can be more frustrating than having a high-demand product while your manufacturing process is playing catch up due to lack of raw materials or your inventory is tied up somewhere else. Inventory control ensures that materials and finished products are available and can keep up with demand.
Improved inventory level control. Ideally, warehouses should have items stocked efficiently. Items should have come and gone according to sales forecasts, inventories are based on manufacturing/delivery schedules, and non-demand items do not take up too much warehouse space. Information provided by inventory control can help develop improved strategies and schedules that maintain optimal inventory levels.
Improved warehousing. Accurate data on inventory levels helps track which items are getting sold and which items are getting old. Having a clear picture of your warehouse helps you layout your resources better, ensuring that the limited storage space does not get crowded by overstocked materials, obsolete parts, or unsold items.
Less wastage. Applying control over your inventory reduces incidences of over and understocked items. Data collected from inventory control helps you plan and order better, lowering the chances of letting materials expire or lose value, and saving money by preventing wastage. In addition, an automated software system limits the need for hours of manual inventory, which are prone to error.  You also save time, manpower, and effort.
Inventory Control Software Trends
Like everything else, inventory control continues to evolve as technology keeps finding better ways to do things. Below are some of the emerging trends in 2020 for inventory control that can make an impact.
Expanding ecommerce. In the wake of the ongoing pandemic, many consumers have preferred shopping online and staying home. Companies such as Wal-mart who have relied on traditional brick-and-mortar sales, have seen ecommerce sales rise by 74%. Inventory control software must adapt and be more responsive in terms of tracking and updating inventory amid all ecommerce traffic.
Machine learning. Warehouse management can also benefit from AI and machine learning to adapt to evolving consumer needs. Some stores have started to adopt machine learning in warehouse operations, such as picking. This aims to reduce human intervention when conditions change in the middle of order fulfillment processes.
Custom warehouse solutions instead of off-the-shelf. Inventory control has its complexities, and when adding specific scenarios unique to a company, a generic solution becomes impractical. Newcastlesys observes that there is a shift toward value-added and client-oriented solutions and predicts the trend to continue. This gives software with high integration capabilities and process-sensitive support the edge versus off-the-shelf offerings.
Inventory Control Holds the Key to Success
Knowledge is power, and one of the best examples of this is knowing exactly how much your business inventory is carrying. In an industry that demands increased efficiency and accountability, getting your inventory under control is a matter of great importance. Warehouse inventory can benefit from optimization, and proper utilization of storage can save money, time, and (warehouse) space. While the management of inventory takes care of the overall inventory landscape, you still probably need inventory control software for the details.
Hopefully, with this in-depth guide to inventory control tools, we were able to provide you with the necessary information you need to make an informed purchasing decision. Moreover, we hope that this was able to help you come up with ways to make the most out of your investment.