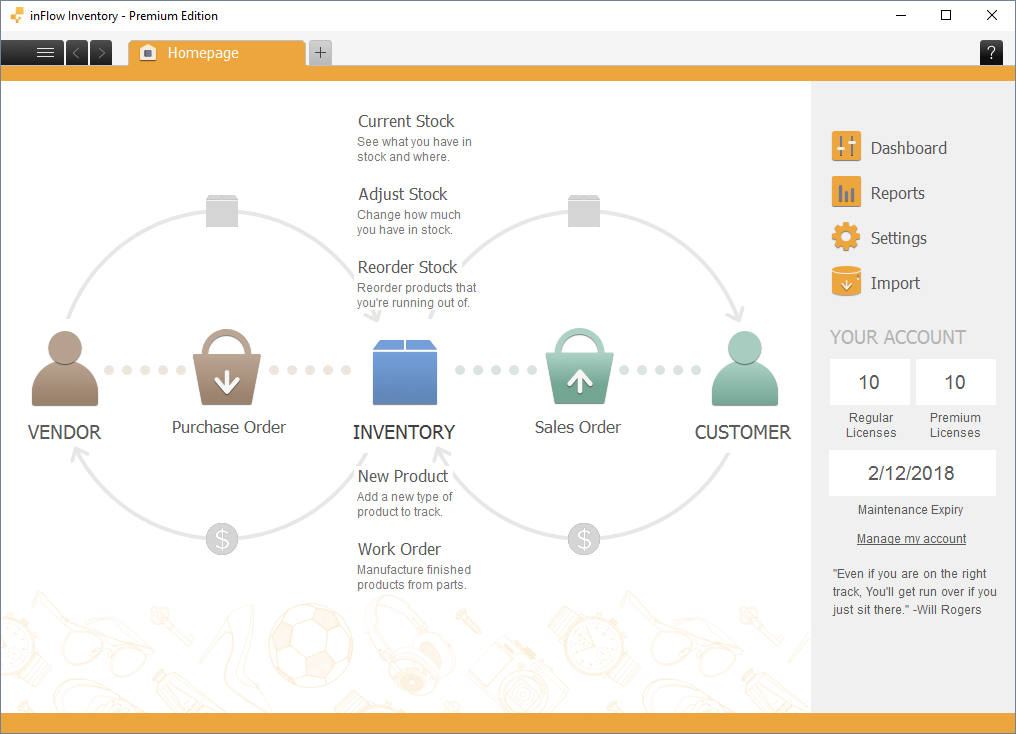 The main benefit of inFlow is its dual deployment, a rare feature in inventory management solutions. That means you can enjoy its rich features either on-premise or via the cloud. Here are more details of its benefits:
Familiar interface
inFlow is based on Windows and Microsoft SQL, a conventional infrastructure. But that also means many Windows users will find its interface and navigation familiar, thus, user adoption is less a friction. For example, the features for inventory and sales management are accessed similarly to clicking a Windows Start-like button. Likewise, the inventory management solution sports a multiple tab option standards in Windows. This setup is proven to aid in multitasking. Lastly, setting up the system is easy–just enter the basic information such as products, pricing, and business details and you are good to go.
Intuitive and customizable tools
There are plenty of shortcuts, as is expected of a Windows-based system. You can access quickly Reports, Dashboard, and Settings from the main window. Likewise, a timeline graph is easy to configure via a drop-down menu, while datasets and defaults can be custom-fit to your preferences. For example, you can add net cash flow, vendor details, and purchase orders to the default dashboard of cost-of-goods-sold, sales completed and sales profit.
Powerful reporting
inFlow helps you generate reports customized to the type of data or output. For instance, you can consolidate or mix and match datasets from sales, order and inventory, and display them in various visual modes like a bar graph, line graph or pie chart. Slicing and dicing data in different ways gives you more control over your key metrics.