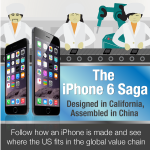 We call it the iPhone Saga, how Apple has perfected the art of juggling the global supply chain, its nose locked on where on earth to get suppliers that can offer the most efficient and best value parts under Apple's strict quality benchmark. This infographic comes on the heels of our editorial team's past effort to follow the iPhone supply chain and what it means to American manufacturing.
The latest story is about the iPhone 6 using glass and not the rumored sapphire crystal. But the story is more than just the material; it's whether the cover would be made in America or elsewhere.
When GT Advanced, the supplier of TouchID's sapphire crystal, bumped up its facilities in Mesa, AZ, rumor had it that the iPhone 6 would feature a Made-in-the-USA sapphire crystal cover. It turned out iPhone 6 is still in glass, and it's likely by Corning, which outsources its fabrication to Asia and France.
It appears that Apple is giving out top secrets and arming our biggest enemies with state-of-the-art technologies that can diminish our competitiveness. Foxconn, Apple's biggest supplier, which assembles the iPhones mostly in its facilities in China, has installed robots (nicknamed Foxbots) for the first time to meet its iPhone production quotas. How ever can this company invest in advanced robotics if not for the humongous Apple orders?
But, there's the rub. It's rumored Apple is exploring ways to scale down costs by trying robots over Chinese workers. If that sounds familiar, it's because we've seen that before. Our fathers still remember how Japanese robotics booted out many jobs in the American automotive industry. Yes, the China factory is maturing (higher wages and increasing competition from other Asian countries) and it's inching closer to an American model. I don't know how things will turn out in the next five years, but that it won't stay long as it is — America outsources, China receiveth. Who knows, China might one day, under pressure to cut costs, outsource jobs to, well, us?
WHERE ON EARTH IS IPHONE MADE, FOLLOW ITS GLOBAL SUPPLY CHAIN IN THIS INFOGRAPHIC:

Author: Alex Hillsberg financesonline, an independent journalist specializing in topics about technology, B2B & SaaS solutions and finance in general.
Embed This Image On Your Site (copy code below):

Raw data that we used: