Forget instant coffee. The only way you can have that perfect cup of Joe is through that espresso machine. Although you can sashay into a Starbucks for a java every day, making your own coffee not only is cheaper in the long run; you can prepare a cup down to the minute detail how you like your brew.
Whether you're a novice or a barista, there's one perfect espresso machine for you. For baristas or enthusiasts, a manual espresso machine gives them full control to execute their skills. But for beginners, a semi- or automatic machine is preferable; it gives them enough control to alter the coffee's density, which is key to personalizing the flavor. But if you're just after a quick shot without minding the art of preparing coffee, there's the super automatic espresso machine that uses pods or capsules.
Here, then, are some of the best espresso machines reviewed by various coffee sites for a wide range of coffee lovers.
10. Jura-Capresso 13548 Impressa J6 – $1,500+
Type: Automatic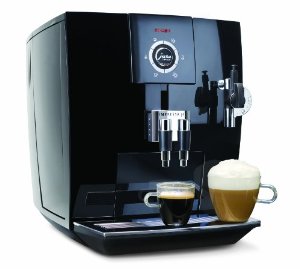 With just a few buttons to operate you can serve full-flavored espressos for ten or more guests or employees. It's easy to set up even if it's your first time to use an espresso machine.  The machine tells you when to add water or beans and you add them, not from the top as with most super automatics, but on the side container, a more convenient way. Moreover, you can preset your favorite preparations for a second cup. It's also one of the most durable units (and expensive) that require little maintenance but for cleaning the parts every after use.
Face-off: For beginners who demand the best-in-class machine
9. Philips Saeco Vienna Plus – below $500     
Type: Automatic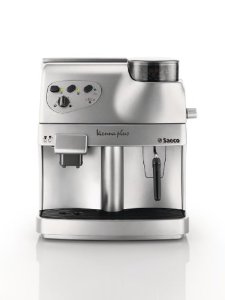 If you're a novice looking for a budget but still fancy espresso machine, this one's for you. Where most espresso machines hover beyond the $1,000 mark, this super automatic is available at half the price. It features high-grade plastic composites for its body to bring down the price, and the boiler is stainless steel in lieu of the brass. This machine is simplified for the novice; there's no timing and programming required. Unlike many budget machines, Philips Saeco Vienna Plus doesn't scrimp on spout size so you can have a small or large cup of your espresso.
Face-off: For beginners on a budget, but who want the feel of creating their own coffee
8. Nespresso Citiz – $299
Type: Super automatic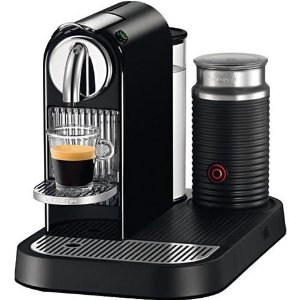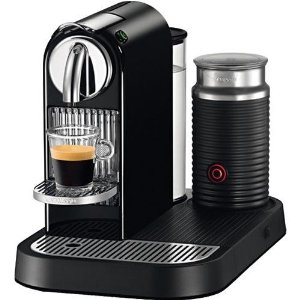 Some people just want an espresso without the fuss. A pod-using machine fits the bill and Nespresso Citiz easily belongs at the top of this class. Just pop in the pod, which you can buy in different flavors, and in 30 seconds you get a full-flavored cup. Not only does this machine save time, it saves you money. One cup is about $0.55 (price of pod). The drawback is you're limited to the pods sold by Nespresso, that sometimes, you feel it's closer to an instant flavoured coffee.
Face-off: For people who want the depth of espresso flavor and convenience of instant coffee
7. Rancilio Silvia Espresso Machine – $899.99
Type: Semi-automatic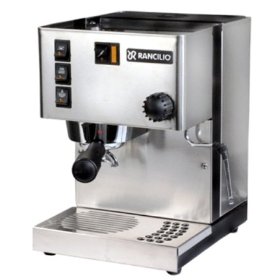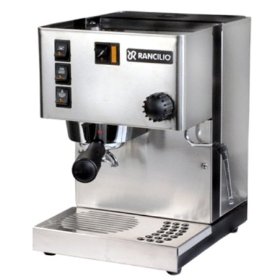 It's been likened to a Mercedes, sleek and well-engineered not quite for professional competitions, but for a coffee lover with serious coffee skills. It has a pretty ergonomic porta handle that hums the engine and a complete range of professional steaming knob to give you full steaming pressure control. It also performs with excellent heat stability and extraction. Moreover, its classic lines match a well-manicured interior décor. However, the machine heats up a bit slowly, which can be an inconvenience if you're multi-tasking. It's also more expensive than brands catering to the same user types.
Face-off: For newbie coffee lovers who want to get serious about coffee preparation
6. Gaggia 14101 Classic Espresso Machine – $379.95
Type: Semi-automatic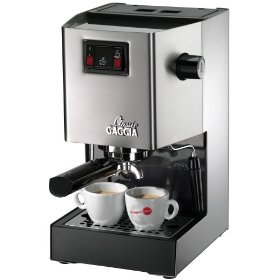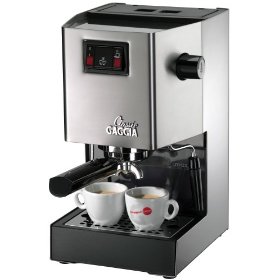 If Rancilio Silvia Espresso Machine is a bit expensive for you, you'll love Gaggia 14101. It's half the price, but still delivers competitive professional grade functions. Most notably, its three-way solenoid valve lets you prepare three cups in rapid successions. It also heats up faster than Rancilio so you can work faster. Although note that heating water too fast gives it a stale hard water hint, so Rancilio may be up on something for the slower heating time. Gaggia's steaming wand is also difficult to control and the body is noticeably slimmer than Rancilio, something you can compromise in lieu of a cheaper price.
Face-off: If you love Rancilio but can't afford it.
5. DeLonghi ESAM3300 Magnifica – below $800
Type: Super automatic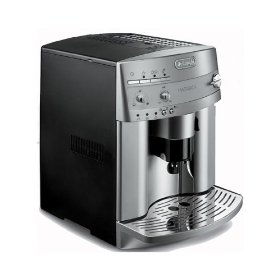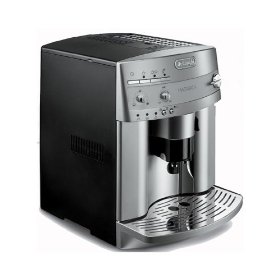 If you're a cappuccino or latte lover, this machine is perfect. Overall, it doesn't match with the best-in-class semi- or automatic espresso machines, but it does one thing excellently: frothing milk. It creates foaming with no visible bubbles, the perfect way to serve milk-based coffee. The manufacturer claims to use a patented "Cappuccino System," and combined it with easy grip rotary and push button panel. Plus, you can program your best froth setting for another round.
Face-off: If you're not particular about coffee making except for creating the best froth in cappuccinos and lattes.
4. Mr. Coffee ECM160 4-Cup Steam Machine – $49.99
Type: Steam-driven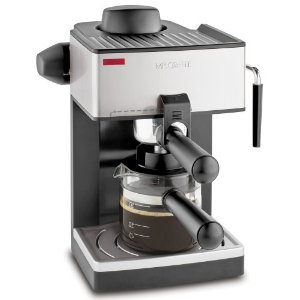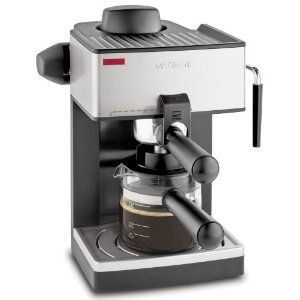 If DeLonghi is out of budget, Mr. Coffee ECM is a good shot for making nice cappuccinos. Expectedly, it's spartan when compared to DeLonghi. You even need to get a milk pitcher or mug for steaming. Tampering also needs more trial and error to get the precise extraction, not too lose or tight. One advantage of steam-driven over pump is it doesn't make that much noise, which fits an office setup.
Face-off: A scaled down DeLonghi but you get to make nice cups of cappuccino at a fraction of cost
3. Bialetti Moka Express Stovetop Espresso Maker – $23
Type: portable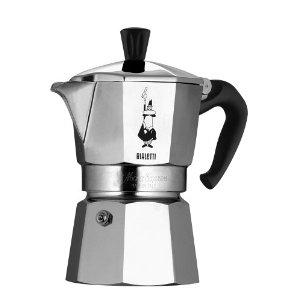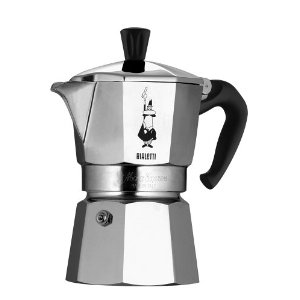 An espresso lover must not be deprived of his morning shot even in places without electricity and, heavens! Starbucks. With a stove or campfire this little tool can make three cups of smooth espresso. Fill the lower part with water and put the grounds in the filter. Heat it up and let pressure extract the coffee's flavor. What's more its polished aluminium is easy to clean and keep even as you travel.
Face-off: You can bring it anywhere
2. Breville 800ESXL – $349
Type: Automatic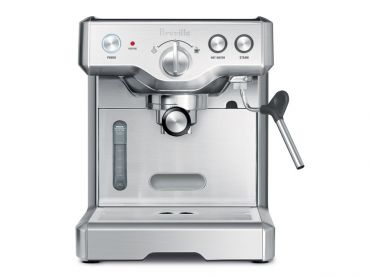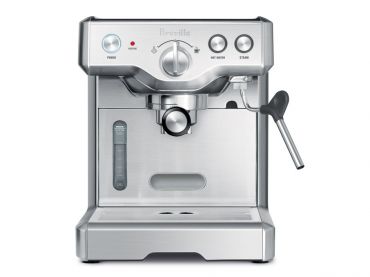 It's got the pressure to make a perfect cup. Where the standard pressure is set at nine bars (9x sea-level atmospheric pressure) to make a good espresso, this machine goes up to 15 bars. With almost twice the pressure, the coffee comes out a syrupy, full flavored cream with a strong punch. Of course, you can scale down the pressure to adjust the flavor, a flexibility more advanced coffee lovers will love to personalize the taste.
Face-off: A professional grade espresso machine that intermediate coffee lovers can easily use as they gain more pressure techniques
1. La Pavoni EPC-8 Europiccola 8-Cup Lever Style – $801
Type: Manual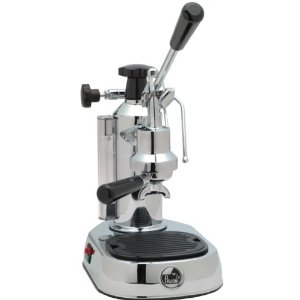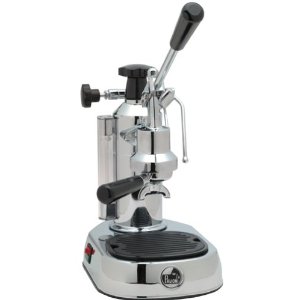 It's the mean machine to creating espresso precisely according to your standards. This espresso machine is only reserved for coffee lovers who want to pursue their brand of espresso. It gives them full control across the whole range of espresso making, from grinding to tamping, pulling and even roasting. Its heavy chrome body is designed for withstand the heaviest pressure to deliver a lustful crema-topped espresso. Be warned it takes time to learn the precise combination to get the best pressure and timing.
Face-off: For the true enthusiast willing to go through the entire process of coffee making to create his own signature espresso
CONCLUSION
If you're serious about coffee, get an espresso machine, if you haven't yet; or upgrade to the next level to fine tune your skills and coffee. Espresso machines are worth their investment. They're one of those equipment that, truly, you get what you pay for.