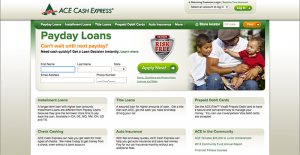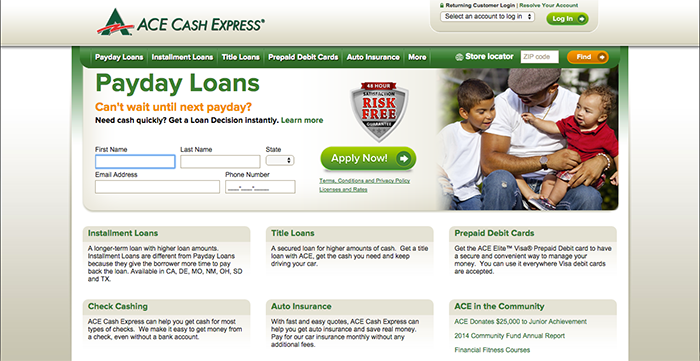 ACE Cash Express is a leading financial services company that provides short-term consumer loans, bill pay and prepaid debit card services. Its website states that this company is the largest owner-operator of check cashing stores in the U.S. ACE Cash Express was founded in 1968 and is a good alternative to traditional banking sources if you need a small amount for an emergency. This lender has served more than 38 million customers since its inception.
How is the lender different?
ACE Cash Express has a fast and convenient loan application process. Fill out a 5-minute application online and get an instant decision. There is no application fee or collateral required. You can apply and handle your online account anywhere, anytime.
ACE Cash Express offers a 72-hour guarantee period during which you can return the online loan if you are not satisfied with the terms. Approved loans are deposited by the next business day. On the due date, the loan amount and costs will be debited from your bank account. There is no penalty for early repayment.
How to apply for a loan?
To apply for a payday loan or cash advance, fill out a simple application and sign a few forms. This online process takes only minutes.
Lender Details
Most recurring positive comments
Easy to apply and talk to customer service agents
Consistently great and convenient service
Helpful lender during an emergency
Most recurring negative comment
Company should provide reward incentives to returning customers
Website: www.acecashexpress.com
Loan amount: Loan amounts vary by state. The maximum loan amount is $1,500.
APR: Annual Percentage Rate (APR) varies from 65.35% – 1409.36% and is based on state, loan term, loan funding date and other underwriting considerations.
Eligibility Criteria
You must be able to show a verifiable source of recurring income payments to ensure you will be able to repay the loan.
You must have a checking or savings account that has been open for at least one month before applying for a payday advance. California residents must have a checking account that has been open for at least one month before applying for a payday advance.
You must be able to be contacted via phone if verification of application information is necessary.
You must be at least 18 years old to apply for a payday loan.
You must provide a valid Social Security Number (SSN) or Individual Taxpayer Identification Number (ITIN).
You must not currently be a debtor in a bankruptcy case or presently intend to voluntarily file for bankruptcy relief.
You must be a resident of the state in which you are applying for a loan, even if you complete an online application.
You must not be a regular or reserve member of the Army, Navy, Marine Corps, Air Force, or Coast Guard, serving on active duty under a call or order that does not specify a period of 30 days or fewer or dependent of a member of the Armed Forces on active duty.
Personal information required
Name
Phone number
State
Email address
Banking information (bank routing and account number)
Social Security Number
Contact details
Phone: Payday Loans: (866) 355-6815
Email: [email protected]
Office address: 1231 Greenway Drive, Suite 600, Irving, TX 75038