Also known as ISO 9001, Quality Management Systems (QMS) has come a long way. From its beginnings as a means to ensure consistency in product manufacturing, QMS now covers everything, from product planning to customer satisfaction. By definition, quality management software document processes, procedures, and responsibilities needed to achieve quality policies and objectives. QMS helps companies meet customer and regulatory requirements, as well as commits businesses to continuously improve themselves over time.
While the original QMS standards were generic, the fundamental business management principles behind it applied to almost all industries. Over time, industry sectors began adopting industry-specific guidelines inherent to their market. This not only helped standardize guidelines for industry players but also ensured that auditors get and implement the proper applicable audit processes.
A QMS software platform provides a hub where QMS compliance can be tracked. Usually workflow-based, it tracks tasks across departments and checks them against established benchmarks. Typical modules include platforms that feature document control, audit management, compliance control, corrective action, risk management, customer servicing, and employee training.
In this article, we'll detail all you need to know about this type of software, from its features and benefits to how it works. We've also included some examples and a few statistics on the industry to help you make the most out of your investment, should you choose to implement the system in your company.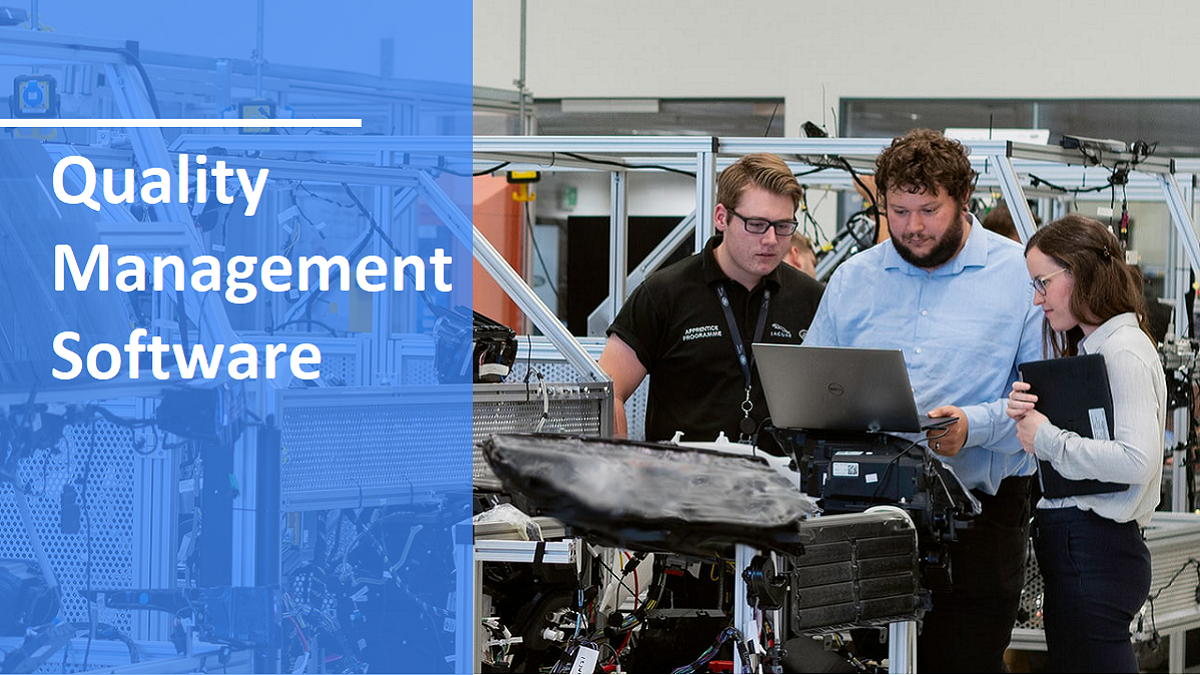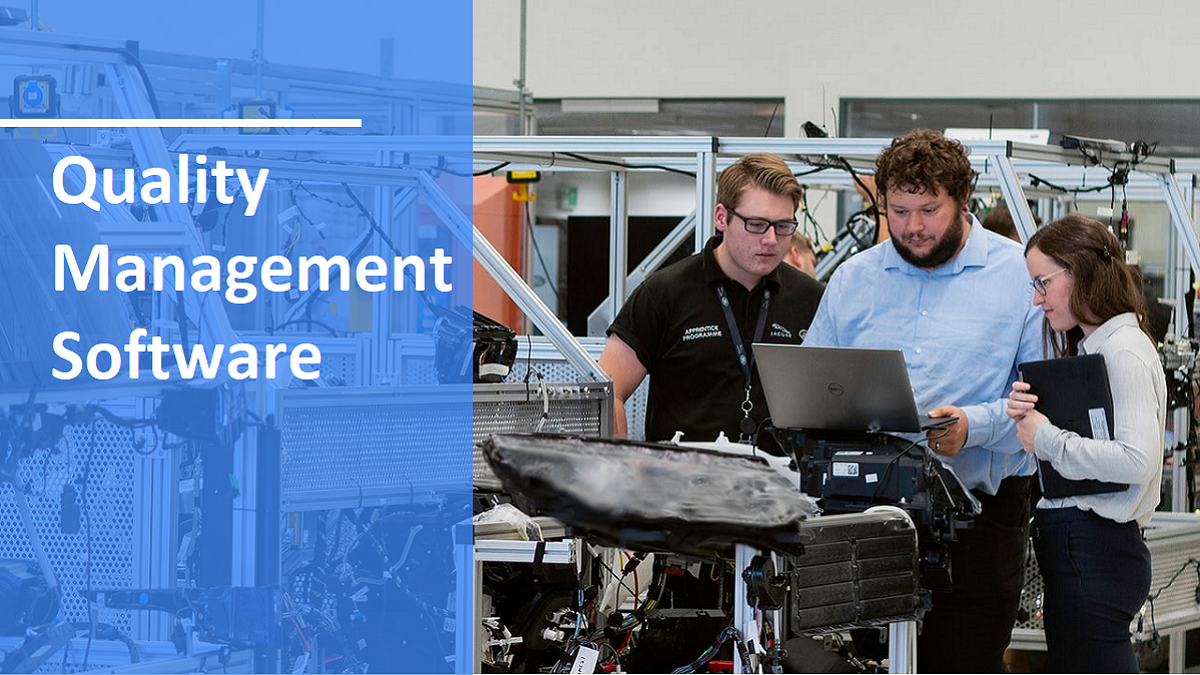 Best Quality Management Software Table of Contents
What is Quality Management Software?
Quality management software are tools designed to help companies familiarize themselves with quality management principles and achieve compliance with QMS standards. They manage the processes of quality planning, assurance, control, and improvement, and focus on consistency and excellence throughout the product lifecycle. Given the diverse industries applying QMS, there are various programs with unique features and functionalities that fall under the category quality management software.
List of Best Quality Management Software
Below are CompareCamp's recommended Quality Management software. Do note that QMS has many facets, and some industries may have unique specifications that are not native to others.
ComplianceQuest: A cloud-based Enterprise QMS built via the Salesforce platform. It helps manage quality and compliance across companies and global supply chains. The software also contains modules for auditing, change management, maintenance and calibration, and customer concerns.
Trackwise Digital: Also built under Salesforce, this cloud QMS features five integrated modules: Quality, Complaints, Documents, Training, and Suppliers. The software's cloud-based system makes it easy for end-users to implement, update, and access from any connected device.
Pilgrim SmartSolve: A robust suite of quality management software solutions. It is specially designed for industries in the life sciences. Based on ISO 9001 quality standards, the software provides closed-loop process integration and functionality across quality processes.
IQMS: Built for managing quality issues, this software helps streamline manufacturing and business operations and facilitate collaboration among stakeholders. The software features strong compliance with global quality ISO standards for industries, especially for the automotive and medical sectors.
Qualtrax: An all-in-one compliance management suite that features accreditation, document, process, and testing and training modules. The software helps place all company audit data in a central hub, which provides a simplified but organized document filing system, creates workflows that automate processes, and assists in training employees effectively.
Apriso EQMS: Designed specifically for manufacturers, this solution addresses the challenges of managing quality on a global scale. The software helps unify and standardize quality management across the enterprise, as well as instill quality processes and inspection plans that ensure compliance above and beyond expectations.
IsoTracker: A modular QMS software designed for small and medium business, IsoTracker features six modules: Document Control, Complaints Management, Audit Management, Non-Conformance Management, and Training and Risk Management. In addition, the Corrective Action management system is built in most modules to help achieve compliance with QM standards easily.
MasterControl: A cloud-based quality management system designed to allow quality professionals to focus on QMS issues without having to worry about downloads, updates, and integrations. With MasterControl. you can track, manage, and store your entire QMS documentation in one location that can be accessed anywhere, anytime. And with all data in one place, your entire organization can work together, perform faster, and adapt to situations better.
Qualio: A platform built to make compliance and audit readiness easier to accomplish and maintain. The system's features help monitor and document all actions throughout the cycle using closed-loop quality processes. With an easier path to compliance, your key stakeholders stay informed of developments, and your company can instead devote its energies to streamline systems and generate more profit.
uniPoint: This software provides a dedicated portal that holds key quality-related documents that help keep track of all changes, improvements, non-conformance, and corrective actions performed as part of your quality management processes. Using the software, you can stay abreast of your ERP data in real-time, track supplier management, non-compliant behavior, trend analysis, and feedback surveys.
Features of Quality Management Software
As part of their objective to help identify, audit, and manage compliance with quality standards, quality management system software usually include the modules below. As industries have varying needs, they might need certain modules different from other industries.
Document control – This module manages all QMS-related documents, regardless of type, that records all quality processes and keeps track of changes made with the processes and the documentation itself. Document control provides a secure and safe library that can provide the requested document quickly and accurately, helping speed up collaboration and ensure availability during audits.
Audit management. The audit module helps compare company processes and performance versus requirements set by QMS. Using this module, you can quickly check if your operations meet or exceed quality standards, whether ISO or industry-grade. With audit functions, you can also identify gaps in your systems prior to external audits so you can allocate time and resources to take corrective measures.
Training. Training modules help prepare workers and auditors in QMS inspections. This helps workers to learn QMS principles and applications and take them to heart, while at the same time guiding auditors on how to conduct inspections, what to look for outside the lists, and how to provide corrective actions.
Risk management. This module helps define risk policies and thresholds, which can foresee potential pain points in the work process and assess the degree of risk involved should these foreseen incidents happen. Identifying risks help reduce inefficiencies and anticipate corrective actions to further minimize potential negative effects.
Supplier management. This tool helps identify which suppliers share the same quality goals as your manufacturing process. Supplier management helps assess the degree of compliance enacted by each supplier and help ensure that your QMS audits pass the test.
Customer complaints management. Another external-based module, managing customer concerns is of paramount importance, considering that the ultimate objective of QMS is ensuring quality for consumers. This module enables companies to take an active role in listening to and acting on customer feedback on time and within regulations.
Benefits of Quality Management Software
The benefits of having QMS software is equivalent to adding quality to quality systems. A consistent, accurate, and accessible software helps with workflows, automates labor-intensive processes, and serves as a communications hub. This translates to faster and better results in achieving quality. Below are some of the perceived benefits of QMS:
Better efficiency and less waste. With the application of consistent and well-documented processes, it becomes easier for workers to conform to correct procedures and avoid deviating from the set standard. Eliminating guesswork and variables makes the work process highly efficient and becomes less prone to costly mistakes and wastage.
Consistency in major business processes. The consistency of processes ensures a uniform output that meets expectations and requirements. Incidences of defects get reduced, while quality assurance can help spot errors and perform the necessary corrective action.
Improved understanding of customer needs. As the consumer ultimately judges a product's quality, their feedback is important. Even high-quality products won't work well enough if they don't provide what the customer was looking for. Also, a system that timely addresses consumer complaints help preserve the quality label of not just the product, but the company as well.
Improved internal communication and collaboration. The complete and updated documentation of quality processes would require collaboration among workers from all departments. Sharing the responsibility and the resulting credits for successfully achieving QMS compliance helps unite all stakeholders into a single unified objective. Having a central medium for collaboration available to everybody helps as well.
Renewed enthusiasm for quality. QMS preparations, audits, and alignments are time-intensive and entail a lot of frustrating, repetitive work, especially for employees already loaded with work. Automating some of the work through QMS helps improve the processes (especially document retrieval and updating workflows) and provides fewer headaches for auditors and process workers alike.
How Quality Management Software Works
QMS software helps shorten turnaround time in many elements of QMS. These include accessing and storing documentation, compiling customer records, generating reports and findings, and documenting changes in processes.
The software connects all parties concerned in a central hub that contains all the necessary data. Here, stakeholders can collaborate on QMS processes and policies, address non-conformance, or discuss findings. Having a software-based solution —especially a cloud-based one— makes data retrieval faster, eliminates the need for paper and printing and provides a faster delivery and turnaround time in between signatures and approvals.
QMS software also gathers all related data pertaining to QMS and generates analysis and reports automatically. This dramatically reduces the time needed to sift through mountains of data and get insights quicker and more accurately.
Target Businesses of Quality Management Software
While QMS is common to manufacturers and life science companies, it can also apply to industries that can benefit from its principles of quality and consistency in work processes and customer satisfaction. Outside of manufacturing and the life sciences, construction, hotel and hospitality, community services, and technology services are some of the other industries that adopt some form of QMS and benefit from it.
Quality Management Software Statistics
While quality management remains an ideal standard that should have been adopted by every manufacturer, there are still businesses out there that have not adopted QMS. They either do not have the time, resources, or inclination to voluntarily conform to the standards. Below are some statistics from Veeva's 2020 Trends in Quality and Regulatory Management that present issues that can be addressed using QMS software.
Almost 70% of quality respondents say they have insufficient resources to promptly address non-conformances and respond to audits.
65% of survey respondents are still using disconnected and outdated tools (Spreadsheets, email, etc.), and processes instead of dedicated QMS software.
Supply chain visibility and effective supplier collaboration remain a big challenge for companies. 35% are prioritizing a supplier network/portal as part of their QMS compliance solution.
Quality Management Software: The Future Beckons
With the market shifting from overconsumption to a more benevolent form of consumerism, QMS will pay a crucial role in determining which companies make it big from companies that are blatantly flouting nonconformance for a quick buck. Given the present world's preference for quality rather than quantity, adopting QMS standards has become a requirement and not an option. As such, the best option to implement quality management systems is through quality software.