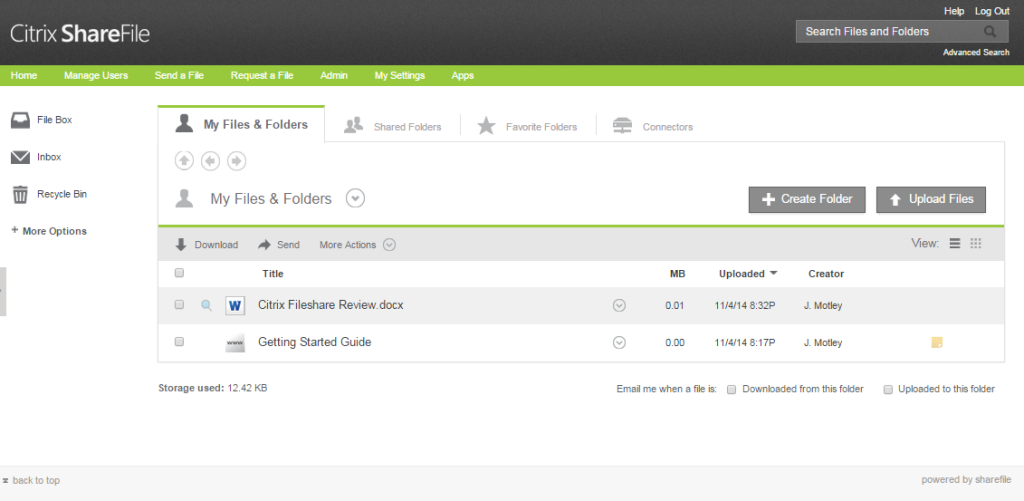 ShareFile is a program that aids in file sharing management and empowering users to effectively manage them according to how they want them. Through this tool, users can synchronize and share data in a secure manner, organize folders, and deliver data according to their preference. Users can work with as many external users as they want without worrying about security.
The user interface is straightforward and intuitive. Operations are broken down to several menus placed in a header section. On the left panel, a navigation bar points to the Recyle Bin, Inbox, and File Box. The footer area reveals a sitemap consisting of observed patterns for operations as well as the ability to move and upload files, add users, and authorize permissions.
Users can be made as external clients or employees with minimal or zero access to the program. One of the biggest inconvenience for users is filling in employee formularies. But such issue can be addressed by adding in a used email address to come up with a profile from within the system.
Aside from the number of integrations that make ShareFile Reviews a useful program, the flow of data remains uninterrupted as they move from one system to the next. In addition, the platform provides a plethora of attractive templates for sharing and building files in the system.
Once a file is sent, ShareFile houses it in a searchable database in an organized manner where it can be downloaded and re-sent anytime. Its standout functionality is its ability to keep track of a file once it reaches the email address of the recipient as well as confirming the user if the file has been opened or not. Such feature is particularly useful for teams in charge of account receivables and account payables. This can help get rid of delayed payment alert disputes.
Another big strength of the platform is its security. ShareFile is more than capable of meeting the highest security demands in today's IT industry. Its powerful audit controls and reporting functionalities can further secure the quality of data for users.
ShareFiles can mobilize and leverage a user's existing investment, synchronize with current third-party infrastructure, house data in the cloud and other locations, and access data directly from a mobile device.
The platform is perfect for small businesses and startups. It provides reasonable price packages aimed for users of varying sizes and industries.