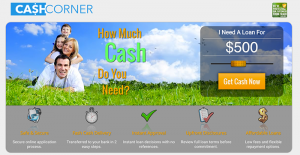 Cashcorner.com was founded in 2006 and the company says it has helped millions of customers get credit in times of emergencies. The company's website states that it has provided more than $575 million in total loan requests since its inception.
Cashcorner.com is not a lender, but a lending network. It provides a free service and customers have to finalize the loan and repayment terms with the specific lender. Each lender offers different loan terms including the amount, APR, repayment schedules, etc.
Submit your information online and Cashcorner.com will match you with a lender and direct you to the lender's website. The lender will contact you by phone, text messages, email etc. to check your personal information and decide the loan details.
How is the lender different?
Cashcorner.com is a good choice for payday or short-term loans as it has a wide network of lenders. Go to Cashcorner.com and provide details such as your personal information and the loan amount. It is important to reveal the state you reside in, because each state has different rules and laws on short term loans and lending to active military service staff.
Cashcorner.com will assess the information and match you with suitable lenders. Make sure you understand all the loan terms, rates, and conditions before you accept the offer. There is no obligation to accept the loan, and if you are not satisfied with the terms, you can opt to decline the offers.
Cashcorner.com does not run a credit check on borrowers, but lenders may do so to get the credit score. Customers can expect the loan amount to be deposited in their bank account one business day after approval. Cashcorner.com stands out because it has a network of lenders who can provide emergency loans to those with less than perfect credit.
How to apply for a loan?
Visit Cashcorner.com to fill in an online application or call (888) 216-3954 to apply by phone.
Lender Details
Most recurring positive comments
Easy to fill out the online form and get a quick decision
Will use Cashcorner.com again if I need a cash advance in the future
Most recurring negative comments
Could not find any negative comments online about Cashcorner.com
Website: www.cashcorner.com
Loan amount: $100 to $1000
APR: The APR range for Cashcorner.com's lenders is typically 260.71% to 1825% APR.
Eligibility Criteria
To be eligible to receive a loan offer, you should be over 18, have current employment with monthly income equal to or more than $750.00, employment maintained for at least 4 weeks, valid home and work phone numbers, and a current bank account in your name.
Personal information required
Name
Address
Length at address
Own or rented home
Loan amount
Email address
Contact phone
Drivers license number
Drivers license state
Social Security Number
Date of birth
Contact details
Phone: (888) 216-3954
Email: Fill in a contact form on cashcorner.com
Office address: 6709 W 119th St, #338 Overland Park, KS 66209