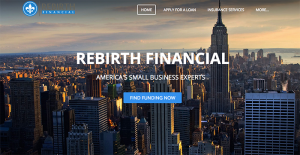 Rebirth Financial calls itself America's small business experts. This company was launched in 2010 and has helped small businesses access millions of dollars. Rebirth Financial is based in New Orleans, Louisiana. This lender is a pioneer in financial innovation as it allows individuals and institutions to lend alongside each other, to help the growth of small businesses, while providing good returns to investors.
Rebirth Financial provides peer-to-peer small business loans that are usually community-based. The company was founded in response to the global financial crisis of 2008 and the vulnerability of the largest financial institutions.
Community lenders like Rebirth Financial know the small businesses and therefore trust them. The company's average loan size is $80,000, therefore it deals with decent-sized operations. Thus, Rebirth Financial is a step up in scale compared to other peer-to-peer lending companies like prosper.com, which deals with individuals not businesses.
Rebirth has developed a rating system for lenders and borrowers like the S&P has for large institutions and countries. It aims to become a completely self-sufficient lending system that does not need the help of large banks or financial institutions. In its review of the company, Forbes termed it "the website that's trying to take the banks out of lending."
Rebirth is a good choice for small businesses that do not have an established credit history. Big banks have become tighter with their purse strings making it difficult for small companies to get loans. In this scenario, Rebirth Financial has become a viable alternative for small and big deals with its online peer-to-peer lending service.
How is the lender different?
Rebirth Financial offers the following types of loans: Business loans, peer-to-business, acquisition loan, account receivable factoring, commercial real estate, startup loans, business term loans, lines of credit, SBA loan, merchant cash advance, franchise loan, equipment financing, IRA/401(K) financing, poor credit loans and import/export loans.
Rebirth Financial also offers the following services: Business Insurance, Payroll Services, Merchant Processing and Marketing, SEM & SEO.
Rebirth Financial says it is the only company in the U.S. that combines traditional lending, alternative finance, and its own peer-to-business lending network to provide loans to companies. Although other banks and companies may use one of these three funding methods, Rebirth Financial has all three technology methods under its roof. This allows the lender to successfully combine them all to find the best loan possible for small businesses.
How to apply for a loan?
Visit rebirthfinancial.com to apply online. You can attach the required documents to the contact form or email them to the lender.
Website: www.rebirthfinancial.com
Loan amount: From $5,000 to $5 million plus
Fees and charges
Rebirth Financial charges a one-time $250 underwriting fee to cover expenses.
Personal and business information required
Basic personal information
Job title
Email address
Phone number
Social Security Number
Full corporate name
Description of business
Reason for loan request
Contact details
Phone: (504) 459-9082
Email: [email protected]
Office address: 2803 St Philip St, New Orleans, LA 70119, United States