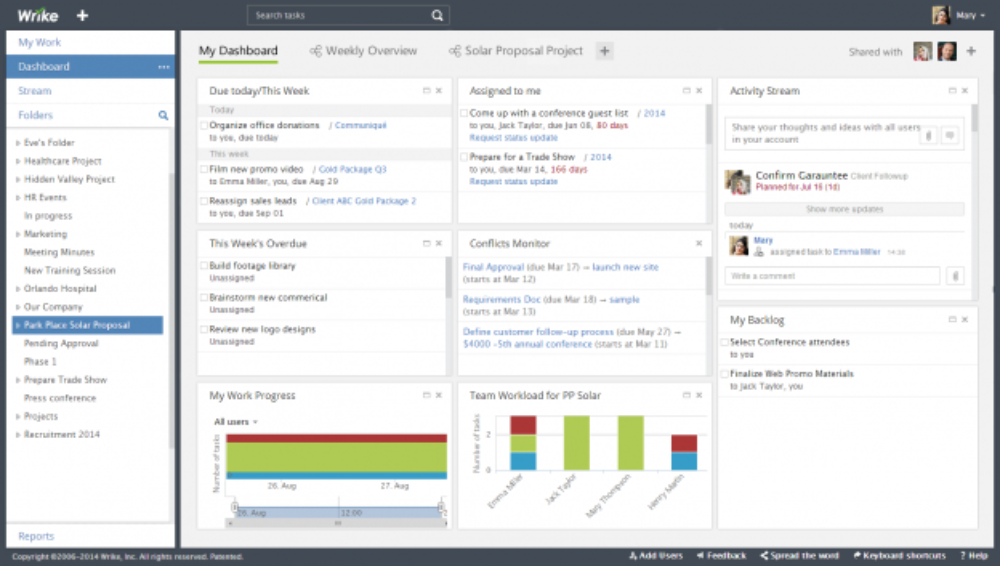 The main benefits of Wrike include its ability to organize work files, work optimization feature, and reporting feature. With Wrike Field Service Management solution, users get free mobile apps on Android and iOS devices, as well as visual reporting in an integrated system
Public request forms are available on Wrike, which makes creating and submitting a request much more easy. Once a request is made, the system then transforms it into a task that shows up on dashboards and reports. Tasks can also be created directly from email, thanks to email integration, and simply mentioning a member involves them in the task and enhances collaboration. These public request forms can also be customized for a business's website.
Users can organize their work with a folder system that can sort either by type of work, a manager-in-charge or by region. The visual dashboard only requires a single click for users to set up custom statuses and view task lists. Workers out in the field can access requests whenever and wherever as the mobile apps have the same functions as the web-based version.
Workers can access the appropriate dashboards from their mobile phones, eliminating the need for them to go to the office to receive requests. They can view the tasks they have to perform from their phones, and can mark it as "in progress" once they start executing it. Request details can be easily viewed from the task view, which gathers all the information on a particular issue. Workers can attach any photos or files required by the client, and they can also use the built-in time tracker to measure their progress. Managers can also see status changes on the dashboard and will immediately know once work is completed.
When it comes to reporting level folders, Wrike's reporting tool has no limit. Users can level it by status, region, worker, managers, to name a few. Updates are automatic and notifications can be scheduled so every member of the team is up-to-date when new information is added.