As B2B marketing continues to see a constant evolution, so does the list of marketing channels. Among all of these, choosing the right ones for your business can get a little overwhelming.
Don't worry, as we are here to help.          
In this post, we will discuss the different types of B2B marketing channels you can use to create a great marketing strategy. As some B2B channels may work better than others for your industry, we will help you choose the right channels for your B2B marketing strategy. 
What are the marketing channels for B2B?
The right B2B marketing channels for your business help you get leads and increased revenue. The best B2B marketing channels for companies today are:
1. SEO
SEO, short for Search Engine Optimization, is the process that helps a piece of content or a website rank higher on Google. 
For instance, with this B2B marketing channel, you can write content related to your industry and post it. This content should contain keywords your potential clients are searching for in key places such as the heading, copy, and title tags. Knowing how to do keyword research for SEO comes in handy during this time.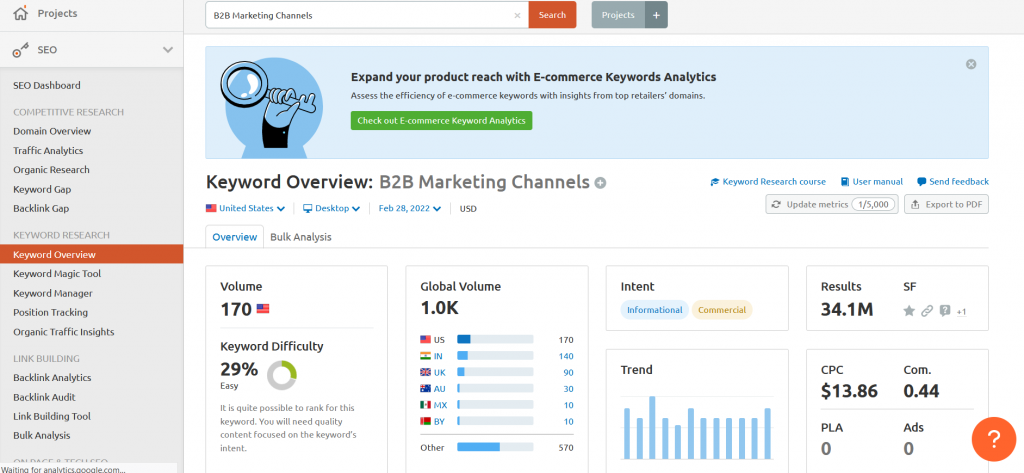 In addition, you can collaborate with other renowned sites to earn backlinks. The higher the number of links you earn from authority sources, the higher your ranking goes in search results.  
When your rankings increase, more individuals discover you online and eventually get in touch with you.
2. Web Design 
Your web design is something that significantly affects the impression you make on your clients. It also impacts the user experience. 
To give your site visitors a great impression of your business and help them navigate the website easily and quickly, you can opt for a custom web design.
In a custom-designed website, all elements of the site are custom designed according to your requirements. Your content and strategy come first and the design is made according to them.
With a custom web design, you can make the browsing experience more convenient and enjoyable for visitors. People will also spend more time going through your content and understanding your business when they get such an experience.
3. Content Marketing
Content marketing is an amazing B2B marketing channel that can help you get leads online. It involves crafting original blog posts, articles, guides, eBooks, and infographics to reel your target customers in. 
Basically, good content helps people learn about your services, your business, and your industry from your own perspective. Think about it this way: people will want to know more about what you offer if they read a useful content piece on your website.
Custom content is defined as the content that is particularly crafted to engage and inform your existing audience, in a one-of-its-kind brand voice. This content will not appear anywhere else on the internet. 
If this B2B digital marketing channel is new to you, begin by starting a blog. Dole out useful tips, industry trends, and other things you think your audience may find valuable. Even if the content doesn't immediately get you leads, a B2B prospect who may require your offerings in the future can find it helpful.     
All in all, the benefits of content marketing are many. For more information, read this beginner's guide to content marketing. 
Tip: You can always outsource content marketing if you want to focus on other aspects of your business or simply lack the expertise/resources. If the latest statistics are to be believed, 84% of B2B marketers are outsourcing the creation of content.
4. Video
As per the latest statistics, users spend 88% more time browsing on sites that contain videos.  
If you create and put videos on your website, you can increase the amount of time the visitors stay on your web pages. Video is one of those B2B digital marketing channels that can send positive signals to Google and other search engines, and boost your conversion rates. 
Today, B2B marketers are also using YouTube to post videos about their offerings. Doing so helps them provide practical and important information to prospective clients. 
Tip: Along with posting videos that explain your offerings, you can also use YouTube to upload videos that feature case studies and client interviews. You can even answer FAQs via videos.
5. Social Media Marketing
Regarded as one of the best channels for B2B marketing, social media marketing is highly beneficial for B2B businesses. 
According to the latest social media statistics, the average time spent on social media is 2 hours and 25 minutes, when calculated on a daily basis. Thus, it's the best way to grab the attention of potential customers, a lot of whom are already scrolling through social media every day!
To get discovered by and connect with your target audience on social media, think about creating and posting quality content for them. This will give you a chance to stand out as a leader in your field. You will also be able to cultivate and grow relationships with individuals who care about what you offer.      
Tip: Avoid posting excessively, especially in the beginning. Instead, post meaningful, high-quality content consistently. Also, learn about the best time to post on social media. 
Even today, a lot of B2B marketers are unwilling to embrace social media, but it helps your business come across as much more approachable. From hosting events to leveraging social media advertising, social media helps you reach out to people looking for solutions that your business offers. 
Note: You can always go beyond LinkedIn. Twitter, YouTube, Instagram, and Facebook are also great for connecting with your audience. Just ensure you connect with your clients on social media to understand their interests and pain points so that you are better able to address them via your social media channels.
6. Email Marketing
Email marketing is one of the types of B2B marketing channels with which you can develop a great rapport with prospective clients. With the help of B2B email campaigns, you can focus on offering helpful information and creating lasting relationships. 
However, there's a catch. We list that below along with how to avoid it: 
Refrain from highlighting sales and products. Instead, provide tips, insights, or other relevant information to your subscribers. Also, talk about how your business can help them solve certain issues or obtain specific goals as they progress through the sales funnel. 
Tip: If you are new to all of this, you can start with an email newsletter that you can send on a weekly or monthly basis. The newsletters must be helpful and easy to read. Accompanying pictures and infographics are also welcome. 
Listen Up: Learn how to boost your email open rates and email marketing ROI.
7. Event Networking
Networking is still an effective B2B marketing channel, specifically for tech companies. This is because the intricacies and details of technology can often only be fully appreciated at events and conferences. You are also likely to make valuable connections at such events with people that speak your very language.
Generally, there are a few steps you can take to make the most of the efforts you put into event networking. These include: 
Making a list of the event attendees you think will benefit from your business. 

Connecting with and messaging them on LinkedIn to break the ice before the event takes place. 

Introducing yourself in the message and convey that you are looking forward to connecting with them at the event.

Approaching these people at the event and focusing on building a meaningful relationship with them rather than rushing to close deals. Making it a point to listen to their issues during conversations and seeing if your business can solve them. 

Always taking your business cards to such events. They are a crucial networking staple. 
8. Webinars
Popular among B2B marketers, webinars are extremely relevant today. Regarded as one of the best B2B marketing channels, they work wonders in reaching and engaging audiences online. 
More than half of marketers depend on webinars for promotion. They are greatfor presenting important information to your audience. 
They give you a chance to engage with your potential clients in real-time. Video webinars even help showcase the advantages of a service or demonstrate a physical product. 
Tip: After you host a webinar, you can post it on your site. It will help you generate more traffic and leads in the future as well. 
9. Conversion Rate Optimization (CRO)
When can CRO help? 
We know the answer – when you want to convert more visitors on your site.   
Conversion rate optimization involves testing elements on your site to check which versions lead to more conversions. For instance, you can test various versions of a CTA button, with different phrasing, placement, or coloring, and check which one gets more clicks.   
When you test and optimize different elements of your site for better user experiences, you get the most out of your web traffic, which helps you generate more business.
10. Podcasts
Why choose to go for this B2B marketing channel?
Podcasts help you reach those listeners who have a busy lifestyle and prefer to consume audio content on the go. 
They work best when it comes to breaking down complicated topics and delivering thought leadership. They also help carry out thought-provoking discussions that your audience can easily access. 
You can increase the impact and reach of podcasts by collaborating with industry experts from other renowned B2B companies. It will help you increase your credibility, grow your audience, and spark engaging debates. 
11. Pay-per-click advertising
PPC is a B2B marketing channel and famous online advertising model that lets marketers bid for placement in the sponsored links of a search engine.  
Do you know one of the greatest benefits of PPC for B2B businesses? 
You only pay when a user clicks on your ad and visits your site. This B2B marketing channel is highly advantageous if you wish to quickly increase traffic to your site. It gets you traffic and leads once you launch a campaign. 
Conclusion 
All in all, given the wide range of B2B marketing channels one can choose from today, we recommend that you assess your marketing plan and use the right channels accordingly.