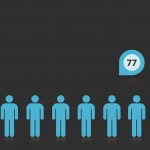 Video marketing in B2C has been well documented to increase sales by over 50% for example for big online stores such as Best Buy, Newegg, and Under Armour. Meanwhile, B2B marketers are yet to fully maximize videos to convert more sales. What gives?
If you're looking for a novel way to increase conversion rates for your B2B product, the video marketing, underutilized in the industry, may give you a small but tactical advantage over the competition. To be fair, 69% of B2B marketers have used video to push their product. However, the fact that 31% haven't yet leaves a wide playing field for you.
Let's take a look at one of the few credible studies on B2B video marketing to get a clearer picture of this strategy. Demand Metric, a global marketing research firm, partnered with Ascend2 to interview nearly 400 marketers and business professionals from around the world with B2B services in mind. In B2B Video Marketing: B2B Benchmarks & Best Practices report (June 2014), researchers focused on several key findings, but let's focus on the following questions that will help you leverage video's benefits and see what the study holds for you:
What should be your video marketing objective?

What are the top obstacles to video marketing?

Where should you distribute your videos?

How to optimize your videos?
Top B2B video marketing objectives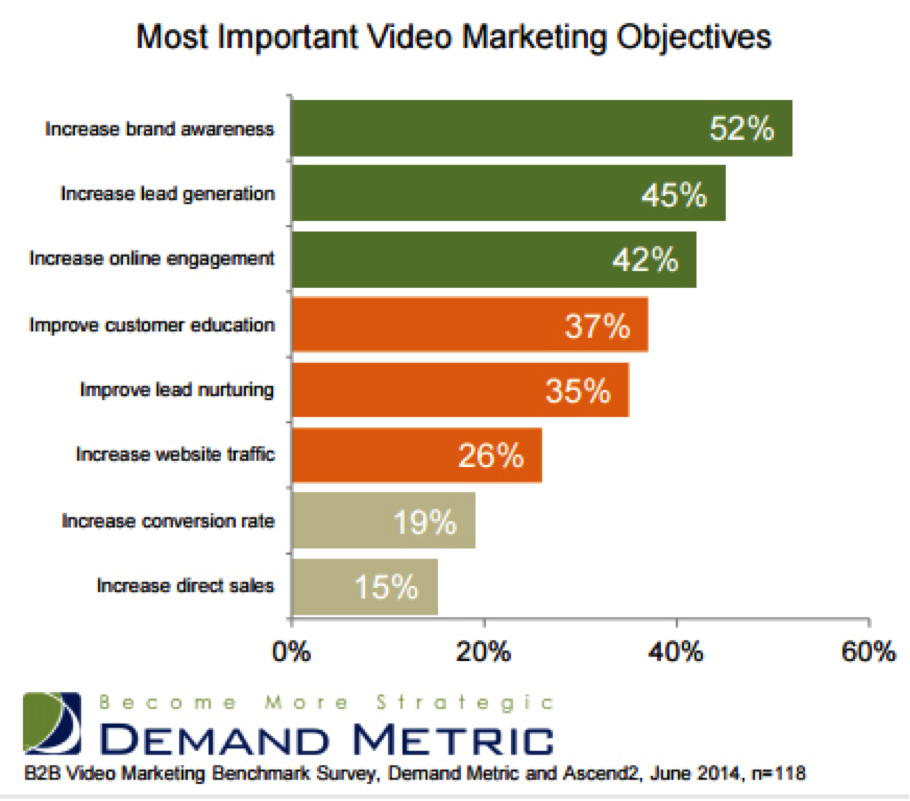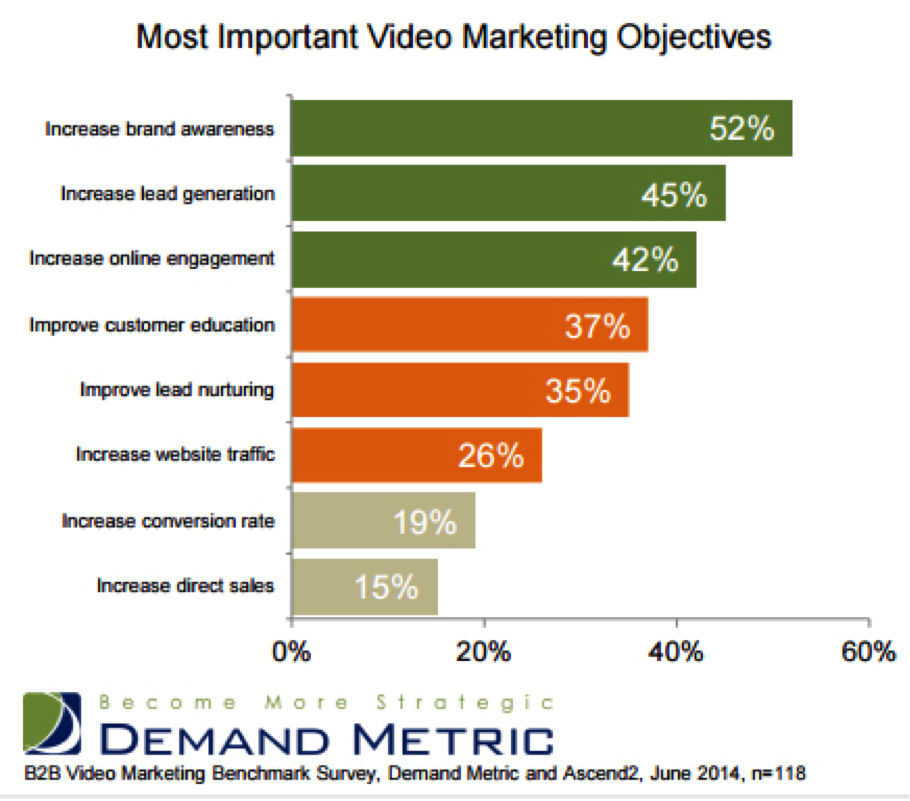 B2B marketers' video goals range from easily quantifiable (no. of leads) to less measurable (brand awareness). Most marketers picked brand awareness as their top objective and, conversely, only 19% said they use video to increase conversion rates.
Since we're talking about increasing your conversion rates, the study seems to put a damper in our premise that video can increase your conversion rate. But take a look again at the table and you'll realize that all these goals have one hopeful outcome: to get conversions and, ultimately, sales. Except for brand awareness, factors such as lead generation, online engagement, lead nurturing, and the rest are closely tied to increasing conversion rates.
To optimize your videos for leads and conversions, consider these techniques:
Put CTA (call to action) links, such as, "Try It for Free!" or "Special Pricing Offer" and direct viewers to your landing page, such as, free trial, contact us, or pricing pages

Display your website URL in the opening and closing billboard or in a nonintrusive place throughout the video

You can also apply some 

B2B trust-building techniques

to increase your video's credibility and entice viewers to click your CTA link
Top challenges of B2B video marketing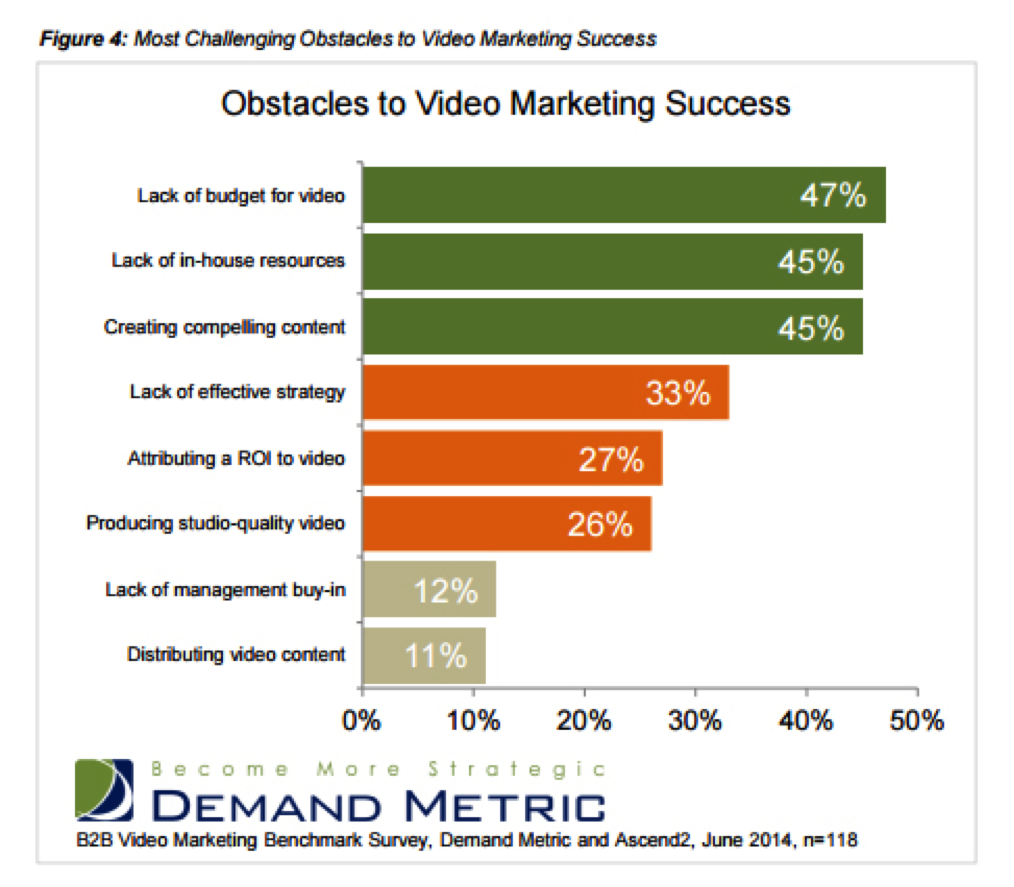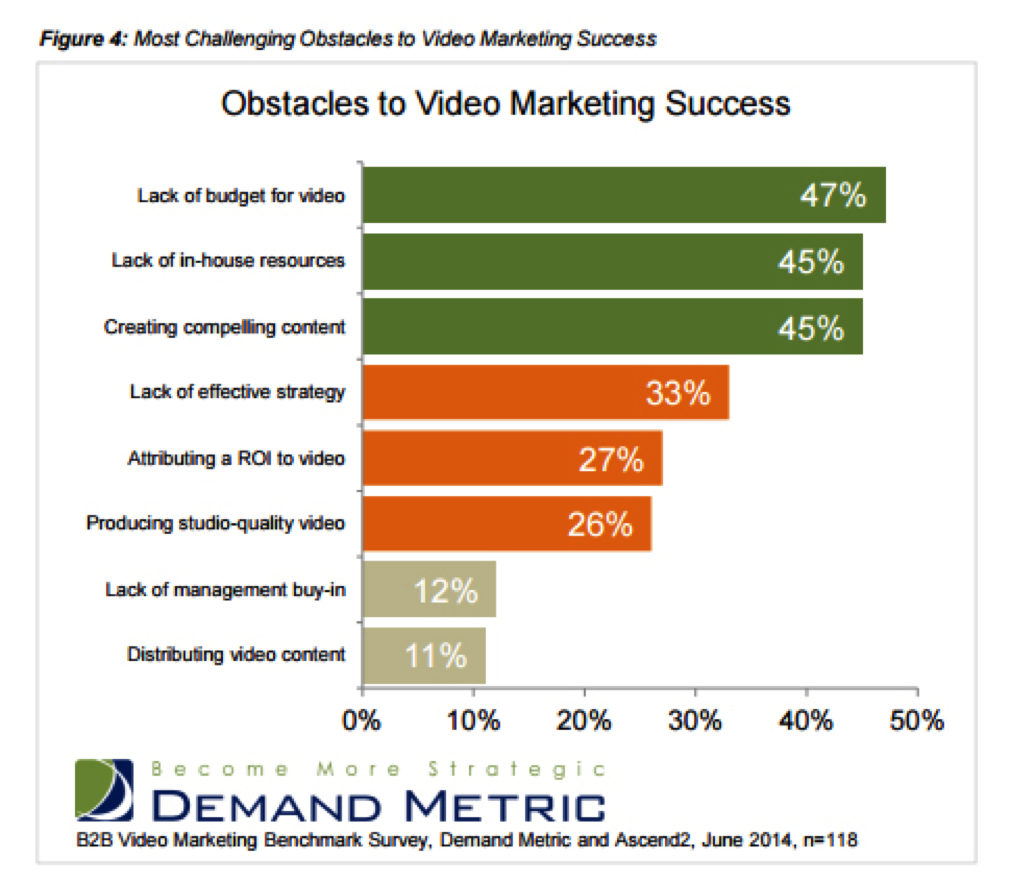 We can imagine that the top challenge–lack of budget–isn't really a question of money, but priority. In the 2015 Benchmarks, Budgets, and Trends–North America (Content Marketing Institute), 55% of marketers said that they plan to increase their content marketing budget this year. Video falls under this budget but wasn't spelt out in the report.
That means many marketers have the means to implement a video strategy but aren't doing it. Again, this gives you a wide playing field to leverage video to gain an upperhand in your product category, especially cosidering that, according to the Demand Metric study, only 31% of marketers plan to increase their video budget in 2015.
Marketers also complain about the lack of compelling content (third spot) to produce effective videos. If you have the same problem, this is unfortunate because what of your product? Shouldn't it be compelling enough for buyers?
Creating compelling videos is no different from writing a killer sales copy: focus on the benefits, what's in it for buyers, instead of the product features adn this will allow you to grab interest. In fact, you're probably doing this already on your homepage. Most software websites speak about the benefits first; the product specs are buried inside the features page. For example, instead of saying your project management app is the number one enterprise-level software, show why–for example, perhaps because it covers the entire project lifecycle from quote to payment.
Other compelling videos to produce include product hacks/tutorials and topical videos relevant to your product, including:
Tips on transitioning to the cloud

How to choose the right software

How to manage an ad hoc decision team
Where to distribute your videos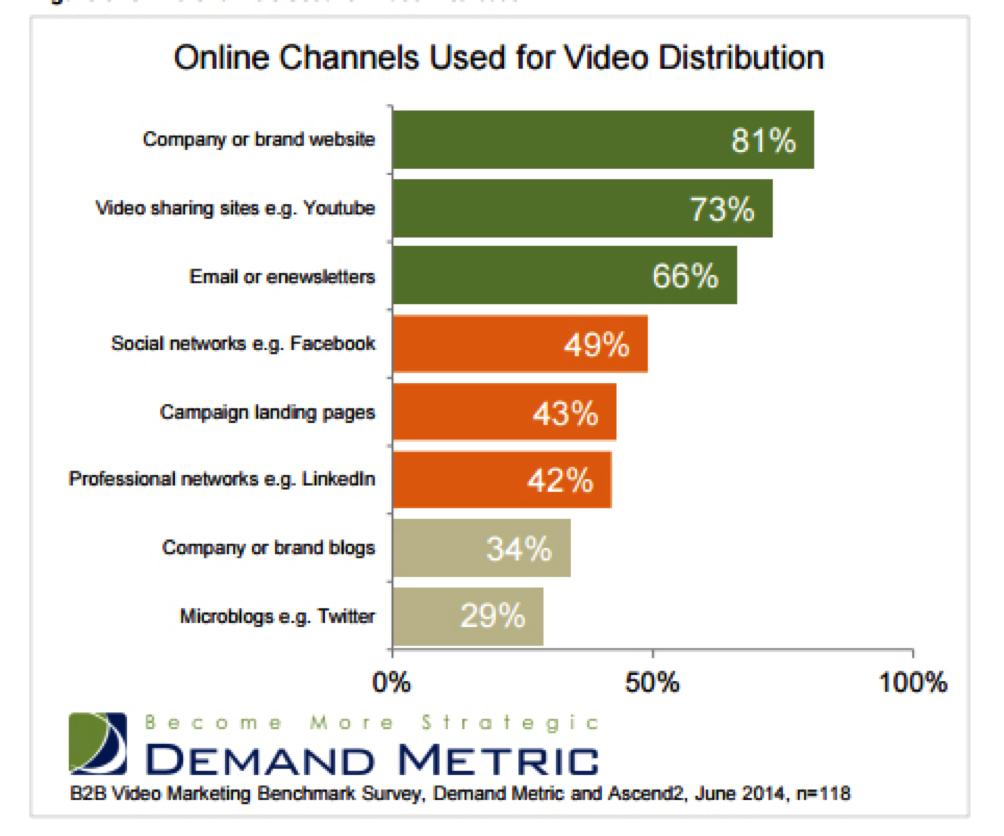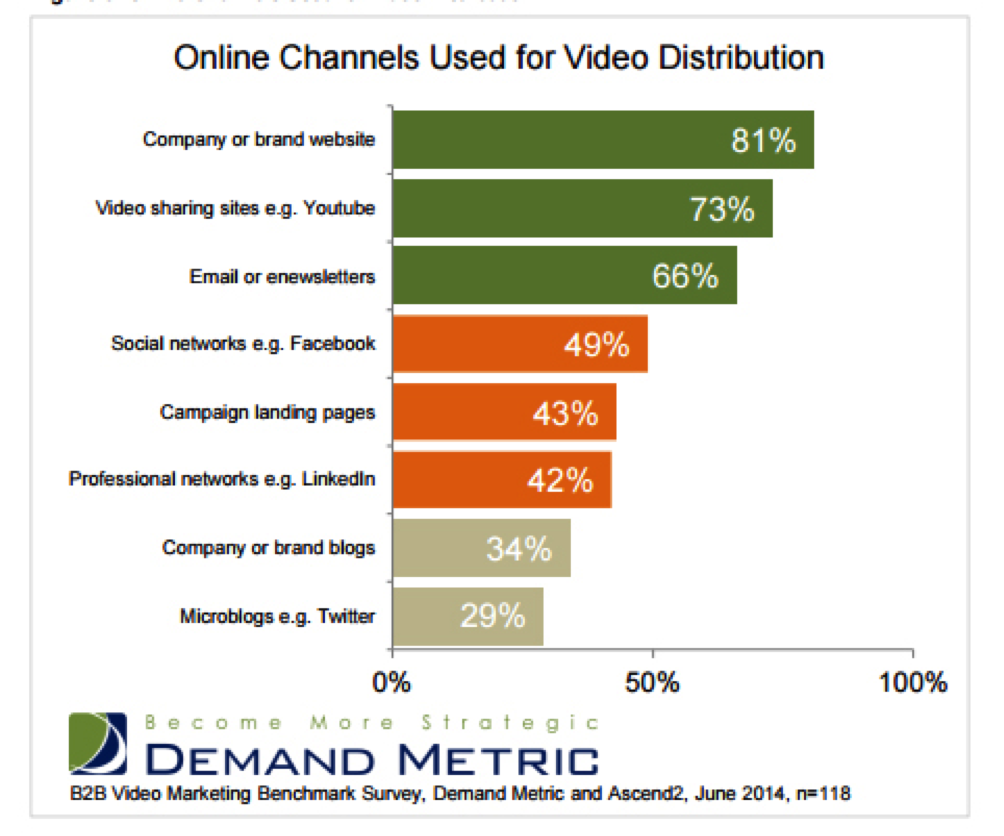 Most marketers chose their website as the place to post the videos. A close second is placing it on a video sharing site like YouTube. There's a high chance that the top two channels overlap because many of these website-based videos are embedded YouTube or Vimeo videos.
Here's how video distribution usually looks like to cover your digital bases:
Upload the video to YouTube or Vimeo → Embed it on your website → Share the links across your social media pages
What's more interesting in the study results is that email ranked higher than social media, e.g. Facebook, Linkedin, and Twitter. Now compare this data nugget to our first table that shows the second least used objective among B2B marketers is to increase conversion rate. Email marketing is often a conversion-oriented strategy placed at the second or middle of your lead-to-sales funnel, after getting people to submit their email address in exchange for something.
If 66% of marketers are finding that videos in email marketing are effective, there's a wide gap between marketers' video objectives  and what videos are accomplishing in email marketing. So one way to leverage videos is to use them in email campaigns. Just make sure to use compelling content and CTA to your landing page.
If you're selling B2B services, there's another channel for your videos not covered by the Demand Metric study: B2B software review directories. Here are top 5 B2B review websites that can consider posting your video to.
Think of B2B review sites as search extensions because they enjoy high SERP. Search engines recognize that these sites are widely used by prospects who are searching for B2B software. In a Google/Millward Brown Digital, B2B Path to Purchase Study (2014) buyers were found to conduct twelve searches on average during their initial product discovery research. They read reviews, ratings, and user comments, as well as compare products, which are all present on B2B review sites. As a result, such websites are popular as B2B software lead resources.
Keeping that in mind, many of B2B review sites embed product videos as part of their content service to readers. If you lack a product video, you're undermining the benefits of these review platforms.
While we're at the subject of review sites, don't just be content having a presence on them, because your competitors are also around vying for the attention of your potential clients. Instead leverage the marketing services and tools of such review sites as they will give you a headstart and allow you to distinguish yourself from the competition.
For example, one of the leading B2B review sites FinancesOnline.com, offers various types of product highlights that will showcase your product on category pages or present it as a suggested alternative when users compare your competitors' services. That can significantly increase the conversion rate of your leads coming from the site. You can also take advantage of their  marketing services and brand awareness solutions. As more buyers rely on B2B review platforms to start their product discovery research, these marketing tools can provide a tactical advantage for you.
How to optimize videos?
Finally, here are the top video optimization tactics used by B2B marketers, based on the Demand Metric report:
Tagging videos with search keywords: used by 58%
Video posting on company blog: used by 44%
Optimizing video file names with keywords: used by 40%
Unique URLs to video website pages: used by 33%
Providing code to embed videos on sites: used by 29%
Optimizing videos for sharing sites: used by  23%
Promoting video content with PRs: used by 21%
Posting video transcripts online: used by 16%
You can use all these tactics for your video, but some may not be compatible. For example, the last tactic is only useful for how-tos or tutorial videos, while the fourth tactic is best reserved for subscribers or as added material to convert leads to fulfillment.
Takeaways

Many B2B marketers are not maximizing the potential of video marketing, leaving you a wide playing field to leverage this strategy to your advantage

Make conversion as your main video marketing objective, making sure your videos have CTA links

Creating a compelling video content shouldn't be a mystery to you: simply focus on your product's benefits to highlight what's in it for buyers

Upload your videos to YouTube/Vimeo, embed them on your site, and share them across your social media pages to cover all your digital bases

Make sure to have a product video and have it posted on B2B review sites, which can act like SERP extensions

No single video optimization tactic is enough; use them all