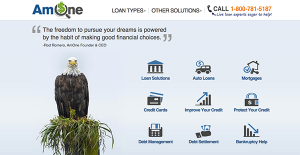 Florida-based AmOne.com is a referral lending site offering a free service to match your credit viability with the best loan option available. The company, which has been around for 14 years, promises to give you the best loan solutions in one place to save you the time and effort searching for a loan match. It is not a peer-to-peer lending site; rather, an intermediary to a network of peer-to-peer lenders. Once your loan is approved, you are endorsed to a direct lender, which provides the actual loan and terms.
If you're thinking of going straight to a direct lender, by all means do so. But for many borrowers without an inkling where to start, a referral site like AmOne is a good starting point. Even if you already have a reliable direct lender, using a referral loan site may give you a better deal in terms of interest and payment conditions.
How is the lender different?
For an alternative lending company, AmOne offers a wide selection of loan options, where many peer-to-peer lenders have limited unsecured loan offers. This is, in fact, one of the advantages in using a "connector" site because you are instantly connected to a range of loan offers that a direct lender will find difficult to match. You have a choice of loan types, such as: personal, unsecured, debt consolidation, small business, and startup business. Moreover, AmOne provides more solutions, including car loans, mortgages, credit cards, and bankruptcy assistance.
Loans range from $1,000 to $500,000 depending on loan types. AmOne can also assist you to purchase or refinance a car with quick access to a number of auto loan packages. You can perform the same quick search for mortgages if you are looking for the most suitable home loans.
How much are the rates and fees?
Interest rates vary according to a number of factors on your side, including: your credit standing, loan amount, annual income, and outstanding loans, if any. Rates are also dependent on the direct lenders' terms. A typical APR range from 6% to 35% for a borrower with moderate credit score. The best way to gauge your interest rate and estimate APR is to submit your personal data and make a loan request in AmOne website. AmOne will return a list of direct lenders indicating the rates and fees. The lending referral site does not charge for the use of its search tool. You may also read one of our Avant reviews to learn more about their rates and fees.
How to apply for a loan?
Applying for a loan is easy and fast. You start by submitting your personal information and financial goal in AmOne website. You need to be transparent because AmOne will use this information to give you the best direct lender possible within a few seconds after you press submit. The direct lender will validate your submitted data and any inconsistency will raise a red flag. After getting a match and you are not satisfied with the shortlisted offers, you can talk to an AmOne rep if you have queries or if you want to ask assistance for more options. The one-to-one talk helps AmOne to give you a more in-depth loan package and targeted solution. Lastly, you pick your choice of best options and your loan will be released soon, usually in one day. AmOne' service itself is free, but the direct lender may charge you with separate fees.
The Fine print
AmOne works best if you have no clear idea where to get an online loan. With 14 years in the business, the referral site can do the legwork for you instead of you searching for direct lenders one site at a time. However, keep in mind that AmOne is not a direct lender, but a referral site. The use of its search tool is free, but the direct lender that you will pick may have its own separate fees and charges. AmOne discloses that it may receive a referral fee from the lender in some instances, a fee that can be passed on to you by the lender in a form of administrative or processing cost. Furthermore, AmOne is not a credit services agent; you need to apply for one from the direct lender. As with mainstream lending policies, borrowers with prime credit are likely to enjoy lower interest rates and higher loan amounts. Conversely, if you have a bad credit score expect to have a limited cap on your loan request, if not being outright ineligible in worst case scenarios.  As with most online loan sites, your loan request is taken as a "soft inquiry;" thereby, it does not negatively impact on your credit score.
LENDER DETAILS
Website: https://www.amone.com/
Loan amount:
Personal loan: $1,000 to $100,000
Unsecured loan: $1,000 to $100,000
Small business loan: up to $500,000
Startup business loan: up to $200,000
Loan Period: varies on direct lender's terms and your loan eligibility
APR & Interest rate: varies on direct lenders' terms and your loan eligibility
Monthly payment (est.): varies on direct lender's terms
Area being served: U.S.
How to apply for a loan
Submit your personal information in the website
Get immediate results of your best loan options
Compare loans and choose your pick; alternatively, if you are not satisfied with the loan options, you can call an AmOne rep and ask for a more tailored loan offer.
Get more tailored loan options based on the call.
Pick your loan choice and receive it, usually on the next day depending on the direct lender's terms.
Fees and charges
Expect typical charges for administrative, referral, and processing. Each direct lender will have its own specific terms on fees, such as for late payments and rollover charges.
Terms & Conditions
AmOne is a referral site that offers its tools for free. However, expect to be charged by the direct lender endorsed to you by the site.
AmOne does not run your credit; you need to apply for one from the direct lender.
Personal information required
name
Zip code
occupation
phone number
personal financial data
email address
Contact details
Phone: 1-800-781-5187
Work hours: Open Monday through Friday from 9:00 AM to 9:00 PM and on Saturday from 9:00 AM to 5:00 PM Eastern time.
Email: web form at https://www.amone.com/contact-us/
Address:
AmOne Corp.
12270 SW 3rd Street, Suite #400
Fort Lauderdale, Florida 33325