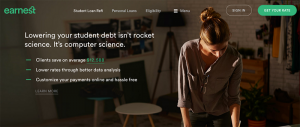 San Francisco, CA-based Earnest is an online lending service that focuses on refinancing student loans with autopay to your previous lender if your application is approved. APR starts at 1.90% for a variable APR. The company also offers responsible borrowers with limited credit score unsecured personal loans with better rates than traditional lenders. It claims to have a starting 4.25% APR, easily one of the lowest in the personal loan industry. If you are looking to consolidate your federal and private loans in one easy to track debt or want to bring down your student loan principal with a biweekly payment, Earnest can work for you.
How is the lender different?
Generally, if you tap a lending site that focuses on a specific loan type instead of borrowing from a generalist, you stand to get a better deal. That's because a specialist spends more time honing its niche product, while a generalist sells standard offers. In Earnest's case, it has novel ideas on how to refinance student loans, including:
more flexibility to set your monthly payment amount and number of months
skip one payment in a year and make it up without incurring a huge penalty
switch between fixed and variable rates at no charge
bi-weekly repayment option to bring down the principal fast and interest
unemployment safety clause in case you lose your job
in-house client service team that you can contact by phone or email, reps who are experienced in student loan FAQs or special cases
Similarly, Earnest is one of the early adopters of merit-based lending or the policy of assessing borrowers' credit viability by looking into their future more than their past. The lending site underwrites loans by aggregating your employability and education, plus your existing credit. With less prejudice to your limited credit history, and sans any outstanding delinquent debt, you stand to get a more favorable loan term compared to banks and traditional personal loan vendors. Interestingly, if you're a coding student or graduate, Earnest gives you special attention. Using its data analytics and working closely with Wired Magazine, the lender understands that this particular set of borrowers is highly employable within three months after college, albeit they are bogged down by an average debt of $29,900.
How much are the rates and fees?
Earnest offers up to $30,000 payable for up to three years. You have a choice between fixed or variable APR for student loan refinancing, while personal loans are only offered with fixed APR. Fixed APR for student loan refinancing is from 3.50%, while personal loans starts at 4.25%. Variable APR, meantime, starts at 1.90%. A quick online search of rates by other lenders corroborates the company's claim to have one of the lowest rates.
To maximize the competitive APR rate, the company recommends that you opt for a one-year payment period. For example, a $20,000 loan payable in one year may only set you back by $460. If you pay it in two years you increase the loss at $952, and at three years, your total interest costs can reach $1,564.
The company claims they have no late fees, origination fees, pre-payment penalty, and other hidden fees. In fact, we didn't find any online complaints from borrowers about being charged with extra fees (if you've been charged otherwise do please tell us).
How to apply for a loan?
Applying for a loan only takes two minutes. You need a valid LinkedIn profile to register with the site, which Earnest uses to fill in your education and employment profile.
Applying for a student loan refinancing:
Fill up the online application form in the lender's website.
After submitting your personal information, Earnest will respond within 48 hours with a set of rate options based on your information. Your data is verifiable so make sure to enter only legitimate details. Choose between fixed or variable rate and set your monthly payment period.
Upon accepting the refinancing terms, Earnest pays off your student loan.
Applying for an unsecured personal loan:
Fill up the online application form.
You receive a response within 48 hours with loan options based on your submitted data.
Once you accepted the terms, a typical loan is deposited to your bank account within 24 hours.
The Fine print
Clients who get guaranteed loan approval typically:
hold a bachelor's or higher degree
have savings
have minimal credit card debt
have a job or job offer
have positive bank account balance
make payments on time
If you have an outstanding or delinquent debt you are likely to get turned down. Earnest works best for people with limited credit score because they haven't taken out a substantial loan before or borrowers who are set back by a few months but have a stable job or in a promising industry. Critical information you provided, such as account balances and bank transaction history will be used by the lender to gauge the right loan options for you. Likewise, the lender may request consumer report on you as part of your credit assessment. Bear in mind also that you are granting Earnest rights to access some of your critical personal data, such as PINs and passwords. However, the lender is prohibited to use these data other than during your loan evaluation.
LENDER DETAILS
Most recurring positive comments
Fast and easy application process
Innovative loan assessment, new-age loan process that serves a niche
Good customer service
Website: www.meetearnest.com
Loan amount: $5,000 to $30,000 or more
Loan Period: You set your own monthly payment period for up to three years. Option between fixed and variable APR for student loan refinancing
Interest rate: 
Student loan refinancing: from 3.50% fixed APR or 1.90% variable APR
Personal loan: from 4.25% fixed APR
Fees and charges: Earnest claims to have no origination fees, penalty fees, prepayment fees, hidden fees. State fees apply, for instance, Florida stamp tax if you're based in that state.
Monthly payment (est.): You set your own monthly payment amount and number of months
Area being served: Colorado, California, Florida, Connecticut, Massachusetts, Georgia, Illinois, Oregon, Michigan, Minnesota, Washington, New Jersey, New York, North Carolina,  Pennsylvania, Tennessee, Texas, Wisconsin, Utah, and Washington DC
Terms & Conditions
Here are the key terms when applying for a Earnest loan:
You must be 18 years old or above and living in a state where the lender operates
You must be a financially responsible borrower with no delinquent debt
Loans are not available where the company has no presence
You need a valid, updated LinkedIn account to apply for a loan
Your credit history will be reviewed even if the company focuses more on your current standing and financial potential
Loan request is categorized as a "soft inquiry," which does not affect your credit score; however loans that are approved and delivered are recorded in your credit score for future assessment by other lenders
Minimum refinancing amount is $5,000
Only schools accredited with the U.S. Department of Education are eligible for refinancing
You cannot consolidate your loan or co-refinance it with your spouse
Earnest loans are considered as student loans subject to federal and state tax rules
Personal information required
name
highest degree
school
employer and your job title
annual income
banking and investment total
home address
citizenship status
email address
Social Security Number
LinkedIn profile (required as your login credential)
Contact details
Address:
Earnest Operations LLC
3001 19th Street, San Francisco, CA 94110
phone: (888) 601-2801 (8AM to 5PM PST Monday through Friday)
email: [email protected]