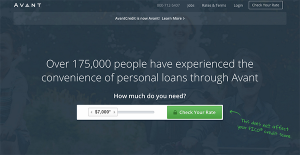 Chicago, IL-based Avant (formerly AvantCredit) is an online lending site targeting people who are financially responsible but with less than stellar credit history because of unavoidable situations. The company was launched in 2012 and claims to have lent out $400 million to about 175,000 clients to date. It offers standard consumer installment loans.
The lender recommends to use the loan as one way to build your credit, but, surely, there are cheaper ways to do this. For one, you can get a secured credit card and manage your credit transactions on time. Avant loans are best for emergency situations like medical expenses or home and car repairs, when you can't get a best interest rate below 30% because of a bad credit past.
How is the lender different?
Avant is one of the more established online lending sites, having lend out $400 million servicing 175,000+ customers so far. APR ranges from 9.95% to 36.00%; in most cases, if you cannot get a loan below 30% interest rate because of a bad credit, Avant is a good alternative. It also reports your on-time payments to credit bureaus, which helps to reinforce your FICO credit score.
How much are the rates and fees?
APR is from 9.95% to 36.00% and subject to state caps and regulations. But in actual loans lent out based on consumer reviews, APR ranges from 19% (decent credit) to 65% (not-so-good credit). There are no hidden costs like application fees, membership fees, or prepayment fees. But you are charged with a $15 "dishonorable" fee when the lender sends you a reminder that your payment is due. This is unique in the lending industry, one of those subtle administrative fees a lender makes money, so better watch out for your pay cutoffs.
How to apply for a loan?
As with many online lending sites, application starts by requesting for your rate in the lender's website. This won't affect your FICO credit rating, but the loan itself, once approved, will impact on your credit score. The good news is, if you pay on time Avant reports this to FICO, which can improve your score.
Your credit score must be 600 and above to qualify for a loan. Avant will give you loan terms based on your personal and financial details, but mainly on your credit ranking. After selecting your term, Avant may require additional documentations to validate your credit standing. The lender is not explicit in explaining that the initial approval is subject to final approval. Some borrowers complain that, when they refuse to submit further documentation, the lender declined their loans despite the earlier approval. This is not scamming as these borrowers rant about in their reviews, but the lender could be faulted for not being clear about the loan process. To ensure smooth processing of your loan you need to meet Avant's request for further verification, which is reasonable considering they're lending out to people with less than reputable credit record. Once approved, your loan is deposited in your bank account, usually, in one business day. The final approval process itself may take a week or more depending on the complexity of your credit past.
The Fine print
Avant offers loan options to borrowers with less than ideal credit, but you still need a minimum credit score of 600 to be eligible. Likewise, the rates are quite high so it should be one of your last options if you cannot borrow from banks, mainstream lenders, or a credit coop. The lender also won't charge you with hidden fees like prepayment and administrative costs, but one fee stands out as a bit out of place: Avant calls it a "dishonorable" fee, which is $15 every time the lender has to remind you that your payment is due. The obvious way to avoid this annoying fee is to pay on time.
LENDER DETAILS
Most recurring positive comments
Fast approval process.
Good customer service.
Most recurring negative comment
Inconsistency in the loan approval process: they'll approve your loan then ask for more documents. If you refuse, they'll deny the loan in the later stage of the process.
High interest rate even if you have a good credit score.
Website: www.avant.com
Loan amount: $1,000 to $35,000 subject to state caps
APR (est.): 9.95% to 36.00%
Loan Period: 12 to 60 months (15 days grace period)
Area being served: U.S. (state caps and regulations apply)
How to apply for a loan
Check your rate at the lender's website. It won't affect your FICO credit score.
You'll be offered loan options indicating the interest and term. Choose one.
Fill up the online loan application form and submit.
Additional documents may be requested for further verification.
When approved your loan will be deposited in your bank account in as short as one business day.
Fees and charges
Late payment: $15
Dishonored payment fee: $15 for each time a sent Note or Debt is returned unpaid
No charges on advance payments
Terms & Conditions
Loan rates and terms depend on various factors, such as, your credit history, employment background, and past loan repayments, and other relevant factors that may apply on case-to-case basis.
You must have a credit rating of 600 and above to be eligible for a loan.
Minimum loan amount is subject to state caps.
Payment is automatically debited from your bank account. Late payment and a "dishonorable" fee can be charged for every late payment.
Personal information required
name, address, date of birht, other personal information
income information and other personal financial data
Social Security Number
credit score and past credit transactions
other documents where required for further validation
Contact details
phone: 800-712-5407
email: [email protected]
office address:
640 N. La Salle Dr., Suite 535
Chicago, Illinois 60654