The attitude and buying choices of clients have always been formed by reviews they could read online. The power of such reviews is significant in all types of market sectors and industries, from booking travel destinations to purchasing retail products. Even the technology sector—particularly B2B and SaaS solutions—is fast changing along with the rising impact and prominence of online software reviews.
In fact, a study made by Forrester showed that 68% of B2B buyers prefer doing product research on their own instead of contacting the sales rep. Sixty-two percent of buyers also feel confident in using online resources as their primary basis for shortlisting the choices.
What does this mean? It means that before purchasing anything, B2B buyers research online and read the reviews about your product before they even contact you. And the most trusted sources of such reviews are popular B2B review platforms, like FinancesOnline.com, currently one of the top review sites for B2B products online. The Forrester study only corroborates what Google had been harking about since 2015 on the changing B2B path-to-purchase: that buyers are, indeed, taking control over the process. Is your online presence aptly positioned to leverage this new normal in B2B sales? One of the best ways to capture buyers online is having your product listed in B2B review sites.
Here's our list of top 10 most popular and reliable business review directories:
1. FinancesOnline: leading SaaS, B2B and finance solutions review platform
2. G2crowd: software reviews based on a unique grid scoring system
3. SaaSGenius: fast and efficient discovery of new SaaS tools
4. Capterra: software reviews in more than 700 categories
5. SoftwareAdvice: simple and intuitive software selection
6. GetApp: a user-based B2B software review directory
7. FitSmallBusiness: buyers and vendors clearinghouse for small businesses
8. TechnologyAdvice: a resource for purchasing business technology
9. PCMag: software and hardware reviews with useful opinion section
10. TopTenReviews: software and hardware reviews with expert picks
Below you can read more about why these sites are so important and you'll find a more detailed look at each of the sites.
Why B2B & SaaS software review sites are important
Other studies indeed reflect the strong influence of these B2B SaaS software review sites on sales. A ZenDesk survey, for instance, shows that:
90% of all the B2C and B2B buyers from mid-sized organizations who had seen reviews online said that the positive reviews actually influenced their purchasing decisions.
Mobile devices play a role in these review-driven purchases, too. A Boston Consulting Group research disputes the myth that mobile isn't important in B2B purchase. On the contrary, the study points out that 60% claim mobile use has influenced their recent purchase. Not the least, 80% admit in using mobile at work.
By the time the sales agent of your company knocks on a prospect's door, the former has already formed an opinion about the software tool, and it is often based on review sites.
That is why it is no wonder that in the B2B and SaaS software buying process, reviews have become a norm. Most B2B review directories can help provide your target market with relevant information about your product. Buyers usually search for feedback online from peer organizations to check if the tool may be a right fit for their specific, often customized needs.
These third-party review sites operate in the same manner as user review websites that are available in the consumer market, for instance, TripAdvisor and Yelp! The B2B or SaaS review platforms are always independent of the software organizations, which lends to these sites credibility.
Some would wrongly assume that these review sites will hard sell specific products, but actually, it does not work in that manner. In fact, on the contrary, these review sites will remain objective to get more readers, who will rely on their reviews before selecting the right software.
If you own a B2B or SaaS company, you should consider these sites as your first base of operations, so people who learn about your tool have the right information about it.
Here are 3 methods to promote your B2B SaaS software solution in review sites:
Make sure your product information is quickly accessible to the reviewers of the site.

This means making all the pertinent data clearly available on your website or even giving out the product specifications to the site's reviewers to ensure they are checking out the most important details of your software. You can even grant a site reviewer access to the software tool during the review period. These steps may not guarantee a positive review, but at least you can make sure your software solution is being reviewed along the right angles.

Ask your loyal customers to review your B2B SaaS product.

Outline the main aspects they should review, including features, cost-benefit, ease-of-use, and integration. You can even provide them token incentives to write a review, but, more crucially, inform them that their user reviews will help your company to improve on problematic features or help other purchasers to choose if the software fits their needs or specifications. Do not ask them to merely post reviews on one of the

top 3 SaaS directories for your B2B listing

, try to make it more convenient and easier for them by drafting a sample review, sending an outline, and sending the review site's link.

Consider getting a paid listing in these review sites.

They usually have a paid section where they can highlight sponsors. Think of it as an ad posted in the Yellow Pages. A paid listing can give you a good advantage over a rival that merely relies on user reviews.
Here are 10 most useful B2B review directories for listing your product:
1. FinancesOnline.com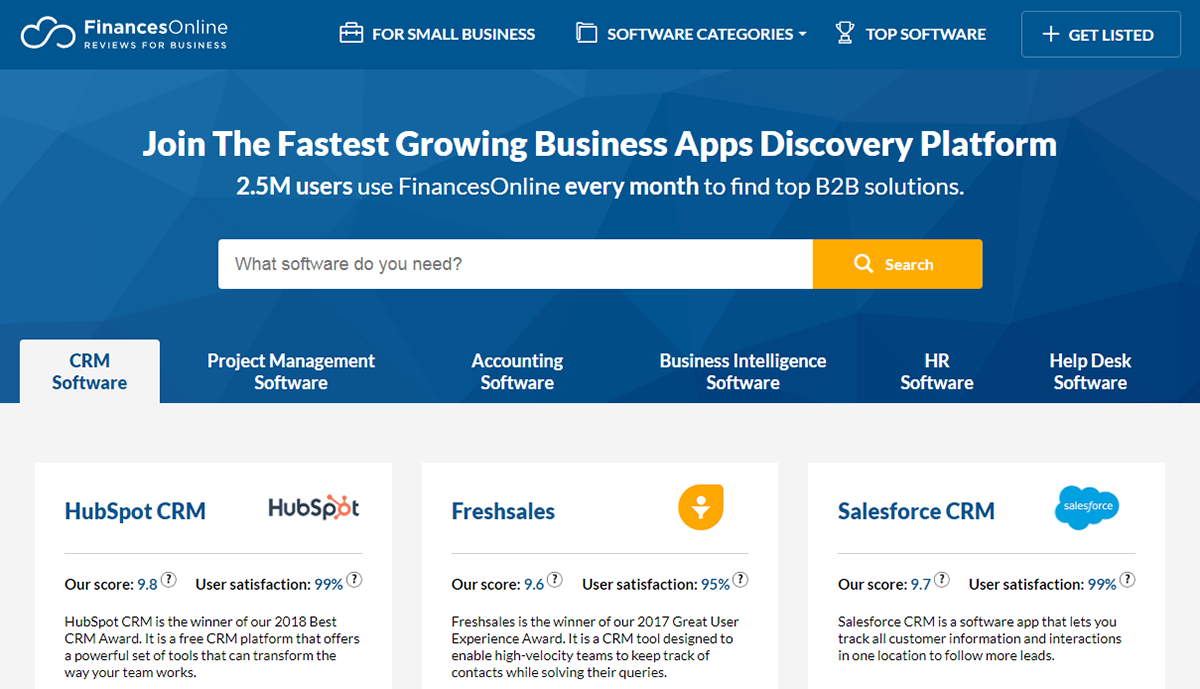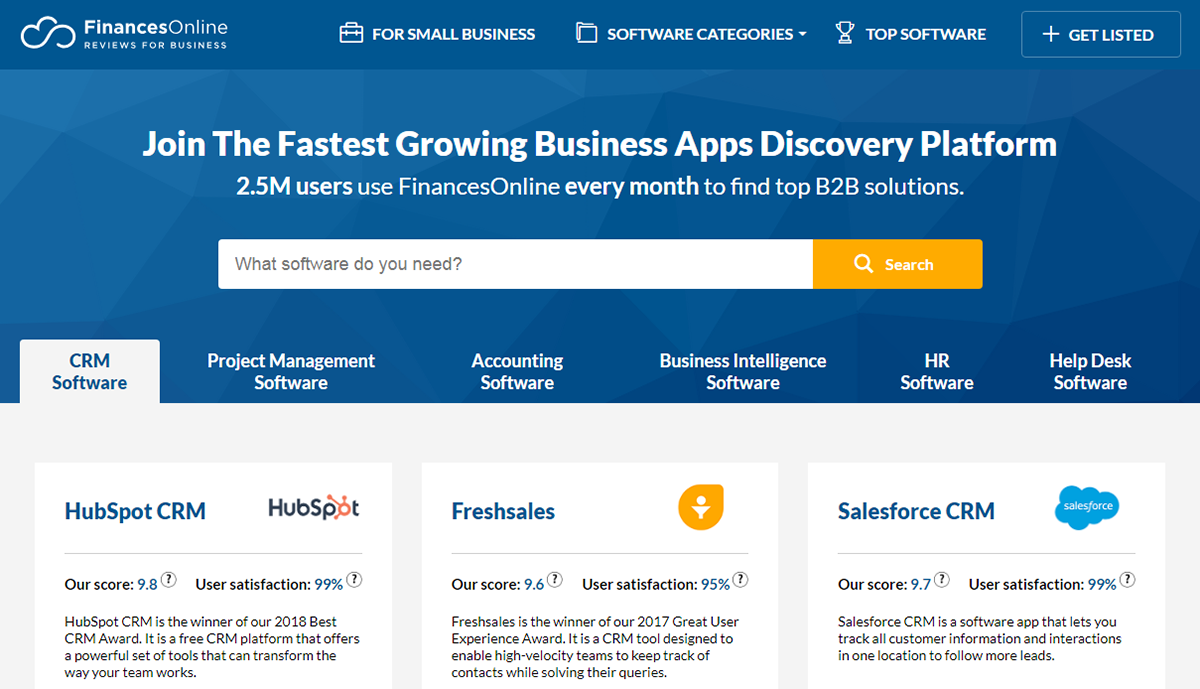 FinancesOnline.com is considered the fastest growing B2B & SaaS review platform, raking in over 2.5 million viewers each month all of whom are looking for business and productivity solutions in one place. Targeted at B2B companies and small businesses, the site boasts of hundreds of software categories and a growing database of more than 7,000 software reviews by a team of technology specialists and SaaS experts. The reviews focus on a product's usability, features, pricing, and additional information and are rated via their unique SmartScore System.
On the basis of its attributes and capabilities, a product is subjected to comparative analysis with other similar software. Often, there are articles that offer alternatives to a particular solution and there are also listings of top products based on factors set by the review team. There are also lots of guides and resources on optimizing the use of software as well as tips on streamlining business functions and processes for small business.
If you're not in their listing yet you can easily request a review here.
Having your product listed and reviewed on FinancesOnline is but the initial step. The site also offers a wide range of marketing services for your B2B and SaaS products that will help you improve trust in your product and generate more inbound traffic. And if your software impresses the review team and passes their ratings and scores, it can carry a Verified Quality Seal that marks you as a reliable vendor with a high-quality product. Your product will likewise be ranked high in the category where your software belongs.
On top of those, your product can be conferred with FinancesOnline's B2B industry awards and certificates which are distinguishing marks of excellence that can further boost your sales. You can check the HubSpot CRM review to see how all of the elements come together to give your product a professional evaluation and greater exposure to potential customers.
2. G2 Crowd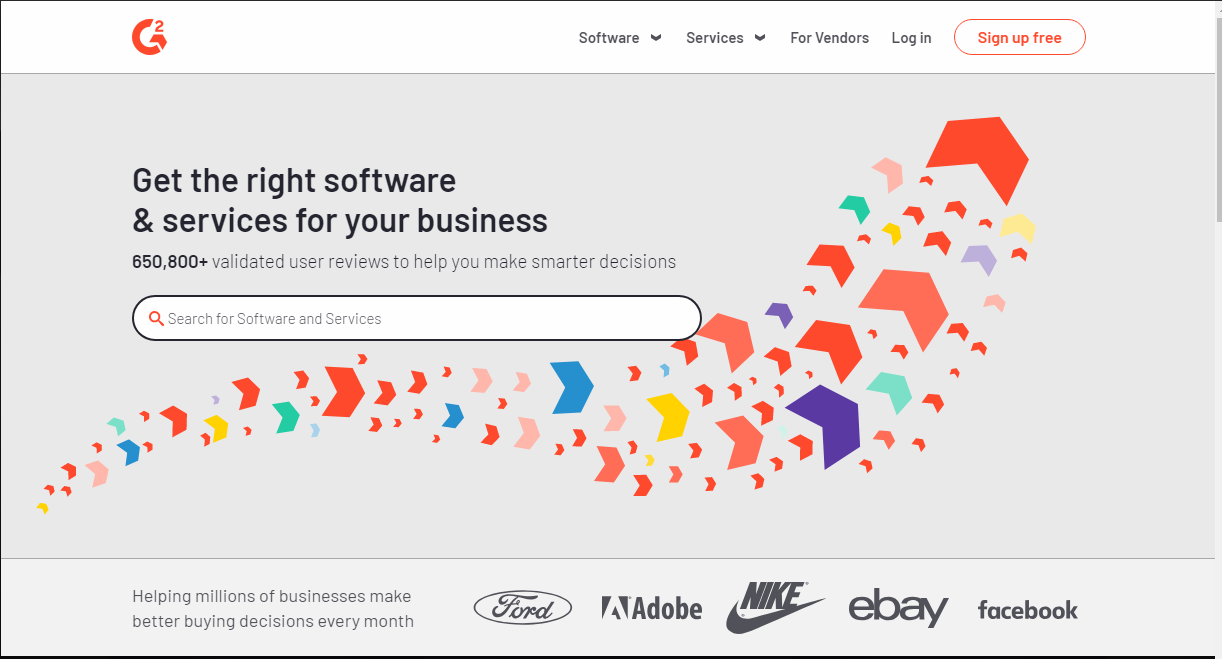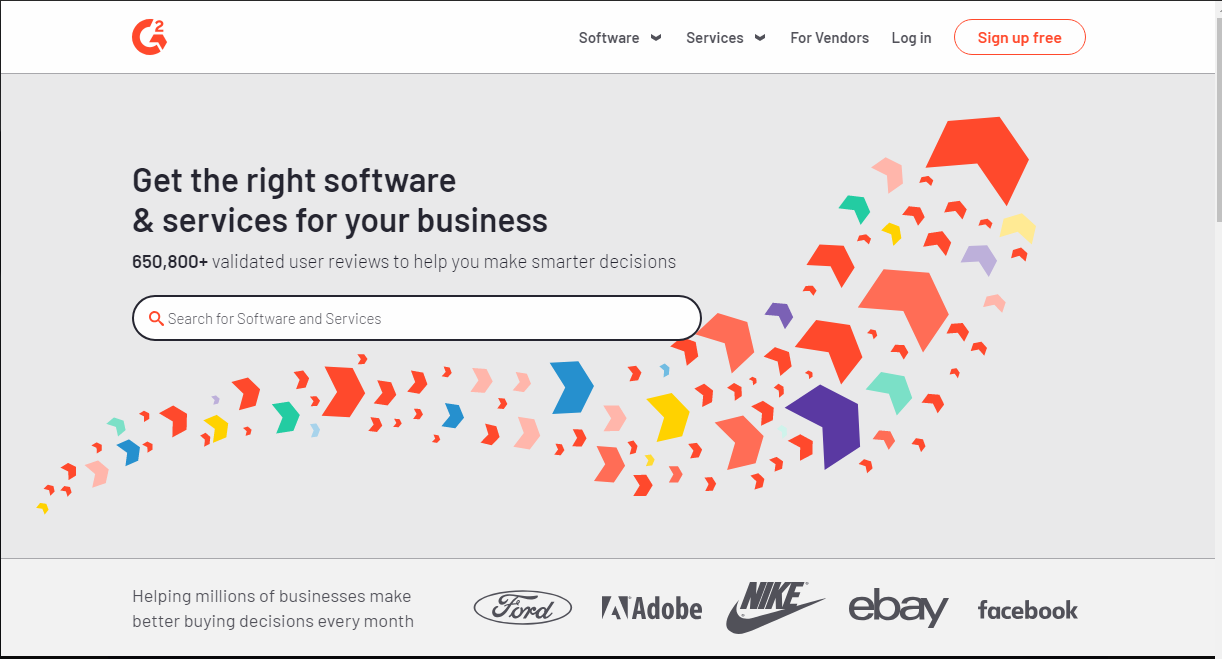 G2 Crowd highlights the customer's voice by having the product customers themselves give their take on using the software. They have amassed over 600,000 authenticated user reviews which carry 5-star ratings for top products. And since it's the users themselves who evaluate the products based on their experience, you get independent and honest reviews direct from the people who matter – your customers. This way you get objective assessments on what users like or dislike about your product and what particular benefits they gain from it. G2 Crowd also offers business and marketing services including management consulting, inbound and outbound marketing, and B2B services.
3. SaaSGenius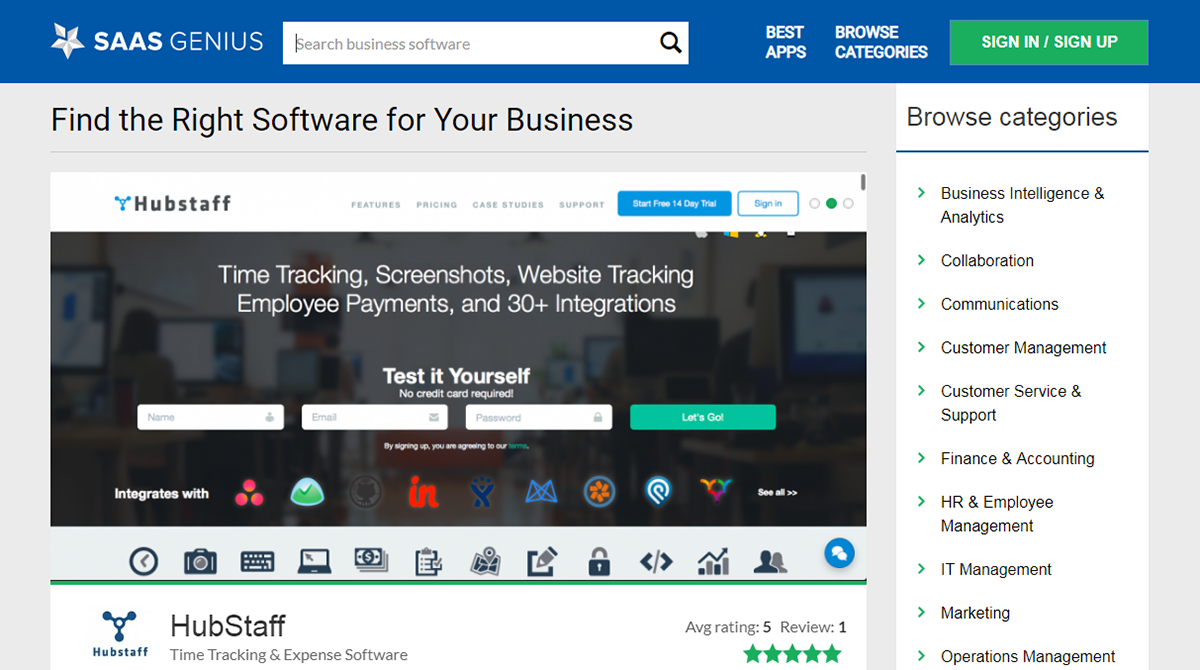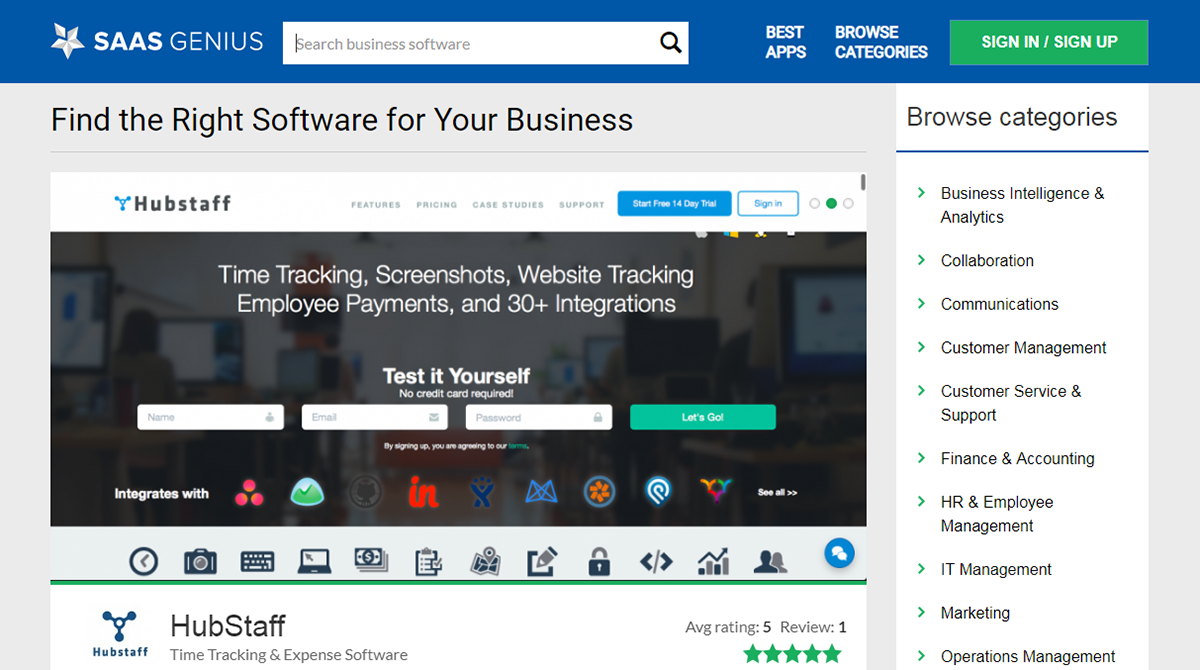 SaaSGenius is intended to make the process of finding the right business software as simple and straightforward as possible. As indicated by its name, the online software directory focuses on SaaS, providing basic information on features, specifications, and pricing as well as similar and alternative products. Software reviews also carry a 5-star rating system are done by the platform's editors but they also allow short evaluations by product users, company owners, and professionals, highlighting what they like and don't like about the software. Currently, vendors can add their products and services to SaaSGenius base at no cost, so it's an opportunity worth considering.
4. Capterra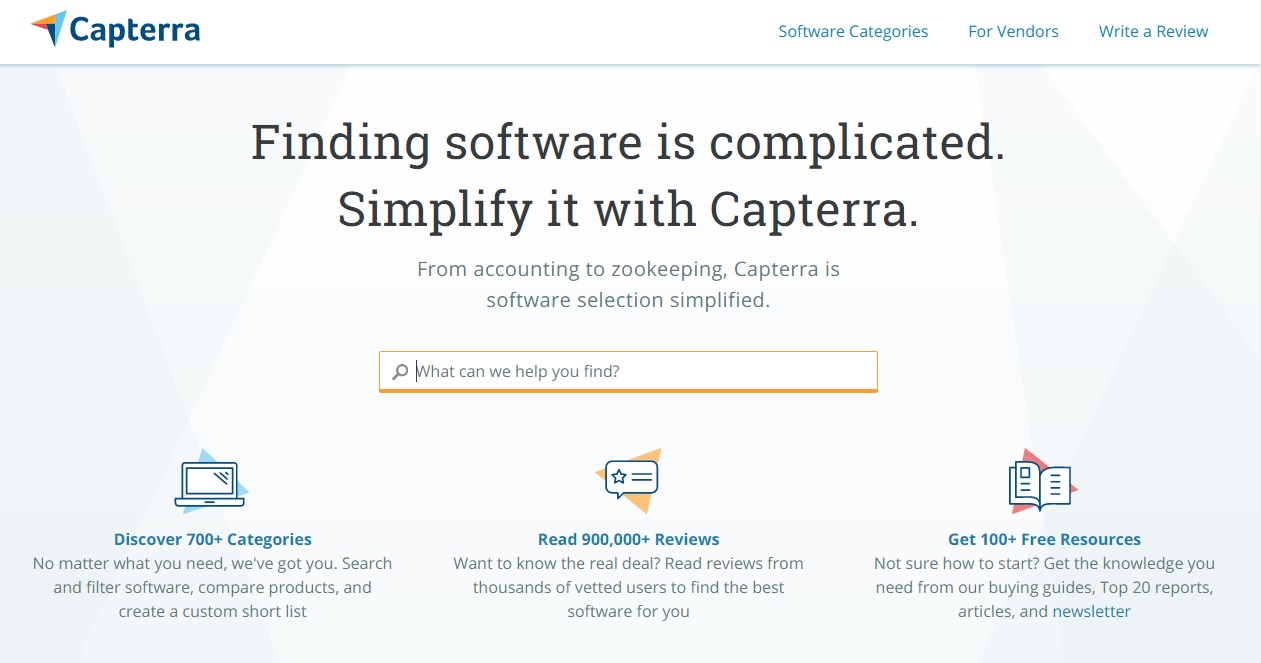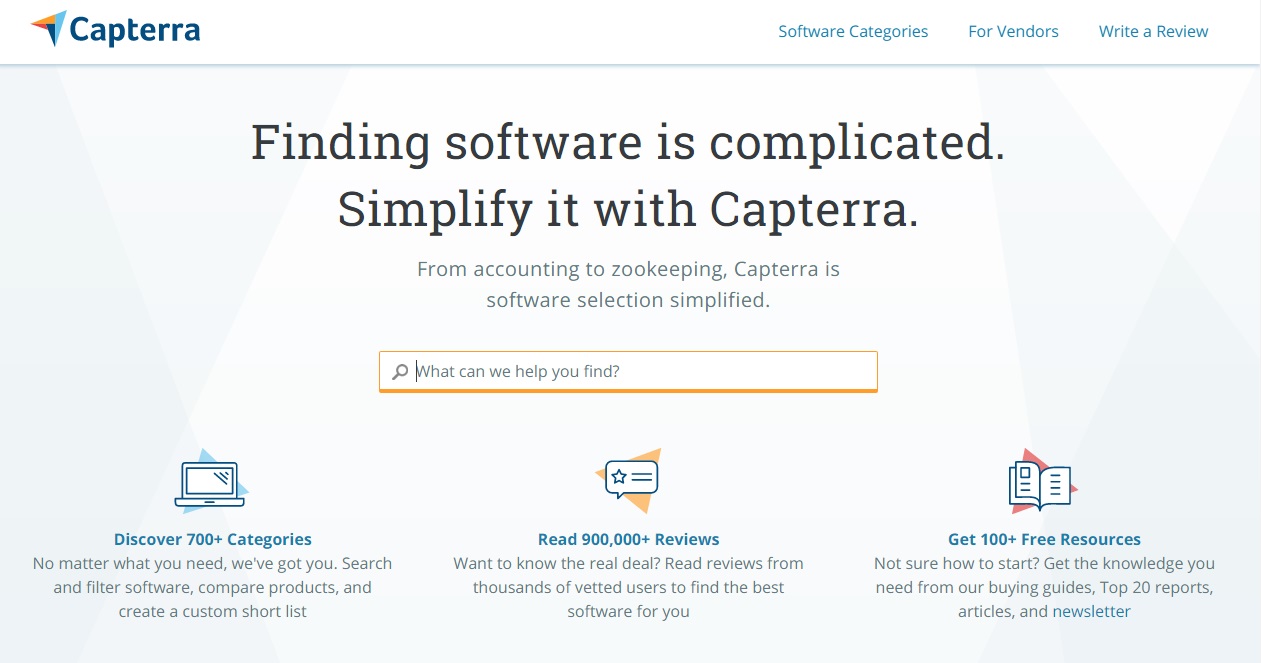 Capterra is a popular site that carries one of the largest directories of software reviews and information. It is designed to help companies find the right business software, effectively connecting customers with the right vendors. Finding the product that matches your business requirement from over 700 software categories is facilitated by robust search and filter tools to help you quickly find what you're looking for. In the software page, you'll find essential product details, star ratings and reviews from product users, citing the pros and cons of the software and overall impression. Each review carries a visual meter on the likelihood of the user to recommend the product. The site also provides buyer's guides, blog posts, top 20 reports, and other helpful resources for buyers. Vendors, on the other hand, can create a free listing of their product or avail of the platform's marketing and advertising services.
5. SoftwareAdvice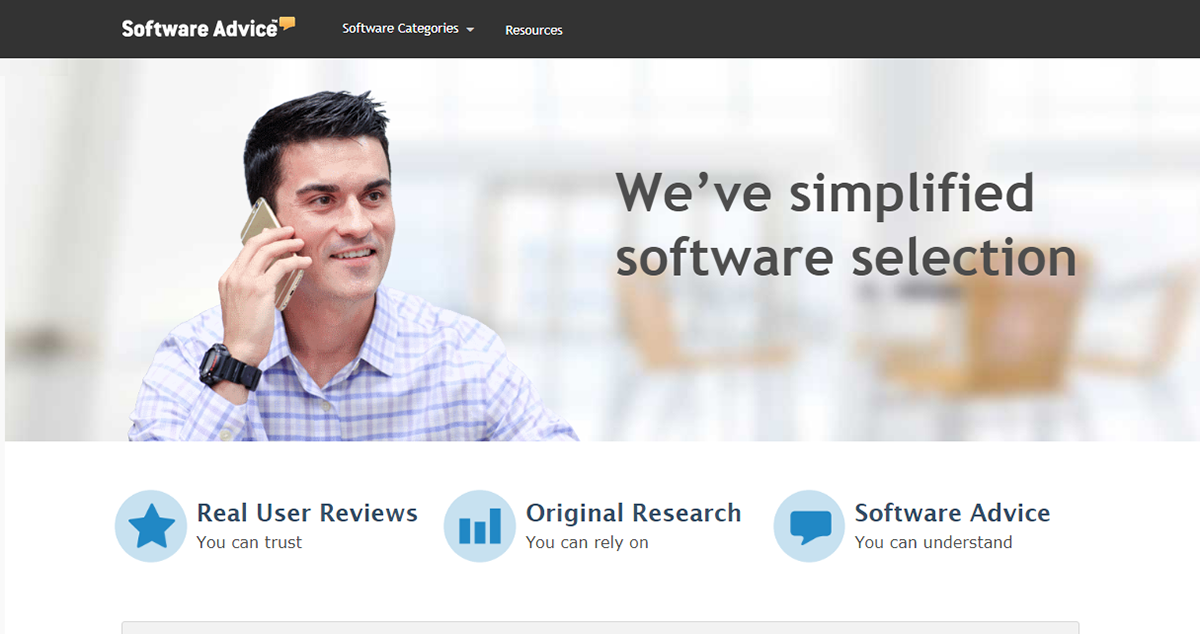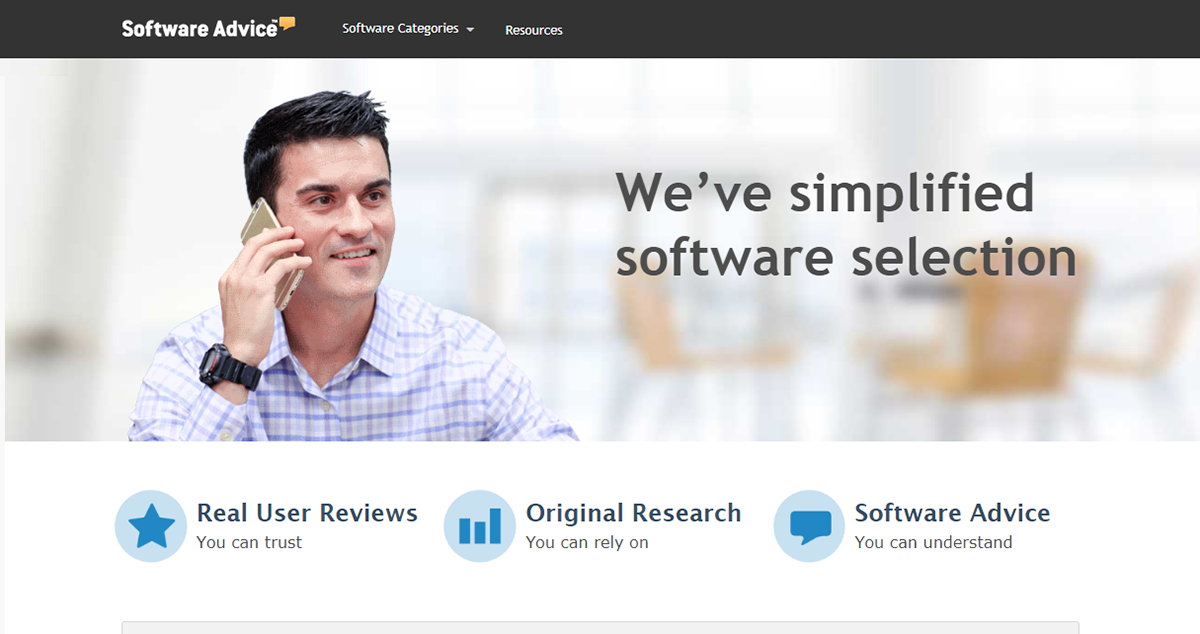 SoftwareAdvice simplifies software selection by matching customers and their requirements with vendors shortlisted by the site's expert advisors. There are over 500 software categories and each product page gives you a software overview, 5-point rating system, and reviews by actual users. Reviews center on the pros and cons of the software based on ease of use, functionality, value for money, and customer support. A unique feature of the site is the ability of visitors to get free telephone advice from the company's team of software analysts, offering to help buyers select the most reliable systems that fit their requirements. This establishes a strong connection between software buyers and sellers, benefitting the former with expert advice and the latter with profitable opportunities.
6. GetApp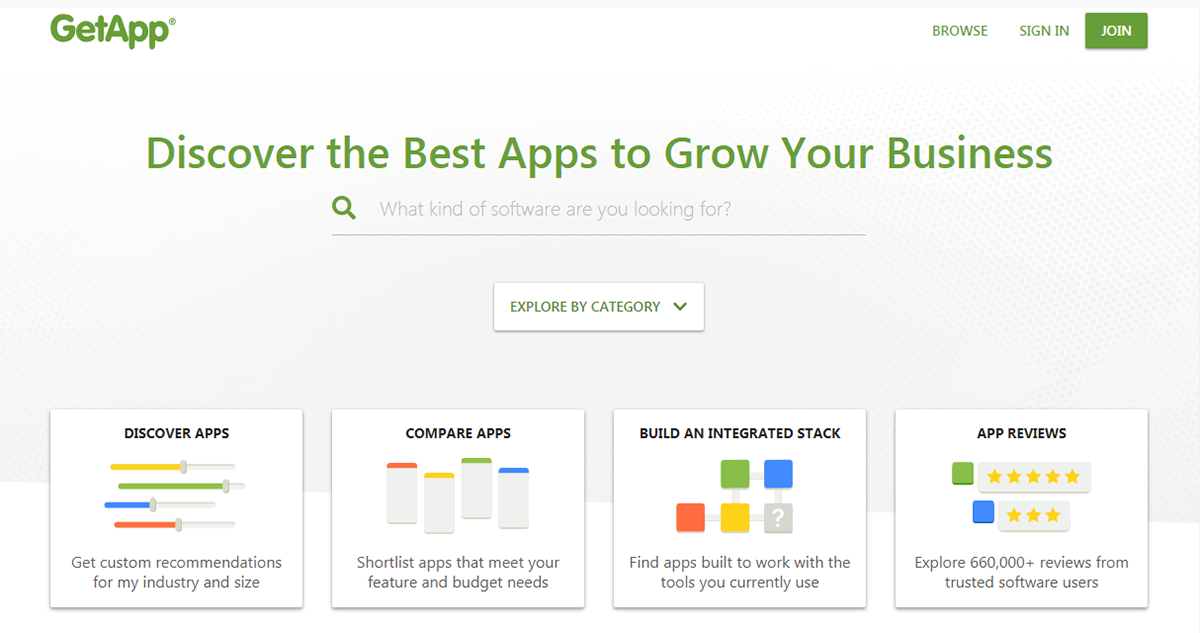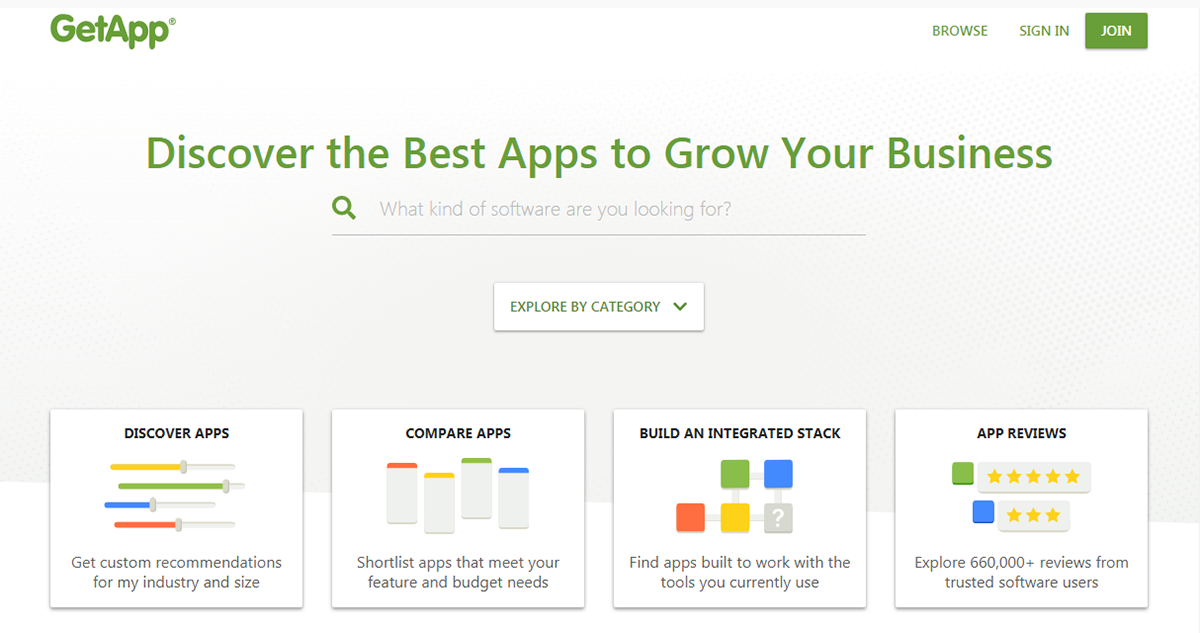 GetApp lets you discover apps through custom recommendations, compare and shortlist apps according to your needs, come up with an integrated stack of apps that work with your current tools, and explore thousands of reviews from software users. The directory has over 3,000 apps in its review platform which are meant to help grow small and medium-sized businesses. These apps are neatly organized into their respective categories, rated with through a 5-point system, and reviewed by product users citing advantages and disadvantages and likelihood to recommend from 1 to 10. You also get software comparisons and alternatives, short tutorials for each app, and links to official software websites. The platform also has a business app blog and a GetApp Lab that provide trends and insights to help choose the right tools for your business.
7. FitSmallBusiness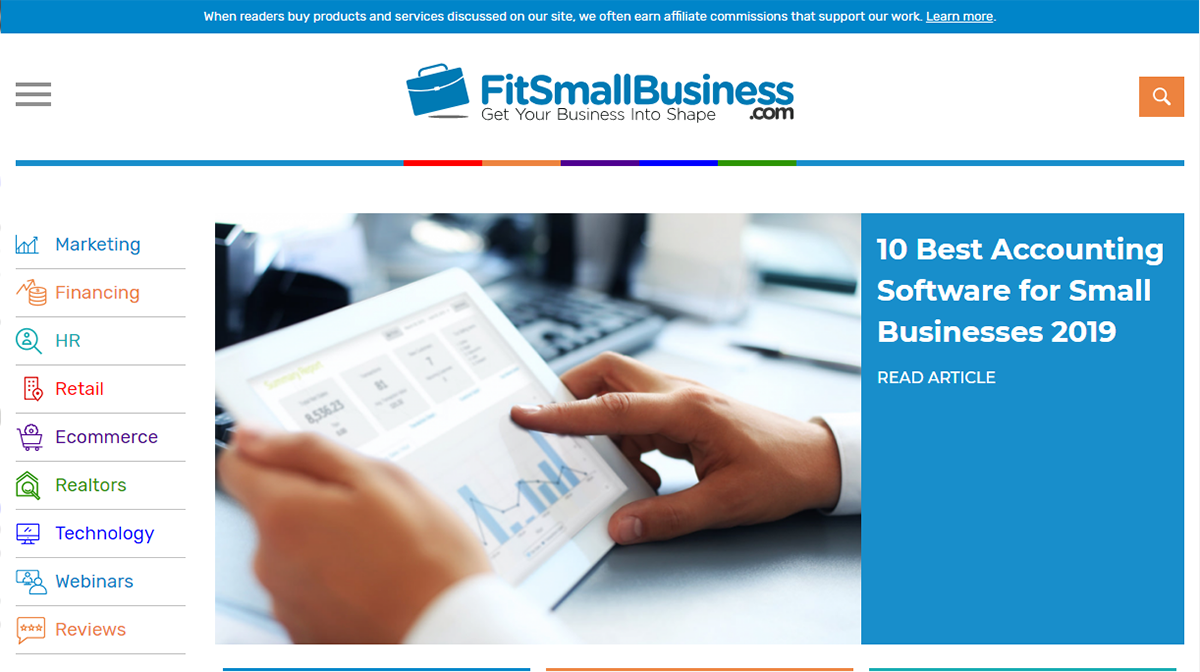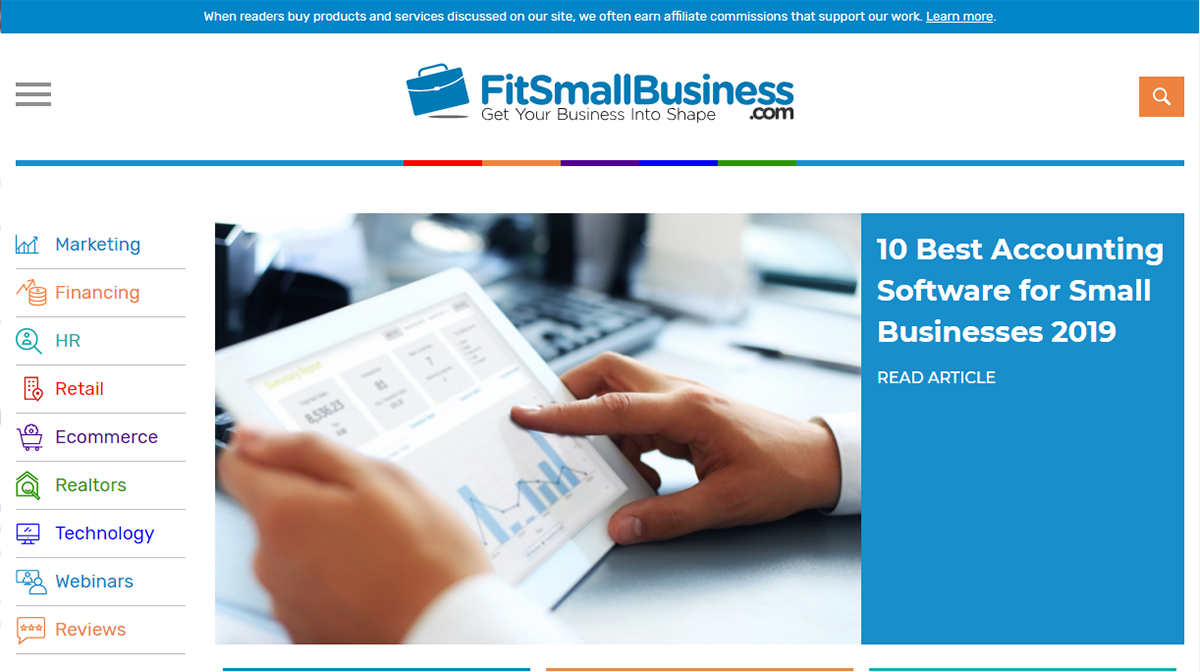 FitSmallBusiness aims to service the need for technology solutions for millions of small businesses. It provides research, studies, and expert advice in the fields of sales, marketing, finance, accounting, and human resources, making it more than just a software directory site but also a general business knowledge center for SMBs. It has a dedicated resource page on how to start a business, offering ideas for beginners and the ins and outs of money matters. It offers explainers, buyer's guide, and reviews of software solutions done by industry experts, professionals, and actual small business owners. The site contains dozens of software categories with each product evaluated and rated by editors and product users based on features and capabilities. When you buy a product or service covered by the site, FitSmallBusiness receives affiliate commissions which go into maintaining the site and keeping it ad-free for visitors.
8. TechnologyAdvice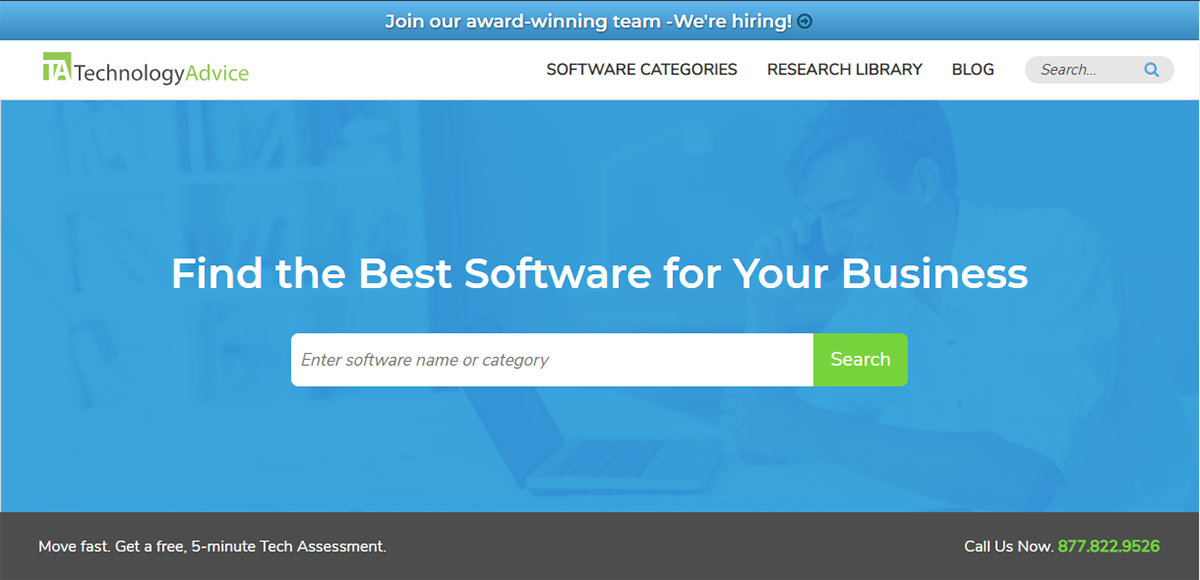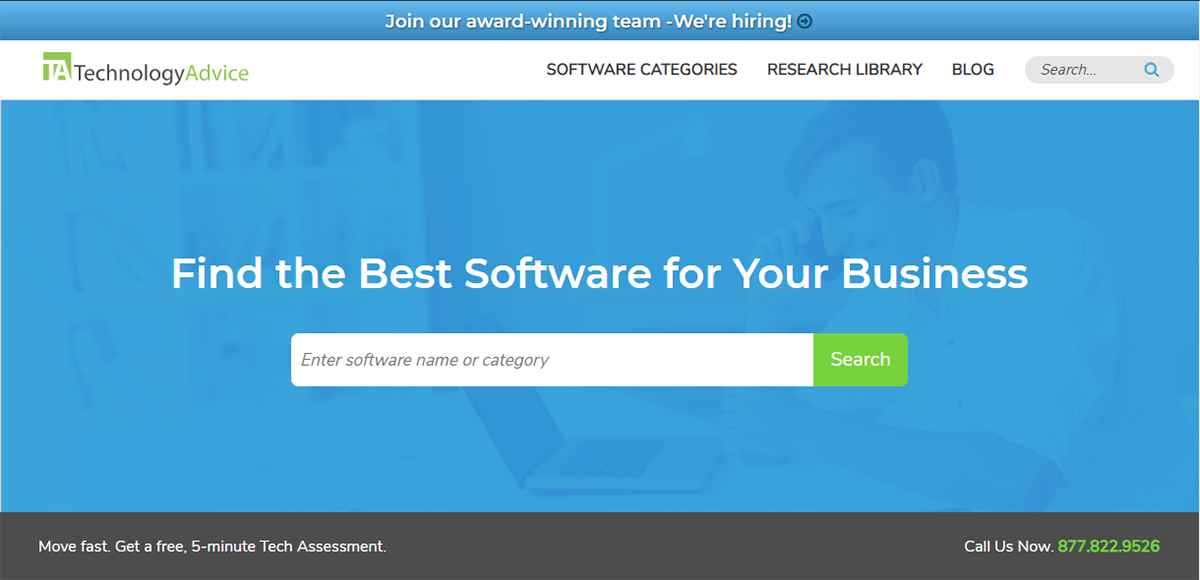 TechnologyAdvice eliminates the hassle of software research in three steps – search and filter the products based on your requirements, read the product reviews and buyer's guide, and get price details and advice from an expert. The directory brings over 1,500 products in more than 100 software categories that you can browse through. Product pages contain descriptions prepared by editors and reviews written by product users. The software is rated from 1 to 5 stars based on four major attributes and evaluated by users answering four questions pertaining to the product's best features, areas for improvement, business problems solved and benefits realized, and likelihood to recommend the product. Furthermore, it has technology advisors standing by live, ready to answer any of your queries the moment you access the website. The platform likewise provides promotional programs for product vendors.
9. PCMag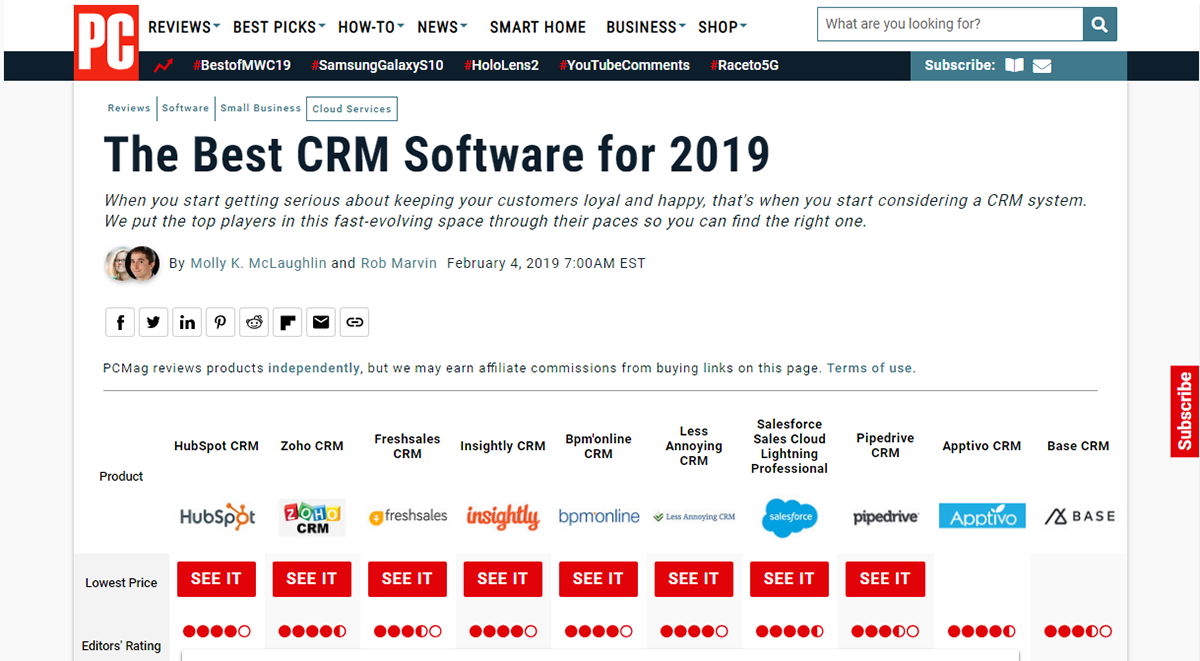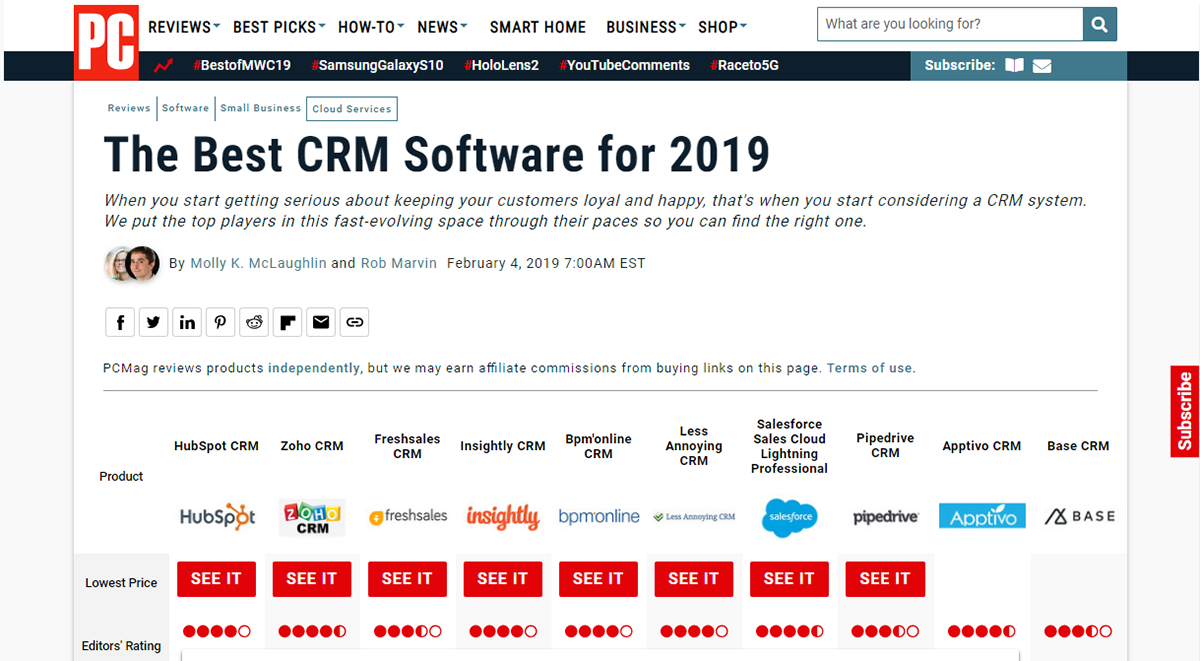 PCMag started out as a purely computer magazine and now has transformed into a virtual all-in-one resource hub on anything technology related – from mobile gadgets, laptops, desktop systems, and digital wearables, to software analysis and reviews. It also delves on emerging technological trends and provides expert opinions on all of the aforementioned topics. There are also sections for DIY hobbyists in the form of tips and how-tos. What distinguishes PCMag and made it a website for tech lovers is its comprehensive reviews, breaking down features, components, and functions with detailed analysis and descriptions. Software and apps go through rigorous examination and testing by experts – from installation, setup, settings, and usage – giving you the pros and cons as well as specific and general assessments. 
10. TopTenReviews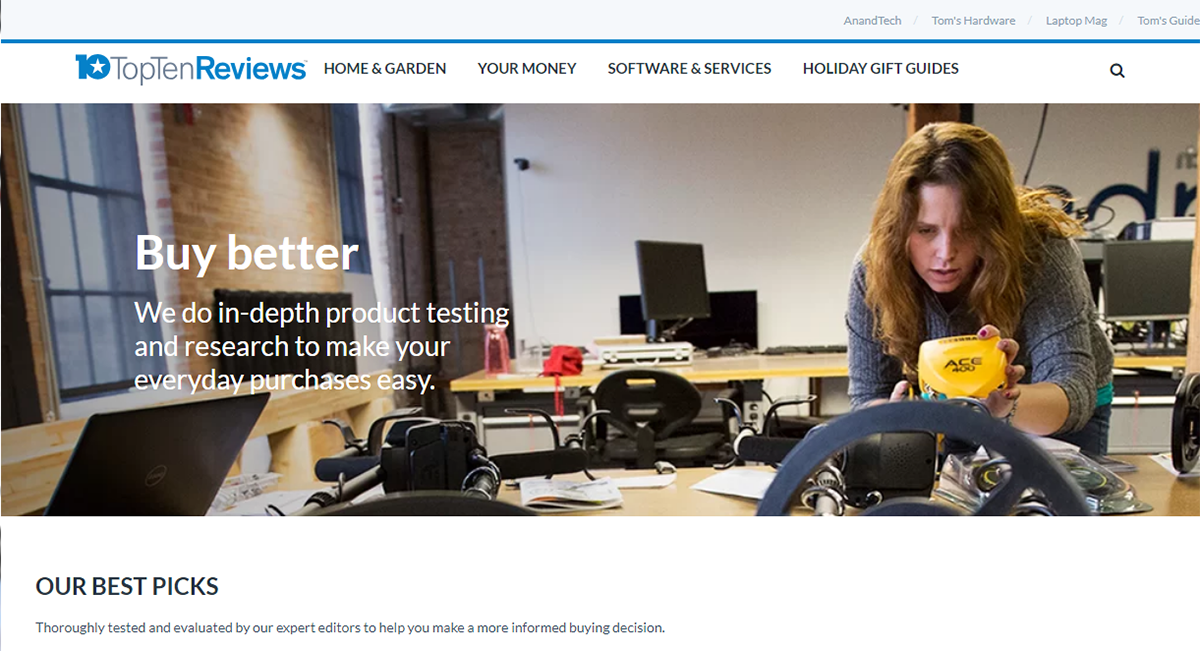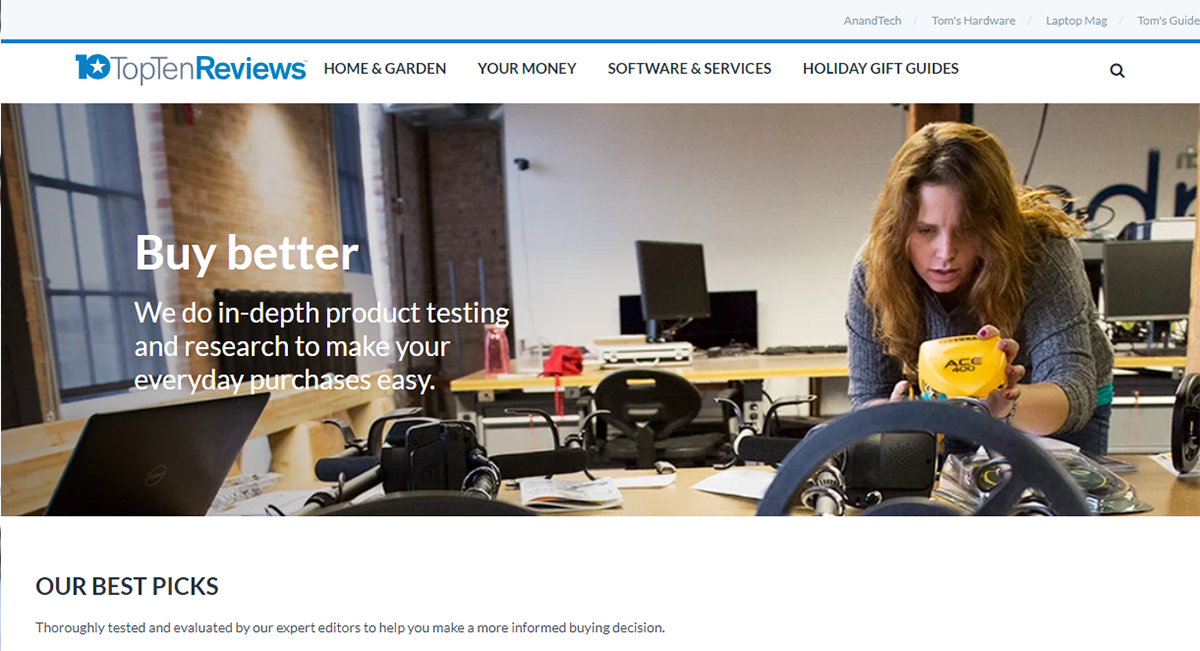 TopTenReviews has been in the business of reviewing products, gadgets, and devices for nearly one and half decades. They are veterans when it comes to expert and professional evaluation and ranking of home appliances, electronic systems and gadgets, business solutions, new and emerging software applications and computer hardware, among others. Price ranges are factored into the product groupings so that premium buyers, as well as budget-conscious ones, are presented with just the ten most ideal brands to choose from. Businesses can use the review platform for initial impressions and general guide, but practically anyone can benefit from the site with its coverage of products that consumers are more apt to purchase in the short term.
Conclusion
Since product discovery is primarily facilitated by popular B2B sites you should seriously consider your presence on such platforms. It's an easy and cost-effective way to boost both your sales and brand awareness. It's generally a good idea to add your product to all top B2B platforms listed above for maximum exposure, especially to leaders on the market such as FinancesOnline. Some sites offer completely free listings and reviews while others offer partnerships and marketing services to help you promote and sell your products. Whatever route you take, these online software directory platforms ensure that you get the necessary traction and competitive edge for your products in a market filled with rival products and vendors jockeying to get the attention of customers.