For many years now, the Internet has shifted the way consumers research and buy goods and services. The rise and growth of product directories for example has made it possible for consumers to quickly look at information on various products, compare them and check out reviews before actually purcashing one. For companies, such review directories enable them to reach thousands of potential clients with just a single click. This is also the same case with the software as a service (SaaS) industry. Popular online SaaS and B2B directories like FinancesOnline have greatly benefited both the buyers and vendors of B2B services.
When researching a product or vendor, about eight out of 10 people will most likely consult a revew directory, according to a 2010 study made by Burke for Local Search Association. Of the people who use B2B directory searches, about 80% will actually result in a purchase or strong intent to buy a product.
If you are a B2B company, it is really important for you to be listed in one of the top SaaS and B2B software directories. Equally important, you should strive to be listed in one of the most credible SaaS directories where people usually go to because they expect credible, independent information about the available SaaS tools. In this article we'll discuss top 3 SaaS directories that where you should seriously consider getting your product listed.
1. FinancesOnline.com
FinancesOnline.com is the fastest growing independent B2B software review platform. Its mission is to help SaaS buyers look for the best software solution to match their needs and to provide SaaS vendors with an efficient way of finding potential clients. Given the thousands of vendors that offer countless B2B programs, business owners are finding it harder to browse through so many programs and choose the best one for them. This is where the site comes in.
Services provided by the site are optimized for all types of SaaS vendors and you can use thier marketing tools to get more leads and expand your brand awareness. Access to its listing in not limited to big and well-known companies. Smaller SaaS products or those that have entered the market recently can also be added to the listing. The site's premium marketing packages also provide software vendors with quality leads as potential customers are sent directly to vendor's landing pages. Lead generation campaigns offered by the platform have a reputation for being very efficient. The average conversion rate for a less-known SaaS product is at around 10% while more popular brands can benefit from even as much as 20% conversion rate. In addition, FinancesOnline.com offers a huge range of premium content marketing as well as brand awareness services, including benchmark analysis and media promotion (see an example of a detailed review prepared and promoted for Nimble). At the same time, the site makes sure its reviews remain unbiased and always indicate the true quality of each SaaS tool. If you want to add your product to their listing and get more potential customers you can request a review here.
In addition, FinancesOnline.com lets SaaS vendors really stand out from the competition by featuring a wide range of quality certificates and awards, making people more likely to choose a particular product. The certificates immediately reveal each tool's unique strengths, whether its excellent customer support, recommendation for small businesses or great user interface. The site chooses the best products in each software category and honors software vendors that provide innovative features or have excellent user experience with prestigious and unique awards. This allows the site's users to quickly see which tools really demand their attention and are worth buying and enables vendors to show off their unique features that distinguish them from competitors. If you want to get a boost to your product's credibility you can submit a request for a B2B award here.
FinancesOnline.com allows businesses to easily browse through products and select specific tools to compare their features, prices, and overall usefulness to their industries against each other. SaaS buyers can also use a powerful smart filter that can narrow down search results to a single tool that meets their specific requirements, including geography, business size, or payment system.
The site's in-house experts analyze key factors that can influence decisions so businesses can easily compare their options. Its user reviews and unique Customer Satisfaction Algorithm lets businesses easily learn what other people who bought a given tool think about it. The algorithm seeks user reviews, comments, as well as opinions across a huge range of social media platforms and calculates a satisfaction rating that is based on what consumers think about the product. This algorithm gives buyers a transparent and trustworthy method to quickly compare customer experience not only on its website but also across the popular social media channels.
What makes FinancesOnline.com site truly unique is its SmartScore system, which critically evaluates general user satisfaction with the SaaS product. Its experts conduct a thorough and unbiased analysis of the main functionalities and features of a product, along with other important factors such as collaboration features, integration with other apps, customization, mobility, and customer support. All these crucial factors are taken into account when the experts calculate the product's final score (on a 1 to 10 scale), giving SaaS buyers a great initial impression on the usefulness of and satisfaction on a product. If you'd like to submit your product for a review by the panel of FinancesOnline's B2B experts you can easily request a review of your product here.
FinancesOnline.com also provides a Verified Quality Seal. Its team of experts will look at a product's quality as well as its vendor's credibility based on key factors including quality of customer support, user satisfaction rating, SmartScore, and verified contact details of the company. If the product meets the site's quality criteria, it is then awarded a verified quality seal that SaaS software vendors can use on their own site to boost trust in their brand in increase their sales. Marketing research shows such trust marks can give your sales a 14% boost! For SaaS customers, the seal is a good guarantee of solid performance as well as good cooperation with the software vendor. If you'd like improve the credibility of your brand you can easily apply for the Quality Seal for your product here.
2. G2Crowd
G2 Crowd is another leading business software review site, which claims to host over 140,000 verified user reviews. With headquarters in Chicago, IL, G2 Crowd covers a wide range of software categories and subcategories, including: CRM, HR, ERP, analytics, productivity, and collaboration. G2 Crowd also includes vertical SaaS for industries from agriculture to winery management.
Being one of the top review directories, this peer-to-peer platform is known for The Grid, a quadrant showcase of top business applications. Top solutions are presented as leaders, niche, contenders, or  high performers based on a proprietary algorithm that assigns a product and vendor score.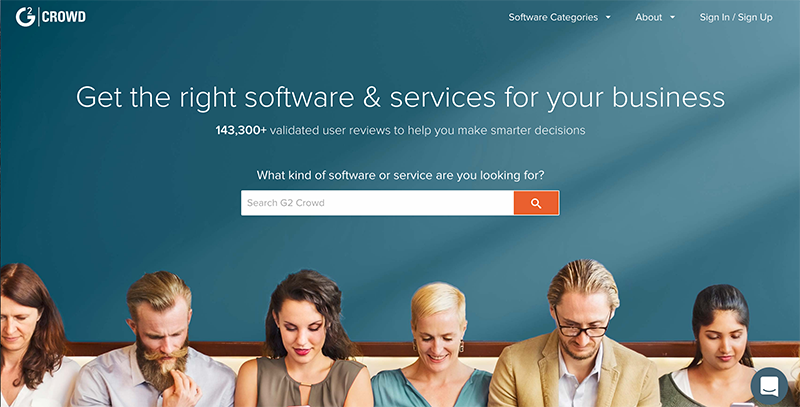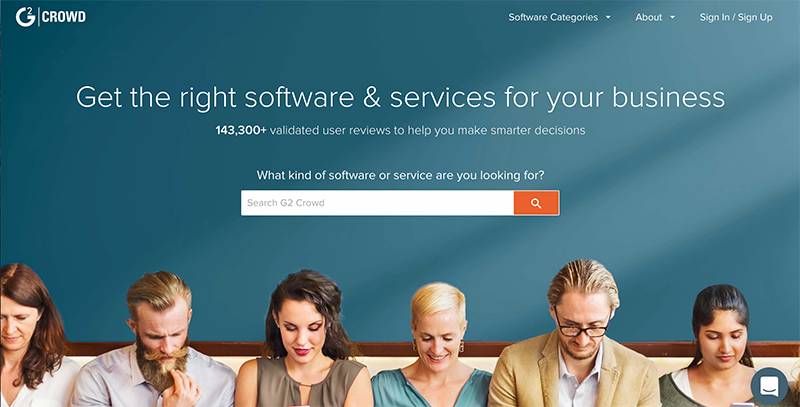 The scoring methodology aggregates validated user reviews, social media mentions, and other online sources and calculates the software's "Satisfaction" and "Market Presence" scores. This determines a product's position in The Grid and helps buyers to quickly shortlist their options with a visual aid.
The B2B software review site claims to provide business buyers with unfiltered reviews from actual users. Reviewers are required to log in with their LinkedIn account for identification. Likewise, vendors and their employees or agencies are not allowed to review their own software or the competitor's product to maintain neutrality.
Meanwhile, vendors are encouraged to engage user comments. This way the site acts as a bridge to match vendor's promise and customer's expectations. Vendors can also tap G2 Crowd to create their customer success case study, promote customer support transparency, showcase their value proposition, and improve their software based on user feedback.
On another note, G2 Crowd offers nonprofits special offers and goodwill deals as the company's CSR program. Nonprofits, for instance, can access exclusive G2 Crowd reports for free. They can also solicit help from the site's users to raise funds. Profits generated from nonprofit software category are also plowed back to charity organizations.
3. Capterra
One of the top SaaS directories, Capterra can help buyers in looking for the ideal SaaS solution for their business, reviewing the programs available that fit their needs, and giving them a platform to engage the right SaaS vendors.
The site is among one of the most comprehensive listing of SaaS solutions online, helping millions of companies all over the world look for their ideal software solutions that are posted from over 300 software categories listed on the site. It enables users to quickly identify and navigate their choices.
It also helps SaaS buyers with instructive user reviews, comprehensive buyer's guides, and relevant blog posts to enable them to make informed choices from an independent third-party source. The site has in-house software experts that can help companies along the way and could even recommend an independent, credible shortlist of programs matched to their special needs.
Capterra also helps SaaS software vendors engage prospects more efficiently online.