It is very likely that people interested in buying a B2B solution are already searching for your product. But are you prepared to show it to them?
The current state of the market shows that more and more businesses are migrating to the cloud. However, 78% of them also declare they plan on adopting more SaaS tools in the upcoming three years (according to the 2016 Report on the State of SaaS). These buyers are also looking for SaaS content, your content. They demand information not just about your product, but industry reports and guides to making the right decision (read more about it in: Rethink The B2B Buyer's Journey). The vendor that can fill them in with value content wins more customers.
More critically to your business, they are searching for options. A Google study revealed that 71 percent of B2B buyers do generic search at the start of the purchase journey. Indeed, Forrester reported that 90 percent of the buying process is done before they encounter your sales team.
So, what do all these facts tell you?
There's a bigger pie of the market waiting for you

You need lots of content to meet customer demands

You need to get those content out on generic searches
In the FinancesOnline report, 2016 SaaS Industry Market Report, we also see big vendors consolidating their hold on the industry and more vendors staking their niche territory. In short, the competition just got hotter and the stakes higher.
Can your software catch up with these industry trends? It can if it knows how to fully utilize this one "secret" that successful B2B marketers have been using to get not only quality leads, but actual conversions.
Importance of product reviews
Product reviews should be at the frontline of your prospect-client contact point. That's because they immediately address the two trends noted by the reports we mentioned: content to meet customer's demand for product information and getting content out on generic searches.
Given that buyers today are searching for product options—possibly your software—they'll likely end up searching for product reviews at the early stage of the buying process. They'll compare products, sort the best ones, and they'll be relying much on reviews discussing your software.
You can have your own product review on your site, but that's like asking a barber if you need a haircut. Besides, if your site has weak search ranking, customers will miss the review anyway.
What you want is to give your product review strong Google search presence and this is where SaaS marketplaces come in.
They have the infrastructure to dominate B2B software search results for value keywords such as:
comparison of software A and software B

best software category

software A reviews
But let's go beyond mere search power. SaaS marketplaces like FinancesOnline, GetApp, and Capterra are the CRM of your industry. When you have a strong presence on these sites you can:
Share positive comments on your software

Address negative comments and show sincere customer service

Shape your software into a better product based on customer feedback

Know your competition and identify what their customers are unhappy about
The sooner you appreciate the critical role of SaaS marketplaces in B2B buyer's purchase journey, the faster you'll start getting more leads from these platforms. But which marketplace should you focus on?
You don't want to give one platform all the power over your product reviews strategy, so we suggest you spread out your budget on several popular SaaS marketplaces:
FinancesOnline

G2crowd

SoftwareAdvice

Capterra

GetApp
Let's drill down into the details of what each of these SaaS directories can offer your company:
1. FinancesOnline
If you want to get more leads for your company one of the most effective ways is to get traffic from SaaS marketplaces like FinancesOnline. Each month this popular platform is visited by over 460,000 highly qualified prospects, including by your potential customers. This is one of the fastest growing SaaS directories today with a strong Google search presence.
With their lead generation campaigns you can experience a conversion rate from 11 to even 23 percent, which is one of the highest on the market. That's because this directory offers a wide range of strategies to get your buyer's attention at the critical stage when they're choosing their options and focus them on your product.
If you want a comprehensive content strategy, their editorial team can help you develop industry reports, market analyses, and studies that relate to your software category. These content types can push you up the thought leadership ladder and reinforce user trust, which is often a vital factor convincing users to choose your product over your competitors'. Likewise, you can submit your software for an in-depth product review that highlights your software's strong points and discusses what makes your solution unique.
FinancesOnline also offers various premium listing opportunities that can boost your presence even more. These will draw the attention of thousands of readers daily to your product and make you stand out from your competition:
You can promote your product on category pages

You can get listed in their top 10 rankings

You can get featured on comparison pages your competitors

You can be a suggested alternative on your competitors' review page
There's also another way to get even more leads on FinancesOnline: prestigious industry awards. Quite often your software will have excellent features but will lack industry recognition to stand out. This is a good change to gain some publicity and build more user trust with awards that many solutions reviewed by the platform's team can get. In most cases you will be able to identify at least one strong point of your software that you excel in and if you point it out to the review team the changes are high you'll get some recognition. These can include such awards as: Expert's Choice, Great User Experience, Rising Star Award or Best Customer Support in your category. If you want to add your product to their review base or get more details about the possibility to promote your software you can easily request a review here.
2. SoftwareAdvice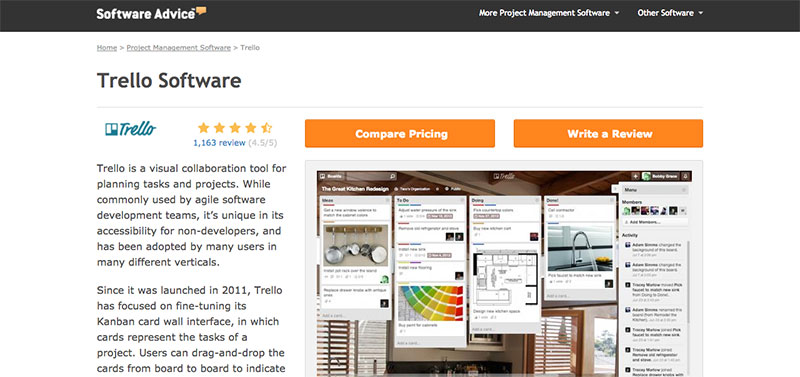 SoftwareAdvice is unique because of its inbound telemarketing services. Buyers can call in and SoftwareAdvice will provide them with more details about your product and guide prospects for the best match.
It isn't clear if the directory offers telemarketing packages to push your product up front during inbound calls. What is clear is the phone consultations are free, so expect buyers to utilize this channel to shortlist their options. Sadly, not all solutions are covered. With limited manpower the SotwareAdvice focuses only on selected SaaS categories.
Getting leads on this platform can come from free listing and PPC campaigns. You can visit the site and fill up a form for the free listing; expect an affiliate marketing arrangement for this though. For PPC you can get in touch with their business development team.
The directory claims to have already delivered 300,000+ leads to vendors so it's definitely worth a try. Your software will be qualified during phone consultations and SoftwareAdvice provides flexible plans to match your timeline and budget.
3. Capterra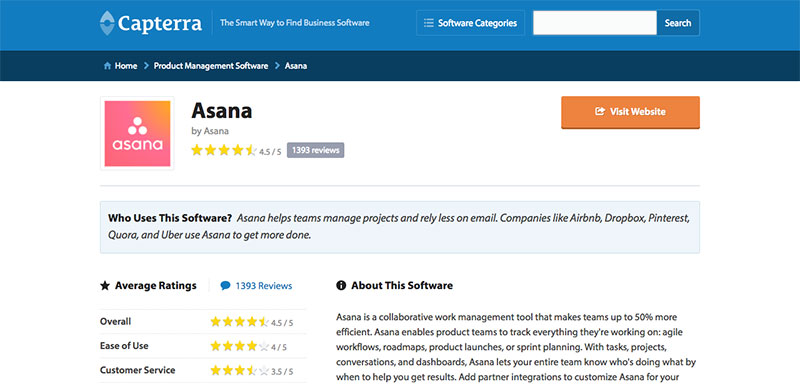 Capterra was founded in 1999 and so this SaaS marketplace is a well established platform. It hosts around 400 cloud applications in a wide range of categories: from applicant tracking to yoga studio apps. The directory also claims to have 100,000 user ratings and reviews, which can be a rich source of potential leads for you.
With more than two million visit monthly, Capterra can be a really crowded place. That's why you will most likely need to tap its PPC services to gain more visibility. It's a highly competitive site, so expect PPC bidding to be a lot higher than its starting rate of $2.
Like FinancesOnline, Capterra's free basic plan gives you presence on listing, product profile, as well as reviews and ratings. On the other hand, the paid version delivers, among others, multiple links to your site, plus activity analytics of your product page in the directory.
4. G2Crowd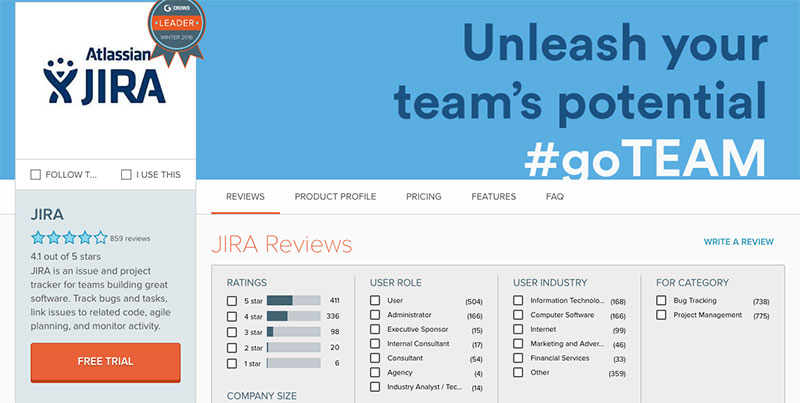 Launched in 2012, G2Crowd is one of the newest SaaS marketplaces. With over 100,000 monthly visits though, this platform is a very good channel for top-of-the funnel leads.
Your software in G2Crowd is rated for key features that customers are searching, including usability, ease of use, support, setup, and security. Likewise, the directory has a unique comparison tool called The Grid. It's a graphical chart that shows your software's place among the leaders, high performers, contenders, and niche in your category.
Industry-leading brands, expectedly, dominate this grid. But market presence isn't the only factor you'll need to get good placement on The Grid. Other factors like customer satisfaction and your product's value propositions influence your ranking and are calculated using G2Crowd's own algorithm.
The SaaS marketplace doesn't offer out-of-the-box marketing services. You need to contact them for a customized plan. But it is firm on what you can't do, including: remove negative comments, review your own product, feature only good things about your software, and pay for placements on The Grid. Other than these limitations, G2Crowd promises to increase your traffic, offers data points for market analysis, and lends to your product third-party validation.
5. GetApp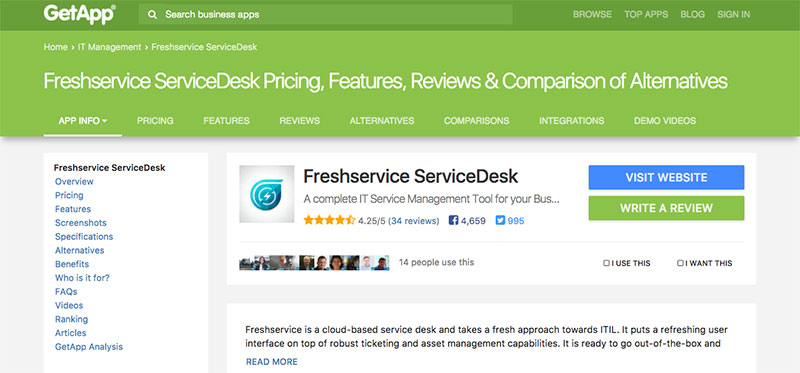 GetApp is also a platform rich in potential leads. Headquartered in Barcelona, Spain, GetApp lists over 5,000 business apps ranging from marketing software to project management and business intelligence solution. With 100,000+ ratings and reviews, this platform is also a potential source for quality leads.
As it is probably already crowded with your competitors, you will usually need to go beyond the free listing to get results. There are no published marketing plans, but you can contact the site for a customized marketing solution. Aside from the standard affiliate marketing and PPC setup, GetApp may have something unique to match your content strategy because, like FinancesOnline, GetApp is rich in non-product content.  
You can also explore the myriad ways to get featured in its premium content streams, such as: app highlights for the month, trending business apps, and recently reviewed apps. These sections are prominently displayed on homepage, which can deliver more leads your way if you get your product into one of them.