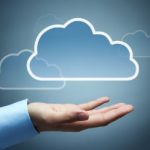 If this is your first time to promote a SaaS product in the Internet this guide is an excellent starting point. It will help you see the big picture and will explain the most efficient SaaS advertising channels you can choose from today. Even if you have a marketing professional to oversee your promotions, it pays to understand the online marketing landscape to help you can discuss advertising strategies with your manager. If you're a marketing pro, it's time to refresh the basics of these tested advertising methods even as you pursue the exciting but largely unpredictable viral, content, and organic marketing streams.
In fact, in an eConsultancy survey last year on which marketing channel delivered the biggest ROI, paid search was the only one where 50% of respondents felt "good". Content marketing and SEO investments were losing traction among marketers (17% and 18%, respectively) for lack of immediate results.
Yes, content is king, but paid advertising can be that one critical push to start your marketing wheel rolling. It's measurable, predictable, and controllable, something to peg the marketing budget on.
In my article on promoting CRM software I talked about the importance of A/B testing the different paid advertising channels and not just your ads; in fact, you should do this process whatever SaaS product you're selling to see which streams give the best clicks or conversions. Then handpick the top performers that complement, not overlap, each other. My suggestion is you advertise for search, social, content distribution, and user review sites to cover different grounds. Paid channels tend to be more stable, too, and not susceptible to hype and trends. The experiment by Moz.com comparing some of the top paid networks is just as relevant today as it was three years ago.
Here's how Moz.com along with Seer Interactive conducted the test.
The takeaways are:
Compare the percent of sessions, no. of conversions, conversion rate, and cost per engagement of each paid channel to get a clear comparative table
Set a universal goal on what the ad should achieve across channels, which can include any of these: download an asset; web page visit; sign up for a free trial; or watch a webinar
Set a daily cap to measure outcomes after three to five days instead of waiting for an entire month and using up the whole monthly budget
To get a high no. of clicks or conversions you can target a channel with a wide reach (volume) or a channel with a high conversion rate (targeted). In its experiment, Moz.com spent less on Twitter but got a high conversion rate (10.53%), while it spent most on Taboola, a content syndicate, with a low conversion rate (0.68%), to get a high volume of conversions.
Here are top 5 places to advertise your SaaS business:
1. Highlight your product on B2B software review platforms
If you're wondering where to list SaaS business for maximum expose then software review platforms for B2B products can offer you three content types that will help their readers assess your product: an in-house review, user-generated reviews, and paid listing. Although the first two types are usually beyond your reach, you can control the third type. A paid listing highlights your software or gives it a priority in a specific category listing and in-site search results. Furthermore, many reviews platforms include valuable add-ons in their marketing packages. For instance, FinancesOnline has a marketing package that includes an in-site article about your product, a press release campaign and a verified quality certificate awarded to your product. They also provide very efficient lead generation campaigns for SaaS vendors. A typical SaaS product can count on an average conversion rate of about 10% while more prominent brands can reach a conversion rate higher than 20%! It very easy to get listed in their B2B platform, you can add your product and increase your visibility with just a few clicks.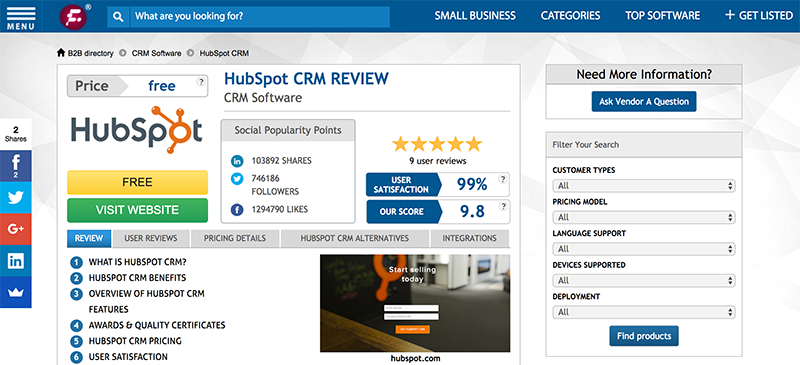 Software review platforms are becoming a major lead channel for B2B marketers as prospects use review sites as their first base to product discovery. What other users say on review sites influences prospects' opinions, and by the time your sales team get in touch with these prospects, they already have an opinion about your software.
Likewise, B2B software review sites are becoming a necessity in software purchase. A company's buying unit–an ad hoc team composed of the CMO, executives, managers and end-users–can easily get bogged down by a deluge of options and information on hundreds of solutions. More options, in fact, can be detrimental as reported in the Harvard Business Review ("The New Sales Imperative," HBR March-April 2017). Researchers said this leads to a purchase of attrition where nothing gets done except endlessly discussing a better alternative and the importance of proceeding with caution.
Review sites are resolving this dilemma. They help companies focus on the key aspects to compare and shortlist at once the top choices.
Things can move fast because the buying unit has clear visibility on product options, essential features, pricing terms and call-to-actions. That's why you need to have a solid presence in these review sites, which is ground zero for product research.
2. Consider using an ad network company
An ad network company works like the media in brick-and-mortar ad agencies. It aggregates ad placements and resells these digital locations to advertisers. Generally, there are two main streams sold by ad networks: search, where your ad appears in search results, and content site, where your ad is impressed on a publisher's website. In both cases, you set a target based on keywords, location, demographics, and even IP address. Your target is then matched with seach results or content of the publisher's website. You can opt for text ads, rich media, or a mix of both. Likewise, you can choose between two ad models: pay-per-click (PPC) or cost-per-mile (CPM). An ad network also works on a bid process, where advertisers set a price per click (CPC) or per thousand views (CPM). The ad with the higher bid is queued first for display.
When targeting your ad, you should have a clear picture of your audience. I talked about how to identify your Ideal Customer in my previous article, so you should craft your marketing messages as you'd be talking to this specific type of people. Think of keywords that these people usually use while searching for content or product. When ad targeting, don't be limited by your niche. For instance, an accounting software can be promoted beyond finance topics in other business aspects, such as: marketing, management, project management, small business, online business, etc.
Here are some factors to look at when choosing an ad network:
How big is the network's reach (no. of publishers in the inventory or search usage)?
Is the audience a general or niche set?
What are the available tools and reports to measure outcomes?
What are the pricing options?
What are the ad formats?
Is there an ad optimization support or is it self-service?
Are there add-on platforms like social, email, and affiliate?
The top ad networks for B2B and SaaS should likely be the top ad networks preferred by publishers, which leverage your reach and content scope. In its top 10 ad networks for publishers in 2017, MonetizeMore listed Doubleclick Ad Exchange by Google, Sovrn and Facebook Audience Network as the leading providers.
3. Sponsored social media for B2B marketing
For the first time, Facebook has surpassed LinkedIn as the top social media platform for B2B marketers ( 43% vs. 37%, respectively), according to the 2017 Social Media Marketing Industry Report (Social Media Examiner). Twitter follows at far third (12%) and YouTube at fourth (4%).
Most Important Social Media Platforms for B2B Marketers (2017):
Facebook advertising takes your business beyond your followers. Moreover, you get to qualify your audience down to details. The social network has demographic-specific options, such as, based on the user's listed job; employees of specific companies; and a life event like a new job. Most B2B marketers use Facebook for brand awareness, lead nurturing and reach out to the personal accounts of the client's decision-makers.
Interestingly, since most Facebook users have their email address for user account, you mailing list is likely to be a treasure trove of Facebook accounts and the social network permits you to leverage this bonus. Go to Custom Audiences then Campaigns and select Custom List. Your mailing list, which should be in CSV, can now be uploaded and included in your Facebook ad campaign.
On the other hand, LinkedIn is always an excellent channel for B2B promotions, where users are mostly professionals and where your software ad can be more focused. You can target ads by professional titles, positions, and company; thus, niching your target down to the core users of your B2B software. Moreover, people on LinkedIn are more conducive to B2B relationships, where they network to further their career. As a SaaS vendor or marketer you can be seen as an important connector or expert in your software category.
4. Engage clients with you content using paid content distribution
These networks promote content instead of ads, which means they work best if you're marketing an article, case study, or webinar topic. The focus is on engaging prospects with topics of interest rather than with product pitches to increase click-throughs. In fact, the "ads" are made to appear as part of the publisher's content, usually as a bottom filler with subheads like, "You Might Also Like" or "Stories Across the Web." Paid content distribution should not replace your ad network placements. Rather, while ad networks give you a make-or-break conversion, content networks create a top-of-funnel traffic that can deliver conversion at a much later date.
Taboola, Outbrain, and nRelate are three popular paid content distribution networks used by high-ranking publishers, such as, Time, the Huffington Post, CNN, ESPN, and USA Today. Although these networks use different algorithms, your content ads are served to match the publishers' content to engage the readers' moment of interest.
5. Press release sites
For standard press releases you have a slew of paid and free PR distribution services, each one with its pros and cons. Free press release sites often do not let you post images or videos, greatly diminishing the impact of your announcement. The advantage of course is there's no cost involved. On the other hand, paid PR can include a service that distributes your content or tweets it to a press group, but for a cost. I recommend that you try the free sites first to get the hang of writing a good press release.
Although press releases are written to announce something, they're mostly used for SEO, either to gain an extra backlink to your website or get a search boost by riding on the press release site's PageRank. Likewise, even as your competitors focus on social media and content marketing, that leaves your brand alone in the PR site space, which is a significant advantage worth your attention. Free press releases are also often included in premium marketing packages on B2B review sites. For example, at FinancesOnline.com you can get a great press release about your achievements published in well-known online media such as Google News or Yahoo! Finance.
When choosing a press release site consider these two factors:
Credibility – check the PageRank and inbound links. Likewise, are there reputable brands posting in the site?
SEO – does the site allows tagging, anchor text links, outbound links, and other SEO tactics to get the best search mileage?
Here are a few ranking press release sites with freemium posts:
PRUrgent
OnlinePRnews
PRLog
PR
PR-Inside
i-Newswire
Here are some of the popular paid press release sites:
PRWeb
PRNewswire
BusinessWire
MarketWire
CONCLUSION
Paid channels can be the difference to your organic campaign especially when readers today are being overwhelmed by repurposed content churned out by companies. When planning your SaaS ad campaign, make sure to cover a wide ground by including the five basic but essential paid streams we've talked about. It's also always a great idea to start a lead generation campaign with sites like FinancesOnline or Capterra. You can actually easily start a lead generation campaign for your product here.