More and more students seize internship opportunities, and for good reasons. Studies show that having an internship experience leads to full-time job prospects and higher pay. As such, companies build structured and often lucrative internship programs. These also double as a talent pool for a firm's future hiring activities.
Yet, there is also a dark side to internships. In movies, interns often make coffee and do other menial tasks. Sadly, this caricature does exist in real life. They also face thorny legal issues like unpaid work and sexual harassment. For the Class of 2020, in particular, COVID-related hiring freezes impacted internship programs. Below are the top internship statistics that you should know about for 2020.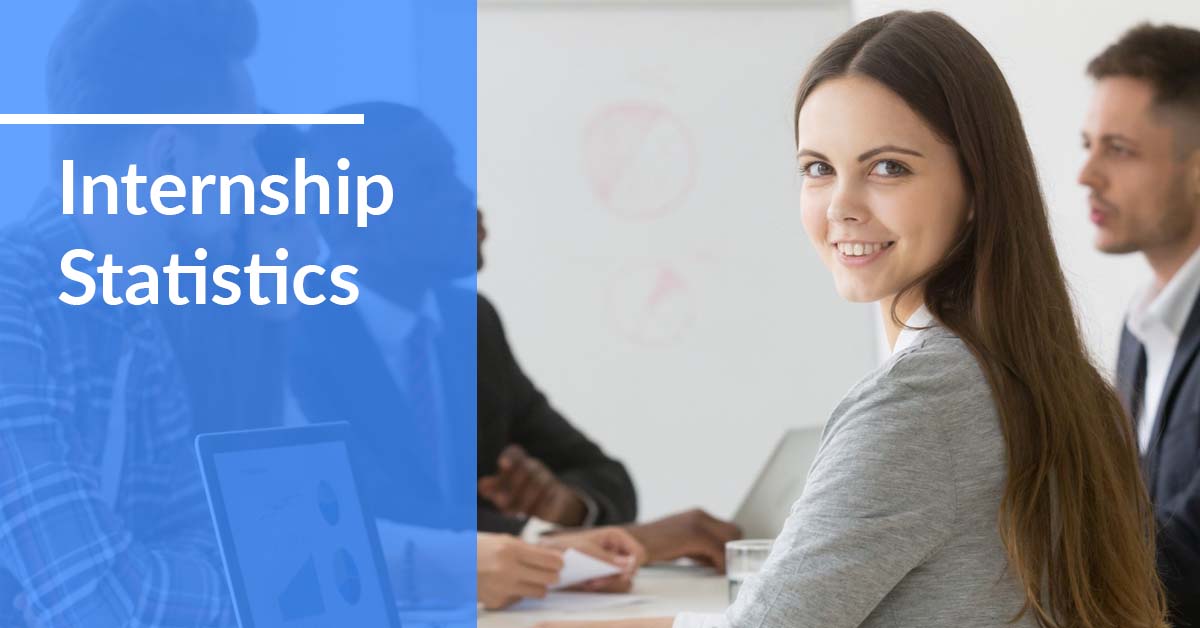 Key Internship Statistics for 2020
1. Internships and the Chances of Getting Hired
An internship lets students apply classroom learning in a professional setting. It introduces them to the world of work and provides an opportunity to develop their careers. In addition, they can grow their technical know-how and soft skills, which are both crucial to landing a job. Thus, an internship paves the way for a full-time position later.
Fifty-six percent of interns and 40% of co-op students turned into full-time, entry-level hires in 2019.

Employers identify internship experience as a differentiator when choosing between two equally qualified applicants. Completing an internship within the hiring organization had a 4.6 influence rating on an employers' hiring decisions. On the other hand, internship experience within the industry had a 4.4 influence rating on employers' hiring decisions.

Fifty-three percent of the Class of 2019 seniors who applied for a full-time job got at least one job offer. Out of this percentage, 57.5% of students who received a job offer completed an internship. In contrast, 43.7% of those who got a job offer did not complete an internship.

Completing internships increases jobs offers by 16%. Students who accomplished at least one internship received an average of 1.17 job offers. In contrast, students who did not complete an internship received only 0.98 jobs on average.

Internships often lead to a full-time, entry-level job. In 2019, the offer rate for interns was 70.4%. On the other hand, the acceptance rate was 79.6%. Meanwhile, the conversion rate was 56.1%.
Source: NACE 2019 Internship & Co-op Survey Report
2. Retention and Pay for Intern Hires
Intern hires with internal or external experience tend to stay longer in companies than those without internship experience. An internal internship means being an intern for the hiring organization. On the other hand, an external internship means being an intern for another organization. Students who did an internship have higher salary expectations than those who did not go through one. Moreover, interns report having higher salaries than their peers who did go through an internship.
After one year, the retention rate for hires with internal internship experience is 71.4%. For those with external internship experience, the retention rate is 59%. In contrast, hires without internship or co-op experience have a retention rate of 42.4%.

After the five-year mark, hires with internal internship experience dropped to 43.9%. For those with external internship experience, it is at 37.3%. On the other hand, hires without internship or co-op experience have a retention rate of 27.8% at this point.

Graduates who were interns or co-op students said that, on average, their salaries are nine to12% higher than those without internship or co-op experience.

On average, graduates with internship experience earn more. They have annual salaries that are $2,082 higher than graduates without internship experience.

Paid interns said they expect to earn at most $50,000 more than those who were unpaid interns or have no internship experience.
3. Rising Intern Wages
Paid internships are becoming more common nowadays. Under a paid program, interns not only enjoy monthly wages but also other benefits like travel and housing reimbursements. Intern wages are the highest in the tech industry. For example, with Facebook interns earning nearly double what the average American makes.
In 2019, interns made an average hourly wage of $19.05.

On the other hand, co-op students earn $18.69 hourly on average.

Forty-four percent of the top-paying internships in the US are in tech companies.

Facebook offers the highest-paying internships. Interns have a median monthly pay of $8,000 in this social media company. At second place is Amazon, where interns earn $7,725 monthly. In third place is Salesforce, where interns take home $7,667 a month.

If Facebook interns worked for an entire year, they would earn $96,000. This is almost double the median pay of $52,807 per year for a typical job.

Employers pay interns an average lump sum of $2,892 for housing costs every semester.

Forty-four percent of employers reimburse interns and co-op students for round-trip travel expenses. In contrast, 36.7% of employers say that interns and co-op students shoulder these expenses.

On average, employers pay $978 in reimbursement for travel expenses to interns and co-op students.

Employers offered interns an average of $2,580 in signing bonuses in 2019. On the other hand, co-ops were offered $3,546 in signing bonuses.
Source: Business Insider, 2019
4. Unpaid Internships: A Grim Reality
Though paid internships are becoming more popular, unpaid internships are still a reality. Students usually take on these opportunities to gain industry experience. However, without any wages to shoulder the cost of living, an unpaid internship ends up being an opportunity cost.
An interesting case is Glatt vs. Fox Searchlight Pictures, Inc. In this class-action lawsuit, unpaid interns who worked on the movie Black Swan demanded minimum wage and overtime pay. The district court ruled in favor of the interns. However, the decision was overturned on appeal. Though the parties eventually chose to settle, it has led movie studios and agencies to move from unpaid to paid internships.
An estimated 500,000 to one million Americans work as unpaid interns every year.

Around 43% of internships are unpaid.

An internship costs $6,000 on average in major cities in the US.

The opportunity cost for an unpaid internship is $12,986. This figure factors in minimum wage rates and the cost of living.

Paid internships are 34% more likely to lead to at least one job offer after graduation versus unpaid internships. Among 2019 graduates, 66% of them who went through a paid internship got a job offer. Only 43.7% of graduates with unpaid internships received job offers.

In the US House of Representatives, 61% of legislators do not pay their interns.

Only 9% of legislators in the US House of Representatives pay their interns.
5. Interns and Sexual Harassment
Another reality that interns face is sexual harassment. This is especially true for women, who are more likely to report cases of sexual harassment than men. Unpaid female interns are especially vulnerable because they are not considered as employees under federal law. Consequently, they are not afforded protection against sexual harassment. However, with the #MeToo movement gaining traction, some states have passed laws to address this issue. Interestingly, one of the campaign's spokespersons is Monica Lewinsky, a former White House intern who figured in a scandal with former US President Bill Clinton.
An estimated 750,000 women work as interns every year.
Around 615,000 women who start working may see sexual harassment as they begin their careers.
Over 400,000 women will experience sexual harassment themselves.
Eighty-two percent of former interns said that they know about colleagues who experienced sexual harassment.
Only 18% of former interns said that they had complete knowledge of anti-sexual harassment policies and procedures during their internship.
Working women under age 35 are 12% more likely to say that they have been sexually harassed compared to women aged 35 to 44.
Alleged sexual harassment between civil servants and interns accounted for 6% of cases reported in the federal government in 2018.
Source: NASA Interrogatory Responses, 2018
6. Internships in Corporate America
Tech companies take the top spots when it comes to intern compensation. However, companies from various industries also recognize the value that interns bring. As such, they have paid internship programs with mentorship opportunities, fun teambuilding activities, and a host of other attractive benefits. Also, some companies tie their internship programs with their hiring plans. As a result, an internship often leads to a full-time, paid position after graduation. In some cases, interns go on to take executive leadership roles in the company.
In 2019, SAP brought in more than 1,000 interns from six countries and 18 cities from around the world.
Accounting firm Ernst & Young held an Intern Leadership Conference for 3,400 interns from various parts of the globe in 2019.
Bank of America welcomed 1,500 interns for the summer of 2019. There were 47% female and 57% people of color in this batch of interns.
More than 90% of internships at The TJX Companies, Inc. can possibly lead to full-time roles after graduation.
At PricewaterhouseCoopers, 90% of interns get a full-time job offer.
Over 80% of interns who worked at Liberty Mutual Insurance are offered full-time jobs in a given year.
Eighty percent of high school student interns at Lockheed Martin who were college seniors in 2018, got full-time job offers.
Eighty percent of interns who worked at home Depot in 2018 got a full-time job offer.
During summer, Citi hires interns in the same number of full-time jobs that they are required to fill next year.
At insurance firm Gallagher, 39 former interns now have executive-level jobs.
At General Electric, 60% of participants in the GE Leadership Program were former interns for the company.
7. Internships at a Time of a Pandemic
Salary statistics for 2020 indicate that COVID-19 has caused workers to suffer pay cuts and job losses. Similarly, interns are not spared. Those with internships slated for the summer of 2020 find that employers will be canceling them without pay. While most students feel disappointed, they also sympathize with employers. Those who are lucky enough to have an internship will be doing so remotely.
22% of employers plan to revoke offers to interns in the summer of 2020.

30% of junior and senior college students had their internships canceled.

83% of employers are moving their internship programs online.

84% of college students are willing to participate in a remote internship.

41% of employers will be cutting down on the length of their internship programs.

Only 7% of schools will give financial aid to students if employers revoke their internship.

64% of employers will not be compensating interns for canceled internships.

70% of current college students feel disappointed about canceled internships. However, they also understand the impact of the pandemic on companies. On the other hand, 26% feel upset.

51% of current college students who switched to a virtual internship feel glad that it did not get canceled.

Student Sentiments on Canceled Internships (2020)

Source: Yello, Virtual Internship Statistics and Trends (2020)

Created by CompareCamp.com
Sealing the Deal on Internships
Study after study has shown how internships can be beneficial to students after college. Firstly, they boost their chances of landing a job. Secondly, they help them earn more than those without internship experience. The opportunity to learn and earn at the same time, thus makes paid internships attractive. This is especially true in the tech industry, where monthly wages are significantly higher than national average wages.
However, unpaid internships pose a barrier to entry-level jobs. Students who are especially affected are those who cannot afford to shoulder the costs of unpaid internships. Female interns are also vulnerable to sexual harassment, the effects of which can haunt their personal and professional lives in the long term. Moreover, the recent COVID-19 pandemic halted internship opportunities for most students. With experts predicting the worst recession since the Great Depression for the global economy, the future will prove to be challenging for the current crop of interns.
---
References:
How Internships Impact Employability and Salary

Converting Interns, Co-Ops into Full-time Hires on the Rise

NACE 2019 Internship & Co-op Survey Report Executive Summary

How Important are Internships and Co-Ops?

The Impact of Unpaid Internships on Career Success of Liberal Arts Graduates

Intern Status: Job-Search Timing, Pay Expectations Differ

The 25 highest-paying internships in the US

Facebook pays its interns nearly double what the typical American makes

'Black Swan' Interns Lawsuit Overturned By Appeals Court

Fox Settles 'Black Swan' Interns Lawsuit After Five Years

How Unpaid Internships Reinforce the Racial Wealth Gap

This is how the intern economy is shaping the future of work

Experience Doesn't Pay the Bills: Why Paid Internships are a Must in Congress

Here's what an unpaid internship will cost you

Quick Poll: Employers Maintaining Plans for College Hiring, Holding Internships

Coronavirus brings cloud of uncertainty over summer internships

Virtual Internship Statistics and Trends: A 2020 COVID-19 Impact Report

How COVID-19 Is Leading The US Into A New Type Of Recession, And What It Means For Our Future

Top 100 Internship Programs 2019

2018 Top 100 Internship Programs

13 Depressing Facts About Internships In America

Women Disproportionately Report Sexual Harassment in Male-Dominated Industries

Judge: no protection against workplace sexual harassment for interns

Monica Lewinsky is finally having her moment