To say that video is popular is an understatement, especially in this digital era. On Youtube alone, people spend over 1 billion hours watching videos per day. That's because video is an engaging, easy-to-digest format that can be used to deliver content across different industries for a variety of purposes–from training videos to business and marketing promos, travel, entertainment, and educational materials.
Consequently, the rise of video and online content platforms has also boosted the demand for video editing software solutions. It used to be only huge studios or production houses that needed products with powerful capabilities. But now, even individuals, marketing teams, and practically any organization that wants to widen its audience reach are looking for video editing software that can fit their requirements. like animation, 3D or even coming up with the best GIF screen recorders. With 81% of businesses already using video for marketing, it's almost imperative to find a video editing software that can help you create high-quality video content.
In this article, we'll discuss the fundamentals of video editing software, including a list of the 10 most popular ones in the market.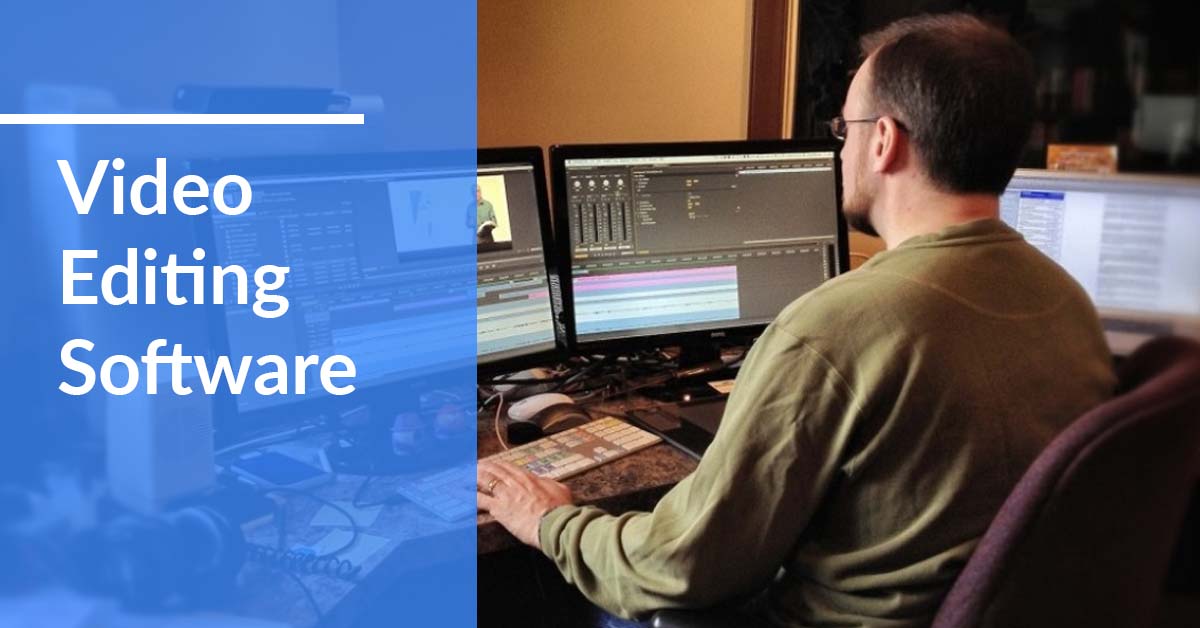 Video Editing Software Table of Contents
What Is Video Editing Software?
A video editing software allows you to import video clips, images, and graphics from a variety of sources for trimming, resequencing, or adjusting. A standard video editing software will typically include tools and features for file conversion, rotating and cropping, color and contrast adjustments, and adding of transition effects. You should also be able to add multiple soundtracks, choose from a variety of video filters, and even utilize some prebuilt video management tools like analytics and social sharing.
There are primarily two ways to deploy video editing software. First is the on-premise solution where the software is installed locally on a single desktop computer or a company's server. In our previous example, movie studios or production houses are the target users of this type of product. Television networks and advertising agencies are also more likely to prefer on-premise editing software. That's because these businesses typically have to handle huge amounts of data and process them on a fast-paced workflow. Software that's stored locally on a machine can provide the speed and reliability needed for professional broadcast production.
The second type of deployment is via the cloud. Riding on the prominence of cloud-based software, this type of video editing solution is perfect for vloggers, like in our example, who need to edit on the go but also want something light, easy-to-use, and affordable. SMEs, digital marketing agencies, educational organizations, and other smaller businesses can benefit from web-based video editing software as well.
Cloud deployment is great if you need flexibility and portability since you can access your editing software from any mobile device. You can edit from your phone, laptop, or tablet. Additionally, these web-based solutions make collaboration between editors, directors, writers, and other members of the creative team much easier.
List of Best Video Editing Software
If you're shopping for video editing software, we've rounded our top recommendations here. We'll highlight some important features, technical specs, and the target users of each software so you can have an easier time figuring out which one might be suitable for your needs.
On-premise software:
Adobe Premiere Pro: Adobe Premiere Pro is best suited to Windows, but can also be installed on Mac computers. It includes sophisticated features like multi-cam automatic syncing and 3D editing. It can also handle an unlimited number of video tracks and allows you to import footage from practically any source (digital cameras, your smartphone, files, tapes, etc.). Because of its jam-packed features and capabilities, this product has become an industry standard for professional video editing. You can subscribe to an annual plan for Premiere Pro for $20.99 per month.
Final Cut Pro: If you're looking for the best video editing software for Mac, Final Cut Pro is our top choice. Since it's designed for the Apple ecosystem, you won't find it hard to maneuver its interface if you're already a Mac user. The software has professional editing features like the 360-viewer for VR editing, intuitive grouping tools to help you organize and quickly access your video assets, and built-in audio editing and sound level adjustments. It's also a winner for fast rendering time as it leverages the powerful CPUs and graphics processors running on Mac machines. It's priced at a $299 one-time payment.
Corel VideoStudio Ultimate: If you're a beginner in video editing, you can rely on Corel VideoStudio Ultimate to help you complete your video projects without much fuss. It has a clean, user-friendly interface and essential editing features like cropping, video stabilization, chroma key/green screen, and options for templates and filter effects. This software allows you to skip the steep learning curve otherwise found in other professional-level software and lets you dive into your editing straightaway. It's installed on Windows systems. You can try it for free for 30 days, or purchase the software for $99.99.
Pinnacle Studio 23: If you've never edited video before and don't want to spend hours mastering what every function, tool, or feature does, go ahead and try Pinnacle Studio 23. It's absolutely easy to use, includes templates, titles, 1,500 video effects, color adjustment tools, stop-motion animation, six-track HD video editing, and other features that will allow you to produce simple, straightforward video presentations. It's priced at $49.95 for the Studio, $79.95 for the Studio Plus, and $99.95 for the Studio Ultimate version.
Filmora9: Filmora9 is an excellent option if you already have basic editing skills and want to upgrade to a more feature-rich software. It's great for students, enthusiasts, Youtubers, or small organizations that need video content for informational, educational, or marketing projects. Filmora9 includes aesthetic editing tools like video stabilization, fisheye lens correction, and color-grading presets. What can come in handy is the royalty-free music and sound effects you get with the product, which can make your final output even more impactful for no extra expense at all. The software supports both Windows and Mac ecosystems. Pricing starts at $39.99 per year for individuals.
Cloud-based software
WeVideo: WeVideo is an easy-to-use video editing software fit for schools, freelancers, or any organization that need to capture, view, and share video materials for online collaboration. You can start editing footage with just an internet connection, no need to wait for locally installed software. It's also packed with essential features like screencasting, voiceover, advanced text editing, multi-track editing, and storyboard that'll enable you to produce quality edited material without worrying too much about which tool does what. WeVideo works well on a wide range of devices, including Windows, Mac, Android, iOS, and Chromebook. You can try the product for free or choose from three pricing options: Power Plan for $9.99 per month, Unlimited Plan for $15.99, and Business Plan for $39.99 per month.
Promo.com: If you're running a small business or doing digital marketing for your organization, Promo.com is one of the easiest to use video editing software specially made for video marketing. You can put together stunning product videos, ads for social media or your Youtube channel, and create explainer videos all in one place. The software includes templates you can customize based on your marketing purpose, so you can quickly whip up video content for Facebook, Instagram, or other social channels without breaking a sweat. Pricing starts at $29 per month.
Vimeo Create: Another software that's great for producing video content for social media platforms is Vimeo Create. It utilizes templates with millions of free stock video clips, music, images, and text you can customize to your own needs. You can also customize colors, fonts, and layouts, and choose your aspect ratio between square, horizontal, or vertical. To avail of Vimeo Create, you'll need to subscribe to Vimeo's Pro, Business, or Premium plans.
Zubtitle: If you're making most of your content for Youtube or Facebook and looking for a way to add subtitles the easy way, Zubtitle has your back. It leverages artificial intelligence and speech-to-text technology to transcribe and add subtitles/captions to your video in just minutes. This easy-to-use software can be a powerful tool for expanding your audience reach, considering that 80% of viewers are more likely to finish watching a video when captions are available. Price starts at $19 per month.
MediaSite Platform: MediaSite is a video management platform that allows you to not only edit footage but also record live video for events, training, or classroom lectures. If you're searching for remote work tools, this software can be a useful addition to your list, especially if you're planning to deliver video content. Important features include video streaming, audio tools, collaboration, and social sharing features. Pricing is by quote.
FlexClip: An easy-to-use video creation tool built for novices and professionals alike. It comes equipped with basic and advanced video editing tools, a voice recording function, and watermarking options. It also comes with a multi-media library that accelerates the video editing process. To top it all off, the platform is available completely for free.
Video Editing Software Features You Should Check
With both on-premise and downloadable products, it can be overwhelming to go through each video editing software feature. Here's our take on what features and technical specs are really important at least to make sure you can produce decent video content without having to deal with complex technical issues.
Support for a variety of file formats. If you're shooting with different types of digital cameras or if you collaborate with other creative professionals, you'd want to make sure that the software you purchase supports the file formats you commonly use. Some of the widely used video codecs and formats include MP4, AVI, MKV, WMV, FLV, and 3GP. For audio, make sure to check if the software supports MP3, AMR, WAV, PCM, FLAC, OGG, AAC, WMA, and M4A.
Options for different aspect ratios. This is very important since people watch videos on a variety of devices with different screen sizes. You'll need vertical videos if you're posting on Instagram, for instance, while horizontal videos are most pleasing on Youtube. For other platforms, you'll probably need square videos. So, it's best to choose a software that allows you to quickly optimize your video for these aspect ratios.
Ability to add text on video. As we mentioned, a significant percentage of videos online are being watched on mute. So, it would be in your best interest to start including subtitles or captions on your videos, especially if you're into making tutorials, product demos, or marketing content. Also, check if the software gives you options to customize fonts, font size, colors, and effects on your text.
Support for a variety of video output. Before the digital explosion, most video content producers only had to worry about DVD output. But now, you'll need to think about the video output for phones, tablets, and online platforms. On Youtube, for instance, make sure you find a software that can encode video using H.264 format. As for other gadgets, check if your prospective product has the presets for the particular device you need.
Good collection of stock footage and sound. If you think you'll be using a lot of additional clips and sound for your videos, but don't want to spend a fortune on buying stock videos and audio, you can definitely try video editing software that already has a good library of stock footage and sound for background music and effects. This can not only save you loads of money but can also speed up your production since you don't have to create or shoot the materials yourself.
How to Choose the Right Video Editing Software
Your budget. Video editing software can be as expensive or cheap as you would like it to be. That's because products fall into different price categories, and you can quickly narrow down your options based on your budget. Let's just say that you'll get what you pay for. Free or almost free software will usually have very limited tools and features. As you go up the price ladder, features also expand to ones that give you more creative control over your editing. Do keep in mind that more features aren't necessarily better. The key is finding a product that fits your budget and offers the features that can help you achieve the effect you want.
Your time. Sure it's cool to have a professional or "prosumer" editing software, but these products also require you to put in the hours if you really want to maximize what you can get out of their features and their price. If you need to push out content now, you can't afford to spend 500 hours just to get a 2-minute video uploaded to your website, social media, or chosen video content platform. On the other hand, if you're aiming for a video editor career path, it's best to invest in one of the standard, on-premise software we included on our list.
Your goal. If what you need to do is to simply trim your videos clean, add a couple of fade-in and fade-outs, include subtitles, or add background music, the cloud-based solutions we provided will enable you to execute the video output you want without breaking the bank. Most of these solutions are also user-friendly, straightforward tools, and non-complicated setups/installation. If you're going to edit projects like short films, documentaries, or other long-form content, we still recommend sticking to on-premise solutions that often provide more speed, stability, unlimited video and audio tracks, and sound adjustment controls/leveling.
More Tools for Your Video Content Marketing
Now that you know more about video editing software, it's time to choose one and start getting creative on your video projects. Once you're done with your masterpiece, you might want to look into marketing automation software that can help you start spreading the good news about your content.
Moreover, if you're looking for ideas and inspiration on how to make your video content marketing more effective, check out our article on the latest content trends. You'll discover stats on video and live streaming, podcasting, data-driven marketing, and all the good stuff!