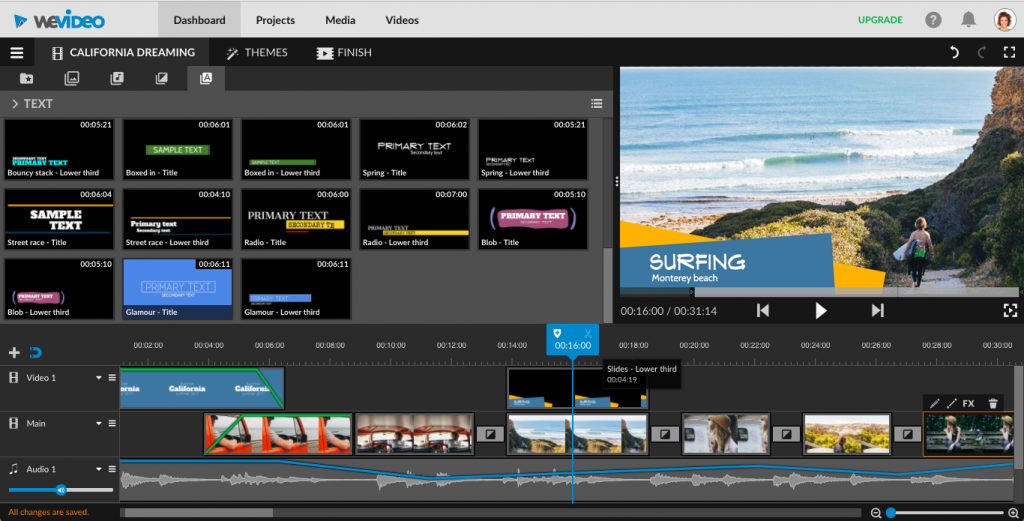 The main benefits of WeVideo are its user-friendly interface that simplifies advanced video editing to enable both beginners and seasoned editors to create great videos effortlessly.  Its straightforward layout provides complex and simple features to offer full creative control. WeVideo JumpStart technology makes video editing easy and fast. You can instantly start editing in the cloud through this exclusive technology without having to wait for locally stored files to load.
WeVideo's cloud-based nature is another noteworthy feature that allows you to collaborate with friends to make different edits on the same footage. You can work anywhere and anytime as the software has cloud storage coupled with its cross-platform functionality. You can simultaneously mix previously uploaded media with the locally stored media. Besides, the app is compatible with Mac, Windows, iOS, Android, and Chromebook.
Users can also convert ideas into movies through multiple video editing modes. For example, the storyboard enables you to create beautiful movies in minutes. The timeline mode has more advanced features. You get the opportunity to mix and match over 600 formats of audio, video, and images with green screen, special effects, graphics, speed control, and more.