The real estate market in the United States faced a dangerous decline when the Great Recession hit in 2007. When homeownership became financially crippling for many during the past decade, this part of the American Dream had been put on hold as a sizable part of the population began turning to rental properties. Since 2013, the number of tenant-occupied housing units reached the 40 million mark and has grown to 43.28 million units in 2019.
Although the number of rental property owners is not easy to determine, IRS public records show that approximately 10.6 million taxpayers owned rental properties in 2015 based on 1040 tax filers' declared source of income. These rental property owners fall under the small investor's category or those who own one or two rental units. Meanwhile, business entity landlords are estimated to be less than 1 million; these are rental property owners who have an average of 20 rental units.
Aside from the variation of owned rental properties, small investors and business entity landlords have different approaches when it comes to running their business. While small investors may find it easy to keep track of tenants, rental due dates, and maintenance expenses, business entity landlords need a better and more efficient way to stay on top of their game not only to manage their rental properties but also to drive business growth.
Technology comes in handy when human capabilities fall short. For landlord and rental property managers, rental property management software helps streamline the tasks and processes involved in managing tenants, rental units, and the business as a whole. In this article, we will not only introduce you to what rental property management software is and how it can benefit your business. We also have a separate list for the best property management tools category.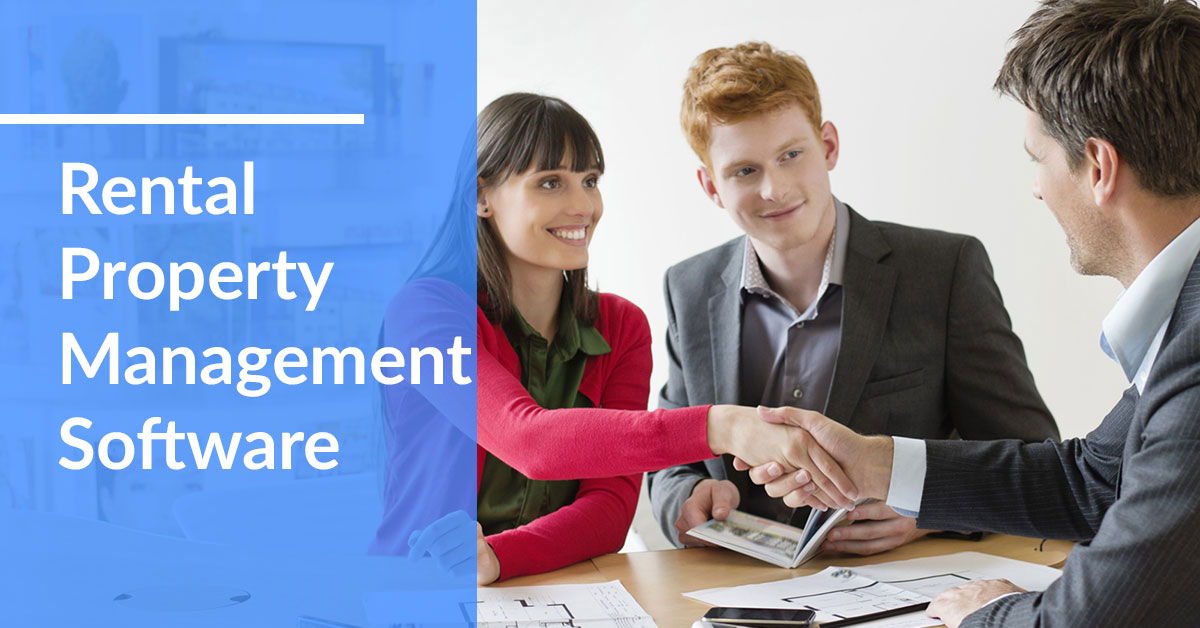 Rental Property Management Software Table of Contents
What Is Rental Property Management Software?
Rental property management software help landlords or property management companies in collecting payments, tracking expenses, managing tenants, and running the entire business. Rental property management software solutions come with features for managing tenant data, accounting needs, maintenance, taxes and fees, and tenant screening. Also, these software solutions reduce paperwork by making all documentation digital, as well as organized and secure in cloud storage.
Detailed reporting is another important feature as this allows managers and landlords to assess the status of their tenants, rental units, and businesses as a whole to make informed decisions. Depending on the software service provider and the price, features may range from basic to advanced—more details about this and rental property management software are in the next section.
List of Best Rental Property Management Software
Rental property management software may be aimed at a specific target market, but not all software solutions in this category are created from the same mold. In this list, we gather the best rental property management platforms, as well as look into their best features.
Hemlane: This cloud-based property management software offers an end-to-end solution from rental advertisement, collecting tenant leads, tenant screening, lease reminders, payment processing, and maintenance, among others. Applicant tracking and tenant screening tools, on the other hand, give you access to credit status records, as well as comprehensive background check reports to assess if they have criminal records, fraud cases, etc. As for the payment features, there is a split payment option for tenants sharing one unit as well as automated reminders for tenants who are behind their rent dues. Hemlane also makes maintenance coordination easier even when you are away on vacation. The app allows you to receive maintenance requests from your tenants with complete details and pictures. The US-based support will assign local professionals to take care of the maintenance request even when you are away on vacation. Other features include document management and storage, reminders for due rents and lease contract renewals, and more. Hemlane's basic plan costs $36.50 per month ($30/month if billed annually).
FantasticStay: This cloud-based all-in-one platform offers free essential tools to promote and manage rental properties, like Airbnb. This application allows you to manage every aspect of your business operations from your listings, handling reservations, payment services, as well as scheduling tools and more. Another FantasticStay also comes with its own website builder where you can import your inventory to create an intuitive online portal where future guests can check for unit availability and pricelist, make reservations, process payments, etc. Aside from its free version, FantasticStay also offers premium plans, starting at $55 per month if paid quarterly ($44/month if paid annually).
Condo Control Central: This software solution offers a robust platform that encourages seamless collaboration and communication among property managers, condo board members, establishment security staff, and residents. For property owners, Condo Control Central provides all the necessary tools to digitally manage booking of amenities, requesting parking permits, processing payments, etc. Condo Control Central integrates with third-party applications, including Stripe, VMS, Yardi, and Condo Manager. As for the price, Condo Control Central's paid plans are offered quote-based.
Propertyware: This sophisticated rental property management software is designed for managing single-family units in low-density areas. Propertyware combines all core functions in a single platform. These include website hosting, accounting solutions, online marketing tools, online payment processing, digital document processing electronic signature support, operations and risk management, and more. You can get Propertyware's basic plan for $1 per unit per month, plus $250 monthly minimum and additional implementation fees.
Rent Manager: This flexible rental property management solution has been in existence for more than three decades, which justifies its extensive features developed over the years. Rent Manager offers unique features, such as voice recording and broadcasting, which allows you to record and send voice messages to multiple individuals in your contact list at once. This rental property management solution also provides ready-made templates for emails and other content needs, online statements, check printing, automatic payments, and real-time posting of vacancies on active listings. Rent Manager's pricing plans are also quote-based.
Avail: This is a free and highly customizable rental property management platform designed specifically for landlords who prefer to be more hands-on in running their business. Among its core features are syndicated rental listings, tenant screening, online payments, and maintenance tracking. Avail also recognizes the different legal requirements of each state when it comes to leasing properties. To help landlords with this, Avail provides state-specific contracts that rental property owners can customize by adding their own terms and conditions. This software solution integrates with Google Maps, StateFarm, Lemonade, TransUnion, Two Men and a Truck, and more. Avail also has a premium plan that you can get for $5 per unit per month.
Mashvisor: If you are looking for investment-worthy rental properties, Mashvisor has the tools you need. This application is a cloud-based data analytics platform that helps agents, real estate investors, and property owners find the most lucrative properties in their preferred location and market. Mashvisor's property assessment tools are easy to use and can discover and assess even off-market properties. Agents will also benefit from Mashvisor's capabilities to find and engage potential buyers. Mashvisor's pricing plans give you the option to pay quarterly for $10 per month, or annually, starting at $7.50 per month.
Entrata: Aside from its unique single login system, Entrata allows its users to create workflows and customize funnels to automatically manage tenant leads. It also comes with different modules for accounting and invoicing. If you would like to take invoicing processes off your shoulders, Entrata's fulfillment team can review and process every invoice before adding them to your accounting module. Other features included are document storage, insurance management, billing and utility management, messaging portal, and others. Entrata also integrates with an extensive list of third-party solutions, including marketing apps, collections and billing services, internet listing portals, other property management software, and more. Pricing plans are all quote-based.
RealPage: A leading service provider of property management solutions, RealPage is known for its feature-rich accounting system that not only simplifies and automates financial transactions, it also streamlines the budgeting process. This enterprise-ready solution comes with document and content management systems for multifamily business properties. Its cloud storage can also accommodate an unlimited number of documents with role-based access permissions for added security. As for the pricing, RealPage plans are quote-based.
TenantCloud: This software solution is equipped with comprehensive property management tools, including application processing tenant screening and matching, automated invoicing, and its own virtual assistant. TenantCloud is accessible on any device and its basic features are free to use. The basic plan is ideal for rental properties with a maximum of 75 units. TenantCloud's paid plans start at $9 per month and can accommodate a maximum of 150 units.
Features of Rental Property Management Software
Rental property management software come in different packages, but they have similar core features, such as the following:
Accounting. Running a rental property business involves a lot of financial transactions from security deposits, rent payments, maintenance, etc. Built-in accounting tools help streamline finance-related tasks and processes, as well as reduce errors and oversight.
Maintenance management. Maintenance needs are inevitable, especially when you have tenants occupying your properties. Having a dedicated feature for maintenance requests makes things more convenient for both tenants and property owners and managers.
Lease management. Under this feature are sets of tools that take care of tenant application, tenant screening, contract customization and processing, and others.
Document management. Organize and store all documents in the cloud for easy retrieval and enhanced security.
Communication channels. In-app portals for tenants and property owners and managers keep the communication line open and all lease-related documents and communication in one location.
Mobile access. This gives you the capability to keep an eye on your business and keep in touch with your tenants even when on the go.
Benefits of Rental Property Management Software
Rental property ownership requires performing different tasks that can be time-consuming and mentally and physically straining. Rental property management software solutions not only makes things more convenient, but they also ensure that everything is in place and running smoothly. Here are some of the benefits of using rental property management software:
Reduces operational costs. Rental property management solutions automate manual processes involved in running a rental property business. This does not only saves money but also a huge amount of time as well.
Accessibility. Most of the rental property management software are cloud-based and also have mobile applications. This allows property owners, managers, and even tenants to access their accounts anytime and anywhere with an Internet connection.
Scalability. Software solutions grow with your business. Even if you started with the most basic package, upgrading to more premium features is easy to accommodate the growing needs of your rental property business.
Reporting and analytics. Another benefit of using cloud-based software solutions is all relevant data are stored in the cloud. This means that your data can be analyzed digitally using proper data analytics tools. Running thorough analysis and generating reports give you a detailed insight into the different aspects of your business operations. This, in turn, allows you to spot rooms for improvement and make informed decisions.
Factors to Consider When Buying a Rental Property Management Software
Finding the right rental property management system may depend on the following factors:
Size of your business. The tools and features you will need depends on the size of the rental property business you are running. If you are managing a small to medium-size rental property, you can eliminate enterprise-grade software solutions. This way, you can avoid paying for features that you have no use for at the moment.
Usability. Complex designs and interface are not always the best indicators if a software solution will benefit your business. A software's effectiveness is also dependent on how you utilize its functions, so a user-friendly solution is better as long as it has the tools and features you need.
Features. Determine the features you might need. By default, good rental property management solutions have all the basic features. But depending on how you operate your business, you may also need additional functions.
Mobile access. For cloud-based solutions, having a mobile version is no longer a unique selling point but a standard requirement. People spend more time on mobile devices now than computers. Also, having dedicated mobile applications offer more convenience.
Customer support. A reliable customer support team is necessary not only when there are technical issues but also in addressing concerns and questions.
Integrations. It is important to check the integration compatibility of software solutions, especially if you are already using other applications.
Free trial options. It is recommended to take advantage of free trial periods and free versions first to get firsthand experience of how a software solution operates and how it can work for your business.
Latest Trends in Rental Property Management Software
Rental property management systems, like other solutions, are constantly evolving to keep up with the changing market demands. Here are some of the latest trends that will reshape the rental property industry:
Mobile-first technology. Implementing a mobile-first design will make mobile the more superior version of a rental property management solution instead of the website. The shift in the hierarchy is to accommodate the arrival of a new generation of users. Gen Z users are now entering the real estate industry and they are likely to rely more on their mobile devices.
Virtual reality. This promising idea can take property tours and visits to a different level. Clients, property owners, and managers no longer have to travel to different locations as they can have a more immersive property tour using VR technology.
Potential Issues in Rental Property Management Software
Rental property management solutions are not 100% foolproof and here's a couple of drawbacks:
Social media integration. The lack of native integration with social media platforms causes inconvenience as you have to post and monitor your social media listings separately.
Multiple currency support. Not being able to accept payments in other currencies can cause issues when catering to international clients.