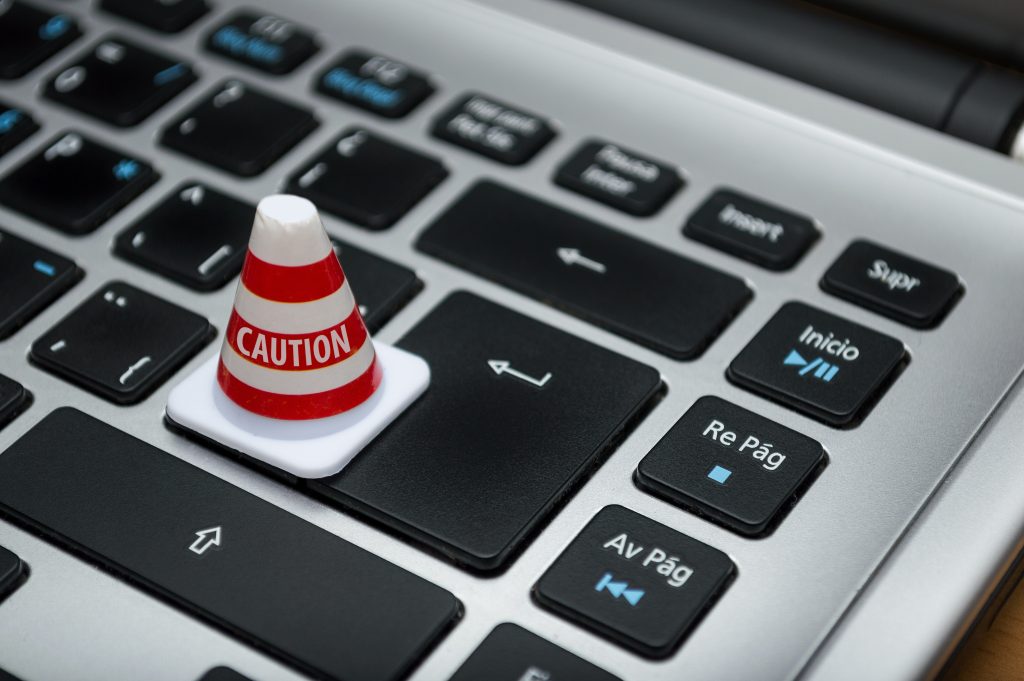 Data privacy is the practice of protecting data by collecting, storing, using, and handling it properly. Data security practices prevent data misuse, including phishing, identity theft, fraudulent activities, and other issues that happen when data privacy isn't made a priority.
Data privacy isn't only about how companies handle the data that customers and prospects share with them, but also the knowledge and control people have over how their data is collected, used, and protected.
What's considered data in the B2B context? It's anything your website visitors and customers share with you. Think — website cookies, IP address, employer information, as well as Personal Identifiable Information (PII) like name, phone number, email address, and credit card details.
As an online business, dealing with sensitive data like this is a given. You need systems and processes that will help you do that well. We're diving into five reasons why that's the case.
1. Data transparency improves brand value
Customers are increasingly looking for companies that handle their data correctly and transparently. Not just that: people want to have control over how their data is used by businesses they buy from.
In fact, a McKinsey survey revealed that 87% of people wouldn't do business with a company if they were concerned about its security practices, and 71% would stop doing business with a company that gave away sensitive data without their consent.
Another report shows that almost all American consumers would switch to a company that prioritizes data privacy—and 39% of them would spend more with companies that give customers control over their personal data.
And to top that off, a 2021 KPMG survey revealed that 75% of consumers want more transparency over how their data is used, and 40% said they'd share data if they knew who would use it and how. Companies, however, aren't quite meeting these expectations. When it comes to sharing how consumer data is used, giving consumers control over their data, allowing them to opt-out of sharing, and explaining how data is collected is used, the percentage of businesses who do each of these hovers around 50%.
One thing's for sure: there is a gap that privacy-focused companies can fill—and build their brand value and consumer trust and loyalty.
There are several ways you can meet your customers' data privacy expectations:
Publish and maintain a transparent privacy policy that's easy to find, read, and understand

Set up a cookie banner that gives users the power to accept, reject, or customize cookies, and lets you record their preferences

Offer support for a Do Not Track (DNT) browser preference

Make it easy for users to contact you in case they want more information about the data you collect and how you store and use it; i.e. make it a straightforward, custom contact form vs. an unclear set of steps and processes
2. A data breach can damage your reputation and business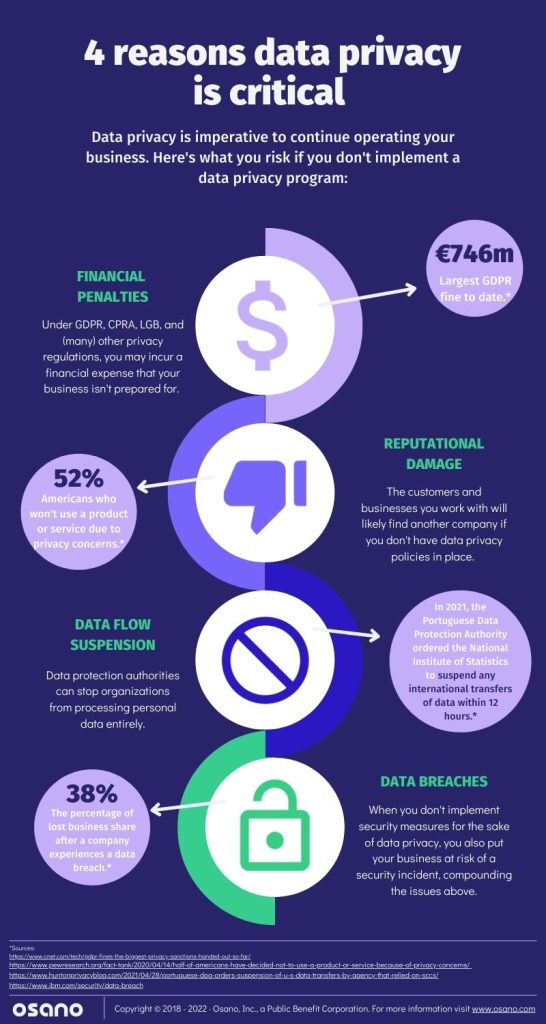 A data breach is a result of a cyberattack—an attempt to gain unauthorized access to sensitive, private, or confidential information, including financial and personal data. Attackers in a data breach might gain access to a physical computer or network, or by bypassing the security of a network, web server, or app.
The 2022 IBM report about the cost of data breaches revealed that:
The average total cost of a data breach is $4.35 million

Of that, lost business opportunities due to a data breach account for $1.42 million

The average time to identify and contain a data breach is 277 days

The shorter the data breach lifecycle, the lower the costs associated with it

The US has the highest average cost of a breach overall, $9.44 million
Additional reports show that 62% of businesses experienced a social engineering attack—think scam calls—and the US is on the list of top scammed countries.
It's clear: data breaches can cause tremendous damage to your business, both in the short and long runs. IBM's report shows that only around 52% of all data breach costs happen in the first year after the breach. For many companies, costs of that size and length would put them out of business.
This is why investing in your data privacy and security solutions like encryption, firewalls, GDPR-compliant cookie solutions, and more is essential. There's a well-known quote that says:
"If you think it's expensive to hire a good [expert], try hiring a cheap one."
Data privacy isn't the area to cut corners in order to cut costs. Maximizing your data security means minimizing the chance of a data breach. This protects you from the huge financial risks that come with data breaches.
Not just that: it safeguards your company's reputation and credibility, and helps you stay compliant with of laws and security standards like GDPR, CCPA, PCI, HIPAA, and more.
3. Customer privacy is priority
Speaking of security standards and privacy regulations: by 2024, 75% of the world's population will have its personal information covered under modern privacy regulations, up from 10% in 2020.
The European Union's GDPR, California's CCPA, Saudi Arabia's PDPL, and Thailand's PDPA are just a few of those modern privacy regulations. They keep leveling up the standards of customers' rights to have their personal information protected from misuse.
The failure to comply with data privacy regulations is another expensive risk. According to McKinsey, one data breach that included login and payment information for more than 300,000 people cost that company $180 million. Another company didn't comply with GDPR and was fined $57 million.
Consumers are increasingly aware of their rights to data privacy and protection—and the risks when their data isn't kept safe. Around 47% of them are concerned about their data being hacked and 51% about it is is being sold.
Websites like 'Have I Been Pwned' let people enter their phone number or email address to learn if the data was exposed as part of a data breach. They can even learn which specific types of information were at risk, like passwords, date of birth, location, phone numbers, and more.
If you happen to expose your customers' passwords, physical addresses, and other sensitive information, you'll violate their privacy on a greater scale. Credit card fraud and other forms of identity theft can have massive, long-lasting repercussions for those customers.
Take all the precautionary steps to protect your customers from cybercrime—and avoid showing up on websites that check for data breaches.
4. Poor data security can lead to operational downtime
Data privacy isn't just about how your company handles sensitive customer data and adheres to privacy laws and regulations. It's also about how the systems, tools, and platforms you use to run your business handle data security and privacy.
Some examples of such tools are a customer relationship management tool (CRM), an email client, a business phone system, or an eCommerce platform.
If any of these software companies experience a data breach or have a security-related issue, the problem trickles down to their customers—you—and possibly your customers, too.
As a result, you need to:
Explore whether your customer data was at risk and to what extent

Recover any lost or compromised data

Communicate with your customers about the implications to their data privacy

Find a workaround while the software company you use addresses the issue

Potentially switch providers to prevent further security risks down the line.
In other words, if your CRM, communications platform, or eCommerce solution has a data breach, you'll experience operational downtime and spend money, time, focus, and other operational resources to protect your customer data.
Those are the resources you won't be able to spend serving and supporting your customers or improving your product.
This is why it's essential to do your due diligence when choosing vendors for various functions in your business. Does a solution adhere to privacy laws and security standards like HIPAA and PCI? Does it conduct regular network monitoring? Is there a process in place in case of natural disasters and other risks?
A fantastic example of a company that communicates this with customers is Nextiva's security and reliability page which covers physical security, network security, reliability, and people training.
If a vendor you want to use doesn't get this specific about its processes, don't hesitate to ask them about it directly.
5. Customers trust companies that prioritize data protection
Finally, privacy-focused companies have a competitive advantage. This includes winning over new customers, as well as nurturing and retaining existing customers.
There are two sides to the competitive advantage that comes from prioritizing data security.
First is the short-term competitive advantage, which is all about positioning yourself as a business that takes great care of customer data and gives customers visibility and control over how their data is used.
Examples of this are security-focused pages like the one from Nextiva and elements like trust badges on eCommerce websites. According to Baymard Institute, 18% of people abandon their online shopping cards because they don't trust a website with their credit card information. Trust badges like SSL certificate badges, secure payment badges, and website encryption badge act as proof that the online store provides safe checkout.
Then, there's the long-term competitive advantage, which comes down to how you treat customer data in the long run and how you talk to them about it.
For example, a business can claim that data security is its focus, but when a customer reaches out about a security concern, they might dismiss it or downplay the seriousness of the issue. A company that truly prioritizes data privacy would never do that—in fact, it would probably go the extra mile to investigate the issue and communicate with the customer about it.
When you commit to data privacy, commit to it in every stage of the customer journey, from the moment you gain new customers through the months and years they'll keep trusting your product or service.
Set your company apart by putting data privacy first
Prioritizing data privacy is a company-wide effort. It's at the foundation of every process in the business, from how you build and improve your product to who you hire, how you manage employees, and how decisions are made on a day-to-day basis.