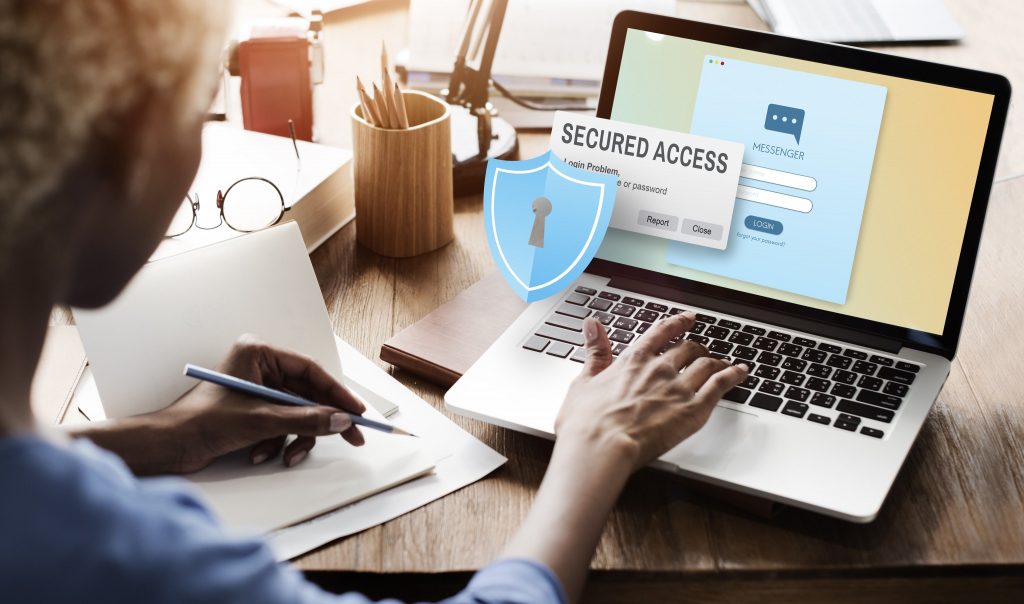 As a source of unparalleled mobility and flexibility, remote work has won the hearts of employees and businesses alike. However, hand in hand with the spread of digital workplaces, companies are becoming increasingly liable to data breaches and security risks posed by working online.  
Cybersecurity threats posed to small and medium-sized businesses overwhelmingly rely on social engineering, a scenario where the attackers trick people into giving away sensitive information. For companies, this is actually positive news. Since social engineering thrives on human manipulation, it is successfully battled through actionable awareness. 
Below, we will go through the most effective ways to safeguard company data in remote and hybrid workplaces. Bring security risks to an absolute minimum with these simple tips!
1. Purchase reliable digital tools 
Digital tools are the lifeblood of remote workers. They connect employees throughout the world and allow distributed teams to seamlessly collaborate. However, unverified digital tools are susceptible to malware, security attacks, and data leaks. Cloud tools are usually more secure than downloaded software, but keep in mind that free tools pose more security risks, so businesses should use only tools from trusted sources. The price of a small subscription fee for a trusted service is incomparable to a freebie app resulting in possible data leaks and lawsuits. An optimal set of cloud tools for small business includes a secure business phone service or even a trusted virtual phone number for private communications, project management tools, and a comprehensive CRM platform.
2. Establish an interactive cybersecurity policy 
95% of cybersecurity breaches are caused by human error. Although many companies have "good on paper" policies (aka a security document that no one reads), few go as far as to make the rules well-known and actionable. One way to do so is to hold presentations at least twice a year to update colleagues on cybersecurity rules in your organization. This works best in an interactive format, like colorful PowerPoint slides and presentation videos. Another positive workplace practice is to create cybersecurity onboarding for new employees. This keeps all employees on the same page about security practices, regardless of whether they work remotely or in the office. 
3. Secure the internet connection
Remote employees and freelancers like to work from coworking spaces, cafes, and other public areas with free Wi-Fi.  Meanwhile, unsecured Wi-Fi networks pose one of the highest cybersecurity risks. To mitigate risks, remind all employees – including hybrid employees that divide responsibilities between in-office and remote work – to set up VPN and secure their connection on all devices, including mobile. Instruct employees to avoid using free VPN services – these networks at best offer weak protection and at worst pose a security risk themselves. It's optimal to buy a VPN subscription for the company, so all employees have the same level of protection. 
4. Set BYOD policies
Most remote workers will use their own devices to access corporate resources, which could involuntarily cause security breaches if their device is hacked.  A BYOD (Bring Your Own Device) policy is a set of company rules for using personal devices in a work context. A BYOD policy should outline employees' responsibilities for keeping personal devices secure. It should also state what cybersecurity responsibilities the company takes upon itself. For example, inform what type of protection the company offers (e.g. antivirus, VPN subscriptions) vs. the employees' responsibilities to keep their devices safe (cybersecurity practices, regular software updates, etc.). 
5. Instruct employees on download procedures 
Downloads are the floodgates for cyberattacks. According to the CPR cybersecurity report, the most frequent malicious downloads come in .exe, .pdf, and .doc format  – in other words, they mask as popular files. Another type of attack associated with downloads is the so-called "Drive-By Download". This is an unauthorized download that starts on a device automatically after simply visiting a website or clicking a link. To prevent unintended downloads that infect digital devices, remind employees to avoid torrent sites, illegal streaming services, and suspicious links. On your part, instruct employees on how to set up ad-blockers and keep their browsers updated to the latest version. 
6. Encrypt sensitive data 
When your company deals with particularly sensitive data in a remote work context, special encryption software will stop hacking attempts at the root. Encryption software uses special algorithms to make a jumble of the information being sent, so it looks incomprehensible to attackers. The receiver then decrypts the data using the key provided by the sender. Some industries, like the medical industry, educational institutions, and retailers are obliged by U.S. law to encrypt sensitive customer data online. 
7. Provide access to antivirus software 
Anti-virus, firewall, and malware detection software helps protect remote employees' devices from harmful programs. Even with the best cybersecurity policies, there's ingenious malware that can infect company devices, causing scams and data breaches. For companies, it's best to buy cybersecurity software that all your employees will have access to. Don't forget to include instructions on how to download and use the anti-virus software and remind employees that it's a mandatory practice on all devices used for work.
8. Manage passwords 
Business passwords are particularly volatile. For one, employees feel a lot less concerned about company privacy than the privacy of say, personal financial accounts. Surveys show that at work, employees reuse the same password an average of 13 times and are more liable to use weak passwords, including the company name itself. As part of your security policy, instruct employees on how to use password generators and password manager tools and provide a list of reliable password services. If your company deals with particularly sensitive data and many employees, including remote employees, have access to it, a useful measure is to require two-factor authentication for account login. Two-factor authentication usually requires both a password and an SMS code. It protects a company from up to 99% of the security risks associated with password hacking.  
9. Ensure safe file sharing 
When your business deals with large file formats or is obliged by law to protect data stored online, an everyday storage solution like Google Drive won't do. It's important to choose a secure business platform for storing and sharing very large files. Choose a file-sharing platform that fits your storage capacity (from 500MB to several TB), is cloud-based, provides encryption, and allows to set permissions for groups and individuals within your organization. Some platforms even allow you to choose the geographical location for storing your data, like Europe or the U.S. 
10. Don't forget about mobile device protection 
Mobile phones are personal possessions, but most employees use them to access company data. As a result, security risks are often overlooked when logging in to work apps and platforms from mobile devices. For a company's protection to come full circle, all of the guidelines we talked through must apply equally to laptop/PC protection and mobile device protection. Regularly remind employees to keep their VPN and antivirus software updated on all internet/Wi-Fi-powered devices. This includes mobile phones, iPads, tablets, and any smart devices used to log in to corporate accounts, including work emails.
Final word
A 2021 report by IBM and the Ponemon Institute shows that it takes an average of 287 days for security teams to identify and contain a data breach. This means that nearly a year goes by with cybercriminals using sensitive customer data, company data, or intellectual property before the fact of the data breach even comes to light. 
However, there's plenty of good news to balance out any negativity. Companies and employees can have the best of both worlds: follow practical remote work trends while protecting their data in remote work environments.  From actionable policies and cybersecurity onboarding to high-tech malware protection, prevention has gotten a lot easier. Because, as the adage goes, "Prevention is always better (and cheaper!) than cure".