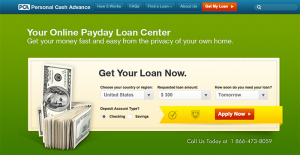 Personal Cash Advance helps consumers find short-term financial solutions to meet emergencies. It matches borrowers with an extensive network of lenders. You don't have to travel to a brick-and-mortar store to get the cash. Simply apply online and get approved in hours.
Personal Cash Advance says it uses the latest technology to ensure your data is safe and secure. The website also has financial tools and strategies to help consumers get off the debt trap. You can contact the company by phone or email form to get your doubts clarified.
How is the company different?
Personal Cash Advance has established a network of lenders to provide payday loans to needy customers. It offers a simple application process on its website. You don't have to use any collateral, your paycheck is sufficient to get you the loan.
Interested lenders will offer you the loan within hours. You don't have to fax any documents. The lender will send you an electronic loan agreement detailing the terms and conditions. You will be apprised of the approved loan amount and the fees.
If you have any questions, contact the lender directly. If you are satisfied, complete and submit the agreement to the lender. The agreed loan amount will be deposited into your checking or savings account. Personal Cash Advance is not a lending company, so you should deal with the specific lender at all times.
The lender will debit the amount and the fee from your designated account, so ensure you have sufficient balance in the account by the repayment date. If you need more time for repayment, contact the lender for an extension or to roll the balance into another loan. However, you will be charged a larger fee for this option. It is prudent to pay off the loan as quickly as possible to minimize costs.
How to apply for a loan?
Visit personalcashadvance.com to apply online.
Lender Details
Most recurring positive comments
No credit check required for approval
Like the fact that there is no employment duration requirement
Most recurring negative comments
Approval can take a few hours
Website: www.personalcashadvance.com
Loan amount: Most lenders decide the amount you qualify for on your income. The maximum amount you can get is $1,500.
Loan Period: The maximum term of a loan with a PCA lender is 14 days, but the lender decides other factors in paying off your loan. Some lenders offer payment extensions or loan rollovers, you can get those specifics as well as information on the APR and fees from your lender.
APR: The lowest possible APR is 36%.
Areas being served: Personal Cash Advance facilitates loans in 46 states.
Eligibility Criteria
Be employed or receive some source of valid income
Make at least $1,000 per month
Be 18 years of age or older and a citizen of the U.S.
Have checking or savings account that accepts direct deposit
Not active in the military
Personal information required
Name
Address
Time at current address
Do you rent or own this property?
Requested amount
Contact details
Phone: 1-866-473-8059
Email: Fill in a contact form on the company's website
Office address: 1000 N. West Street, Suite 1200, Wilmington, DE 19801