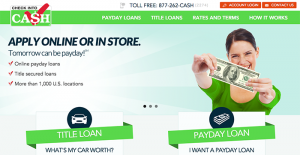 Check Into Cash is a direct lending company that provides short-term, small dollar credit solutions to customers. It offers online payday loans, in-store cash advances, payday advances, check cashing, title pawns, title loans, walk-in bill pay, Western Union, and reloadable prepaid U.S. Money cards at its nationwide centers.
Check Into Cash was founded in 1993 by entrepreneur Allan Jones in Cleveland, Tennessee. Today, it has more than 1000 branches in 30 states. The company's financial products are available online in a number of states. Check Into Cash is also a founding member of the Community Financial Services Association of America (CFSA), the trade organization for the payday advance industry best practices.
How is the lender different?
You can get a loan online or at one of Check Into Cash's stores. Fill out a simple 5-minute online application for a payday loan or step in to a nearby branch to get a cash advance. Most of the company's stores also offer title loans against your car's value. Just take the vehicle, the clear title and a photo ID to get cash fast.
How to apply for a loan?
You can apply online at the lender's website. The company says it will provide the results of your application within 60 seconds. A customer service agent will contact you to verify your information. If you are approved, you will get the funds in your checking account by the next business day.
Lender Details
Most recurring positive comments
Staff are friendly and helpful
Good company for emergency funds
Like the options of applying online or going to a store in person
Most recurring negative comment
Website: www.checkintocash.com
Loan amount: From $100 to $1,000. Maximum loan amounts vary by state and are decided during the credit decision process.
APR: The APR for payday loans varies in each state and depends on the advance amount, fees, and terms of the transaction. The APR for a $100 single-payment payday loan may range from 260.71% to 782.14% on 14-day terms.
Areas being served: Check Into Cash currently offers payday advances or payday loans online in Alabama, California, Delaware, Idaho, Indiana, Kansas, Louisiana, Mississippi, Missouri, Nevada, Ohio, Oklahoma, Oregon, South Dakota, Tennessee, Texas, Utah, Washington, Wisconsin and Wyoming.
Eligibility Criteria
To be eligible for a payday advance you should:
Have an active checking account open for at least 90 days
Be at least 21 years of age (19 years in Alabama)
Be a citizen or permanent resident of the U.S.
Have a current home/cell and work phone number
Have a valid email address
*Indiana residents must provide proof of a Social Security Number
Personal and financial information required
Your social security number
Your government issued driver's license or photo ID
Your checking account number
Your bank's routing number
Proof of income – Most recent pay stub or other proof of income
Contact details
Phone:
Online loan customers: 877-577-7977
In-store general support: 877-262-CASH (2274)
Email: [email protected]
Office address: Check Into Cash, 201 Keith Street, Suite 80, Cleveland, TN 37311