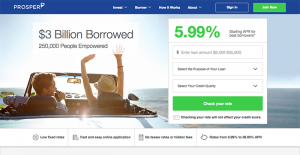 Prosper states that it is America's first peer-to-peer lending marketplace. It has lent more than $3 billion till date, empowered 250,000 people and has more than 2 million members.
Prosper allows people to invest in each other in a financially and socially rewarding manner. On Prosper, you can list loan requests between $2,000 and $35,000, and individual lenders can invest as little as $25 in each loan listing they select. Prosper manages the servicing of the loan on behalf of the matched borrowers and investors. All loans are made by WebBank, a Utah-chartered Industrial Bank, Member FDIC.
Eligibility Criteria
A new Prosper borrower must be a U.S. resident in a state where Prosper loans are offered, and must have a bank account, a Social Security number, and a credit score of at least 640. Prosper uses Experian to obtain credit scores. Depending on their qualifications, approved borrowers can request unsecured loans from $2,000 to $35,000.
How is the lender different?
Prosper is a market leader in peer-to-peer lending, which is a popular alternative to traditional loans. It cuts out the middleman to connect people who need money with those who have money to invest.
Here's how Prosper works: Borrowers select a loan amount, purpose and post a loan listing. Investors look at loan listings and invest in listings that meet their criteria. Once the process is complete, borrowers make fixed monthly payments and investors receive a portion of those payments directly in their Prosper account.
How much are the rates?
APR ranges from 5.99% to 36.00%.
How to apply for a loan?
Borrowers start by creating a loan listing on Prosper which takes only a few minutes. You need to provide some personal information which can get the best loan terms and rate possible. Prosper will check your identity and get your credit score (this will not impact your current credit score).
Prosper then assigns your loan listing a Prosper Rating that is based on your credit score from a credit bureau (Experian) and another score developed internally by the lender. Your loan's interest rate depends on your Prosper rating.
You can then create a custom loan listing by giving your listing a title and adding a description of your loan purpose and your financial situation. Your listing will be viewed by investors and you will get a loan after your listing is funded and your information passes Prosper's verification process.
Lender Details
Most recurring positive comments
Getting a loan is a smooth process
Easy to submit the required documents by uploading them
Prosper offers competitive rates
Most recurring negative comment
Payment problems due to software glitch
Website: www.Prosper.com
Loan amount: From $2,000 and $35,000
Loan Period: Loan terms of 3 and 5 years are offered, depending upon Prosper rating and loan amount
APR: APR ranges from 5.99% to 36.00%
Areas being served: Prosper is available to borrowers in the following states: Alabama, Alaska, Arizona, Arkansas, California, Colorado, Connecticut, Delaware, District of Columbia, Florida, Georgia, Hawaii, Idaho, Illinois, Indiana, Kansas, Kentucky, Louisiana, Maryland, Massachusetts, Michigan, Minnesota, Mississippi, Missouri, Montana, Nebraska, Nevada, New Hampshire, New Jersey, New Mexico, New York, North Carolina, Ohio, Oklahoma, Oregon, Pennsylvania, Rhode Island, South Carolina, South Dakota, Tennessee, Texas, Utah, Vermont, Virginia, Washington, West Virginia, Wisconsin and Wyoming.
At this time, Prosper is not available to borrowers in the following states: Iowa, Maine and North Dakota.
Fees and charges
No fees are charged for posting a borrower listing on Prosper. Fees are only charged if your loan is funded and money is transferred to you.
Origination fee: The origination fee is a percentage of the amount borrowed and varies by Prosper Rating. The origination fee is taken from the loan immediately, before the amount is credited to your account. So, if you're using your Prosper loan to purchase something specific (like kitchen remodeling), make sure to ask for enough funds to cover both the remodeling project and the closing fee.
$15 failed payment fee:  A failed automated withdrawal, returned check, or bank draft is charged a fee of $15. Only one failed payment fee will be charged per payment period. This can be due to insufficient funds, a closed account, account changes that were not reported to Prosper, or for any other reason (other than an error by the lender). This fee is retained by Prosper.
Late payment fee: You'll be charged a late fee if a monthly payment is 15 days late. Late fees are passed on to investors. Prosper does not retain late fees.
Personal information required
Basic personal and financial data
Identity proof
Credit score
Bank account number
Social Security number
Email address
Contact details
Phone:
Borrower service – 1-866-615-6319
Investor services – 1-877-646-5922
Email: [email protected]
Office address: Prosper Funding LLC, 221 Main Street, Suite 300, San Francisco, CA 94105