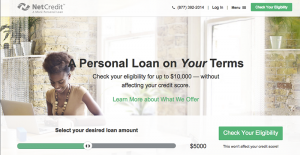 NetCredit is an online personal loan lender based in Chicago. It is a subsidiary of Enova International Inc., a NYSE listed company. NetCredit says it employs a small and dedicated team of developers, analysts, customer support specialists and others to provide the best solutions for customers with less than perfect credit.
Eligibility Criteria
NetCredit looks at your current employment and income situation and credit history among other factors to determine if you qualify for a loan.
How is the lender different?
NetCredit states that it looks at a variety of factors and not just the credit score to determine if a person is eligible for a loan. Its customer service team based in Chicago answers all questions and gets feedback. NetCredit says its process is simple, transparent and convenient. The online application process is quick and the company has a "no hidden fees policy". Plus, NetCredit offers customers a range of tips and tools to improve their credit and pay off their debt.
How much are the rates?
NetCredit rates vary for each state. Check the lender's website for the rates and terms in your state.
How to apply for a loan?
NetCredit's online application process is fast and easy. To get started, fill out a short online form. You will get a quick decision on your eligibility and the loan amount assigned to you. You can select a suitable loan amount and accept the terms. The funds will be deposited in your bank account on the next business day after final approval.
Lender Details
Most recurring positive comments
Good customer service
Fast approval process
Good lender for those who do not have perfect credit
Most recurring negative comment
Website: www.netcredit.com
Loan amount: The loan amount for which you qualify depends on many factors including state requirements, your credit history, and current employment and income situation. NetCredit will design a personalized loan for you even if you do not have perfect credit.
Loan Period: The loan period varies from state to state. Check NetCredit.com for the loan period in your state.
Areas being served: NetCredit does not offer loans in all U.S. states. Visit NetCredit.com to check if this lender offers personal loans in your state.
Fees and charges
NetCredit's fee structure is clear and simple. Its only fee is the daily simple interest accrued on your loan. There are no additional or hidden loan fees. You an also check out the alternative and read more about Avant APR in our review.
Personal information required
Basic personal and financial information
Main phone number
Secondary phone number
Home address
Length of time at current address
Main source of income
Contact details
Phone: (877) 392-2014
Email: [email protected]
Office address: NetCredit, 175 W. Jackson Blvd., Suite 1000, Chicago, IL 60604