Handling processes in a reselling or pawn shop can be daunting, especially if you do not have the right consignment software. How do you accurately determine the value of items? Can you contact your customers when they miss their schedules? How do you track the acquisition and sale of unique items?
Consignment and reselling are some of the fastest-growing markets right now. For example, the current value of the secondhand apparel market is $28 billion, and it is continuously growing. With such potential, more people are getting into the business. With relatively low overhead and set up, many first time entrepreneurs are also taking the plunge. However, they soon find out that managing complex business processes in consignment requires a specific system in place.
Fortunately, consignment software provides an all-in-one solution that allows even small business owners to manage daily workflows and processes. Such platforms enable users to monitor items, transactions, and customers, all in one place. Additionally, it comes with advanced features, such as generating legal forms, scheduling payments, and much more.
In this article, we will explore what consignment software can do for you. We will also discuss its benefits and future trends. Make sure that you do not miss out on the top consignment software in the market.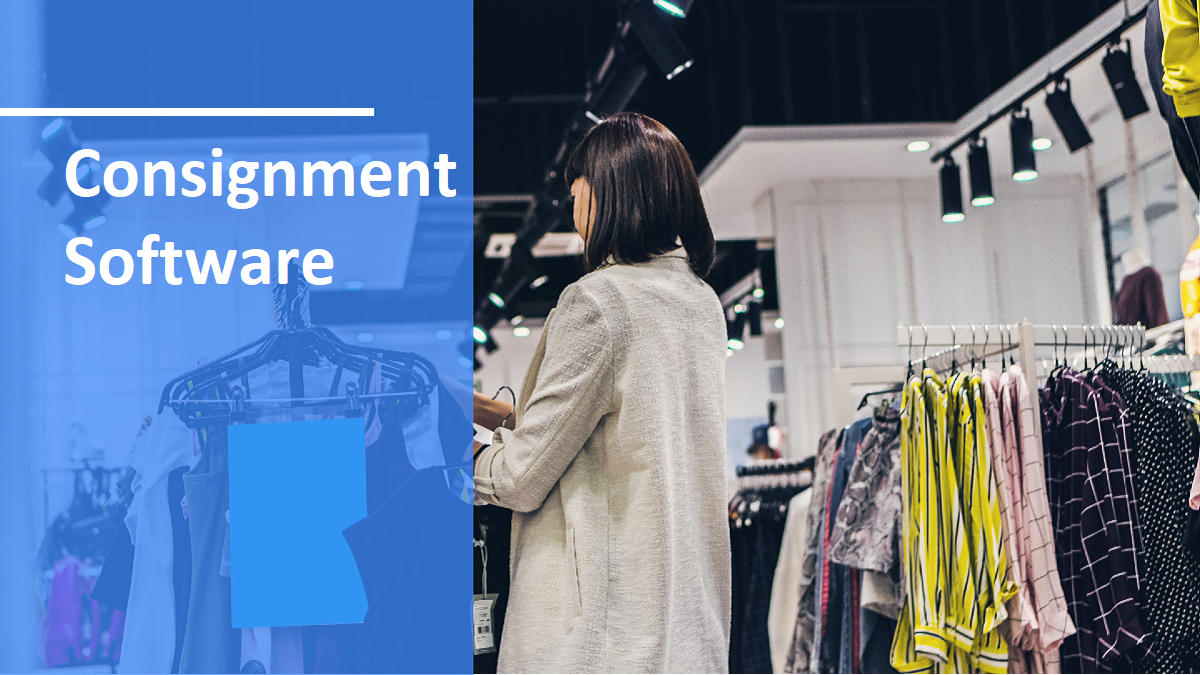 Consignment Software Table of Contents
What is Consignment Software?
Consignment software is a system that allows thrift stores and pawn shops with auditing and inventory tracking. These businesses deal with a unique challenge that no other retailers face: customers may want their items back. As such, the tracking ability of such platforms makes it easy for business owners to conduct complicated transactions daily.
Furthermore, pawn shops and similar enterprises follow strict regulations in terms of documentation. In most countries and states, they are required to keep even voided receipts. For example, in the United States, they are subject to IRS Form 8300 requirements and PATRIOT Act Anti-Money Laundering (AML) regulations.
List of Best Consignment Software
Consignment applications come with different features and functionalities. While the best platform will still depend on your specific needs, here are some that may fit your business:
Common Features of Consignment Software
With such complicated functionalities to handle, consignment software is often composed of various features that provide an all-in-one system for consignment shops. Here are some of them:
Inventory tracking – In such businesses, ownership of items often change. For example, a consigned item may not be picked up in the time agreed upon in the contract. The platform tracks this information and sends the relevant notifications to the clients. If the customer picks up the item, the inventory status should change without extra effort from the business owner.
Unique item tagging – The system can tag and identify unique items. This makes it easy to monitor the entire history of the item from acquisition to final sale. Additionally, the value of the unique items should be recorded as well.
Customer history tracking – All details related to the customers' transaction, including the date, time, items, and their values. The system also records all correspondence, payments, and changes made with the customers.
CRM – The system includes a database of current and past customers, including their contact details, relevant documents, and more. It can also scan IDs and store them in the system.
Payment calculations – Each payment made is recorded, including the date and time. Additionally, the software automatically calculates the store's percentage and other relevant value adjustments.
Payment scheduling – Aside from creating and tracking payment schedules, the application automatically computes the interest. Also, generating coupon books or bills should be a few clicks away.
Legal document generation – The system generates legal forms automatically, such as IRS Form 8300 in the US.
Detailed financial reports – The solution can generate financial reports that align with the requirements of the government. This makes tax and other legal filings easier.
Integration with messaging apps – The system makes it easy to communicate with customers through email, SMS, phone, and other channels.
Benefits of Using a Consignment Software
Manual processes in consignment and pawn shops are often susceptible to errors. As such, consignment applications allow business owners to save time and money as they enjoy the following benefits:
Smooth and secure processes with POS – The system can conduct sales, product purchases, and consign items all within the same platform. It can handle credit card processing, returns, voids, split payments, and more.
Better inventory management – Your staff can add and track items easily from the system. They can also search for items in the database using filters, such as brand, color, size, type, and more. Some systems also allow for locating items in the warehouse much easier.
Easy access to consignor information – The included CRM and customer history make it easy to pull up account activities, payout history, current balance, and inventory details related to the customer.
Efficient communication with customers – Most systems send automatic notifications and updates to customers so that they are always updated with the status of their payments and items.
Price generation – Consignment software makes it easy to generate correct pricing the first time. It can also suggest proper pricing quotes based on items' market value.
Consignment Software vs Retail POS System
Before the development of consignment applications, pawnshops use traditional POS systems that are found in retail stores. However, these applications are not designed to handle complex transactions. Typically POS software is quite powerful on its own with its ability to accept and process many kinds of payments. Modern systems even allow tracking and management of other aspects of the business, such as sales, purchases, inventory, and even staffing.
However, consignment stores and pawn shops have unique processes not found in other retail stores that POS systems simply cannot address. As such, consignment platforms can handle such processes and workflows. For example, generating an item's value and price quotes can be done easily. Also, a specialized application allows for tracking of multiple payments, computing interest rates, and more.
Interestingly, consignment software also includes a POS system. This part of the platform processes payments, returns, and other relevant transactions. It integrates with the rest of the software to ensure that all information in the database is updated.
Future Trends in Consignment Software
Consignment software is getting better and better as new technologies are developed. Here are the trends that you are expected to see or may already be seeing:
Cloud-based consignment platforms – We are already witnessing cloud technology in many consignment platforms these days. Most take advantage of the accessibility of the cloud to store databases. Furthermore, modern platforms are beginning to take their functionalities to the cloud to create software that is fully powered by the cloud. This is great if you have multiple branches to ensure consistency across your entire enterprise.
Mobile solutions – Around 85% of small businesses are already using mobile technology to increase their productivity and revenue. Improving mobile technology means we can see consignment systems working with mobile devices as well. Customers value convenience, so bringing your services to them without losing access to your consignment platform means you can conduct business anywhere. Cloud technology also puts various functionalities into a smaller screen without sacrificing features.