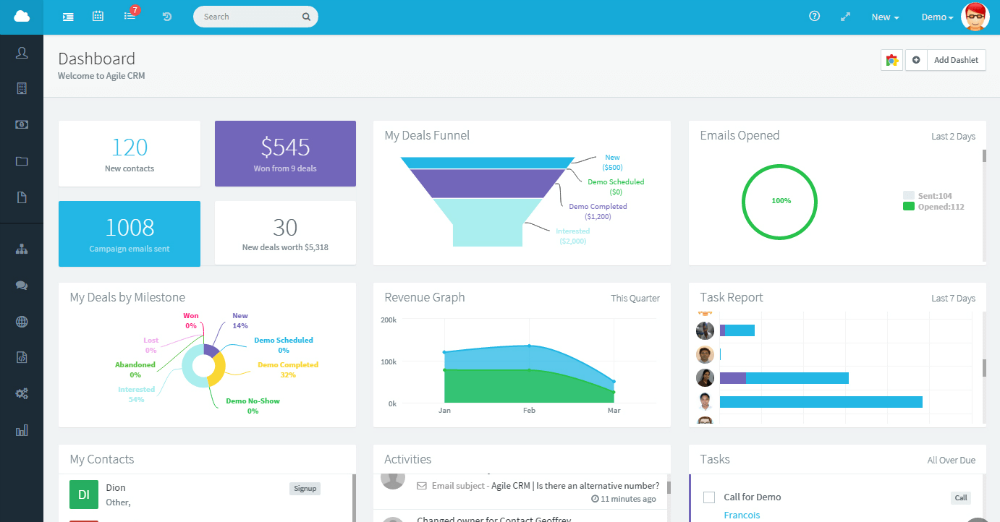 The main benefits of Agile CRM consolidating sales and marketing processes, providing a single view of customer data, and ensuring ease of use with drag-and-drop and drop-down tools. Here are more details:
Agile CRM speeds up your sales and marketing processes, which in turn increases users' accuracy and efficiency. Managing contacts is easy, as users can store and organize contact information any way they want, and can easily access them whenever and wherever they may be. Businesses can garner more revenue and close more deals if their contacts are managed effectively.
Agile CRM users can easily keep track of the sales process. With this solution, the sales journey can be a seamless and smooth process as deals, stages, and milestones can be monitored easily. Projects can easily be created, tasks assigned, and project and task progress tracked thanks to Agile CRM's intuitive drag-and-drop interface.
Agile CRM's online calendar functionality lets users send notification and automate scheduling. Schedules can be set and dates for follow-ups, deadlines, and meetings can be assigned, with Agile CRM making the necessary adjustments if necessary.
Marketers can speed up their marketing workflows with Agile CRM's drag-and-drop designer and its automation features. Conversion rates can be enhanced with custom landing pages created on the platform while an integrated social media marketing suite optimizes social media marketing efforts.