Today, AI is the #1 topic, which can be seen not only through enthusiastic mass media publications and numerous projects but also through the scale of AI penetration in all industries and verticals. Companies all over the world try to be in the loop about the latest IT trends to stay afloat and beat the competition.
All this makes us optimistic about the future of the smart AI solutions market whose revenue, as forecasts suggest, will reach nearly $100 billion globally by 2025.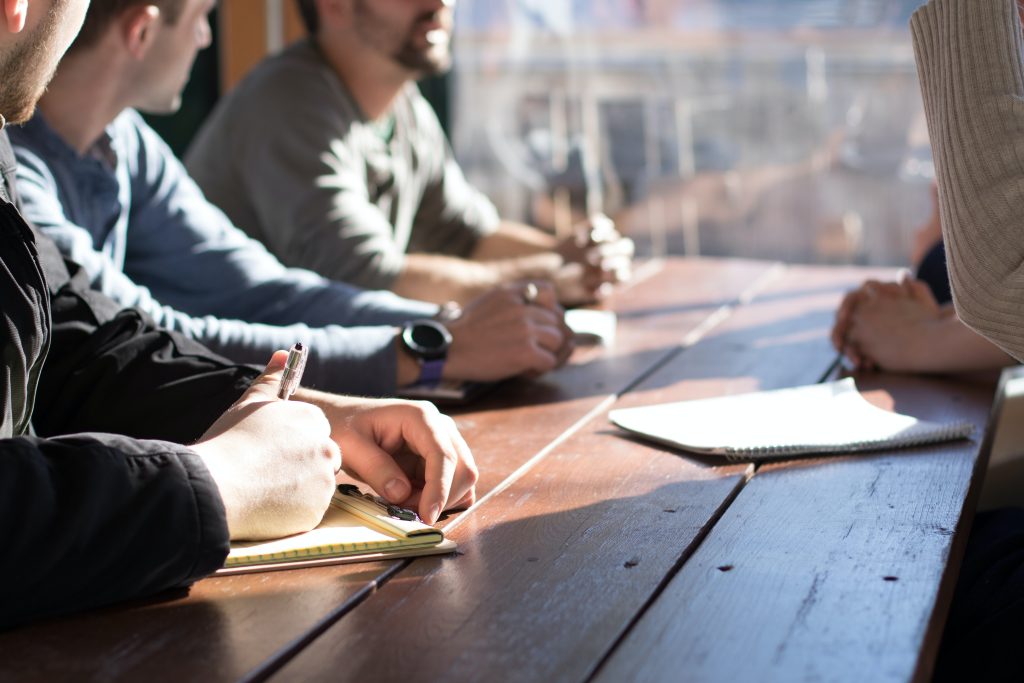 AI in a Nutshell
In its broader sense, artificial intelligence (AI) presupposes machines or systems that imitate human cognitive functions such as learning and problem-solving. AI applies mathematics and logic to simulate the reasoning people use to gain new knowledge and make decisions.
Since AI is often confused with machine learning, it makes sense to mention that machine learning, although closely connected to AI, is a different notion. It's considered a subset of AI used to enable systems to identify patterns, learn on their own, and make data-driven decisions. This means that all machine learning is AI, but not all AI is machine learning.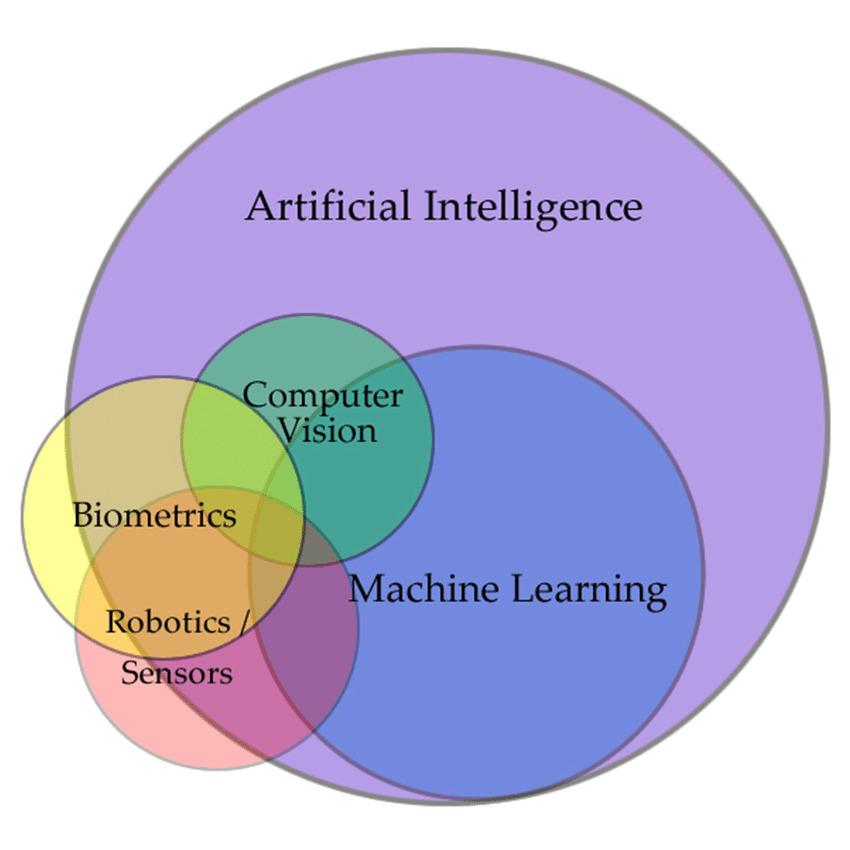 Application of AI in Service Industry
AI is gaining momentum in the service industry, facilitating interaction with customers and increasing customer loyalty with the help of top-notch tools and resources. It helps:
to significantly improve customer service quality;

to boost customer satisfaction; 

to increase brand reputation; 

employees handle more complex and important tasks, etc.
AI-driven customer-centered approach allows organizations to optimize processes in numerous departments, for instance:
The

sales department

will be able to analyze transactions and prioritize leads based on the data received, as well as encourage repeat sales.

The

marketing department

will analyze and identify patterns in customer behavior and use them to make decisions and provide customized offers.

AI helps analyze and optimize

support services

, solve customer problems and respond to their requests in real-time.
Benefits of AI in Service Industry
View other benefits that the implementation of AI can bring to service industry organisations and their clients.
Chatbots for Customer Support
The use of chatbots in customer service is a great tool for improving the quality of customer support. The companies that implemented chatbots enjoy its numerous benefits:
Assistance to many clients around the clock;

No need for extra human resources;

Automated basic Q&As and operations such as information about tracking parcels, opening hours, or return policy;

Employees can devote more time to complex tasks;

Chatbots provide relevant information and help at every stage of the work process;

They can immediately identify the needs of a client, and their problems, and make sure that it's solved by specific experts;

Clients get an instant reply, which significantly reduces the time for problem resolution and increases customer satisfaction.
HR & Recruitment
The usage of AI in the service industry starts with effective staff recruitment and improved work productivity. Helping companies find the best candidates and reduce costs on recruitment, high-end AI systems can:
Analyze thousands of resumes in a moment;

Quickly assess the qualifications of job candidates;

Determine which candidates are most likely to be suitable for a particular position;

Conduct a dialogue with candidates and formulate a forecast of their potential within the company.
Armed with artificial intelligence, an HR department can almost in real time get up-to-date information on an employee's productivity, their involvement and loyalty. Today, more companies take it into account and implement productivity tools, which is vivid in the statistics of productivity software implementation.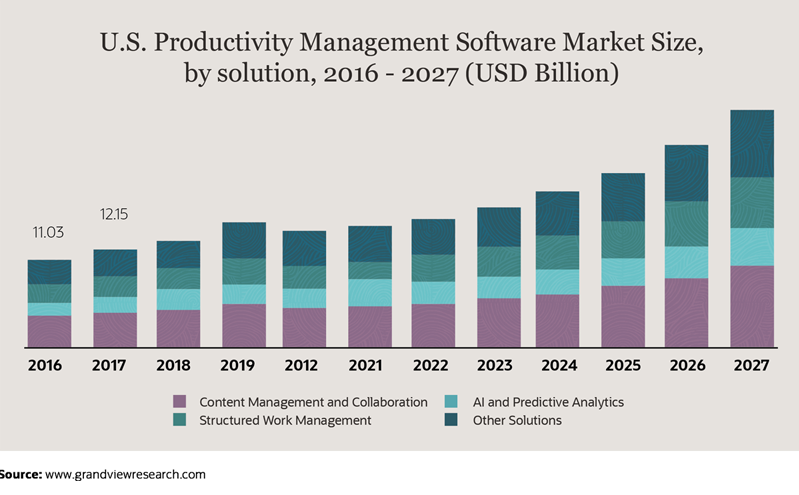 Some examples of what AI can do in this sphere:
Identify behaviors that affect productivity decline;

Make questionnaires, analyze the received information, and provide guidance and warnings to the administration and the staff;

Predict when an employee is planning to quit their job.
Project Management
Artificial intelligence is bound to completely change the roles and responsibilities of project managers, as forecasts show today. Organizations that implement such AI solutions help reduce the burden on project managers by facilitating and accelerating their impact. AI-powered project management shows better results in:
Project planning;

Allocation of resources;

Decision-making based on big data (IBM estimates that the data-based decision-making market will reach

$2T by 2025

).
AI technology has also reduced the need to perform redundant tasks, thus enabling project managers to handle more complex problems. It can automate such tasks as:
Sending emails;

Project delay notifications;

Expenses and more.
Data Analysis
"Data science turned out to be an essential tool for businesses to optimize their products and services and get the edge over competitors through data-driven decision-making. Some of the common examples of its application include:
Identify customers who are about to leave by analyzing the behavior data and making a request to the marketing department to retain them;

Improve efficiency by analyzing traffic congestion, weather, and other factors to speed up delivery and reduce costs;

Analyze medical test data and symptom descriptions to improve and accelerate diagnosis and better treat diseases;

Identify fraud in the financial industry by picking up suspicious behavior and anomalies;

Increase sales through customer recommendations based on previous purchases, and more."
Eugene Medved, data science consultant at InData Labs
Predictive Analytics
Predictive analytics, which has recently taken off and is on the rise, analyzes available information to forecast future events and trends.
It allows companies to reap a variety of benefits:
More accurate market segmentation thanks to a clearer image of the target client;

Increased conversion rates thanks to the interpretation of data on previous purchases;

Increased sales forecasting efficiency that helps companies plan workload and revenue more effectively;

Customer segmentation for identifying similar needs and providing customized offers and services;

Forecasting client behavior and possible factors affecting it;

Predicting investment risks to gauge business or assets potential as well as choose the best supplier or business partner.
NLP
Many organizations started to use NLP to facilitate lead generation and find new potential customers.
Social media

: NLP-based frameworks analyze customer attitudes and identify patterns to track the efficiency of your business performance on social networks.

Search engine

: Monitoring popular keywords and the ones that attract more visitors to your website, it's easier to find out how consumers perceive your business and how to improve your online presence.

Phone calls

: NLP systems record phone conversations to determine trends and patterns and find the best sales representatives.

CRM

: NLP-powered CRM system reviews each piece of information and, based on the preliminary requirements you have set, compiles a list of good potential customers for you.
Sentiment Analysis
In expanding your business, it's vital to be on the same wavelength with customers. The statistics show that even after one bad experience an average client is 32% likely to walk away.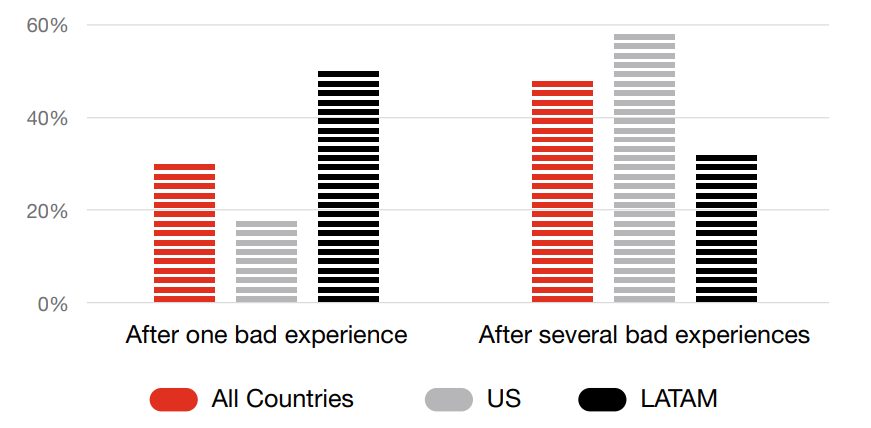 Sentiment analysis tools make it easy to track brand mentions and get real-time insights into customer attitudes, opinions, and emotions. Knowing their brand's perception, business owners can achieve the following goals:
Attract new customers and increase customer loyalty;

Improve marketing campaigns and new product releases by tracking customers' attitudes and reactions;

Promptly address negative reviews and increase customer satisfaction;

Anticipate and reduce customer churn.
Final Thoughts
Customer service is absolutely imperative to a business's success, and AI can be a key asset in helping you take your service quality to a new level. With its help, businesses skyrocket their possibilities to enhance customer retention and provide an outstanding customer experience.