By this time, Fortnite needs no introduction. After its Battle Royale mode launch in late 2017, Fortnite has quickly become a colossal force in the gaming scene. It has inspired pop culture, which, in turn, returned the favor. And if you need further proof of its mainstream success, it even had a tongue-in-cheek reference in one of the 2019's biggest Hollywood blockbusters, Avengers Endgame. Who can forget Noobmaster69, anyway?
Looking at the numbers, however, will make you appreciate just how massive Fortnite's success is. From its total number of players and its tremendous prize pool that rivals even the biggest worldwide sporting events', here are 70 of Fortnite's impressive statistics for 2020.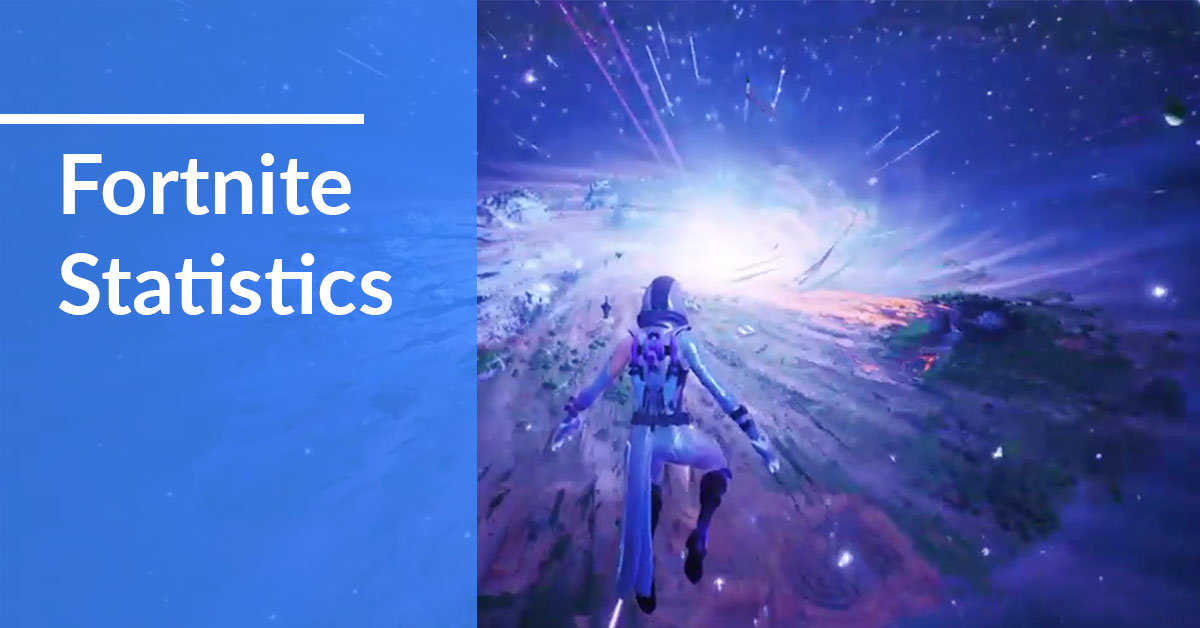 Fortnite Statistics Table of Contents
General Fortnite Statistics
Not many people know that Fortnite's history goes back to 2011, over half a decade before its most popular game mode, battle royale, was launched in September 2017. Its first iteration, "Save the World," is a hybrid of a shooter game in the vein of Left 4 Dead with tower defense elements and building, similar to Minecraft.
During its development, however, PlayerUnknown's Battlegrounds launched, which introduced players to a battle royale gameplay. Epic Games realized they could capitalize on this genre and used Fortnite to develop a separate game mode, later releasing it as a stand-alone game called "Fortnite Battle Royale."
Note: we will be calling "Fortnite Battle Royale" as simply "Fortnite" for simplicity's sake throughout this article.
Fortnite Battle Royale was launched in 2017, making it just over two years old.
There were 250 million unique Fortnite players in total as of March 2019.
A little over a year later, this figure has increased to 350 million by the end of April 2020.
In April 2020 alone, players have spent a combined 3.2 billion hours in the game.
Fortnite is the third most-played video game in the United States as of 2019, only behind Call of Duty and Grand Theft Auto, in that order.
It, however, leads the battle royale genre, with its main competitors being EA's Apex Legends and PUBG Corporation's PlayerUnknown's Battlegrounds.
In August 2018, Fortnite logged its most number of players in a given month, with 78.3 million unique accounts logging into the game.
This is far ahead of its competitor and the original battle royale game, PlayerUnknown's Battlegrounds (PUBG), that reached a peak of 1.5 million players in one month—January 2018.
Fortnite saw its most concurrent players (users playing at the same time), 8.3 million, back in October 2018 when it was launched in South Korea.
32.5% of Fortnite players admit to playing the game for 6-10 hours every day.
Akamai, a content delivery network (CDN) that Epic Games tapped to deliver software updates, set a new traffic record at 106 terabytes per second—which is more than twice the usual daily figure—when Fortnite launched Chapter 2.
A 106 Tbps traffic is equivalent to streaming "3,300 two-hour HD movies every second, or nearly 12 million an hour".
Fortnite is available on seven major platforms: PC, PS4, Xbox, Nintendo Switch, iOS, and Android.
Of these, the iOS version takes the least amount of space: as low as 1.14 GB.
Fortnite reached the 100 million downloads mark on iOS in 138 days, or less than five months.
Fortnite's social media presence is also gigantic, with 4.8 million Facebook page likes, 10.3 million Twitter followers, and 23.2 million Instagram followers.
Fortnite Players Demographics
Anecdotally, Fortnite is wildly popular among the younger generation, but the numbers themselves do not lie. Here are some choice facts that offer a peek into Fortnite player demographics:
The overwhelming age bracket of Fortnite players happens to be on the 18-24 age range, representing almost 2/3 of players, or 62.7%.
The same report also found out that nearly 1 in 4 (72.4%) of Fortnite players are male.
36% of Fortnite players identify as "core gamers," versus 41% of PUBG players who do so.
Over half (53%) of Fortnite players in the US don't play any other battle royale games.
Breakdown of Battle Royale Players
% of players that play either or both
Source: Newzoo
Created by CompareCamp.com
About 70% of Fortnite players have made at least one in-game purchase, with the median spending around $85.
The player called "wsiiim" leads the most hours played in Fortnite, which as of this writing, is equivalent to 504 days of playtime.
The vast majority of Fortnite players play on console (PS4, Xbox One, and Nintendo Switch) over any other device, constituting 78% of players.
Compare this to players playing Apex Legends (28% on PC) and PUBG (42% on mobile).
As of 2018, France represents 29% of the core gamers  (outside the U.S.) that play Fortnite around the world.
There is a clear divide between the player base of Fortnite and PUBG, with Europeans and Westerners favoring Fortnite while Asians, particularly the Chinese, more on the style of PUBG.
Fortnite in eSports Statistics
In the United States alone, eSports has about 84 million viewers, second only to the NFL. It has even more viewers than the National Basketball Association, whose players and narrative drama headline many news outlets around the world. The popularity of Fortnite among competitive, "hardcore" gamers has led Epic Games to inaugurate the first-ever Fortnite World Cup on July 26 to 28, 2019, in New York City.
The Fortnite World Cup held 10 weeks of Open Qualifiers preceding the event, with participation from over 200 countries.
40 million players attempted to qualify for the event.
The inauguration of the event was hosted in July 2019 at the U.S.T.A. Billie Jean King National Tennis Center in New York.
The actual competition, however, was held at the Arthur Ashe Stadium, itself part of the complex, with 19,000 fans attending in person.
$100 million: the total prize pool for the Fortnite World Cup spread across challenges in different modes and formats.
Each World Cup qualifier had a guaranteed $50,000.
16-year-old Kyle Giersdorf, who goes by the name "Bugha" in Fortnite, bagged the $3 million prize to win the solo competition,
The duo champions, David "Aqua" Wang and Emil "Nyhrox" Bergquist Pedersen, each received a $1.5 million prize.
Epic Games handed out $30 million in total during the Fortnite World Cup.
There were no female finalists at the World Cup. This is notable, as nearly half—46%—of gamers are women.
Fortnite Platform Statistics
Fortnite is only one of the games and properties held by Epic Games. In December 2018, to further consolidate its game titles, Epic Games decided to challenge the reigning digital games storefront, Steam, by opening its own. It initially opened with a handful of games but is now one of the most recognized alongside Steam, GOG, and Origin.
There are 108 million users of the Epic Games online storefront as of January 2020.
Slightly less than a year later, in May 2019, it only had 85 million total users since its launch 4 months earlier.
In comparison, its two biggest rivals, Steam, and the PlayStation Network have about 90 million users apiece, monthly.
Players have spent a total amount of $680 million on the storefront since its launch.
73 titles comprise the bulk of this spending, represented by 200 million downloads.
Epic Games is worth $ 15 billion, following a round of funding in October 2018.
This is almost twice its value just three months earlier in July, where it was valued at $8 billion.
Fortnite is only part of this success; the biggest story is likely Epic Games' Unreal Engine, which is used in many industries, not just video games.
Chinese holding company Tencent, which also owns Riot Games (of League of Legends fame), holds a 40% stake at Epic Games.
The company acquired this stake for $ 330 million in June 2012.
Most Used Game Engines Worldwide
by % of respondents
Most Used Game Engines Worldwide
Unity 3D: 62%
Unity 3D
62%
Most Used Game Engines Worldwide
Internal/proprietary engine: 47%
Internal/proprietary engine
47%
Most Used Game Engines Worldwide
Unreal Engine: 12%
Unreal Engine
12%
Most Used Game Engines Worldwide
CryTek: 5%
CryTek
5%
Most Used Game Engines Worldwide
Others: 23%
Others
23%
Source: TIGA.org
Created by CompareCamp.com
Fortnite Twitch Viewership
Twitch.tv, or simply Twitch, is one of the biggest platforms where gaming content creators ("streamers") can broadcast their content. It directly competes with YouTube Gaming Live and Microsoft Mixer, but it still leads by market share. Many Fortnite players and streamers choose Twitch as their streaming platform.
Twitch is the internet's 31st most popular website.
Millennials make up 71% of Twitch's users.
Fortnite player Tyler Blevins, more commonly known as "Ninja," hosts Twitch's most popular channel, with more 14.6 million followers. However, he has since moved on to an exclusive streaming deal with Microsoft Mixer in August last year.
He is followed by Turner Ellis Tenney, known as "Tfue," another Fortnite streamer with 8.1 million followers, and unlike Ninja, is still active at Twitch.
Ninja is even more popular on YouTube, where he has 23.3 million subscribers.
Ninja earns about $500k a month from streaming Fortnite on Twitch and YouTube.
In July 2018, there were 148 million hours of Fortnite content streamed over Twitch.
In October 2019 (during the Chapter 2 update), Twitch logged 67.7 million hours of total Fortnite viewership, with 96% of those coming from casual players.
This is a far cry from League of Legends that saw 116 million cumulative hours, but only because it leads the esport category.
YouTube also recorded 42.4 million hours of Fortnite content viewed during the same month.
Fortnite's Chapter 2 also has recorded the biggest concurrent viewership of all time on Twitch, with 1.7 million users all tuning in to see the end of Chapter 1.
Ninja teamed up with rapper Drake in March 2018, which drew over 635,000 concurrent viewers—a record for a non-tournament live content.
The Fortnite World Cup is responsible for 81.8 million cumulative hours of Fortnite content streamed over Twitch.
Fortnite recorded its most number of concurrent viewership across YouTube and Twitch—2.3 million—representing 14.1 million hours watched collectively just during the final.
Fortnite Revenue and Spending Statistics
Fortnite is a free-to-play (F2P) game, supported by microtransactions or in-game purchases. This accounts for a huge part of Epic Games' revenue, but their other streams of revenue come from their storefront and Unreal Engine licensing.
Total Fortnite revenue for 2018 is estimated at $ 2.4 billion.
In 2019, however, it slipped slightly to over $ 1.8 billion.
Fortnite is the most widely played F2P video game worldwide in terms of revenue.
A huge part of this revenue comes from players purchasing cosmetic items like costumes and gestures, paid for by in-game currencies called "V-bucks," that are, in turn, can be acquired by paying real money.
The $ to VB exchange rate is roughly $1 to 100 V-Bucks.
When Fortnite launched on iOS in April 2018, it made $9.5 million in 15 days from in-game purchases.
This makes it second only to Netflix in consumer spending that month, which noted a $12.5 million in iOS revenue.
In November 2018, Apple reported that Fortnite was raking in a daily revenue of $1.23 million.
Fortnite's gargantuan popularity may have also inadvertently helped microtransaction revenues, as it's thought that without Fortnite, global microtransaction revenues for consoles would have slumped 6%.
Is Fortnite Just the Beginning?
If you weren't an adult living under a rock in the last few years, you might have heard of Fortnite and its runaway success. At this point, it's not even just a video game anymore, but a massive cultural marvel that encompasses many facets of modern life, from movies to fruit juices.
And public figures aren't spared from the Fortnite phenomenon, whether for good or ill. From Drake and Roseanne Barr to NBA players like Josh Hart and infamous League of Legends player Gordon Hayward, celebrities are also weighing in on the Fortnite drama. This signifies Fortnite's immense impact not only on games but the public consciousness.
Who knew that a spinoff of a game that combined elements of successful games in the past, and used a mechanic that some other game introduced just a few months earlier, could be this successful? Taken individually, these elements look like the result would be a failure. But two years later, even with a 38% decline in interest, Fortnite is still one of the most popular games played around the world.
---
References