Technological innovations have always made wonderful and amazing contributions to society, including how we communicate with one another and even the accessories we wear.
Take for example watches. In the older days, people wear watch mainly to keep track of the time and is often seen as a fashion accessory or luxury item. Then watches became more complex as the decades went by, with features ranging from tracking of the date or time zone to tracking body workouts or performing calculations.
Just when you thought innovations in watches have already reached their peak come the smartwatches. Unlike its predecessors, smartwatches are mainly created to work with today's smartphones using Bluetooth, letting you see updates and alerts right on your wrist. Some smartwatches even allow you to check messages instantly, letting you to see all or some of a message (such as a text or email) without the need to touch your phone. With today's smartwatches, you are sure you will never miss calls especially when the alerts are pushed to your wrist instantaneously. They are useful, especially in our today's lives where we have to deal with tons of emails and text messages regularly. There are also some apps available you can download. The more stylish models even look like digital watches or your standard analog, combining form and function.
Below are 10 of the coolest smartwatches available on the market today.
Samsung Gear Live
Price: $199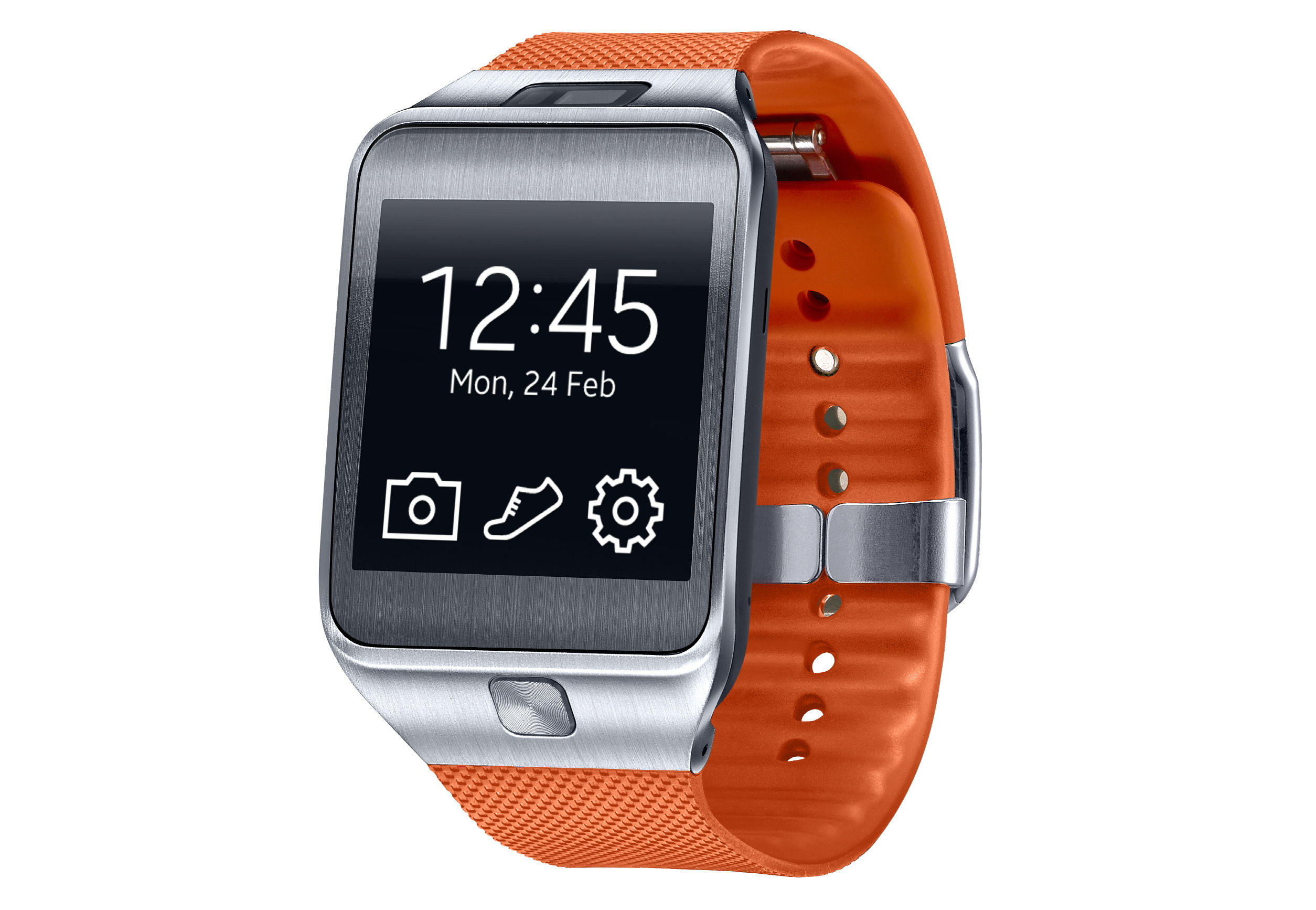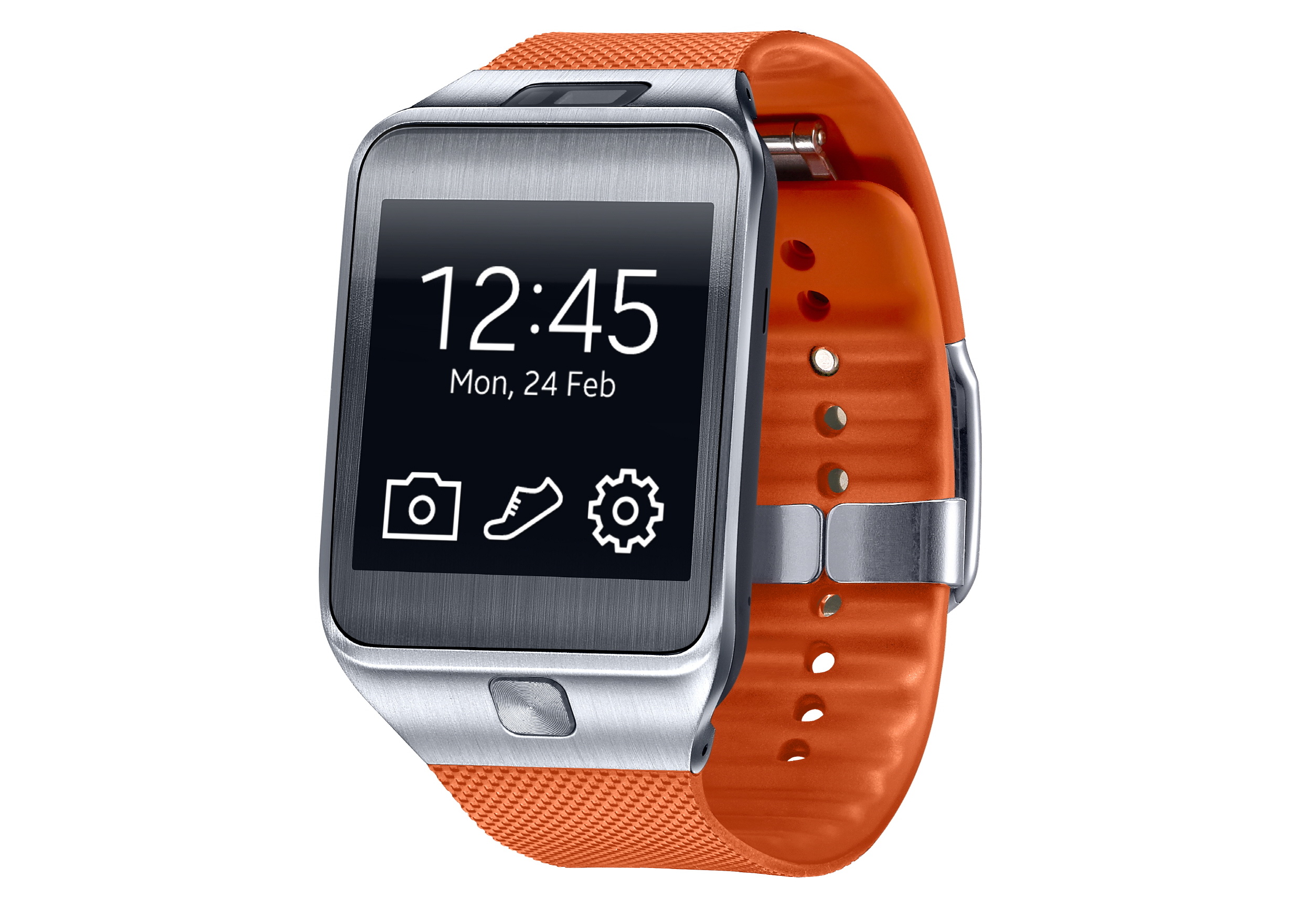 Samsung Gear Live is the first device powered by Android and developed by this hot South Korean company.
You can have your Gear Live with either Wine Red or Black straps, and features a buttonless, metallic design. It is IP67 certified, which simply means that it is resistant to both dust and water. It has an always-on display and even comes with a heart rate monitor. You can use your Samsung Gear Live to send out texts or take notes. You can also control it using voice commands. In addition it is a perfectly compatible with a smartphone running on Android 4.3 Jelly Bean or later operating systems.
It has a 512 MB of RAM, 1.63-inch Super AMOLED square display, and quad-core Snapdragon 400 CPU. Weighing 59 grams, Samsung Gear Live has 300 mAh battery and 4 GB of native storage.
LG G Watch
Price: $229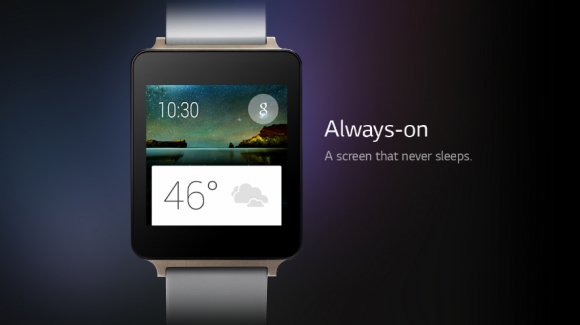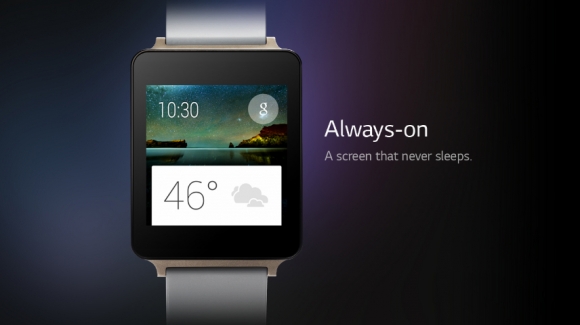 G Watch offers two color choices for its changable straps (White Gold and Black Titan) and it is IP67 certified, so it is water and dust resistant. This LG-manufactured watch has a 1.65-inch square IPS LCD display, 512 MB RAM, 4 GB storage, quad-core 1.2 GHz Snapdragon 400 processor, BT 4.0, and a 400 mAh battery.
This watch is compatible with an Android smartphone that is running on Jelly Bean 4.3 or later models.
Sony Smartwatch SW2
Price: $144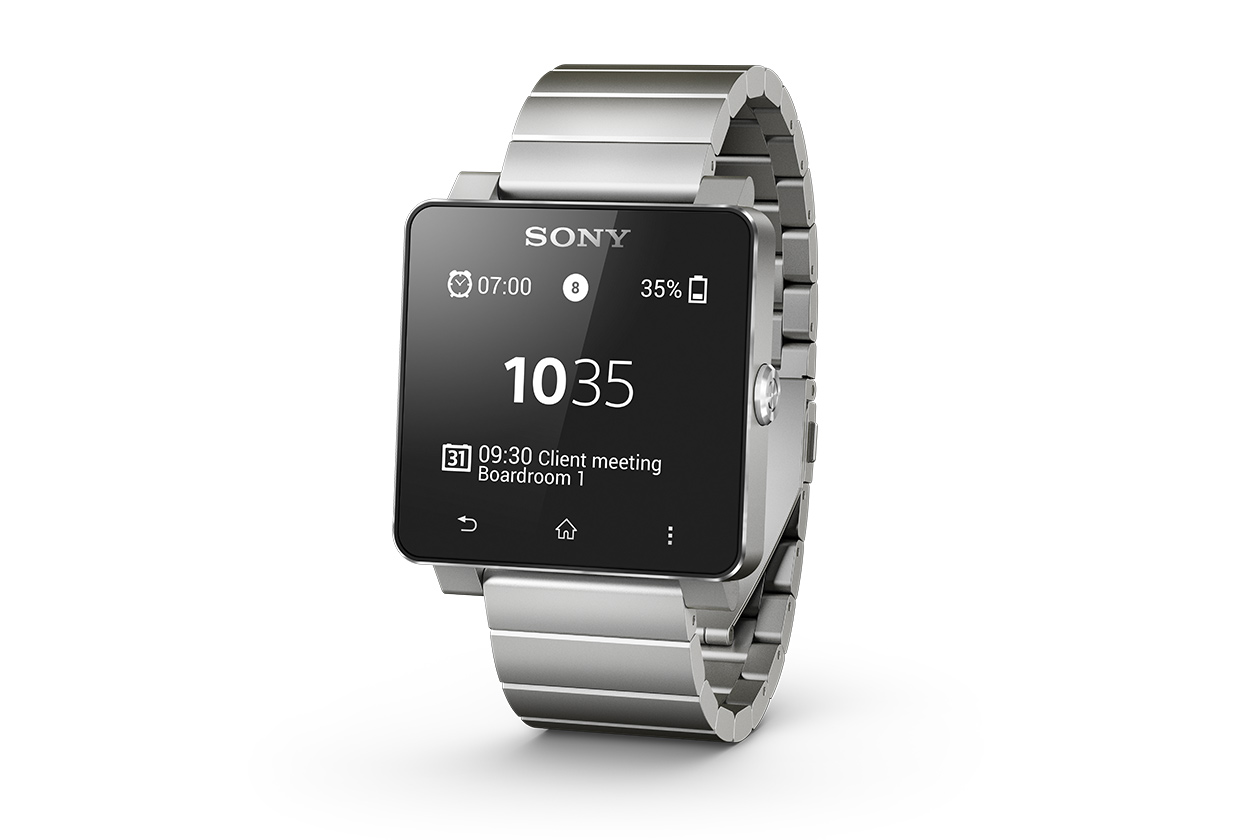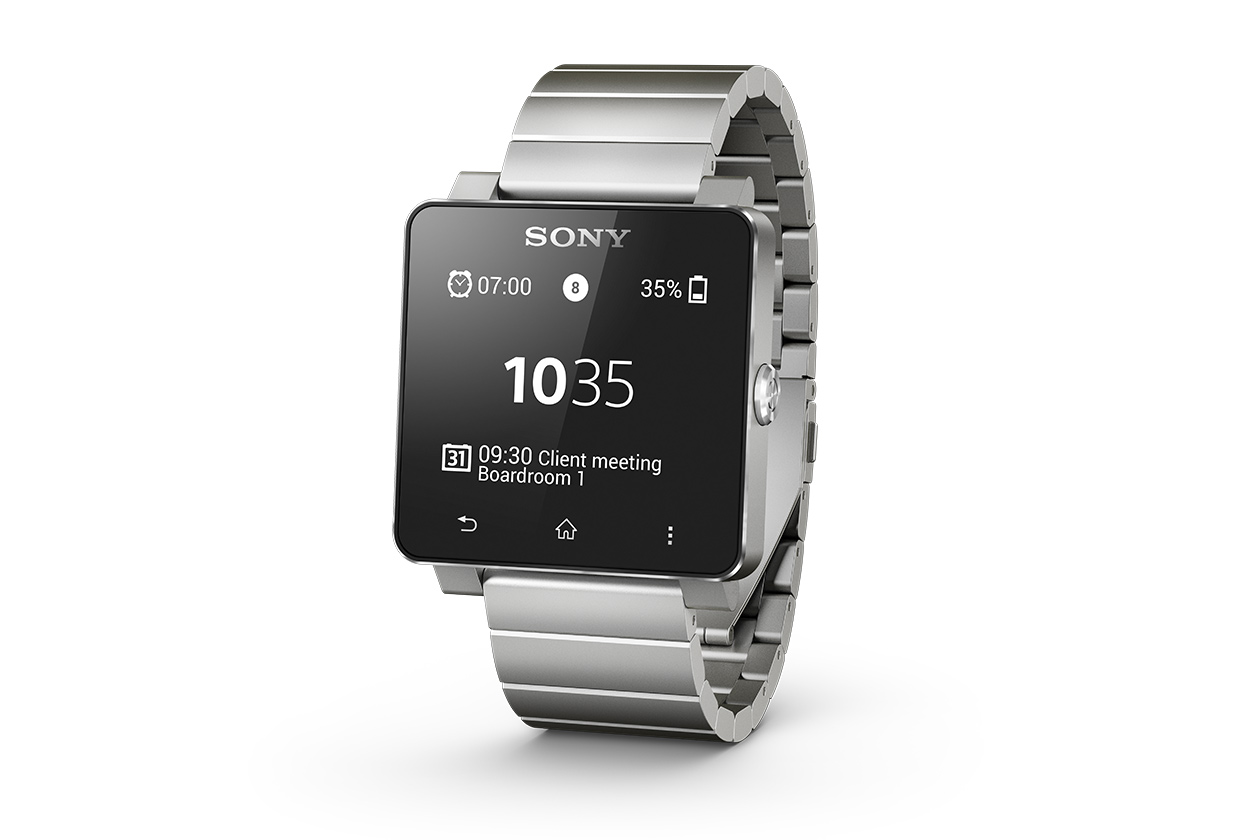 Even though Sony Smartwatch SW2 is cheaper compared with the other watches, do not think it is not competitive.
Measuring 42 x 9 x 41 mm, this model has a weight of 122.5 grams. It is also IP57 certified (so it is water and dust resistant), has an aluminum body, a scratch resistant layer, and offers you either a silicon or stainless steel wristband. It has Bluetooth 3.0, NFC, arrives with a 220 x 176 1.6-inch smartwatch, and can be paired with smartphones that are running on Android 4.0 ICS or later models.
The manufacturer says that the battery can keep the device awake through three or four days of normal usage of seven days of low usage.
Samsung Gear 2 Neo
Price: $199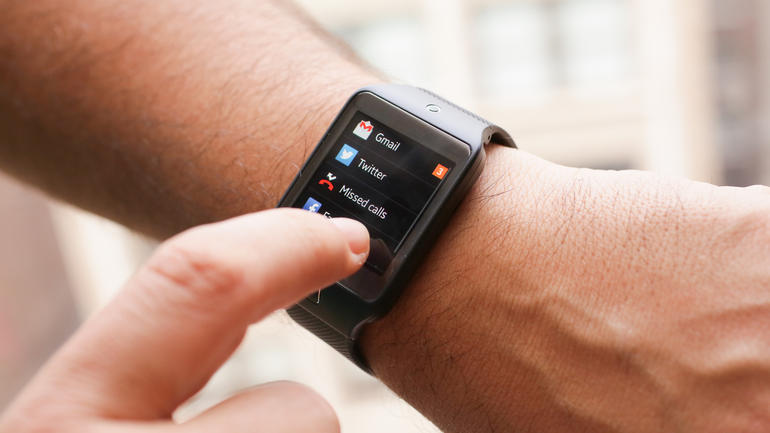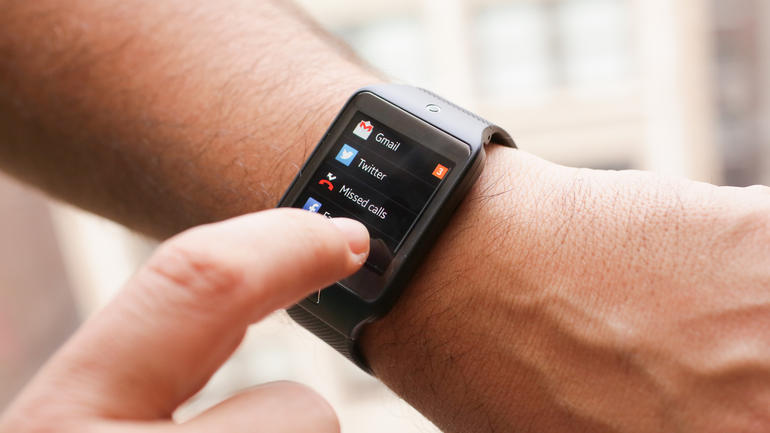 You have three color choices available for Gear 2 Neo: Mocha Gray, Charcoal Black, and Wild Orange. This model is also able to satisfy your fitness-related needs with its integrated heart rate monitor.
With its infrared port and Samsung WatchOn, Gear 2 Neo can be used to control set-top boxes and TVs. This wearable model also has IP67 certification. It can also be paired with 17 Samsung devices such as Galaxy S3, Galaxy S4 Mini, Galaxy Note 10.1 2014 Edition, Galaxy S4, Galaxy S5, Galaxy Note 2, and Galaxy Note 3.
If we are talking about its hardware specifications, this model is similar to Gear 2. Gear 2 Neo boasts of a 1.63-inch Super AMOLED display, BT 4.0 LE, 512 MB RAM, 300 mAh battery, and 4 GB of storage. However, this model does not come with a camera.
Pebble Steel
Price: $229.99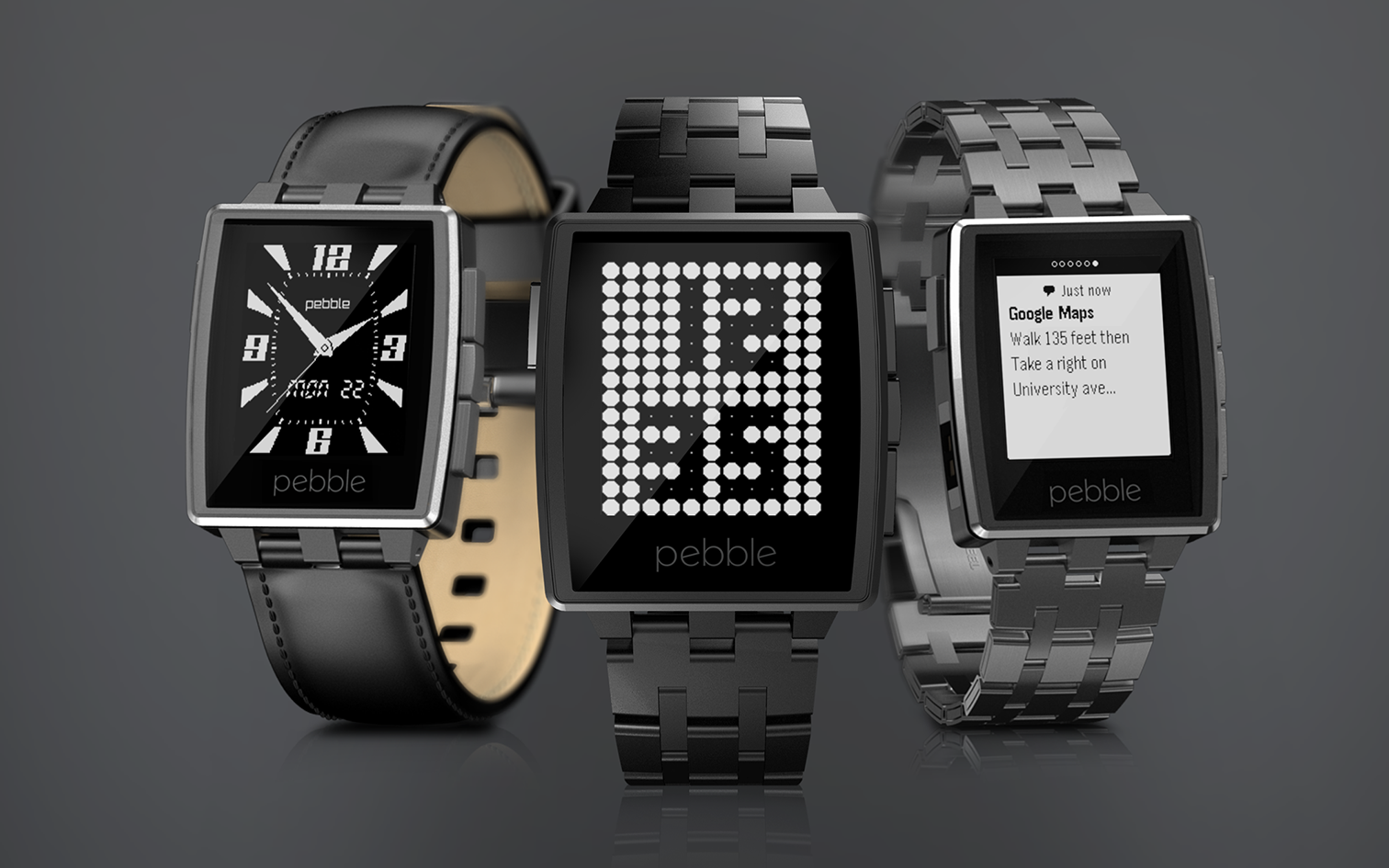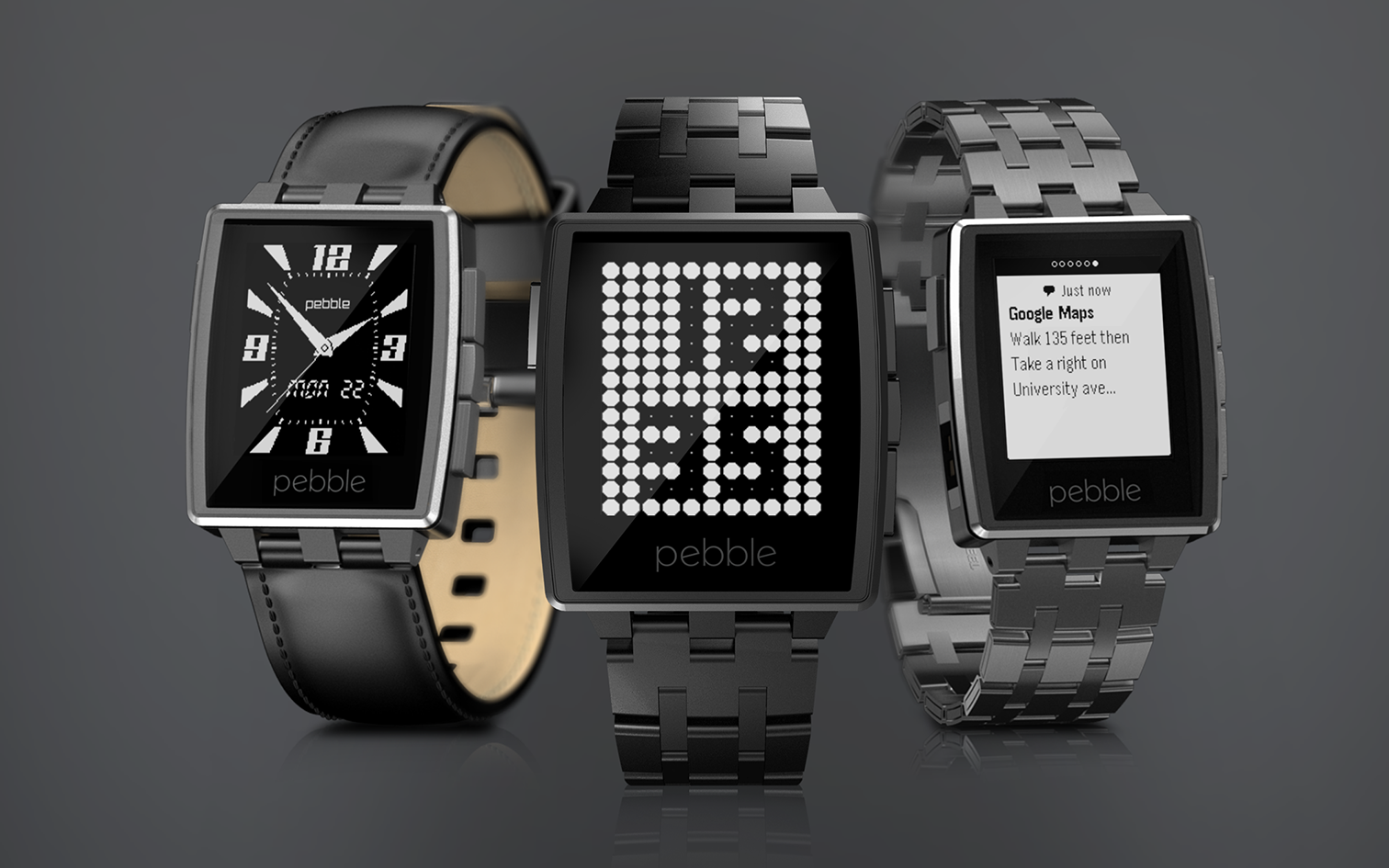 If you want a smartwatch that is good-looking, you might want to take a look at Pebble Steel. The model has a dedicated App Store , where you will find plenty of apps for it.
It is 5 atm waterproof (metal band only) and its battery may give you an autonomy of five to seven days days of normal usage. It weighs 56 grams and measures 46 x 3 x 10.5 mm.
Pebble
Price: $149.99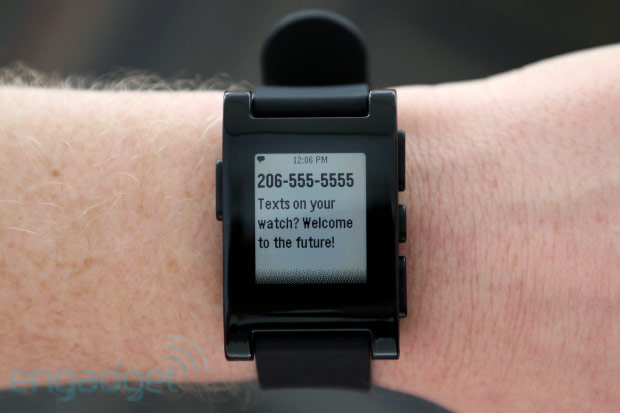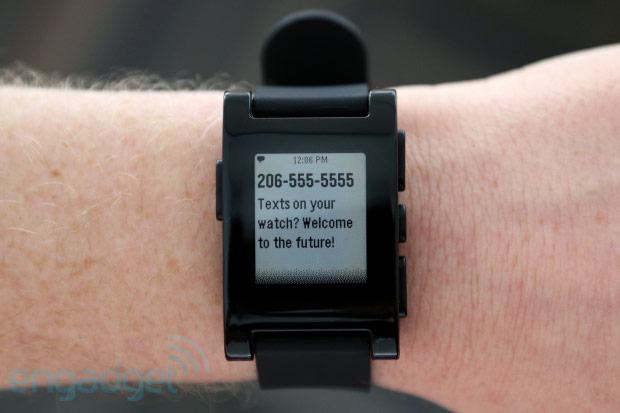 Pebble is regarded as the predecessor of the Pebble Steel. Released in 2013 after a successful Kickstarter project, it  features a black and white e-paper screen. Like Pebble Steel, it has a battery life spanning between five and seven days. It is 36 mm wide, 52 mm tall, and 11.5 mm thin, with a weight of 38 grams.
It features a TPU rubber or silicon strap, polycarbonate case, is water proof to 5 atm, and can run Pebble apps that are available in the dedicated App Store. It's available in white, black, or red.
Qualcomm Toq
Price: $232.96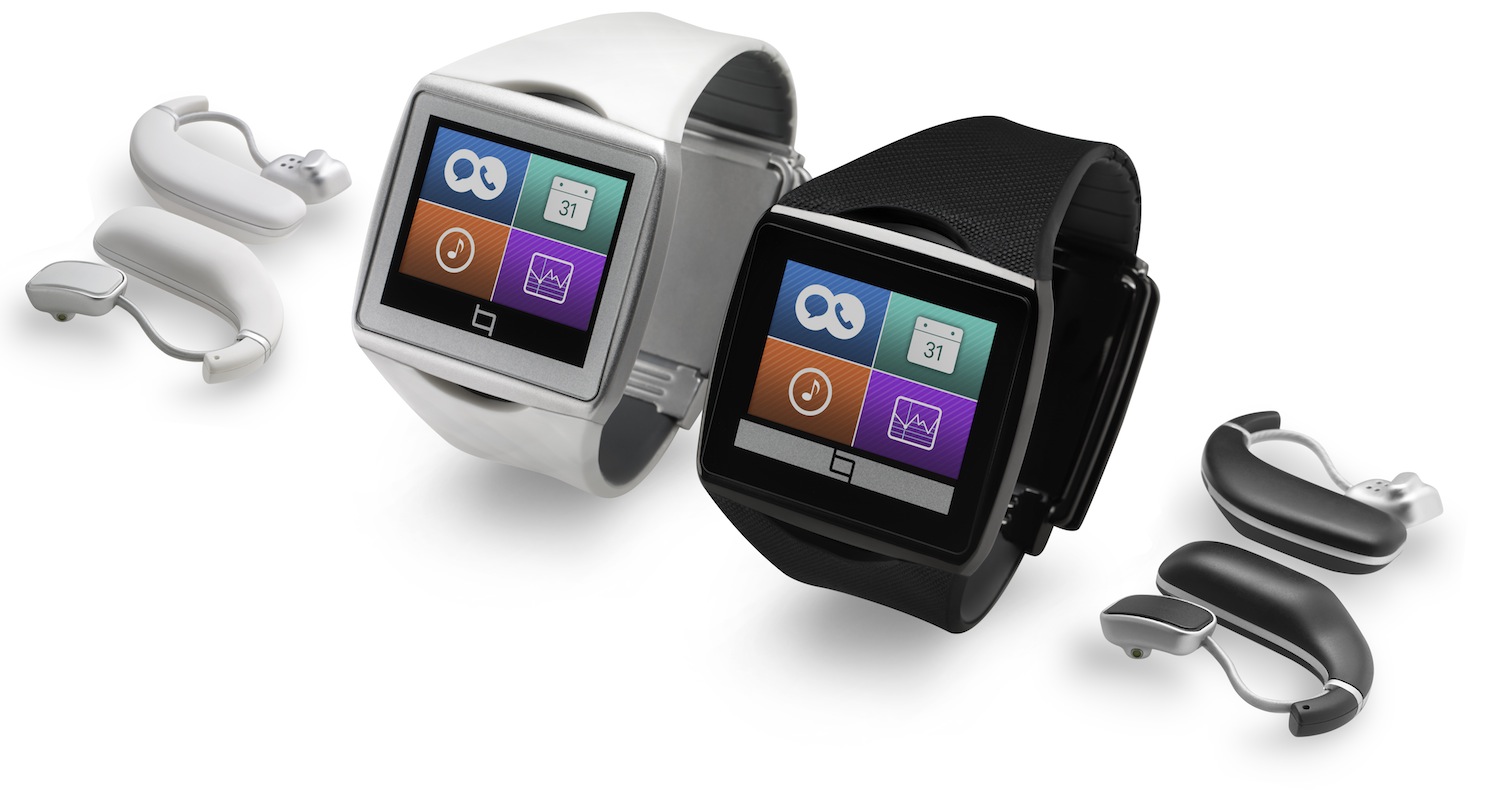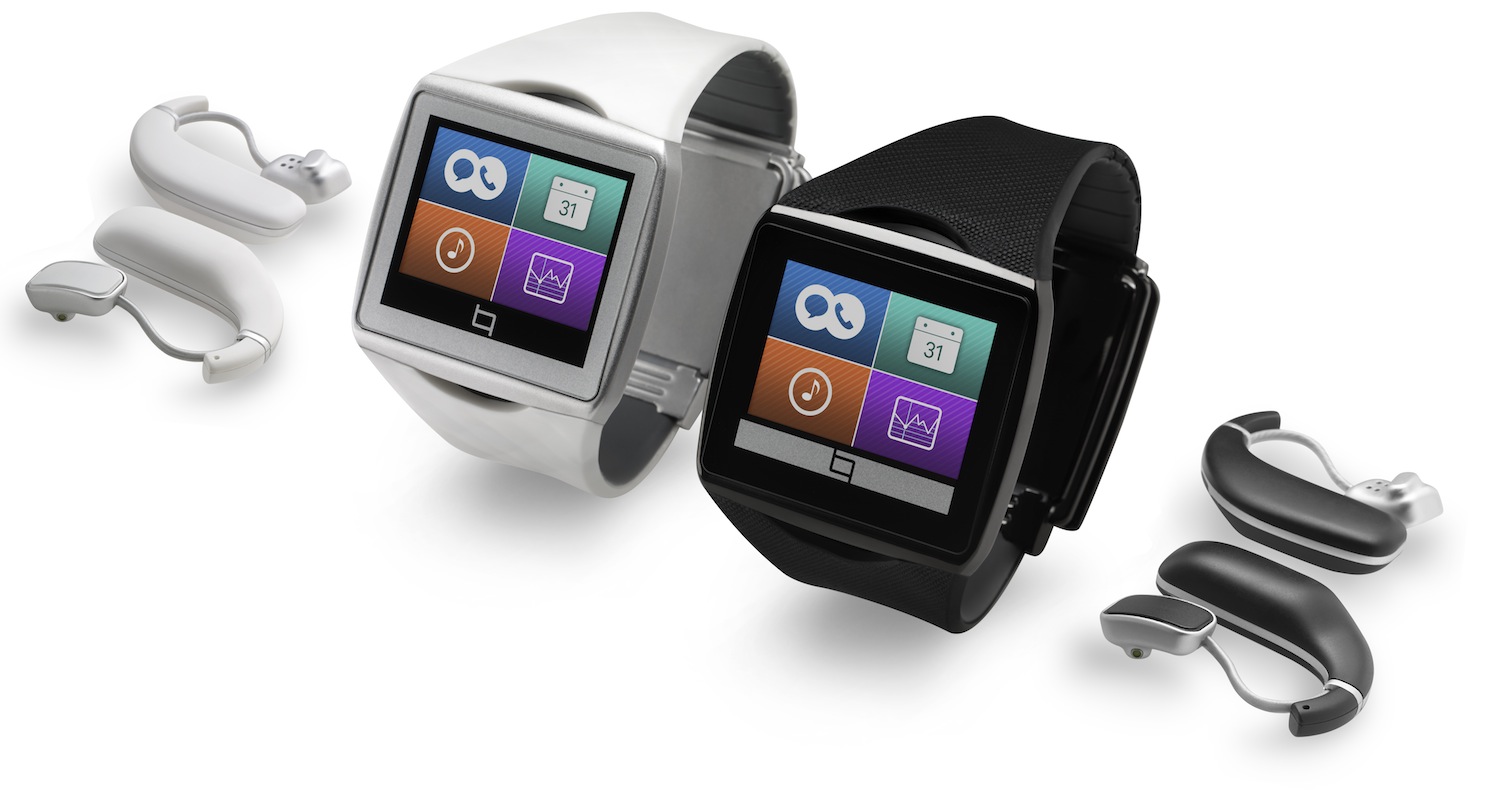 Qualcomm Toq is compatible with smartphones running on Android 4.0.3 or higher, although the company recommends a headset running on a Jelly Bean or above.
It has a Mirasol display sized 1.55-inch diagonally with a pixel density of 222 ppi. It also features Bluetooth 3.0 and a 240 mAh battery, and has support for wireless charging.
It weighs in at 91 grams and its wrist band size may range between 6 to 8.7 inches.
Martian Notifier
Price: $212.37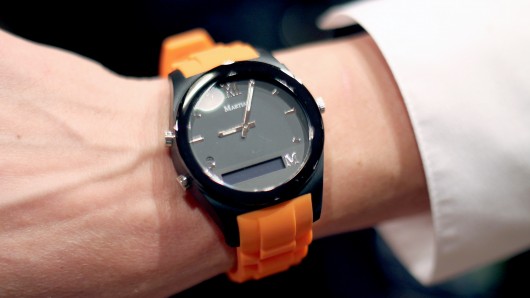 The Martian Notifier is one of the good choices for people who want a smartwatch but has the design and look of a regular wrist watch. It is relatively affordable compared with the more high-end watches out there, but it is also stylish. Additional features such as a remote camera control are also outstanding.
Samsung Gear Fit
Price: $149.99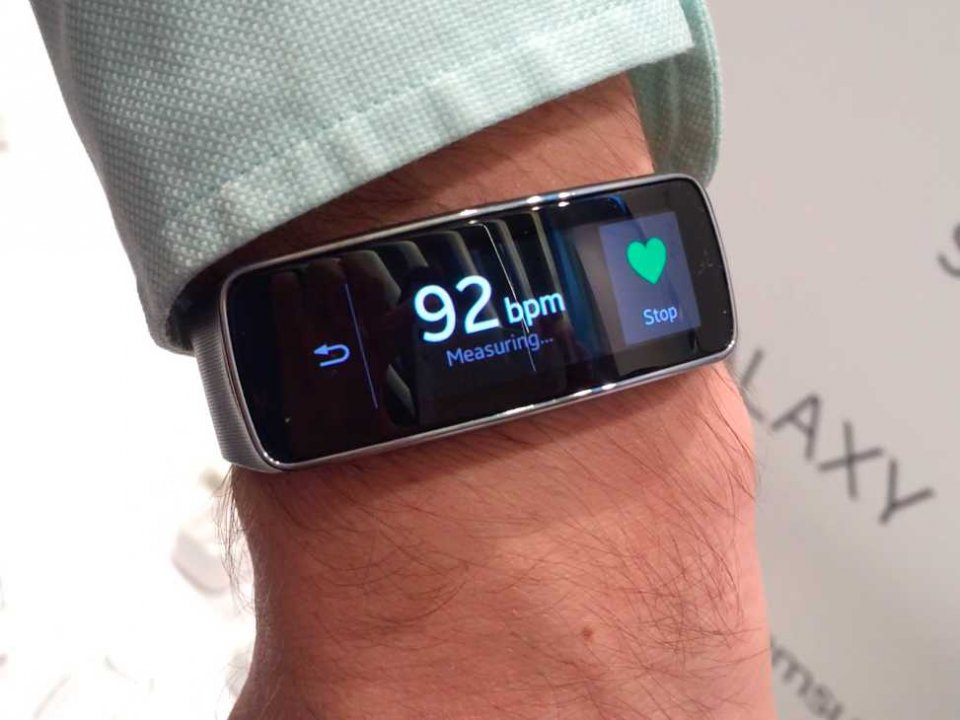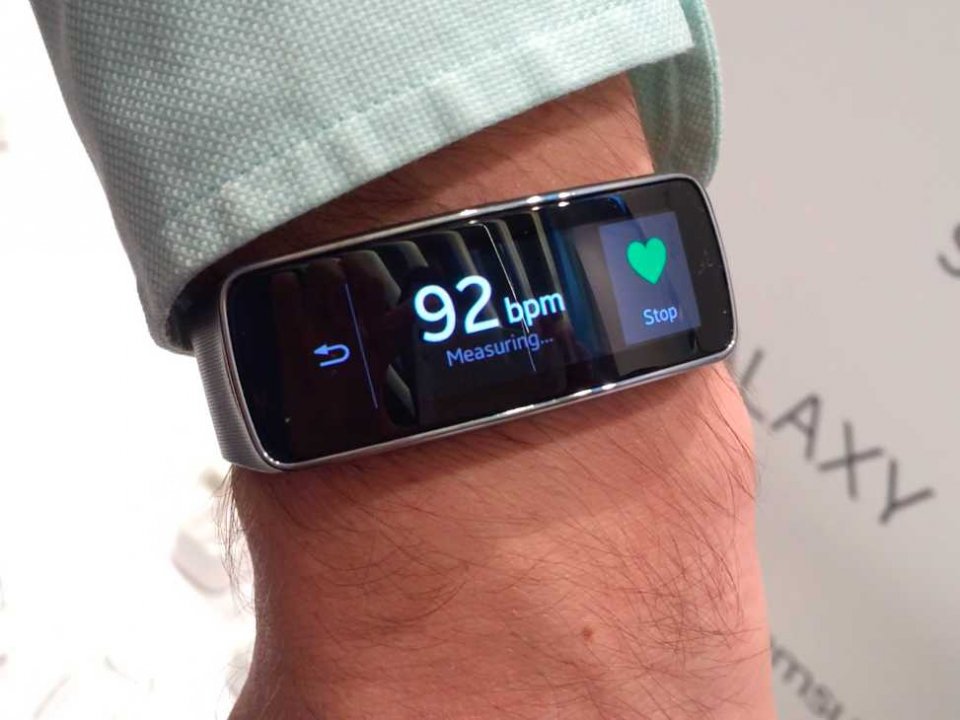 The name gives you an idea: it is a smartwatch mainly designed for fitness enthusiasts.
Running a customized version of Tizen OS, Gear Fit is water resistant (so you can use it while you are swimming). You can also wear it on a 24/7 basis because of its always-on activity tracking.
Compatible with 17 Samsung tablets and smartphones, this model has a 1.84-inch Curved Super AMOLED display that has a resolution of 432 x 128 pixels, a dual-core 1 GHz CPU, 4 GB storage, 210 mAh battery, 512 MB RAM, and BT 4.0 Low Energy.
This smartwatch also integrates a heart rate sensor, accelerometer, and gyroscope. It has six color options for the interchangeable straps.
Samsung Gear 2
Price: $284.94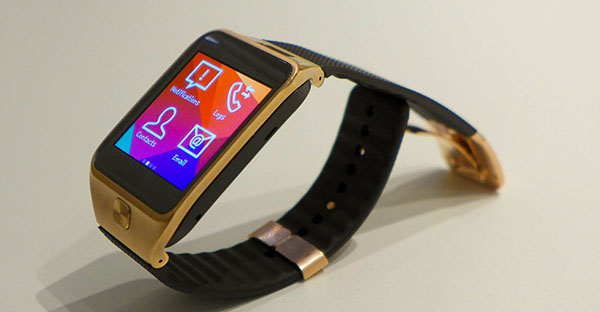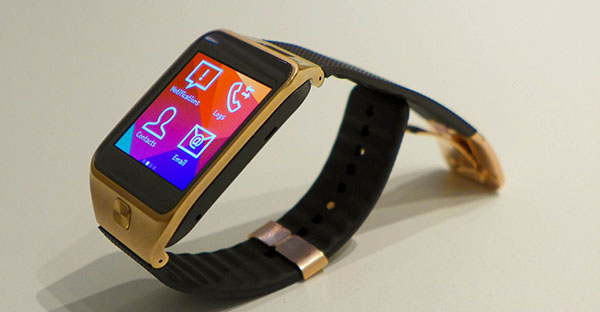 Running a customized version of Tizen OS, Samsung Gear 2 is dust and water resistant. It offers you with three strap color options: black, brown, and orange.  It has a heart rate sensor, a built-in 2 MP BSI camera that has the capacity to record 720p video, as well as an infrared port that can be used to control set-top boxes, TVs, and other similar devices.
Boasting of a 1.63-inch Super AMOLED display, Samsung Gear 2 has a dual-core 1 GHz Exynos CPU, 4 GB storage, 512 MB RAM, 300 mAh battery, and Bluetooth Low Energy. This smartwatch is a perfect accessory of 17 Samsung devices such as Samsung Galaxy Note 3, Galaxy Note 2, Galaxy S5, Galaxy S4, and Galaxy S3.