The work environment has become more dynamic. The days of rigid 9-5 schedules and stationary workstations are gradually starting to fade into the background. Businesses are now more open to giving their employees more freedom and mobility. Remote workers are now also turning into valuable parts of the workforce population, just as much as regular office employees. 
While mobility and flexibility offer a lot of advantages not only to employees but also businesses, things can go wrong without the help of the right channel. This is where cloud-based file sharing solutions enter the picture. Online file sharing applications provide a platform that everyone can have access to. This is where users can communicate and collaborate to make sure that all tasks, projects, etc., are carried out and accomplished smoothly.  
There are many types of file-sharing software and with varying sets of features and functionalities, and one of these file sharing solutions is WeTransfer.
What Is WeTransfer?
WeTransfer is a cloud-based software used for sharing large files that exceed the limit of your standard email attachments. This web-based platform offers a simple and easy way to upload and transfer various types of files, which include large-sized documents and even HD photos and videos. Data protection is also a priority as WeTransfer offers password protection to make sure that the files transferred will not be accessed by those who are not supposed to. When used along with some of the best document management software, collaborating with your team members becomes more efficient and seamless. 
But as popular and widely used WeTransfer is, this is not the only file sharing solution available today. And in this article, we present to you the ten WeTransfer alternatives you may want to consider. 
1. Dropbox
Dropbox is easily one of the most popular WeTransfer alternatives, which belongs to the first generation of cloud storage applications. With Dropbox, you can store and share various types of files, from traditional documents to cloud-based content and even web links in an account that can have more than five terabytes of storage capacity. Due to its popularity and features, it is often included in the list of productivity software used by professionals and business owners.
Beyond file storage and sharing, Dropbox also provides collaboration tools for teams. These tools include task management and annotations, as well as templates for brainstorming, project planning, timeline, social media calendar, and taking minutes. Organizing files is also made simple and flexible as you can set up a documentation system that matches the type of work you do. Security is also a non-issue, especially for teams that use a single account as you can control who can access certain folders or files.
Dropbox recognizes the different needs of its users and offers a selection of versions depending on the work environment, whether you are a solo freelancer or part of a team that uses Dropbox as a smart workspace. You can also integrate Dropbox with other software solutions, including Slack, Zoom, Salesforce, Zapier, Trello, Ringcentral, and more. Other than the web-based platform, you can also download the Dropbox application to your computer and mobile devices.
Pricing starts at $9.99/month (billed annually).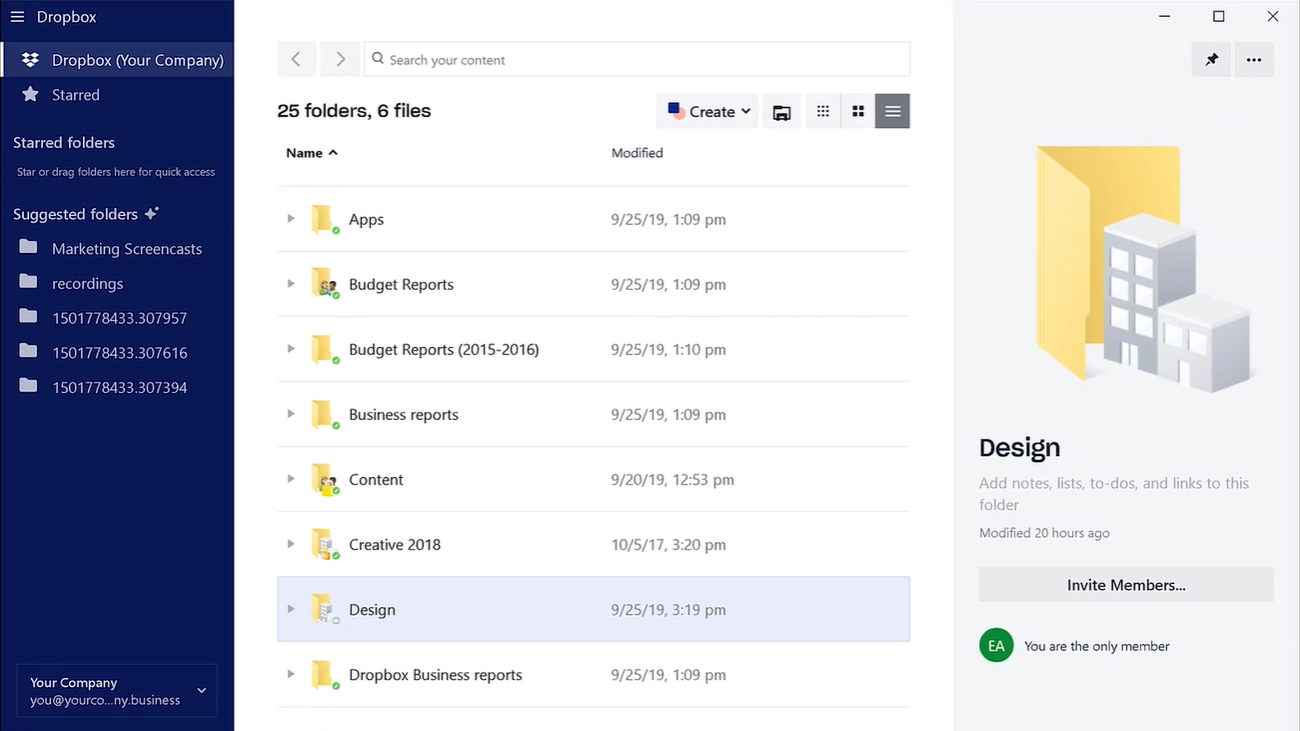 2. Filemail
Filemail is another WeTransfer alternative. It is a file transfer application that allows users to send files without size restrictions. Also, depending on the type of account you subscribe to, you can store your files for at least 30 days.
This cloud-based solution also takes pride in its fast file transfer capability. It also has a reliable desktop version that allows uninterrupted file uploads and transfers, even with an unstable Internet connection. Filemail Desktop is also equipped with a transfer acceleration technology, which boosts the transfer speed of your local files. There are also dedicated applications for Android and iOS mobile devices, which, like Filemail desktop, are free to use. Also, if you are using Outlook 2013/2016, there's an add-on available that lets you transfer large files straight from your Outlook account.
Other Filemail features include file tracking and website integration through which your customers or web visitors can send files directly from your website. Filemail's visual elements can also be customized to match your business' brand.
When it comes to the pricing model, Filemail has a free version, and paid subscriptions start at $12/month.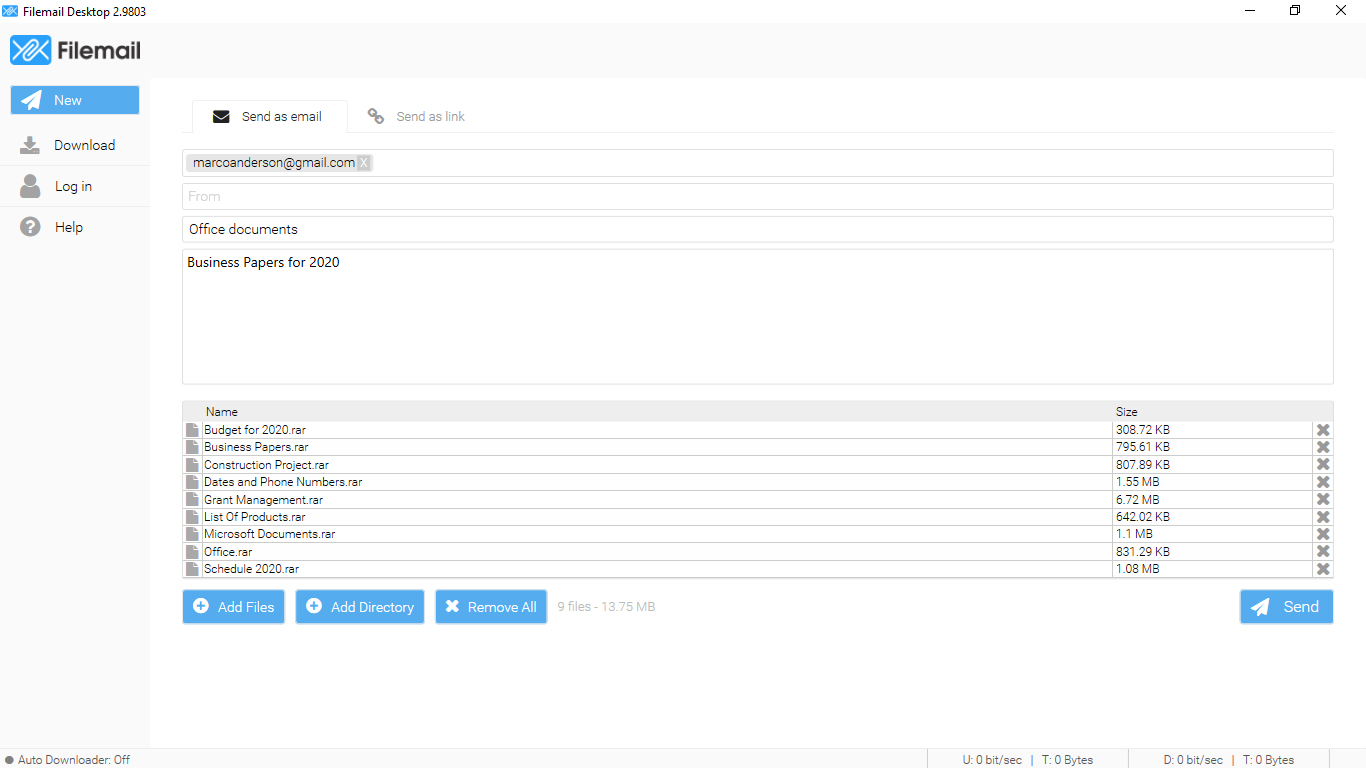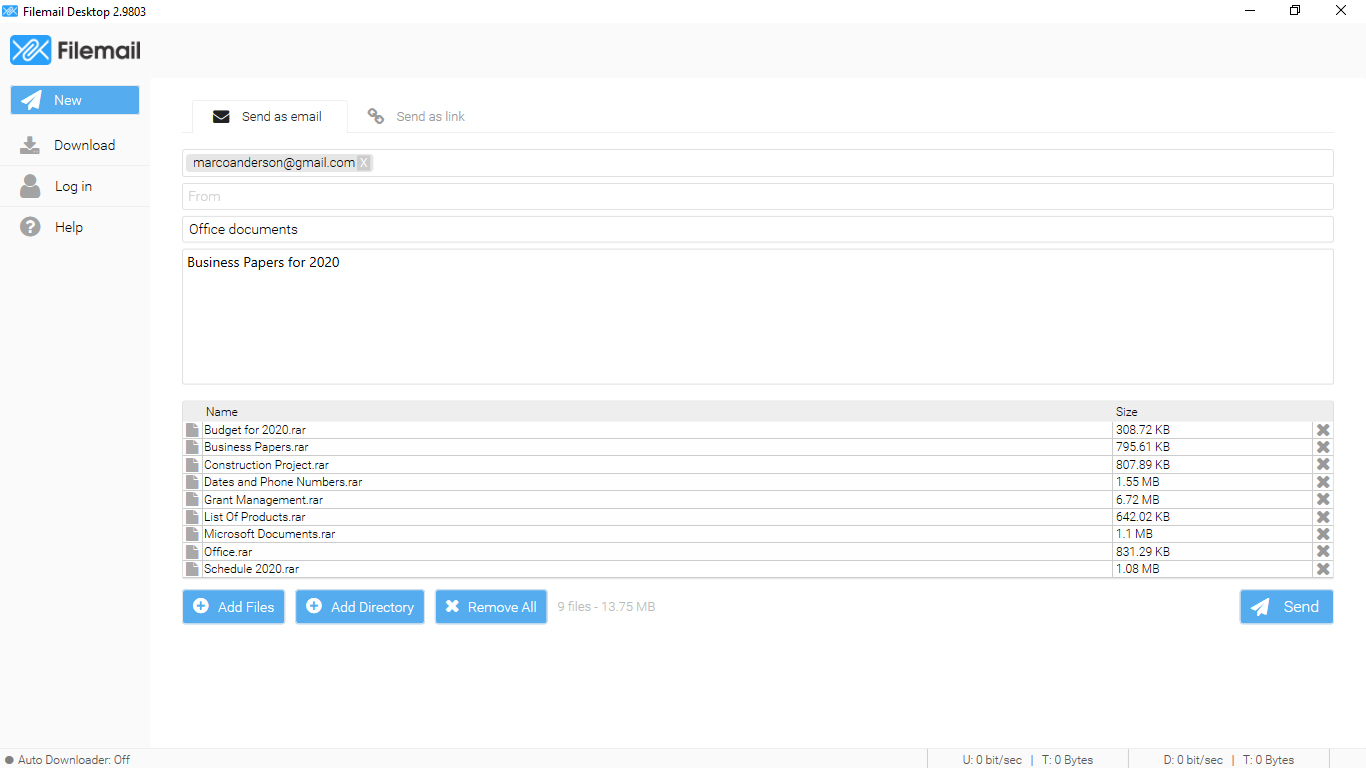 3. Google Drive
Google Drive is a cloud storage platform that you can use for personal or business purposes. This application enables its users to store any type of file that one can either upload from your local storage individually or by folders. Aside from local files, you can also take attachments directly from your Gmail account and save them to Google Drive. Google files (i.e., documents, sheets, slides, photos, etc.) are also automatically stored in your cloud storage.
When it comes to sharing files, Google Drive allows you to control not only the users you would like to have access to specific files or folders but also the actions they can make on the files you shared. 
Organizing your files is also made easier as Google Drive follows the simple folder arrangement; you can also customize the color of your folders. Files stored in Google Drive are also downloadable to your computer or mobile devices and can also be accessed offline. If you have Google Drive installed in your Android device, you can also scan hard copies of documents; all scanned documents will be automatically converted PDF files and stored in Google Drive.
Google Drive for business, on the other hand, brings features than aim to enhance team collaboration and efficiency. Its features include automated file organization, advanced machine learning (powered by AI technology), insights, and optimized data security. 
Personal Google Drive is free for the first 15GB of storage. As for the enterprise version, the price starts at $8/month for every active user.
4. Jumbo Mail
Jumbo Mail is a web-based application that allows anyone to send up to 2GB of files for free and without creating a Jumbo Mail account. All you have to do is use the mail tool on Jumbo Mail's homepage and toggle the settings, which include the options to receive a copy of the mail and a confirmation if the recipient has already downloaded the file you sent.
For its subscribers, Jumbo Mail offers more advanced settings, which include an online preview for video files and the number of days your mail will be stored in your inbox and when it should be automatically deleted. Security is also optimized with password protection and blocking social media sharing options. You can also limit the number of users who can download the file you shared. Creating a contact list is also available to subscribers, not to mention that you can send and download up to 20GB of files.
Jumbo Mail is a filesharing tool than you can also use as a marketing platform. Its download page is highly customizable, with visual elements that you can change to match your branding. At $12/month, you can access the advanced features this filesharing platform offers.
5. MEGA
MEGA combines filesharing and communication in a single platform. This tool takes security to the next level with its end-to-end encryption of chats and file sharing. MEGA also supports audio and video conferencing, which optimizes team communication and collaboration.
MEGA offers up to 50GB free storage that is easily accessible via web, desktop, or mobile app. File synchronization is also configurable–you can choose local folders to automatically sync with your cloud storage, as well as include or exclude specific file types with this action. And in case you have to recover accidentally deleted files, MEGA has a deleted data retention function where all deleted files are saved in a specific folder in case they have to be restored. 
During bulk file upload or download, you can easily control which files you need to prioritize, as well as download/upload progress you have to cancel or pause. And in case the browser you're using has trouble handling large file transfers, you can use the MEGA browser extension to address this. An extension for Thunderbird email is also available. 
MEGA has paid plans for individual and business use, and the pricing starts at €4.99/month.
6. MyAirBridge
MyAirBridge delivers simple and straightforward features and functions. Using this application, you can share up to 20GB worth of files for free by either using a share link or through email. File transfer security is also optimized by password protection, which applies not only to email but also to shared URLs. File access can be restricted; you can choose whether the recipient can have a view-only or edit access. All file transfers are also automatically deleted within three or up to 30 days, depending on your plan.
This application also supports multiple file transfer and syncing of email contact lists. MyAirBridge's interface is also easy to use as you can organize folders using its drag-and-drop functionality. This tool also allows users to customize its appearance. You can change the background image and embed a URL that redirects to your website or promotional page.
MyAirBridge has free versions for both registered and unregistered users. The paid plans start at €2.59/month with up to 100GB of storage.
7. OneDrive
OneDrive is Microsoft's cloud storage that can also be a WeTransfer alternative. A robust application, OneDrive, is fully equipped with features designed for accessibility, collaboration, and security.
This tool enables you to save and access large files from anywhere and even offline. Sharing is also made easier as you can share files via email, link, and even through text message. You can also use OneDrive to free up your computer's local storage. Synching your local files with OneDrive cloud can also be automated to make sure that your local files are all backed up safely. 
OneDrive also ensures that your confidential documents are fully protected via personal vault. Personal vault is a secure space to save your sensitive files in which only you can access using fingerprint, face ID, SMS code, and other security methods. Other advanced security measures include expiring and password-protected sharing links and ransomware detection and recovery.
Depending on the plan purchased, OneDrive can come with Office 365 tools, Skype service, and up to 6TB of storage. OneDrive has a free version, and paid plans start at $1.99/month. 
8. Plus Transfer
PlusTransfer is a cloud-based, no registration, and no fee required file transfer application. It has a straightforward interface that even non-techy users will find easy to use. On the website's homepage, the tool is readily available, and all you have to do is add your file, toggle the expiry settings, enter your email, and that of the recipient. You are even given the option to leave a message.
You can send a fie of up to 5GB, which can be saved in the cloud storage from two to three weeks. As long as the file is still available in the cloud storage, the file recipient can redownload it.
9. Send Anywhere
Send Anywhere is another simple and easy-to-use file transfer tool that you can use via its web version or desktop and mobile applications. You can upload a file with a maximum size of 50GB and up to 1TB via a link, sharing, which can be done directly or sent via email. Files can also be downloaded directly from the website via a unique input key, or by scanning the QR code if you're using Send Anywhere on your mobile device. Input key and QR code expire within 10 minutes after the file is uploaded. As for the links, it can last for at least 48 hours and longer if you are using the Pro version.
When it comes to security, Send Anywhere has a password protection feature for all the links if you're using the Plus version of the app. You can also limit the number of downloads per link, as well as track the number of users who used the link you shared.
This application is available for Windows, macOS, and Linux desktops, as an Outlook add-on and WordPress plugin, or as an extension for Chrome, Whale, and Office 365 Outlook. It has a free version, while the paid version costs $5.99/month.
10. Transfer XL
Last, on our list WeTransfer alternatives, Transfer XL is a file sharing tool that allows you to share your files directly to Facebook and Twitter. Aside from social media and email, you also have the option to share your files via a public link.
The basic features of Transfer XL are completely free. With this version, you can upload and share up to 5GB of files. The paid version has a 100GB file size limit for every transfer. If you are sending multiple files, the application automatically zips the file for a more seamless upload. Also, you will be notified immediately if you have duplicate files and how you would like to handle the duplicates.
Security is also optimized with password protection and end-to-end encryption. File tracking is also available, so you will know when your recipients have downloaded the files you shared. History of file transfers is also accessible, and this includes not only the file transfers you made but also the ones you received. When it comes to photos and videos, identifying the ones you need is made easier as Transfer XL automatically generates thumbnails for these media files.
Transfer XL has a free version and the paid plans start at €9.99 /month.