The new decade brings in a myriad of fresh elements to wedding ceremonies. Like today's software trends, some of the celebration's traditional elements are expected to take a backseat to customization, practicality, and more immersive experiences. In the previous year, we witnessed more weddings adopt a personalized approach to attire, décor, and destinations. And that is expected to carry over to this year, with individuality possibly becoming the new norm.
This year's trends suggest that more people will deviate from traditional gowns in favor of stylish evening wear with peculiar accents. The same goes for bridesmaids for whom designers have envisioned modern dresses. Last year's rise in the popularity of eco-products will also translate to sustainable wedding themes this year. In a nutshell, the wedding landscape is set to open up a ton of opportunities for innovation and break previous standards.
In this article, we will analyze 25 of 2020′ s most prevalent wedding trends and how they can apply to your own wedding.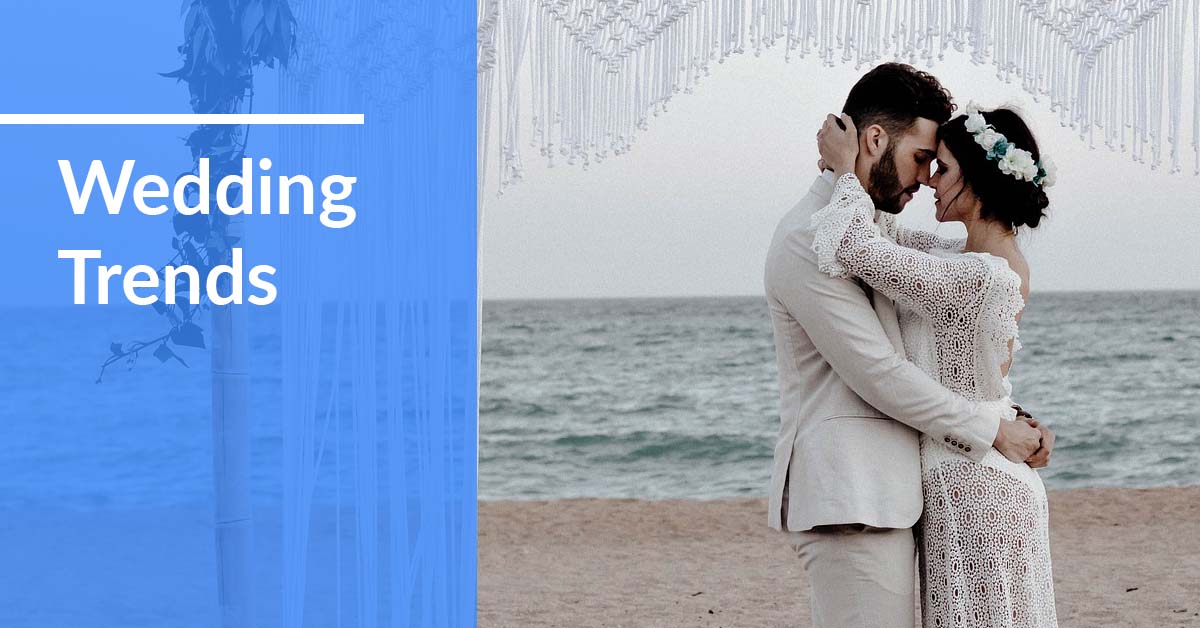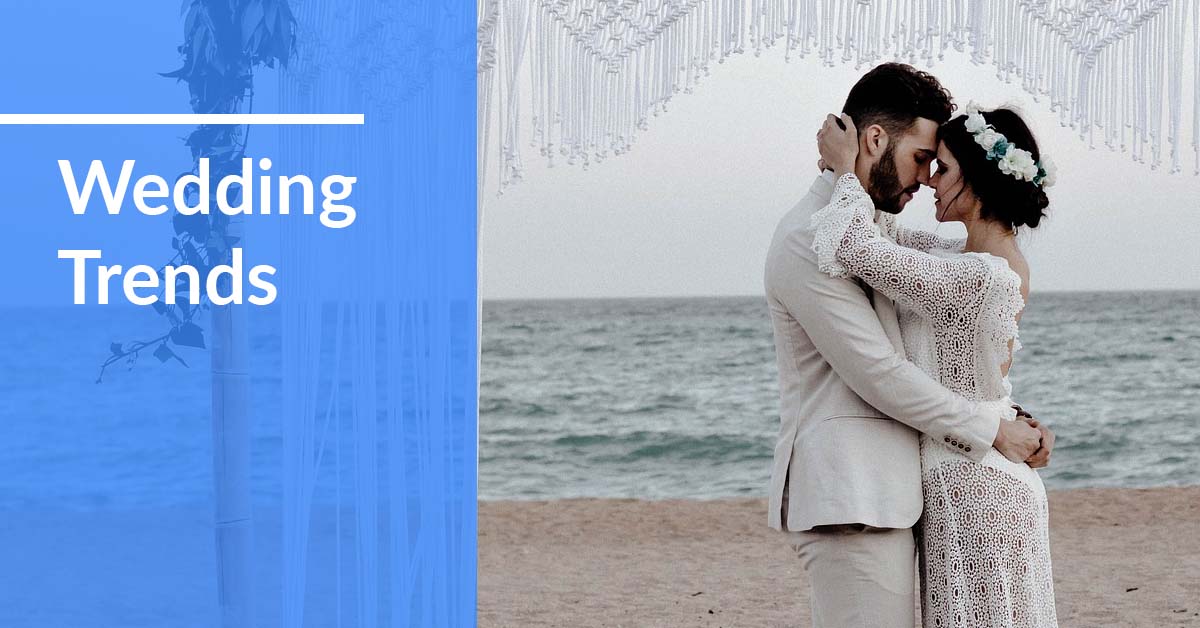 New Wedding Trends and Forecasts for 2020
Weddings have always been associated with large gatherings and huge expenses surrounding the location, dresses, photographers and videographers, and food, among others. On average, the number of wedding guests is around 136, with each attendee costing $268. This amounts to a whopping $36,448, and the aforesaid figure is only a fraction of the total wedding expenditures.
Most Expensive Parts of a Wedding, 2019
(Average costs in USD)
Most Expensive Parts of a Wedding, 2019
Location: $10500
Location
$10500
Most Expensive Parts of a Wedding, 2019
Catering (136 Guests): $9520
Catering (136 Guests)
$9520
Most Expensive Parts of a Wedding, 2019
Engagement Rings: $5900
Engagement Rings
$5900
Most Expensive Parts of a Wedding, 2019
Honeymoon: $5000
Honeymoon
$5000
Most Expensive Parts of a Wedding, 2019
Band: $3700
Band
$3700
Most Expensive Parts of a Wedding, 2019
Photography: $2400
Photography
$2400
Most Expensive Parts of a Wedding, 2019
Liquor: $2300
Liquor
$2300
Most Expensive Parts of a Wedding, 2019
Wedding Rings: $2200
Wedding Rings
$2200
Most Expensive Parts of a Wedding, 2019
Flowers: $2000
Flowers
$2000
Source: The Knot
Created by CompareCamp.com
It comes as no surprise that there will be a shift in preference from large celebrations to small, intimate weddings this year. Aside from reducing costs, smaller celebrations afford newlyweds more comfort with their interactions since only those who are close to them are invited. Couples also gain more flexibility with their budget. This is why this year's trends point to the eventual popularity of immersive entertainment, like interactive booths and performance artists, at weddings.
Non-traditional Wedding Dresses
Gone are the days when brides have to work around the limitations of a wearing a formal wedding gown. Emerging designers like Monica Byrne, Dana Harel, and Danielle Frankel have crafted wedding dress collections that come off more like chic evening dresses or stylish office wear. This means that today's generation has more options to personalize their wedding dresses to suit their aesthetic standards.
There is a lot of variety when going for a non-traditional dress, even for those who prefer wedding wear that's not too bridal. Brides can pick based on color, length, shape, cuts, and prints, possibly striking a balance between style and solemnity. This leads to more women wearing fashion-forward wedding dresses. In fact, in 2019, the search for wedding dresses with pockets had gone up by 83%, signaling a change in the following year.
As for the grooms, those who aren't too keen on wearing a black jacket can opt for a blue one. Cobalt, navy blue, and teal are in style this year. Such colors come as ideal matches to stylish non-traditional wedding gowns.
Non-Traditional Wedding Dress Trend Takeaways
Wedding dresses aren't limited to just formal gowns.
Brides have a lot more options when picking dresses.
In the case of grooms, blue is a worthwhile substitute for black.
Irregular Bridesmaid Dresses
Traditionally, bridesmaids are made to wear pastel gowns that are carbon copies of one another. By and large, those dresses are only worn during a wedding, or you can rent a dress, which makes them anything but cost-effective. In light of this, a lot of designers have taken it upon themselves to create bridesmaid dresses that are versatile enough to be worn during fancy night-outs. Their efforts have led to this trend of irregular bridesmaid dresses.
Expect more brides to make more adventurous choices as regards to styling their dearest friends. There will be a rise in contrasting dresses that intend to showcase the bridesmaids' personalities and sense of style. Even rather odd choices like tuxedos and pantsuits will gain traction among young fashion-forward brides. At the end of the day, this trend suggests that bridesmaids will get to put on dresses that they love to wear. And the contrast afforded by their wardrobes adds a more modern flavor to any wedding.
Irregular Bridesmaid Dresses Trend Takeaways
Bridesmaid dresses are now more versatile.
Modern dresses are designed to be used outside the wedding.
Odd choices like pantsuits and tuxedos are now in style.
Eco-Friendly Weddings
Not too long ago, saving the environment was hardly a factor when planning for weddings. But now, a growing number of couples are making a concerted effort to weave it into their wedding plans. In fact, a lot of weddings this year will deem sustainability as a centerpiece of their celebrations.
From the reduced use or elimination of plastics to proper waste disposal to having upcycled decor, eco-friendly measures will experience a surge in popularity. Planners and suppliers who promote sustainability will be the choice of more couples while caterers who source organic ingredients will gain more market share. Even the use of foam flowers could have a dip in favor of actual plants. As a result, many of today's weddings will be less wasteful affairs with a reduced carbon footprint.
Eco-friendly Weddings Trend Takeaways
More weddings will eliminate or reduce the use of plastics and other items harmful to the environment.
Modern couples will choose vendors who promote sustainability.
Intimate Weddings
Large gatherings at the reception won't be things of the past, but many couples will prefer more intimate setups for their weddings. Not only are they more cost-effective, but smaller celebrations also grant more flexibility in terms of location, attire, food choices, and wedding events. This leads to food with better quality, access to smaller event venues, and a whole host of bespoke wedding activities and themes.
With more funds allocated per guest, couples will also have an easier time making the menu more inclusive. This bodes well for vegans, vegetarians, and those with food allergies. Booths that serve ice cream, street food, and chips, which the kids would adore, can also be accommodated if the budget permits.
Another notable advantage with intimate weddings is the comfort it affords the newlyweds. Since only the nearest and dearest are present, couples can let their hair down at the reception and act more casually. Guests, in turn, won't feel too squeamish to join games and dole out speeches and special performances. Also, the couples will have less trouble making sure that every attendee enjoyed the celebration.
Lastly, a bigger budget means better suppliers. Photographers and videographers of higher caliber can be tapped to cover the celebration. Likewise, planners have more financial flexibility to stylize the venue. The wedding can be customized holistically to fit the elements that define the couple's personalities and romantic journey. This results in a wedding that everyone will truly treasure.
Intimate Weddings Trend Takeaways
Smaller weddings lead to increased financial flexibility.
Couples get to pick food and suppliers of higher quality in intimate weddings.
Further customization can be performed in smaller weddings.
Both the newlyweds and their guests are more comfortable at small weddings.
More inclusive menus will be available since there aren't too many guests.
Wedding Websites
Not too long ago, married couples deemed CDs and social media as the primary placeholders for their wedding documentation. Now, they have the luxury of creating their own wedding website that encapsulates the entire wedding, from the engagement to the reception. They can post photo albums, wedding videos, and share their entire story as a couple. Fun facts about the bride and groom can also be included, to the delight of loved ones.
Some sites come with a multitude of nicely designed templates to reflect wedding themes and tools to manage the registry. There are also others that are equipped with planning tools, making them hubs for all wedding activities.
In having a wedding portal, couples and their loved ones can always look back at the wedding without the need to rummage for CDs or weave through social media accounts. Think of it as a digital storybook.
Wedding Website Trend Takeaways
Wedding websites centralize wedding information, from photos and videos to narratives and design themes.
Some sites can be used as planning tools for the wedding.
These sites ideally represent the couple's romantic tale.
Bolder Colors
Modern weddings make fewer compromises to the classic sensibilities of guests. And at the center of it are the bolder color palettes that younger couples prefer. If weddings from years back were defined by basic white, beige, and green hues, the contemporary ones welcome louder colors like moss green, hot pink, mustard, and amethyst. The point is not to shock and awe guests, but for the couple to go with the colors that they really like. After all, it's their special day and the preferred colors of today's generation have shifted.
This year, expect venue motifs that bear wilder hues. And this extends to tablescapes, tableware, and floral choices. Couples can push the envelope even further by going for attires with bold colors.
Bolder Colors Trend Takeaways
New color schemes will be introduced this year.
The shift in hues points to the taste of millennial and Gen Z couples.
Online Planning
Technology has become part and parcel of everybody's daily routines. So, it comes as no surprise that 88% of wedding planning in 2019 was performed online. And this trend is expected to continue this year. Couples and wedding planners can access sites and apps that compartmentalize each section of the wedding planning cycle. Using those simplifies the process since users can simply slot in information and organized lists or tables will be populated.
The functionalities of wedding planning sites and apps are diverse. Couples can manage their budgets, create checklists, plot out the seating arrangement, and build a database of suppliers, among others.
Online Planning Trend Takeaways
Planning sites and apps break down the wedding planning process.
Couples can manage their budget, suppliers, and guests through planning sites and apps.
A Hint of Mysticism
Spreading good vibes is not just a statement casually tossed around by surfers and younger netizens—people actually ascribe to this contemporary tenet. So much so that clearing off bad energy will become a practice in many modern weddings. This will pave the way for the use of crystals and gemstones as a means of energy clearing. The gems will also serve as luxurious decorative pieces that can be placed on dinner tables and in the more visible areas of the venue. Furthermore, brides are likely to wear jewelry adorned with diamonds and other precious stones. Everyone will be too bedazzled with all the jewels around to entertain unhealthy thoughts.
The Rise in Mysticism Trend Takeaways
Crystals are said to clear off bad energy.
Young ones adore spreading good vibes.
Crystals and gems add beauty and luxury to wedding themes.
Stylized Photo Booths
An auteur like Wes Anderson has influenced the aesthetic choices of a lot of youngsters as seen on their Instagram accounts. But why stop with Instagram? This year's wedding scene promises to be a modern classic, with newlywed couples adding a Wes Anderson-inspired background in front of the photo booth. Guests can ramp up their style game and appear as members of the Royal Tenenbaums in front of the camera. They can also select from a wide range of props, from stylish tops to elegant masks.
Some couples will want to take things up a notch by patterning their entire wedding after the Wes Anderson aesthetic. However, not everyone can pull this off so it's fine to leave it at the photo booth.
Stylized Photo Booths Trend Takeaways
The Instagram culture influences the modern take on photo booths.
Wes Anderson's work is a popular theme for both weddings and photo booths.
Comfort Food
Traditionally, wedding affairs are celebrated with high-end meals coming from big-named caterers. However, a lot of couples nowadays would rather put their pinkies down and share their palate's preferences with their guests. This means comfort food will become a hit in 2020. As a result, guests will find the selection more accessible and delightful to eat.
To add a hint of nostalgia, childhood snacks like the grilled cheese sandwich or the chicken sandwich with cheese can be turned into sliders or classy hors d'oeuvres. Meanwhile, home staples, such as casseroles and fried chicken are to be adorned with fancy plating.
Comfort Food Trend Takeaways
Couples would prefer meals that they truly enjoy.
Modest dishes, including childhood meals, can be styled or reinvented to become classy meals.
Non-traditional Flowers
Couples whose sense of style revolves around rustic elements will be delighted that dried flowers are in season. Whether left natural, bleached, or painted, the flowers are ideal for handheld bouquets, hanging installations, and table decor. Their low-key appeal presents a wonderful contrast to the grandeur of the ornaments and sharply dressed guests. They can also be integrated with fresh flowers and add to the appeal of the arrangement. Moreover, they go in line with the rising popularity of sustainable weddings.
Non-traditional Flowers Trend Takeaways
Dried flowers have a rustic appeal that blends with elegant designs.
The flowers create a wonderful contrast with classy attires.
Decorative Fruits
Millennials and members of Gen Z have a fondness for all things organic. This can be played up by adding fruits to floral arrangements. Also, they can be stacked up or arranged in a manner that would captivate still-life painters. The fruits impart an earthy elegance that blends well with accents of wood, marble, and rustic metal. This makes them surprisingly versatile decorations and can be part of most wedding themes.
Decorative Fruits Trend Takeaways
Fruits are versatile decorations.
An arrangement of fruits goes well with many accents and wedding themes.
Diverse Wedding Destinations
When one thinks of a destination wedding, the answers that would normally come up are Las Vegas, pristine locations in Europe, the beaches of Hawaii, and the Bahamas. They will still be leading destinations, but other places are poised to give them a run for the money this year.
At the head of the pack is Japan, a country that perfectly blends modern atmospheres with periodic structures and architecture. Wearing a wedding kimono (bride) and a montsuki (groom) at an ancient temple takes a page out of popular anime like Naruto and Rurouni Kenshin, which appeal to youngsters. Pair that with the camp of a traditional Japanese house for the reception and Japanese food, and you've got a timeless wedding to enjoy.
Another emerging destination is Thailand, known for its world-famous cuisine and array of glorious beaches. Couples can exchange vows amid a picturesque sunset, a pastel sky, and a white sand beach as the backdrop. Afterwhich, they will enjoy dinner composed of fresh seafood, pad thai, chicken in pandan leaves, and shrimp paste rice.
Besides the aforementioned countries, other locations that will earn the nod of couples this year are Montenegro, Mallorca, and other countries in Southeast Asia.
How did this trend come to be? Remember that millennials and those from the younger generations have long been associated with travel. One look at their Instagram accounts and you would find a boatload of amazing places.
Diverse Wedding Destinations Trend Takeaways
More countries will be chosen as the site for destination weddings.
Japan's mix of modern and periodic structures will make it a popular option.
Thailand will entice couples with its beaches and cuisine.
Youngsters' inclination to travel directly influences this trend.
Drones for Photography and Videography
In recent years, the use of drones has become popular in photography and videography given how the device encapsulates a picturesque, overhead view of a location. This surge in demand for drones happens to include weddings, especially destination weddings. Couples can lie down on a sandy beach or pose at the balcony of a home by the mountains as the drone takes photos and footages. If handled by a skilled photographer, the results will be awe-inspiring. Any location, after all, adds to the beauty and drama of wedding footage when its most compelling features are captured.
With this, drones will figure not just in weddings, but also in engagement shoots and even proposals. This leads to extra-dramatic videos that couples will surely appreciate.
The Use of Drones Trend Takeaways
Drones impart the beauty of an environment to wedding photos and videos.
Drones are ideal for outdoor and destination weddings.
Skilled photographers or videographers are necessary to pilot the drones.
Statement Veils
In 2019, two particular weddings made people zone in on the opulent textile. Hailey Bieber took the edgy route in wearing a veil that bore the statement "Till Death Do Us Part!" The Duchess of Sussex, on the other hand, stunned the celebrity world with her lavish 16.5-foot veil. Both veils made such a strong impression on the public that they influenced a wedding trend. Brides would want either of those headline-grabbing elements in their wedding veils and rightfully so. Those details lift a symbol of modesty into one that conveys elegance and grace, fit for the modern woman.
Statement Veils Trend Takeaways
Hailey Bieber and Meghan Markle influenced a new trend in veils.
Statement veils and lavish veils will gain more popularity.
Reception Wedding Dress
Wedding ceremonies are silent and solemn while receptions are jubilant and celebratory. For some brides, this shift in tone is drastic enough to warrant a separate dress for the reception. The reception dress is less formal but more stylish in a casual sense to go along with the night's celebration.
Young brides are also known to incorporate the reception dress in their wedding gowns, with detachable parts and concealed details. In doing so, they can easily transform from bridal goddess to party princess at the reception.
Reception Wedding Dress Trend Takeaways
Some brides want a second wedding dress for the reception.
A stylish evening dress suits the reception's jovial tone.
Reception wedding dresses are less formal than wedding gowns but stylish nonetheless.
Casual Wedding Shoots
The term "lowkey," in recent years, has been added to our lexicon, thanks to the internet. It didn't come alone. An increasing number of weddings have adopted a more low key approach to photography. This allows lensmen to capture the couple and the guests in their natural state. The more casual images keep the wedding from appearing "too manufactured" and highlights the couple's true personalities.
To enhance the casual element of the images, photographers tend to use natural light and a wide array of images. Second shooters can also be hired to cover the wedding from literally every angle.
Casual Wedding Shoots Trend Takeaways
Casual photos impart a sense of reality to the wedding.
Relaxed images underscore real-time emotions and reactions.
Natural light and several lenses are typically used to produce casual images.
Couple-picked Rings
A lot of modern couples have chosen to forgo the element of surprise for security in style. Of course, the groom can still partake in an elaborate proposal, but prior to that, he had already joined his would-be bride in picking rings. This means that the couple need not work around the rings' style. Rather, they can handpick rings and bands that blend seamlessly with their chosen aesthetic. Guesswork in terms of preference is also eliminated as the bride can simply pick a ring with all her favorite details, be it a ruby centerpiece or a row of diamonds. She can also have the rings and bands customized down to the last detail.
Moreover, engagement rings aren't strictly reserved for the ladies. Ever since Ed Sheeran wore one in 2018, the searches for male rings surged by 60% in that same year.
Couple-picked Rings Trend Takeaways
It's okay for couples to pick rings in advance.
With pre-picked rings, couples' styles will be uniform.
Pre-picking rings ensures that both the bride and the groom are happy with what they're getting.
Fuss-free Wedding Hair
Like most modern weddings, the bride's hairstyle need not be stiff and too "manufactured." This was put on full display at the Duchess of Sussex's wedding in 2019. Meghan Markle sported an undone bun, which raised a lot of eyebrows and notepads. As it turned out, fuss-free hair was an ideal fit with elegant gowns, effecting a marvelous contrast. This made some ladies rethink their options when it comes to their hairstyles during their big day.
Aside from Markle's hairstyle, tousled hair and waxed tresses have also gone in style. This relaxed approach to hair will literally remove one source of stress in the brides' lives.
Fuss-free Wedding Hair Trend Takeaways
Meghan Markle's undone bun launched an entire trend after it gained media attention.
Tousled hair, waxed hair, Markle's undone bun, and other relaxed hairstyles are now in fashion.
Natural Makeup
Complementary to non-traditional wedding dresses and fuss-free hairstyles is natural makeup. After all, piling on thick layers of foundation doesn't go along with the fun and relaxed vibe of modern weddings. This is why some makeup artists in the US predict that natural-beauty-enhancing makeup will be in fashion for weddings. Not only do these products amplify a bride's looks, they also make it seem like she's attending a fancy party rather than a stiff formal celebration.
Natural Makeup Trend Takeaways
Natural makeup enhances a bride's natural beauty rather than conceal flaws.
Thinner makeup goes well with the fun and relaxed vibe of modern weddings.
Immersive Entertainment
With the current popularity of intimate weddings comes financial flexibility. And one of its foremost results is having enough funds to splurge on interactive booths and a slew of performance artists. The possibilities are endless, to be honest. Cocktail lovers can get a kick out of a booth that conducts mixology classes. Meanwhile, kids can roast smores at one end of the venue as the dads can cut cigars at the opposite end.
If the budget permits, couples can hire known bands to perform as well as dancers and even pole dancers and aerial performers. Collectively, it might come off like a circus, but it is your circus. And you are the greatest showman (or woman) at your own wedding.
Immersive Entertainment Trend Takeaways
The popularity of intimate weddings paves the way for immersive entertainment at weddings.
Couples can have interactive booths to ramp up the fun factor.
Couples can hire musicians and other entertainers to please guests.
Interactive Food Presentations
As couples plan to dial up the fun factor at weddings, interactivity in food will likely become part of the trend. What is usually served in plates can come dangling from umbrellas, floating on a makeshift pool, or placed in large decorative spoons. The point is to surprise the guests with every dish served.
Of course, not everything has to be outlandish. The buffet can have a variety of stations, say, one that features roast beef with several sauces and another one for customizing ice cream. A corner of the reception can also be dedicated to food truck fare and street food, which will certainly please the kids. Guests are free to customize their meals with the way the dishes are presented.
Interactive Food Trend Takeaways
Interacting with meals can be just as fun as eating them.
Having different food stations allows guests to customize their meals.
The possibilities in presenting food are endless.
Non-wedding Day Photos
Recently, a growing number of couples have opted to hire photographers and videographers not just during the big day, but also in the events leading up to the wedding. They intended to build a visual narrative out of their premarital milestones and perhaps even unrelated moments. With this, photographers shoot the proposal, engagement, and the rehearsals, along with the formal wedding photos. The goal is to craft a modern-day fairytale that goes in accordance with the wedding theme.
Non-wedding Day Photos Trend Takeaways
Non-wedding photos are taken to capture the couple's romantic tale.
Photographers are to shoot pre-wedding events like the proposal and the engagement.
The images are arranged in such a way that a coherent narrative can be viewed.
Opulent Tablescapes and Patterns
While smaller-scale weddings are in season, marvelous tablescapes are a continuing trend from 2019. Tables are adorned with embroidery, colorful linens, and stylish glassware. Planners can unleash their creativity with the patterns applied to fabrics and drapings as well as the table fixtures. Also, various textures can be combined for the tablescape, adding depth and detail to the design. As a result, even the simplest of meals would feel elegant amid such an arrangement.
Opulent Tablescapes and Patterns Trend Takeaways
Tables embellished with embroidered textiles and multi-layered fabrics are in style.
A well-designed tablescape adds a lot of elegance to the reception.
Art will Play a Bigger Role
This year will be all about pushing the envelope, and this includes art at weddings. We're not just talking about hanging plants and ornate lamps. Art installations will be an in-thing in a lot of classy weddings. They can be placed in visible areas of the venue to accompany other ornaments. Decorative yet functional swings can also be rigged in an expansive part of the place, to the delight of both kids and kids at heart.
Moreover, the wedding cake can be treated like an art installation on its own. Couples can have it designed with elaborate patterns and ornamental fixtures. If possible, they can also plot out their entire romantic journey with the cake design. For those who have money to spare, they can hire artists to do a live painting session. The sky's the limit when incorporating art.
Art's Bigger Role at Weddings Trend Takeaways
Art installations will become common at luxury weddings.
The wedding cake can be turned into an art installation.
Applying the 2020 Wedding Trends
This year's biggest wedding trends are centered on honesty and individualism, so the trick is to not force the issue. Add a generous slice of yourself and your partner to the proceedings, from the food choices to the attire, down to the choice of color schemes and ornaments. But before that, take time to sit down with your partner and discuss your vision for the wedding. Think of it as throwing a massive party rather than a formal celebration so as to keep things light.
Of course, some of the trends might not exactly conform to your taste. But the rationale behind all of them is to customize the celebration to reflect your actual selves as a couple. Going by that, you can add some of the aforesaid elements to your wedding and come up with other ones that fully represent your romantic journey. Who knows, your wedding might actually launch trends for the following year.
What we're saying here is, you can take inspiration from Meghan Markle or Hailey Bieber, but at the end of the day, you are the Duke or Duchess of your own household and community. This year's trends suggest that you celebrate yourself for being who you are and make it the centerpiece of your wedding celebration.
References:
The Top Wedding Trends of 2020

The Wedding Trends to Keep and Ditch in 2020 According to 20 Top Planners

Weddingwire Newlywed Report 2020

20+ Wedding Trends to Look Forward to in 2020

Popular Wedding Trends for 2020-2021

2020 International Wedding Trends Revealed in Annual Global Report

This is How Much a Wedding Costs on Average According to Real Data

Average costs for a wedding in the United States as of 2019, by item

Wedding Photography Trends for 2020

The 9 Best Wedding Website Builders of 2020

The biggest wedding food trends of 2020 include snacks from your childhood

The 2020 Wedding Trends Every Couple Needs to Know About

The biggest wedding trends for 2020