Travel used to be a luxury, but now even more so—even deadly, what with the novel coronavirus still making its rounds across the world. Some areas have apparently won their battle against the disease it brings, COVID-19—notably South Korea—but it has become a scourge for others with no end in sight, such as the United States. This is why a lot of people are asking what would happen to travel post-COVID-19?
Travel and tourism will be back because there's no suppressing people's urge to experience life in other places. But how this will come about is the bigger question. In this article, we'll show you the latest travel trends including just how people will begin to reclaim their lives—as far as travel is concerned—after the pandemic ends.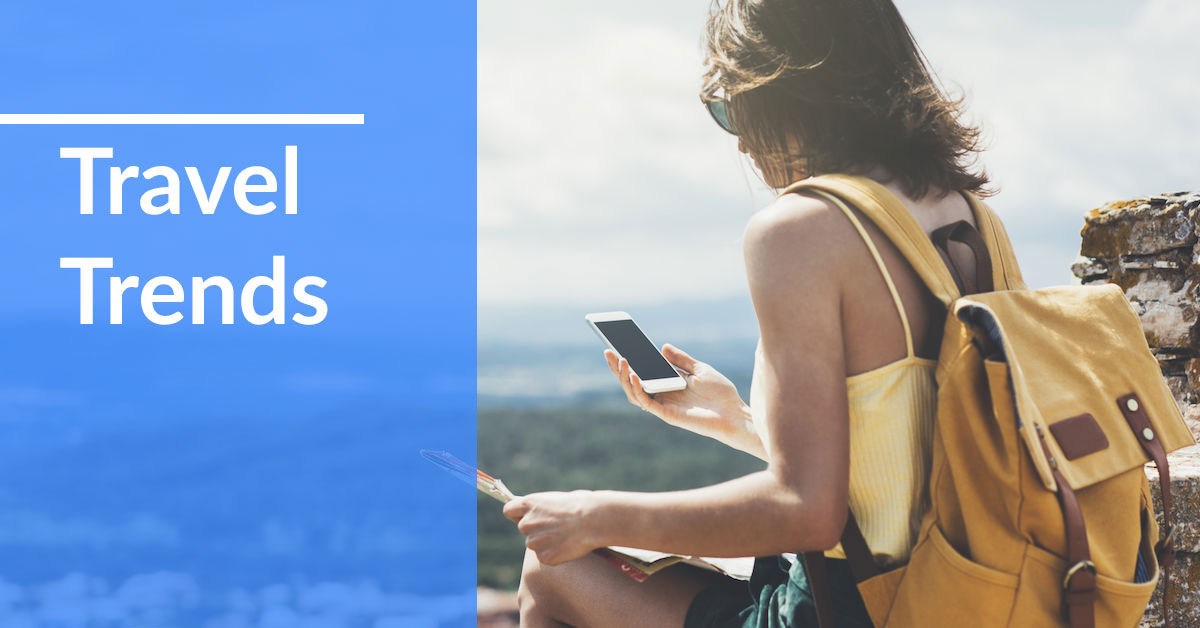 11 Travel Trends Table of Contents
A recent survey by Longwoods International found that 82% of Americans are reconsidering travel plans for the next few months, up to a year. This is due to the COVID-19 pandemic, which, apart from fraying global healthcare systems around the world, is also affecting the travel and tourism industries. It can even be argued that, economically, the impact on these two industries are on par with each other.
After all, the tourism and travel industry represents nearly 10% of the global workforce.
Source: Longwoods International
While it is almost a certainty that travel will be back, the virus will forever change the tourism landscape. No longer will people be inclined to "tick" all the boxes by traveling willy-nilly everywhere or purchase the most exciting travel accessories find. Instead, tourism will become a more mindful, deliberate experience punctuated by increased sanitation and avoidance of overcrowding and overtourism.
There are some likely things to happen after the world develops a vaccine and travel returns. Here are 11 of them.
Private Rentals
If there's one thing people have learned from that viral video of spring breakers "defying" the virus is that it's really bad to insist on going to crowded places.
This time, after the pandemic ends, going to crowded places will become a cultural taboo, akin to coughing at someone else's face. While there's no official timetable to when we would see its end—some believe it's going to be early fall or until 2022, as a University of Minnesota study opines—public resorts will be mothballed in favor of private villas or retreats.
And for a good reason. A geospatial map simulation by data analytics firm Tectonix GEO showed that the aforementioned spring breakers might have carried the virus everywhere else on the eastern half of the US, and as far west as California.
@TexasDSHS Seeing the real impact on a map can help paint a clearer picture about the spread of #Covid19Out . Take a look at this analysis we ran focused on Spring Breakers traveling to and from Ft. Lauderdale! #SocialDistancing is critical! pic.twitter.com/JtCgKpS8tr

— Tectonix (@TectonixGEO) March 25, 2020
Because the virus has an incubation period of up to two weeks and can infect people even then, it's a good idea to practice social distancing even when looking at places to retreat from the world. This means travelers and tourists will likely look for private places where they're the only people in them, or at least avoid hotels or inns or booking together during holidays.
Road Trips vs. Flights
People have romanticized road trips forever. The structure of work, however, prevents many people from capitalizing on this experience, which is why they're railroaded to book cookie-cutter vacations complete with a circuit of the destination's most in-demand areas.
The trouble with this is that, apart from a lot of people who are near each other for extended periods, you also fail to see what the destination has to offer. It's as they say—it's about the journey, not the destination. This means that the classic American road trip will become more viable post-pandemic, where there will be no set destination in mind, and the trip itself will become the vacation.
Getting lost isn't going to be a big deal now as well. Modern cars often come with GPS and, failing that, apps like Google Maps on any smartphone can bail you out just as easily. Plus, though bordering on the creepy side, Google can even track your location even with the airplane mode turned on (at least, for Android phones).
And wouldn't getting lost be the point?
Domestic Travel—For Now
The stalwarts of the travel and tourism industry, airlines, regrettably won't be able to drop their prices too much to protect their margins. With the entire sector at a freefall, the idea is to preserve their prices as much as possible while negotiating in other areas, such as flexibility.
In addition, the virus has also hit the financial markets hard, not just healthcare and travel. With people less inclined to part with their cash in the wake of this tragedy, travel will be bumped down the list of essentials, sometimes even completely. For those who still do want to travel, domestic travel is a cheaper alternative. And for more safety? People are going to substitute going to their destination by car instead of flying in a cramped domestic flight.
That dovetails with the previous point about the road trip as well.
Payment Flexibility
The aforementioned financial crisis isn't going to be a more abstract thing like the Great Recession. This healthcare nightmare is a bit like the opposite: it started with the real economy and will affect the financial markets as the virus runs its course worldwide.
What this means is that unemployment will become rampant as businesses are forced to shutter to contain the virus. In the US alone, the first week of May saw 3.1 million unemployment insurance claims, which surged during the pandemic. 30 days earlier still, that number was more than double, at 6.6 million.
Source: U.S. Department of Labor
With job cuts and less money overall, travel and tourist companies will be forced to compromise on payment flexibility to keep themselves afloat and encourage bookings. For example, you will start to see them waiving fees for last-minute cancelations and full refunds. Some accommodations or travel agencies already even put payments into a sort of an escrow, so when the guest cancels or changes their mind, the company can refund their payment easily.
Travel Insurance Is a Must
While we're on the subject of payment flexibility, refunds, and cancelations, travel insurance covers all of these (and more), but most people think of it as a luxury that they can't afford. This is especially true for backpackers who are looking for the cheapest possible flight.
The pandemic, however, has forced smart(er) decision-making. That includes accounting for travel insurance in case travel plans fall through. While there's a yearly increase in travel insurance since the start of the millennium—particularly after 9/11—the United States Travel Insurance Association estimates that Americans are now spending $3.8 billion on travel insurance.
This is nothing, however, compared to what's going to happen next. There will likely be a dramatic increase in people who will include travel insurance as part of the associated costs of travel. InsureMyTrip.com even estimates that it will be ready to accommodate a 25–30% increase in travel insurance in the coming years.
Which Travel Insurance Is Useful to You?
% of Americans 18 years old and above who have had a vacation in the last 2 years, 2019
Which Travel Insurance Is Useful to You?
Cancelation: 28
Cancelation
Which Travel Insurance Is Useful to You?
Baggage: 25
Baggage
Which Travel Insurance Is Useful to You?
Health: 19
Health
Which Travel Insurance Is Useful to You?
Repatriation: 9
Repatriation
Which Travel Insurance Is Useful to You?
Don't know: 9
Don't know
Source: Statista
Created by CompareCamp.com
The Renaissance of Travel Agencies
And with travel insurance in the mix, it's also inevitable that travel agencies, which Americans used to consider redundant in the age of Airbnb and "there's an app for that," will have a renaissance. Self-booking into a jampacked hotel or flight is something you should be actively avoiding, after all. And the people who know these things—and who can book you into a less crowded flight or accommodation—are going to be your travel agents.
One of the reasons travel agents became obsolete among the younger, hip generation is because they essentially functioned as a slower, more manual form of a smartphone app. You could, for example, book a safari or a three-night stay at Bora Bora in seconds using the appropriate app or website, compared to a travel agent who typically accomplishes the same task in hours, even days.
After COVID-19, however, how congested and how clean the trip and the destination would form the biggest draw to a tourist. And that's only part of what the travel agent can do, apart from being a facilitator of the said trip. Travel agents can also act as travel "advisors" and form a symbiotic bond with the customer who wants to see the world. For example, travel agencies can draw up personalized travel goals for each customer and connect with other people, either other businesses or customers themselves, to get the best deal for you—something that an app, pending a post-pandemic update—can't do.
Technology-Assisted Social Distancing
Indeed, there's an app for everything else. And with the pandemic, there's bound to be one for social distancing too.
Several Asian countries are at the cutting-edge of using the ubiquitous smartphone to encourage social distancing. One such way is an app that communicates with other phones in the vicinity (likely held by other people) to see if you're observing the proper social distance required to minimize contact.
In South Korea, one of the countries that have kept their infection rates relatively low, have used aggressive contact tracing instead of crippling lockdowns. To do so, the government (and spurred by private app developers) have launched an app called Corona 100m that notifies people if they're approaching a person diagnosed with COVID-19, along with other details of the patient. (The app has been discontinued as of this writing.)
Other territories are following suit. Hong Kong has one, paired with a simple wearable device with geofencing technology. Singapore is doing the same.
Technology-assisted social distancing will be even more important in travel, especially if you have no choice but to book at a hotel or mingle with throngs of people at a social function. Other than apps, some existing technologies will have to be retooled to assist people to keep distance. These include sanitizing robots, automated screening, and electronic tickets and passports, among others.
Rebranding Travel Influencers
A survey by Mavrck found that 27.3% of influencers have reported seeing fewer collaborations during the pandemic.
Jetsetters and travel bloggers who document their lifestyle trotting over the world are the hardest hit based on this figure. This is bad news for both these particular influencers themselves, who are essentially out of work, and marketers who used to partner with them.
Rebranding them (or refocusing their content) is thus one of the challenges during and after COVID-19. Finding a niche that isn't travel is at the forefront of influencer marketing at the moment. And, after the pandemic, travel influencing means more than just beautiful beaches and cheap thrills—it would also include safety, hygiene, and crowd density.
There is a silver lining to it, too. A separate study details that while travel influencers have fallen by the wayside, social media engagement elsewhere is picking up, with a 40% increase in usage since the pandemic. The quality of the content matters more than ever, though, as the increased social media time means more people are paying attention to the influencers they follow.
Multi-Generational Trips and Vacations
One interesting thing in all this, however, is that people are more optimistic about the year ahead (and the coming holidays). Guesty, a property management platform, found that even with COVID-19, reservations for the big three holidays (Thanksgiving, Christmas, and New Year's) are still significantly higher than they were for 2019.
The lockdowns have also increased the social need for families, especially multi-generational ones, to be in contact with each other. Once it's safer to go outside and travel, reunions may happen across the country, especially on these dates.
However, it may well go the other way around. As these holidays often connote huge crowds and packed airplane terminals, some people might rather go during "off-peak" dates and celebrate their own family-exclusive holidays, such as grandparents' birthdays or wedding anniversaries. Some would also even just stay at home, but this represents the other end of the spectrum.
No matter the outcome, though, 2020 (and the next year, it looks to be) will be more about reconnecting and touching base with other family members. Going out of the country during Christmas, for example, will prove to be far riskier than just simply staying with Mom.
Off-The-Beaten-Path Tourism
Let's face it: some people can't wait for borders to reopen, and lockdowns lifted. But the COVID-19 pandemic is so complete and global that travel, as we know it, won't be coming back. No longer would people frequent tourist hot spots like Milan or New York; an increased interest in off-the-beaten-path tourism is going to be one of the legacies of this pandemic.
Continentally speaking, places like Asia, Western Europe, and North America will be a problem for many tourists because of the population. Therefore, less sparsely populated areas in Africa and remote South American regions (other than Machu Picchu, of course, which sees over 1 million tourists a year), will be more attractive to prudent tourists in the wake of COVID-19.
Additionally, quaint hotels in side streets and independent inns will be more in demand. Also, getting lost on side streets and small, isolated villages will become part and parcel of the whole travel experience in 2020.
Bottom line? The fewer people there are, the better. And not just because of minimizing exposure; it's also because of taking the whole experience for yourself.
Antarctica may well be a new tourist haven in 2020. Who knew?
Source: MasterCard Global Destination Cities Index 2019
More Mindful Experiences
The effect of COVID-19 on the planet is significant. While it does have a cost on human lives, the planet itself is healing, thanks to reduced pollution. For instance, in China, one of the most notorious leaders in carbon emissions worldwide showed decreased carbon dioxide by as much as 25% after lockdowns were instituted.
While environmentalists insist that this is not a good thing—and may well be temporary—its effects on the tourist mindset is considerable. Admittedly it's hard to quantify, but there are calls on social media to preserve the world as we find it after quarantine by limiting carbon emissions and turning to "green" wellness retreats.
Also, long-term travel is a trend even before the whole issue with the pandemic started, which will carry on over until 2021. In fact, 47% of travelers worldwide are already planning long-term vacations or early retirement plans. This is ostensibly to enjoy more of what the world can offer, but it also means that a slower, more deliberate travel pace is going to be much better post-COVID-19.
The Future of Travel
If you're still waiting for the world to go back to its old normal, don't hold your breath. This global healthcare crisis has exposed the weaknesses in our society, particularly the number of risks we take while we travel all over the world. It's also laid bare the things that never really worked in the first place, which we ought to change after we defeat the disease.
One of the most significant changes should occur in the travel and tourism sector. It can be easy to look at it from the vantage point of privilege (i.e., no travel abroad for the next eight months or so), but looking at it as an industry is even more eye-opening. With the loss of jobs of millions of people in this field, it's easy to see that avoiding putting more people in jeopardy, whether their livelihoods or health, is central to the travel revolution.
The development of a vaccine will only be the beginning, but it's not going to destigmatize travel right away. And it shouldn't. In the future, travelers should be more responsible and mindful of the subtle ways their consumption of experience in a faraway land affects their surroundings and the people living in it.
And as these trends show, maybe people are coming to realize that the old ways of travel are untenable at best, and malicious at worst.
---
References:
University of Minnesota: "COVID-19: The CIDRAP Viewpoint"

Tectonix GEO at Twitter

Centers for Disease Control and Prevention: "Interim Clinical Guidance for Management of Patients with Confirmed Coronavirus Disease (COVID-19)"

The Sun: "Always Watching: Google is tracking you even with Airplane Mode turned ON"

U.S. Department of Labor: Unemployment Insurance Weekly Claims

United States Travel Insurance Association: Americans Spend Nearly $4 Billion on Travel Insurance Annually,




According to New UStiA Study

CNBC: "Travel changed after 9/11; Here's how it will look after the Covid-19 pandemic finally recedes"

CNN: "Coronavirus mobile apps are surging in popularity in South Korea"

The Wall Street Journal: Reporting for Coronavirus Duty: Robots That Go Where Humans Fear to Tread

Emirates News Agency: Etihad Airways to test airport technology to help identify medically at-risk travellers

eMarketer: "COVID-19 Hinders Influencer Marketing Collaborations, Causes Some Creators to Shift Focus"

TechCrunch: "Report: WhatsApp has seen a 40% increase in usage due to COVID-19 pandemic"

Machu Picchu Trek: How Many Tourists Visit Machu Picchu Annually

CarbonBrief: "Analysis: Coronavirus temporarily reduced China's CO2 emissions by a quarter

"

Booking.com Predicts the Top Travel Trends for 2020