More than crippling the healthcare system, the COVID-19 pandemic has dealt a huge dent in people's personal income. Thus, it's no surprise that current consumer spending trends are in response to market uncertainty brought about by the virus.
With 23.1 million Americans out of a job, people have less money to spend. Understandably, they are tightening their purse strings and reevaluating what they're spending on. As a result, retail spending is seeing a downward turn in general. However, some categories are even coming out stronger, like gaming and grocery delivery and services.
The pandemic has also spurred interest in bartering and the homebody economy. These trends offer thought-provoking insights on how they can predict consumer behavior during and after the pandemic. Such information can help marketers keep their products relevant in an increasingly challenging landscape. Below are the top trends you should keep tabs on this 2020.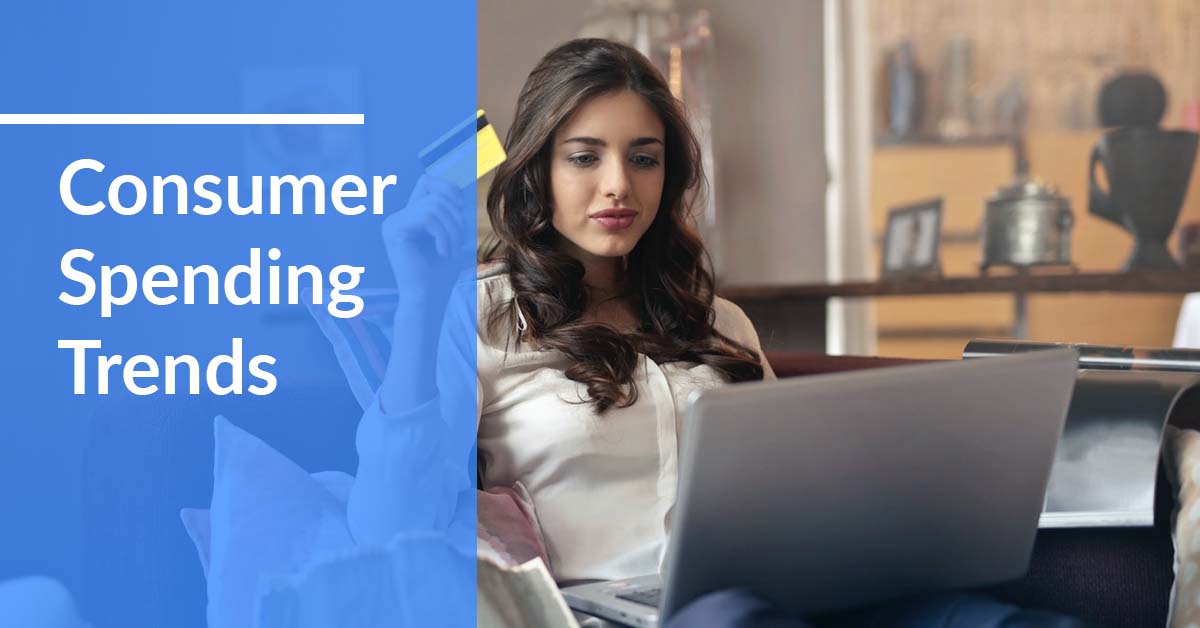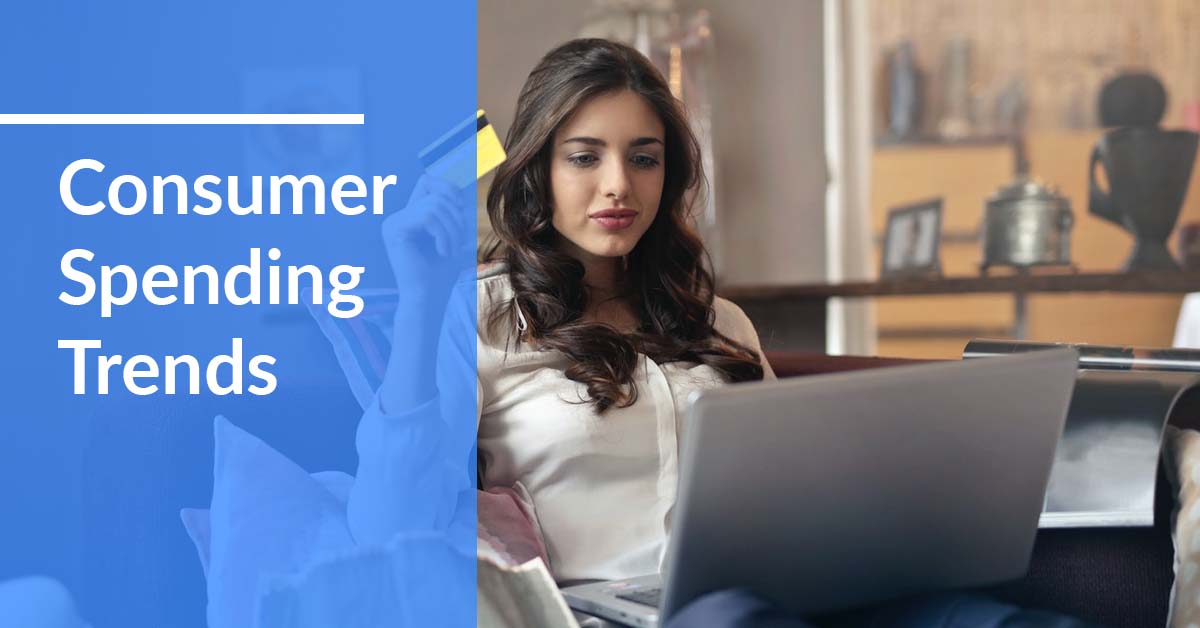 Top Consumer Spending Trends Table of Contents
1. Consumer Spending at an All-time Low
Personal consumption index (PCE) is a measure of consumer spending on goods and services over a period of time. It is an important metric to track as it comprises more than two-thirds of economic activity in the United States. Thus, low PCEs are often a signal of an upcoming recession.
According to the US Bureau of Economic Analysis, personal consumption expenditure was down by 7.5% in March 2020. This is said to be a record low since 1959. From March 2019 to January 2020, the US has seen incremental increases in PCE month on month. Wage growth and low unemployment rates largely contributed to these increases. In February 2020, for instance, PCE increased moderately by 0.2%, driven by household spending on electricity and gas.
However, PCE dipped to negative levels in March for the first time in the last 12 months. This was spurred about by 700,000 jobs being cut, leading to an unemployment rate of 4.4%. Faced with job losses, Americans are understandably cutting back on their spending. A recent Gallup survey confirms this change in spending behavior. Fifty-one percent of US adults say they have been spending less money in the past few months than they usually do.
This decrease in PCE does not bode well for the future. Even a small decrease in consumer spending is detrimental to the economy. Slower consumer spending also means slower economic growth. This can lead to deflation and, eventually, economic contraction.
Source: U.S. Bureau of Economic Analysis, 2020
2. Boom in Grocery Shopping
While Americans are now generally cutting back on spending, one exception is on grocery shopping. With less or no income at all coming in, Americans are realigning their spending to staple items. Since stay-at-home orders have shuttered restaurants, many people are making home-cooked meals rather than eating out. In fact, a Nielsen survey says that 54% of Americans say they are cooking more at home.
As a result, grocery stores and grocery delivery services saw a huge spike in demand. Panic buying for shelf-stable food, hand sanitizers, and toilet paper ensued at big retailers like Walmart and Costco. With this, grocery spending increased by 97.1% year on year last March. By mid-April, consumer spending on food delivery services reached a whopping 500% increase.
Financial analysts predict that post-COVID19, innovative businesses offering mobile payments and contactless delivery will do well.
3. The New Homebody Economy
The homebody economy was a buzzword in the US as early as 2018. Back then, the target demographic for the homebody economy was introverted millennial women. They mainly wanted to stay in instead of going out. Thus, they ordered food delivery, binge-watched Netflix, and slathered on skincare while sleeping on luxury sheets.
But in 2020, what's driving the homebody economy is not introversion. In contrast, this emerging economy is borne out of necessity due to health and safety concerns. Consumers are turning to online options to get their essentials and practice social distancing and shelter-in-place measures. At the root of this behavior is the expectation that COVID-19 will only worsen in the next coming months. In a Nielsen survey, 58% of North Americans anticipate that the pandemic will last at least four to six months in both Canada and the US.
The purchases consumers make reflect this sentiment. As of April, year-to-date spend on frozen or shelf-stable fruit has increased by three to five times versus spend on fresh fruit. On the other hand, consumer spend for powdered milk (39.1%) and dried beans (67.4%) remained high.
Curiously, electric appliances for cooking carbs are on the rise. Sales of electric pasta makers have increased five-fold compared to 2019. On the other hand, sales of bread makers increased four-fold. For example, the Amazon best-seller Cuisinart CBK110 is now sold out.
Source: Nielsen RMS xAOC, 2020
4. Gaming Spend on the Rise
Video game spend in the US for the first quarter of 2020 reached $10.86 billion. This figure is a 9% increase compared to the first quarter of 2019.
Video game content racked up $9.58 billion in sales, seeing an 11% increase versus last year. On the other hand, video game accessories reached $503 million in sales, representing a 1% increase compared to last year. In March, Nintendo launched Animal Crossing: New Horizons. A month after it was released, it became the best-selling game in the Animal Crossing series in US history. An NPD Analyst attributes this growth to people finding video games as a means of escape as well as a way to keep connected with family and friends.
Such video game consumer spend data also tie in nicely with survey findings from global marketing research firm Nielsen. In a March 2020 survey, 39% of gamers in the US said that they are spending more money on games ever since the Covid-19 pandemic started.
5. Holding Out on Real Estate Transactions
At the start of the year, economists had a positive outlook for residential and commercial real estate investment. Forecasts released at the National Association of Realtors (NAR) predicted that home prices will increase by 3.6% and that there is a 29% chance of a recession in 2020. However, these were upended by the global health pandemic at the tail end of the first quarter.
Data suggests that consumers are postponing buying or selling their homes. In a NAR Flash Survey, 34% of realtors say that their clients will delay buying a new home for a couple of months. On the other hand, 38% of realtors say that their clients are also delaying selling a new home until the same time frame. The survey also noted a dramatic change in buyer behavior, with 64% of realtors saying that they are seeing a decline in buyer interest.
Wage concerns are preventing home buyers from moving into a new house. In the same NAR survey, 19% of realtors reported that their clients have stopped looking for a house due to job-related or job loss concerns. As a result, mortgage loan applications have dropped by 19% in April. Also, the Mortgage Bankers Association has said that house purchase activity has decreased by 33% since 2019, the lowest it has been since 2015.
Source: National Association of Realtors, 2020
6. Bartering Goods
Ironically, one of the emerging trends in consumer spending is not spending money at all. Bartering, where people exchange goods and services directly without using money, dates back to 6000 B.C. For 2020, this age-old system gets an update with website- or app-based group swaps.
For example, posts in public Facebook groups with the words "trade" or "barter" have increased by 250% for the past two months. Then there's the Freecycle Network, a nonprofit organization where members can give or receive items for free. Freecycle has grown two to three times its usual rate since the pandemic. In a week, as many as 10,000 new members join the website. As a result, the barter of household and consumable items in the US is expected to increase from $4 million to $10 million.
The trend is not only resonating with consumers but to businesses as well. The International Reciprocal Trade Association (IRTA), which oversees more than 100 barter exchanges, saw an increase in member sign-ups by 20 to 35% in March.
Part of why this trend is emerging is because people tend to conserve cash during a financial crisis. For instance, during the 2001 financial crisis in Argentina, around one million Argentinians participated in barter clubs. Similarly, Greeks resorted to barter clubs when the country plunged into a debt crisis in 2015. With the pandemic, bartering gives people access to items that are out of stock in grocery stores. In addition, it becomes an alternative to grocery shopping for people who have a high risk of contracting the virus. Lastly, it lets people help others and feel good about themselves.
7. Changes in Media Consumption
With more people cooped up at home due to stay-at-home orders, consumers are turning to online sources for news and entertainment. However, they are reluctant to shell out money for new subscriptions they did not have before the outbreak.
For instance, data from Global Web Index reveals that 56% of media consumers in the US do not plan to pay for any new subscriptions. Those from lower-income brackets tend to restrict their spending than those in the higher income bracket. Fifty-nine percent who said that they would not be paying for new subscriptions were from the lower-income group. In contrast, 52% belonged to the higher income bracket.
People who were willing to spend on new subscriptions were mostly Gen Z and millennials. Netflix, Disney+, and Amazon Prime Video were the top three subscription services that respondents were willing to pay for. It is worth noting that almost a third or 30% of Gen Z respondents plan to get a Netflix subscription. On the other hand, 26% of millennials plan to do the same. However, these services do not seem to appeal to Gen X and boomers. Only 11% of boomers plan to get a Netflix subscription. Even fewer boomers plan to do so at 5%.
Willingness to Buy a Netflix Plan During the Pandemic (2020)
Source: GWI Coronavirus Research, 2020
Created by CompareCamp.com
What Consumers are Spending On
With consumer spending hitting a record 61-year low, people are realigning their spending habits. As consumers focus on essentials like food, the scramble for pantry items have led to increased grocery shopping and delivery. Shelter-in-place orders have likewise created the homebody economy. People are increasing spend on shelf-stable food and carb-centric home appliances in anticipation of longer lockdowns. Staying at home also means changes in how people spend on entertainment, particularly in gaming and subscription services.
Moreover, a volatile real estate market has driven people to rethink buying or selling their home. With less cash to spend, people are turning to the age-old practice of bartering to get what they need while building community ties. In sum, it's fair to say that people are prioritizing necessities while spending a little on non-essential items where they can.
---
References:
Coronavirus Prompts Record Drop in Consumer Spending

US consumer spending rose, inflation was moderate in February

U.S. personal consumption expenditure – monthly percentage of change 2019/20

Coronavirus Prompts Record Drop in Consumer Spending

Consumer Spending and Its Impact on the Economy

How U.S. Consumers are Spending Differently During COVID-19

The NPD Group: Quarterly U.S. Consumer Spend on Video Game Products Reached the Highest Total in U.S. History in First Quarter of 2020

Connections and Community – Animal Crossing: New Horizons Propels the U.S. Video Game Marke

Nielsen: 39% of U.S. gamers are spending more money on the hobby

The homebody economy, explained

Covid-19: Tracking the Impact on FMCG, Retail, and Media

The Pandemic Economy: What are Shoppers Buying Online During COVID-19?

Expect Continued Economic Growth, Slower Real Estate Price Gains and Small Chance for Recession in 2020, According to Group of Top Economists

2020 NAR Flash Survey: Economic Pulse May 16-18, 2020

Mortgage Applications Decrease in Latest MBA Weekly Survey

Global Web Index Coronavirus Research | April 2020 Series 4: Media Consumption and Sport

2020 or 1320? Meet the new bartering craze

The Return of the Barter Economy, Swapping Eggs for Toilet Paper

Get What You Need Without Money

As inflation soars, Facebook drives trading in Argentina's barter clubs

March Consumer Spending Sees Sharpest Drop On Record