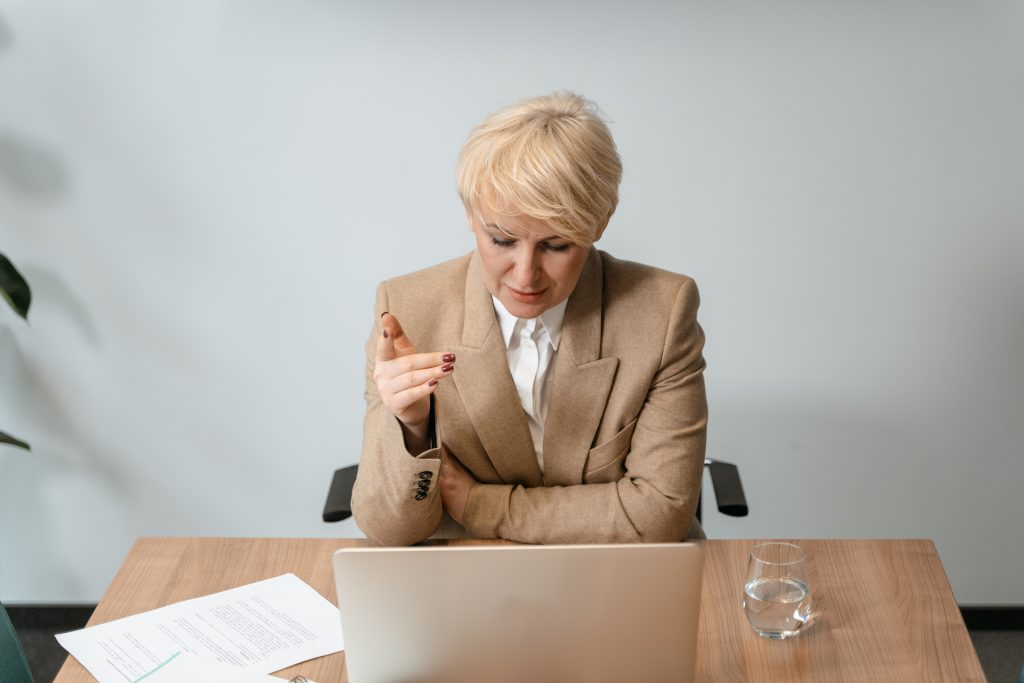 After being severely affected by the COVID-19 outbreaks and lockdown policies, the hospitality industry is now recovering. Nevertheless, restaurants, cafés, hotels, and resorts are having a hard time addressing both long-standing issues and emerging challenges, like changing customer preferences or dealing with a tight labor market. 
Under these circumstances, staff training plays a key role. When streamlined, it helps to deliver high-quality customer experience, maintain a competitive edge, and build a brand. If your business increases knowledge in house and spreads best practices effectively, it has a good chance to scale up. But to scale knowledge, you need the right technology, and this can be provided through eLearning. 
eLearning for the HoReCa sector 
eLearning is a set of ways that a company uses online technologies for staff, partner, and/or customer training. It typically involves online courses and training programs that learners access via the Web or a learning platform.  
eLearning is beneficial for companies in several ways. First, it helps reduce staff development costs by saving on accommodation and travel for trainers. Second, it allows the launching of standardized training for the team, and achieving training consistency regardless of where team members are located. Third, learners can access it anytime on any device, be it a computer at a hotel business center or their own smartphone. 
If you're an HR pro in the HoReCa sector, you know firsthand that providing everyone with decent training and preparation is a Herculean task. In eLearning, there is a special kind of software that simplifies it all and makes staff training run like clockwork – a corporate LMS. 
Here's how HR pros can benefit from an LMS in the HoReCa sector: 
Facilitate efficient training for specific teams: salespersons, receptionists, reservation departments, kitchen staff, housekeeping staff, servers, and managers;

Assess training results and link acquired competencies with KPIs;

Run internships effectively and select the best candidates;

Establish a strong service culture.
Below, you'll find out about the ways an LMS can level up staff training in your hotel or restaurant. 
1. Faster onboarding 
If fast service is your credo, getting new hires up to speed faster is a task of pivotal importance. 
Otherwise, every time that newcomers ask their seasoned colleagues how to do things correctly, the quality and speed of service will be put at risk. By having a streamlined onboarding program in the iSpring Learn LMS, you can set your new hires up for success even before Day 1. 
For example, you can upload induction materials to the learning platform and enroll newbies on that particular learning track. Those who just entered your company will be able to access orientation training in advance and be better prepared for work tasks. 
This will allow you to free up colleagues from performing duplicate tasks and looking after interns. Plus, you can finally lighten trainers' workload and prevent them from burning out. What's more, effective onboarding can help you reduce premature attrition.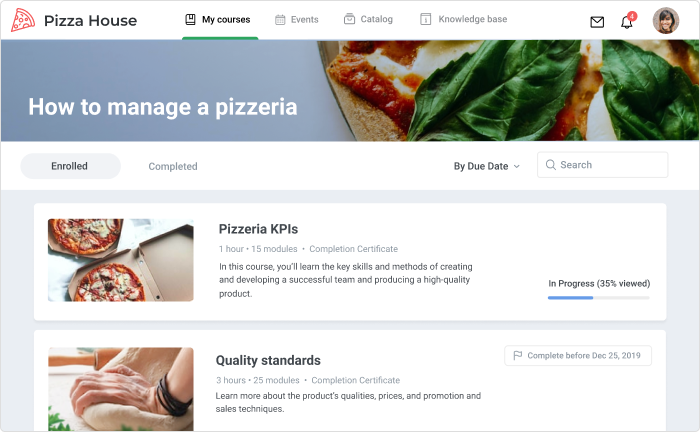 In the picture above, all needed materials comprise a learning track that puts required knowledge in order and prevents second-guessing. 
2. Improved compliance
In the HoReCa industry, the power of business lies in adhering to quality standards. You can reach the highest bar by making compliance training more accessible and meaningful. In an LMS like iSpring Learn, you can create a constantly available knowledge base on industry standards and safety training. Or you can assign recurring training to keep personnel aware of food safety and handling standards, cleaning and sanitizing operations, personal hygiene, or COVID-19 safety measures. Streamlining training will ensure that compliance violations won't catch your company off guard.
3. Enhanced customer service 
The continued success of your hospitality business depends on whether or not your team can guarantee the desired experience for customers. Plus, great customer service can help you get loyal customers –  93% are ready to become repeat buyers if they've had a positive service experience. 
Conducting training in the LMS can help you build up a system of high-quality customer service training in your business and implement it efficiently. Be it a cashier, a manager, or a waiter, anyone in the HoReCa sector can study personalized training courses according to their position in an LMS, even without a trainer. 
 If you upload customer service regulations, refund policies, and training materials on objection handling or conflict resolution to iSpring Learn, your staff can study them without spending days in face-to-face training sessions. You'll be able to track employee training and see how learners complete courses, and how they perform in knowledge assessments. If anyone fails a test or skips customer service training, you'll be the first to know and will be able to take action. 
4. Successful franchise development and a stronger brand
While traditional face-to-face training hinders business growth, with streamlined training in an LMS, it's entirely possible to strengthen franchise development. Instead of sending trainers to each new place and rolling out cumbersome training on site, you can onboard new franchises in iSpring Learn without extra costs.
On the learning platform, you can enroll managing directors in franchise training programs and communicate the value of your brand correctly. In the same way, you can provide frontline employees with a compound training experience anywhere and launch reports on their learning performance. 
This way, you can train your new franchisees on your standards and be sure that your recipes or services are followed precisely on the spot. One prominent example of leveraging an LMS as an efficient restaurant technology is the Domino's Pizza franchise. Thanks to iSpring Learn, Domino's Pizza has managed to set up unified training for their restaurants locally and reduce training costs by 70%. 
5. Robust training programs for suppliers and partners 
HoReCa businesses encountered unprecedented challenges during the COVID-19 pandemic. As for food service, for example, studies show that the industry was almost entirely substituted by delivery. Businesses had to learn how to cooperate with delivery aggregators, establish new partnerships, or switch suppliers serving the HoReCa segment. 
Under these circumstances, partner training has become a way to ensure the coordinated work, manage purchases and stock, and maintain the same good level of service in and out of the venue.  You can streamline partner training in the same efficient manner as for any other training scenario with the LMS.
For example, iSpring Learn enables you to facilitate hassle-free access to partner training programs through single sing-on authentication on any device. Learners will be able to find learning content without any lengthy passwords, extra credentials, or seeking external help. The LMS will track learner progress in training and issue certificates upon completion to verify the contractor's competence and knowledge. 
And finally, by leaving partner training to the LMS, you can automate tedious tasks associated with enrollments, assignments, and progress monitoring. You will be able to spend less time and effort on managing partner training while knowing that all partners stay in the loop, and risks caused by human error are reduced. 
Conclusion 
For the HoReCa sector, training with an LMS provides a consistent, efficient, and flexible way to develop personnel at scale. With its help, you can facilitate systematic onboarding, customer service, and regulatory compliance training for restaurants, hotels, and all other businesses. Leverage the power of digital technologies to prosper in the HoReCa industry!