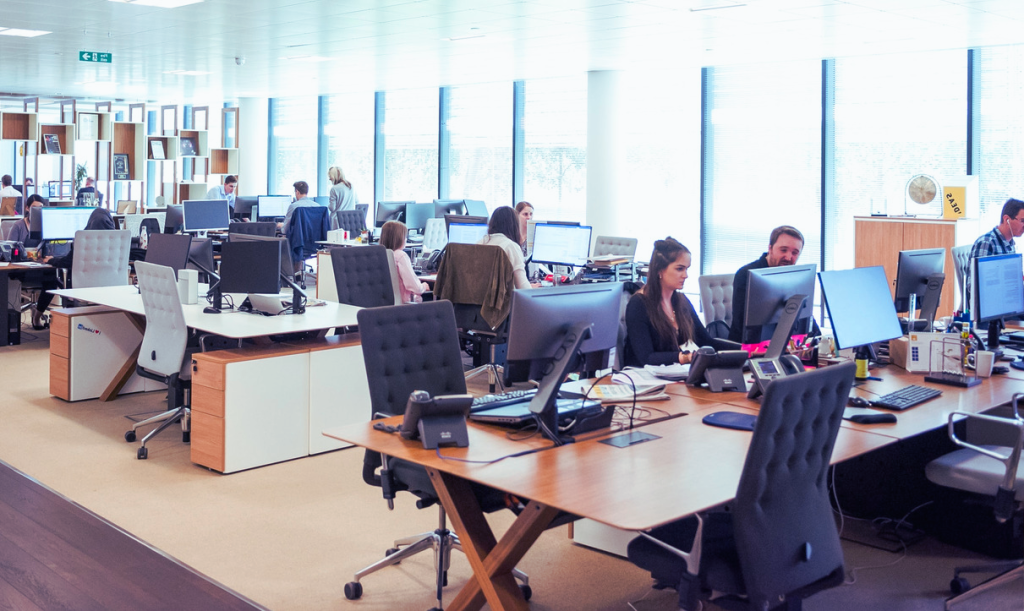 Since the COVID-19 pandemic, the way we work has changed dramatically. Workplaces face many challenges, such as working remotely or in a hybrid capacity. That is, the pandemic was annihilating the traditional workplace.
Furthermore, these changes have positive effects in many cases. Workers now have more options for how they prefer to work due to new challenges driving innovation and technological advancements. A video editor, for example, can now work online and submit his projects without having to go to the office. He can quickly edit or add sound to a video using an online video editor and then pass it to the team without waiting until he gets to the office to review his work.
Another factor that emphasizes positive changes when working at home is accessibility. Many technological tools can help with work. Employees can effectively collaborate and participate in meetings or webinars without traveling using software or devices such as Google Meet, Zoom, and others. 
Whatever changes have occurred in the workplace, a positive working environment should be at the top of any business leader's priority list.
Trends to Develop a Positive Working Environment in 2023
Workplaces are coming to grips with a slew of new challenges, ranging from assisting employees experiencing financial stress to determining what organizational culture entails. Regardless of the new work arrangements, how can business leaders create a new workplace that will keep employees happy and productive?
Fortunately, the 2023 trends listed below will assist you in overcoming these obstacles and creating a great working environment for your employees.
Recognition and Respect
Due to the dynamic nature of the workplace, creating and managing one that all workers will enjoy is challenging. Therefore, a manager must keep up with current workplace trends to experience positive change.
Leaders should implement respect and recognition whether they manage remotely, in a traditional workplace, or a hybrid setting.
The two Rs—Recognition and Respect—are essential because they contribute to employees' happiness. To foster a positive working environment, managers should acknowledge and commend employees for their accomplishments, no matter how small.
A study shows 87% of workers regularly smile and laugh at work, and 95% of those flourishing at work are treated with respect throughout the day.
Managers can contribute to the development of respect and happiness by facilitating the behaviors and practices that genuinely define company culture. These might increase productivity and effectiveness among employees. Additionally, those happy and content workers exhibit lower absenteeism and turnover.
Have an Honest Conversation 
There have been numerous changes in the workplace and employees' personal lives since the pandemic. 
Remote work or working from home has become the "new normal" for many workgroups. Employers are taking precautions to ensure the safety of their employees. Candid discussions with workers about their preferred working arrangements—at home or in the office—are an excellent way to foster a productive workplace. Within your teams, you must have an open and honest discussion.
According to Michael Beer, the Cahners-Rabb Emeritus Professor of Business Administration, open dialogue with employees will significantly increase trust and loyalty.
Here are some ideas for having an open and honest discussion:
Focus the discussion on the critical issue.

Conducting interviews with employees throughout the company will assist you in determining the truth.

Consider, identify, and create a strategy.

Keep both you and your senior management responsibility for the company's employees.

Make the necessary changes, then periodically repeat the procedure.
Identifying Workplace Stress Before Launching Wellness Initiatives
Having a job improves one's life and attitude. However, for many workers, the stress they face at work outweighs any potential benefits and even jeopardizes their health. What are some methods for identifying workplace stress?
Physical and psychological stressors are the two types of workplace stressors. Physical stressors include poor office design, ergonomic concerns, and others. High job demands, abuse, rigid work schedules, etc., are examples of psychological stressors.
Workplace stress hurts both employee and business performance. Employees' behavior, mental health, and physical health are all affected by workplace stress.
So, how should you respond to it? Managers should prioritize wellness initiatives. You have to understand why employees are burned out, stressed and unproductive. 
Managers should take proactive steps to eliminate or reduce potential stressors to prevent stress. Here are a few ways: 
Replacing with safer tools and technology

Allowing for rest periods and breaks for workers

Workplace cognitive behavioral therapy learning

Supplying affected workers with healthcare and employee assistance
Whatever workplace stressors your employees are experiencing, whether physical or psychological, the most critical step is identifying the problem before implementing solutions.
Workplace stress not only affects employees but also reduces a company's success. Leaders must address this issue to create a healthier, safer, and more effective working environment.
Provide Tools that Address Current Issues and Embrace Employment Trends.
Management should provide tools that address current problems or relieve employee tension. It could make work quicker and better, making employees more productive. Embracing employment trends will help you understand your current employees better and what to expect from potential new hires. 
Since functional flexibility is now the standard, technological advancements have enabled remote employees to collaborate on projects from anywhere in the world.
Although this satisfies the workforce's needs, there are still some challenges. It includes new tools requiring new learning, workers not having enough time to learn how to use them, insufficient training availability, and other factors. How to overcome these issues?
Some ways to overcome these challenges are to utilize safe and user-friendly software. These tools are accessible to workers, which helps many businesses to flourish. 
Furthermore, embracing sophisticated software that works with administrative tasks such as HR processes, simplifying workflows, effectively diagnosing issues, and others that offer solutions to how things are done right now is essential.
Transparency is Crucial
Employees deserve the management's trust because they give their all to the business's success. Being open and honest will foster a productive workplace where employees feel valued and heard.
Consider sending a regular internal email to share important information with other employees and holding a monthly meeting to make corporate declarations.
Value Employees Feedback
Employee feedback is just as important as customer feedback in any business. Your employees choose to express their concerns for you because they genuinely care. It is an opportunity for managers to address them rather than having the employee contemplate them and eventually leave the organization out of desperation.
Think about a Flexible Hybrid Strategy.
Following the pandemic, almost all businesses adopted a hybrid setup. It is critical to design a hybrid workplace for employees that allows for remote work and locational flexibility.
Furthermore, managers should develop hybrid remote plans to facilitate asynchronous interaction and expertise formulation. Additionally, it reduces business expenses while simultaneously increasing employee productivity.
Implement a Zero-Tolerance Policy
Leaders must protect individuality at work, and employees should be aware of their legal rights. 
Allowing employees to express and be heard about their concerns fosters a positive work environment. The access and assistance they require should be given and available when they need it.
Ensure that HR personnel can adjust their schedules to be available for private conversations.
Final Thoughts
As a result of everything that has occurred in the last few years, what we now refer to as "the workplace" is in disarray and undergoing rapid change. It implies that management responsibilities and duties are also affected. 
The above guide will help you overcome obstacles and create a great working environment. However, planning and implementing a positive work environment and culture take time. It will naturally develop if you stick to your concepts, pay attention to your employees, and have fun.
Moreover, an organization's success depends on cultivating a positive workplace culture in which everyone feels respected, appreciated, and understood.