The gig economy has remained strong despite global work disruptions brought about by the COVID-19 pandemic. While many full-time workers participate in the economy by taking on short-term side jobs, others have turned independent, contract-based work into their main source of income. In fact, over a third of the American workforce participated in freelance work in the past 12 months.
Freelance platforms and job marketplaces have made freelance work easier not only for job seekers but also for companies around the world. Through freelance platforms, professionals can create profiles and search for jobs, while recruitment teams can connect with the right talent for their needs.
Voices, Upwork, and Fiverr are some of the biggest, most popular platforms for freelancers and employers today. This Voices vs Upwork vs Fiverr comparison aims to discuss the main differences and similarities among these three platforms.
What do users say about Voices, Upwork, and Fiverr?
Users of Voices, Upwork, and Fiverr have plenty to say about the platform's features and services for finding jobs and freelancers. Voices users love how the platform streamlines the process of finding the best voice actors. Companies and brands that have used the platform include Shopify, Microsoft, Cisco, and Hulu.
Upwork, on the other hand, gets praise for its comprehensive services and its safeguards for ensuring freelancers get paid. Meanwhile, Fiverr users have commended the platform for its customer service and for its user-friendly services, especially for freelancing newbies.
About Voices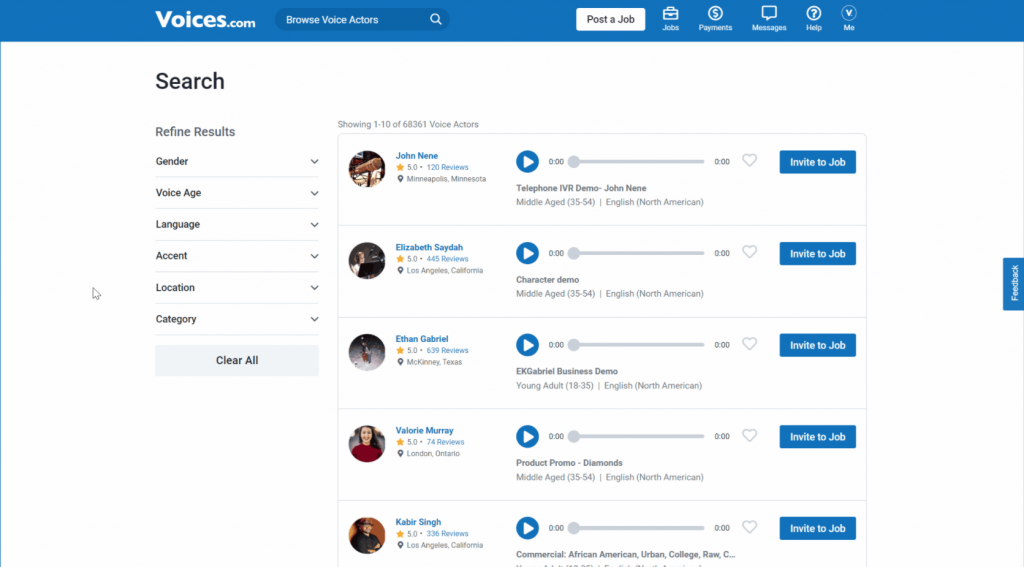 Voices is a job marketplace that connects businesses and voice-over and audio production professionals, such as musicians, translators, and voice-over actors. The website currently has a network spanning 160 countries and over 2 million freelance voice-over talent.
Clients and audio professionals can easily sign up for accounts on the Voices website. Clients can post jobs and access the Voices marketplace to search for talent. A built-in JobMatch feature automatically matches the job to professionals with the right skills to help businesses save time. Clients can also set a fixed budget or a price range that talent can use as a basis for sending quotes.
Meanwhile, audio professionals can also create Voices profiles and upload samples of their voice-over work, audio production, and translation. Freelancers can also respond to client invitations with their own pitches, proposals, and quotes. The Voices website is designed to make collaboration easy, as well, allowing clients and talent to chat privately, upload files, and track revisions if needed. A payment protection service also ensures that freelancers get paid once the work is done.
About Upwork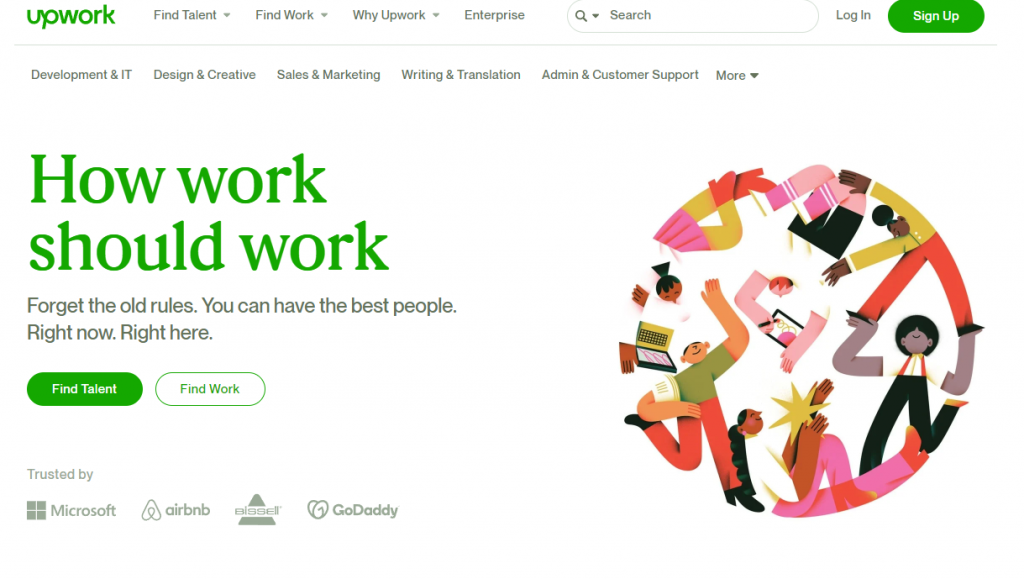 Upwork is another freelancing platform that businesses and professionals use to connect and work together on short- or long-term contracts. As one of the largest freelance platforms today, Upwork features professionals in a wide variety of niches, including IT and development, design and creative, writing and translation, and finance and accounting.
Similar to Voices, Upwork allows clients to post jobs and accept proposals from freelancers that match the skills needed. Freelancers can submit proposals and rates for jobs they're interested in as well, aside from posting portfolios. Employers and freelancers can also negotiate or collaborate in real-time through private messaging.
One unique feature of Upwork is that it lets clients browse planned projects that are offered by freelancers themselves. Through this feature, employers don't have to create job posts to find the professionals they need.
About Fiverr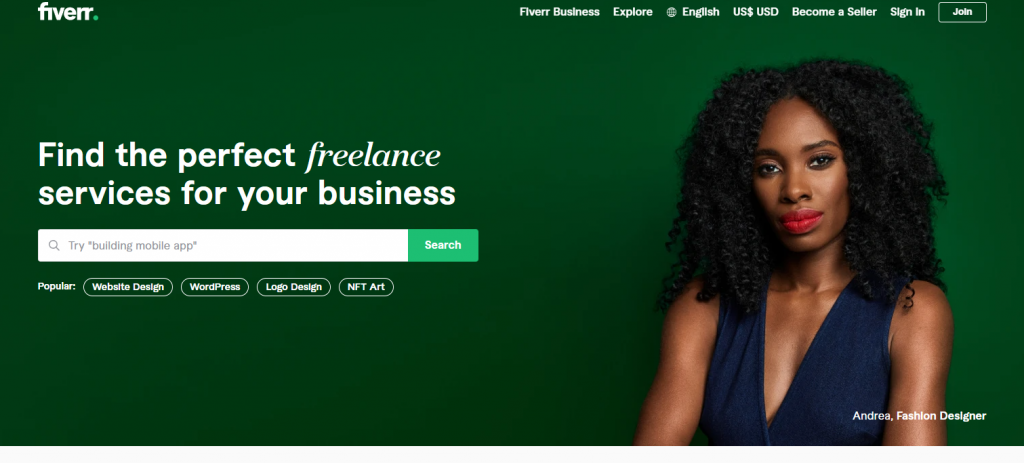 Fiverr is a freelancing platform where businesses and employers can buy digital services from professionals. Unlike with Voices and Upwork, however, custom jobs or "Gigs" are posted by freelancers or professionals. Clients (also called "buyers") can then browse these Gigs to find an offer that matches their needs. Clients can also request specific services from freelancers. All Gigs on the Fiverr platform were originally priced at $5, hence the platform's name.
Buyers on Fiverr also pay in advance for Gigs, which typically take a day or two to complete, depending on the freelancer's workload. Freelancers on the platform typically offer a wide range of services, from logo and web design to copywriting and digital marketing. Professionals also have the option to sell services in bundles to provide more value.
Points of Comparison
As three of the most popular freelancing platforms online today, Voices, Upwork, and Fiverr share many similarities and have specific differences as well. Below are some points of comparison to consider when choosing among these platforms.
Area of Expertise
These platforms tend to have their own areas of expertise when it comes to services offered by freelancers. For instance, Voices focuses on connecting business owners and clients to voice talent and audio production professionals. The platform is also home to skilled freelancers in translation and music production, like composers and jingle writers.
Meanwhile, Upwork has a vast network of web development and IT professionals. Many of these professionals have skills in back-end, front-end, and full-stack development, as well as mobile app development and DevOps engineering.
On the other hand, businesses looking for creative professionals skilled in graphic and logo design may be better off with Fiverr. Graphics and design experts on the platform have different specialized skills, too, including illustration, website design, and infographic design.
Search Engine
Each of these platforms comes with a built-in search engine to help employers and professionals find each other. On Voices, for instance, clients have the option to search for freelancers instead of posting jobs. Search results can then be further filtered by keyword, skill, and location. These helpful filters make it easier for employers or clients to find audio professionals with the specific skillsets or qualities they need.
On Upwork, clients can search for freelancers and filter results by skill and rating. In this way, employers can easily find the most reliable, most skilled professionals for their projects. As previously mentioned, Fiverr lets clients or buyers browse custom jobs offered by freelancers. Buyers on Fiverr can also search gigs by price. In this way, businesses can easily find freelancers with services that meet their budgets.
Portfolios
These freelance platforms allow clients to learn more about professionals' skills and experience through portfolios. Audio professionals on the Voices platform can create audio portfolios by uploading samples of their voice-over and audio production work. Employers and clients can listen to these samples to learn more about a freelancer's expertise.
Upwork also lets freelancers upload portfolios, though these tend to be more graphic in nature. Freelancers can upload portfolio items, including screenshots of their work, work samples, and snippets, that they can rearrange as they see fit. Clients will be able to download image assets from these portfolios as well. On the other hand, Fiverr allows freelancers to create live portfolios, which list down the Gigs they've previously completed
Jobs
Thousands upon thousands of employers and independent professionals use these platforms regularly. For instance, Voices features a myriad of clients and employers all looking for voice talent and audio producers, posting over 500,000 jobs so far. Companies should have no trouble looking for the audio professionals they need, and, likewise, freelancers will find no shortage of jobs on the Voices platform.
The same is true for Upwork, which hosts thousands of short-term and long-term jobs. Freelancers can easily find work through the platform, especially if they want to work as web developers or virtual assistants. Fiverr works a little differently compared to Voices and Upwork. Rather than clients posting jobs, freelancers create customized jobs or Gigs and wait for clients to purchase these Gigs.
Mobile App
For the convenience of clients and freelancers, these online platforms each offer a mobile app for Android and iOS. Companies and freelancers can use these apps to look for talent or get hired. For instance, the Voices Mobile app allows clients to post and manage applications and invite talent to jobs using mobile devices. Professionals can also record and upload auditions from mobile devices, making it easier to get hired for jobs wherever they are. Clients and freelancers will also be able to communicate through built-in messaging capabilities.
Meanwhile, the Upwork apps for iOS and Android are just as fully featured. The difference is that freelancers and clients each get their own Upwork mobile app. On the one hand, the Upwork for Freelancers app allows users to browse jobs, submit proposals, and even send work to clients for review. On the other hand, the Upwork for Clients app lets users post jobs, review proposals, and manage projects.
Fiverr also has a mobile app for iOS and Android. Like the Voices mobile app, the Fiverr app allows entrepreneurs and clients to choose from hundreds of service categories and find and hire freelancers. Professionals can also get more orders when they're available on mobile. Clients can also make efficient payments through the Fiverr mobile app.
Community
Voices, Upwork, and Fiverr each have thriving, supportive communities that encourage clients and freelancers to continue doing business on the platform. For instance, Voices has an active Community Forum that allows freelancers to connect and share experiences. The forum also comes with different categories, including Voice Over, Audio Production, and Translation, so freelancers can easily find relevant discussions. Aside from this Community Forum, Voices also has an active blog and publishes various podcasts that cover industry news and expert tips on audio production.
Meanwhile, Upwork also has an active community with different forums on topics such as freelancing, working as an agency, and hiring. One great thing about the Upwork community is that clients and freelancers interact not just with each other but also with Upwork representatives. This comes in handy for providing feedback on Upwork features.
Likewise, Fiverr also has forums dedicated to various topics such as Fiverr questions, Fiverr tips, and Fiverr products. In addition to these forums, professionals on Fiverr can also gain more industry knowledge through the platform's blog, webinars, and podcasts.
Help and Resources
These freelance platforms also offer clients and freelancers various resources to resolve common issues and help them learn more about using the platform. On the one hand, Voices offers a comprehensive knowledge base with articles on topics such as creating accounts, getting paid, and upgrading to premium memberships. The platform's User Guides and Voices Lessons also discuss common platform features, such as posting jobs, getting hired, and setting up profiles. Users who prefer one-on-one assistance can also call the Voices toll-free phone number.
Similarly, Upwork offers an extensive Help Section and thorough User Guides. The Help Section covers a wide range of categories for freelancers, agencies, and clients. It also provides articles on common topics, such as creating contracts, resolving payment issues, and managing teams.
Fiverr also offers separate Help Sections to buyers and sellers. These Help Sections discuss topics such as account management and order management. In the Help Section, sellers or freelancers can also learn how to view Gig statistics and manage withdrawal methods.
Membership Options
These platforms allow companies and freelancers to create an account for free. However, upgrading your membership costs extra. On Voices, for instance, buyers and sellers can sign up for a free account. For talent, upgrading to a premium membership costs $499 per year, while a platinum membership costs $2,999 per year.
Likewise, freelancers can sign up for an Upwork account for free. However, the platform also offers a paid upgrade to Freelancer Plus. This membership option is available for a monthly subscription for $14.99. Fiverr also lets freelancers sign up for free. However, for sellers, the platform takes a 20% cut of the total Gig fee once the seller completes the order.
Trustpilot Rating
All three freelance platforms have achieved good ratings on Trustpilot. Trustpilot bases its ratings on the age and number of reviews, along with whether or not a business asks customers for reviews. For instance, as of this writing, Voices has a 4.1 rating based on 464 reviews. Many positive reviews commend its swift customer service, user-friendly website, and its available resources for freelancers looking to get hired.
Upwork's Trustpilot rating is slightly higher at 4.5. Users praise the website for the ease of verifying freelancer accounts, the overall trustworthiness of the platform, and its vast network of freelancers. Lastly, Fiverr has a Trustpilot rating of 4.0. According to the reviews, Fiverr buyers seem to trust the platform for hiring talent that can deal with tough deadlines.
What is the best freelance platform?
The answer to which among Voices, Upwork, and Fiverr is the best freelance platform significantly depends on your unique needs as a company or a freelancer. For instance, if you're primarily interested in hiring freelancers with experience in voice acting or audio production, you'll find that Voices best serves your needs. Voices' search engine and filters also make it easier for clients to hire the voice talents they need.
Meanwhile, companies interested in hiring freelance web developers and virtual assistants might find Upwork more useful. Upwork is also helpful to clients looking for freelancers who are willing to work on long-term contracts. Plus, Upwork also comes with built-in time tracking tools to help clients monitor freelancers' progress on projects.
Fiverr is a great freelance platform for businesses of all sizes. Even solopreneurs looking for fast services, such as logo design will find the services they want on Fiverr. This is also the ideal freelance platform for employers who want to search for freelancers instead of posting jobs.
Each of these platforms offers unique strengths and areas of expertise. Whichever you choose as a client, you get access to a vast pool of freelancers with the skills you need.