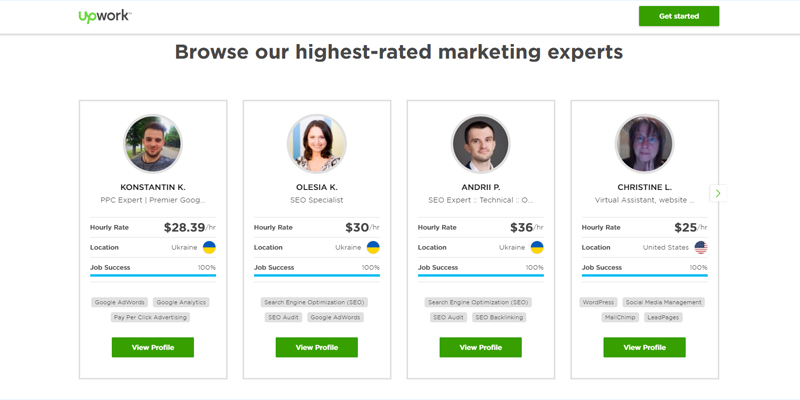 The main benefits of Upwork are its stable functionalities, mobile support, and secured payments. Let's itemize the details below.
Efficient Search and Reviews
If you are an employer and you need a freelancer for a certain project, you do not have the time to look at and investigate a sea of profiles. Upwork's algorithms help you narrow down your search for the best potential hires for your job. The platform already meticulously reviews those that are in your profile list so that when you do your own review and interview, you would only be spending time with the best of the best.
Intuitive Working Platform
When you want to contact your freelancer(s), you can do so using Upwork's native messaging system. You can send and receive files, collaborate, and even give feedback on a current job being performed in real time. The platform supports both text and video communications. Important exchanges can be carried out in these forms.  
Furthermore, Upwork is also available on mobile both for iOS and Android devices. Being on the go will not stop you from keeping in touch with your freelancers so that you can review their performance or even send your payments on time.
Accurate Billing
Freelancers send billings to their employers for the hours that they spend working as per agreed upon in their contracts. Upwork makes sure that employers are billed fairly by making reviews of each Work Diary possible. Employers can track billable time and even have access to the screenshots captured. In this way, employers will only pay the right amount for the right amount of hours rendered by the employee.
Safe Payments
Employers can fund their accounts prior to the deadline. As soon as the freelancers' jobs are reviewed, employers can promptly pay for their work and hours thanks to the automatic payment scheme. Other employers prefer different means and this is also accommodated by Upwork. Credit cards and other electronic payments are supported. In this way, you can pay your employees using your preferred and trusted payment type.