Business Intelligence (BI) tools are great in a way that it doesn't matter if you have 10 or 10,000 employees; you will surely be able to find value in them regardless. You can use the system in formulating strategies and making business decisions through analysis, collection, and transformation of data into something more meaningful.
One such BI solution capable of that feat is QlikView. It's a tool that can turn data into knowledge and is being used by over 24,000 organizations worldwide. However, just like other tools, it does have its limitations. If you're a user of the product and are looking for something equally good or better, we've listed the top 7 QlikView alternatives for you to get into.
What is QlikView?
QlikView is a BI solution that offers data storage, multi-dimensional analysis, and ETL (extract, transform, load) functionalities. This tool is most useful for BI managers and developers as well as people who work in social and civic organization industries. It empowers users to create their own analytics system through the information and insights that the QlikView guide gives them. With this, organizations can quickly respond to requirement changes. As such, QlikView is considered one of the top business intelligence software in the market.
The software also ensures the smooth data flow between various systems by providing you with custom and default data connectors. The same goes for the open database connectivity connections it offers. QlikView also features an open API, which makes it compatible with practically any software ecosystem. This also removes the need to juggle different tools to efficiently process data.
QlikView offers several pricing plans, some of which are free. It also provides several deployment options. Cloud business starts at $15 per user/month.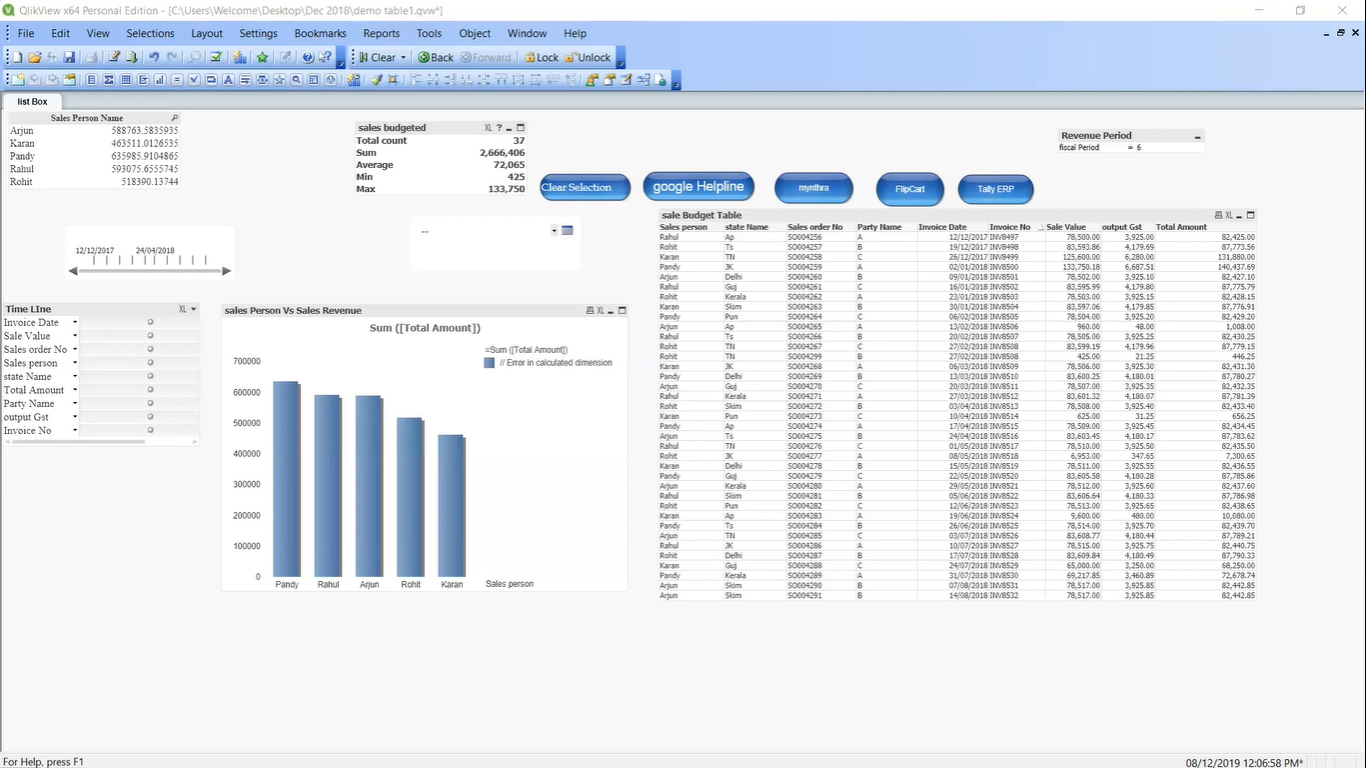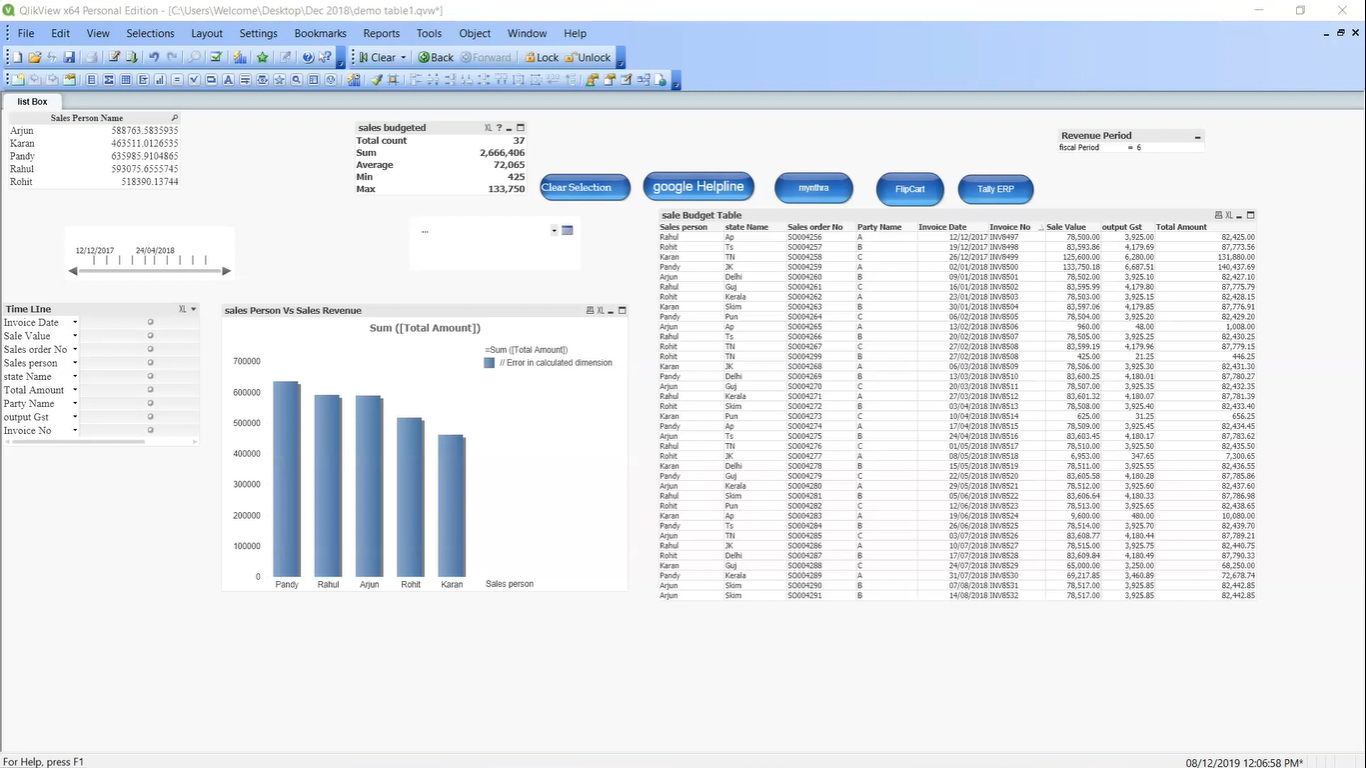 Difficulties of Using QlikView
One of the most prominent problems that QlikView users cite is how it gives them a hard time when operating the system. They compare it with other BI tools and think that the system's UI design is less intuitive. This is especially true when it comes to charts because non-programmer users will have to rely on programmers to create one. There are too many configuration options as well, which can become overwhelming to new users in particular.
With that said, QlikView is a good data analytics solution and can get the job done. However, if this platform isn't performing within your expectations, it's understandable to look at better options. For that purpose, we have compiled a list of topnotch QlikView alternatives that you can immediately give a try.
QlikView Alternatives
1. Looker
Looker is a data-discovery solution that offers innovative data exploration features for both small and large businesses. It provides you with access to its online interface that allows for the production of real-time insights into your operations. Reports are also easy to create and share on the go. This makes collaboration easier since all interested parties can easily contribute to important discussions about their projects' progress. Furthermore, you can conduct data analysis efficiently which is important when making business strategies.
Furthermore, users can personalize their workspaces so that all the tools they need are easily within their reach. The system also supports visualization of data by providing inexperienced users with a mapping feature. This lets them prepare technical visualizations as well as import or export data to and from the system.
The platform provides an open API that allows you to integrate it with third-party or custom apps. There's also no fixed pricing available so you can contact the vendor to get a quotation suited to your business.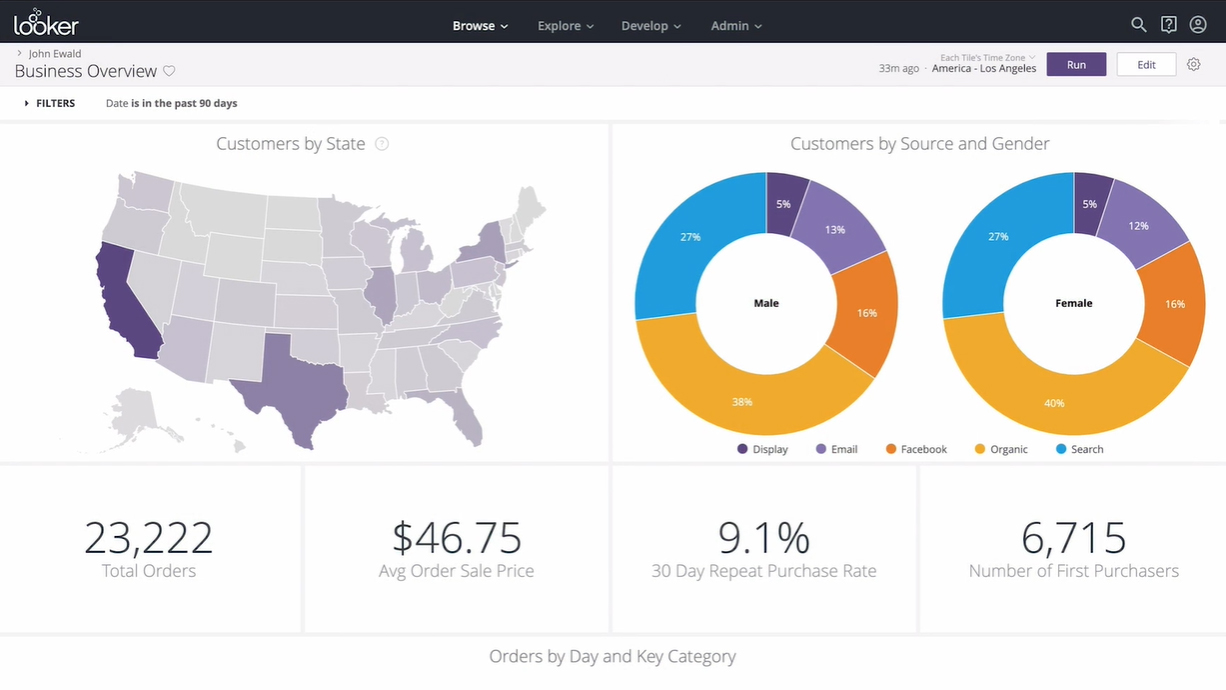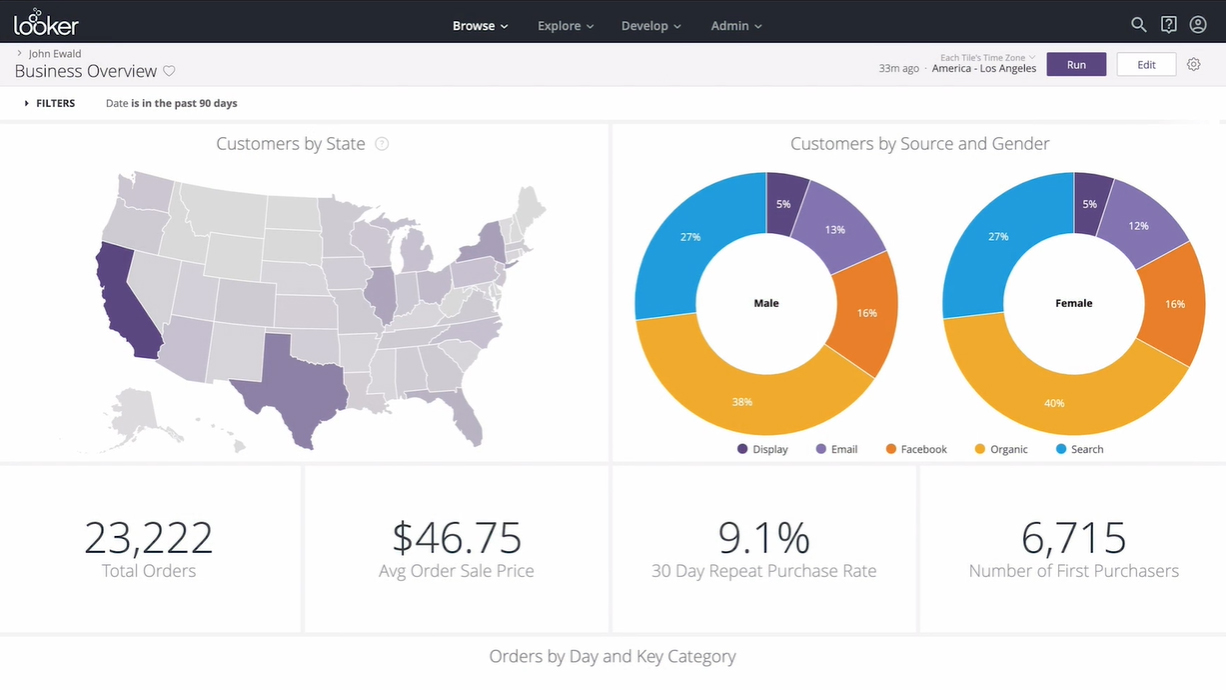 2. Databox
Databox is a powerful BI solution for individuals who work in the IT, advertising, and marketing industries. It boosts users' capabilities to monitor and report their KPIs, thanks to its visually appealing and mobile-optimized dashboard. The system also features one-click connections that allow you to quickly get data from popular cloud-based software solutions. You also have the option of connecting your data with the help of Databox's SDK and API tools.
The software also features 200+ pre-built reports that you can further customize through its DIY Dashboard Designer. Additionally, Databox allows any user to link data from any source and use it to calculate new ROI, conversion rates, metrics, etc. All of these are done without any form of coding.
Databox offers scalable pricing, which starts at a free forever plan. It also features basic, plus, and business packages starting at $49/month.
3. ActivTrak
ActivTrak is a tool for team leaders, HR and IT managers, and business owners who want a solution that can monitor their teams' productivity. It provides reliable behavior analytics that focuses on your teams' performance. The system is capable of stealth monitoring as well since it's practically invisible to the computer units you track. It won't show even when your staff looks at the task manager. This way, you will be having accurate data on how your employees are spending their time in the office.
The system can integrate with your stack through webhooks. You can use Raw Data Access to push your behavioral data to your BI tools. Furthermore, ActivTrak offers two pricing plans: free and advanced. The former contains all the core features for up to three users and is free forever. The latter starts at $7.20 per user/month.
4. Tableau
Tableau is a revolutionary tool for business intelligence, which enables businesses to quickly link, visualize, and share data. Its smooth drag-and-drop interface ensures seamless user experience across your company devices – from iPad to PC. The system allows for the creation and publication of dashboards that you can then easily share with customers, colleagues, etc. All of these do not require a single line of coding.
There are Tableau products and deployment for all business scales. For instance, Tableau Creator is ideal for individuals that want to discover end-to-end insights faster. The system is also available on-premise, via cloud or Tableau-hosted. Furthermore, the vendor provides free training to your employees to ensure that they'll be using this powerful solution to its fullest.
Tableau offers a variety of pricing packages for individuals, teams, and organizations, as well as for embedded analytics. It starts at $12 per user/month. Free trial and add-on purchases are available as well.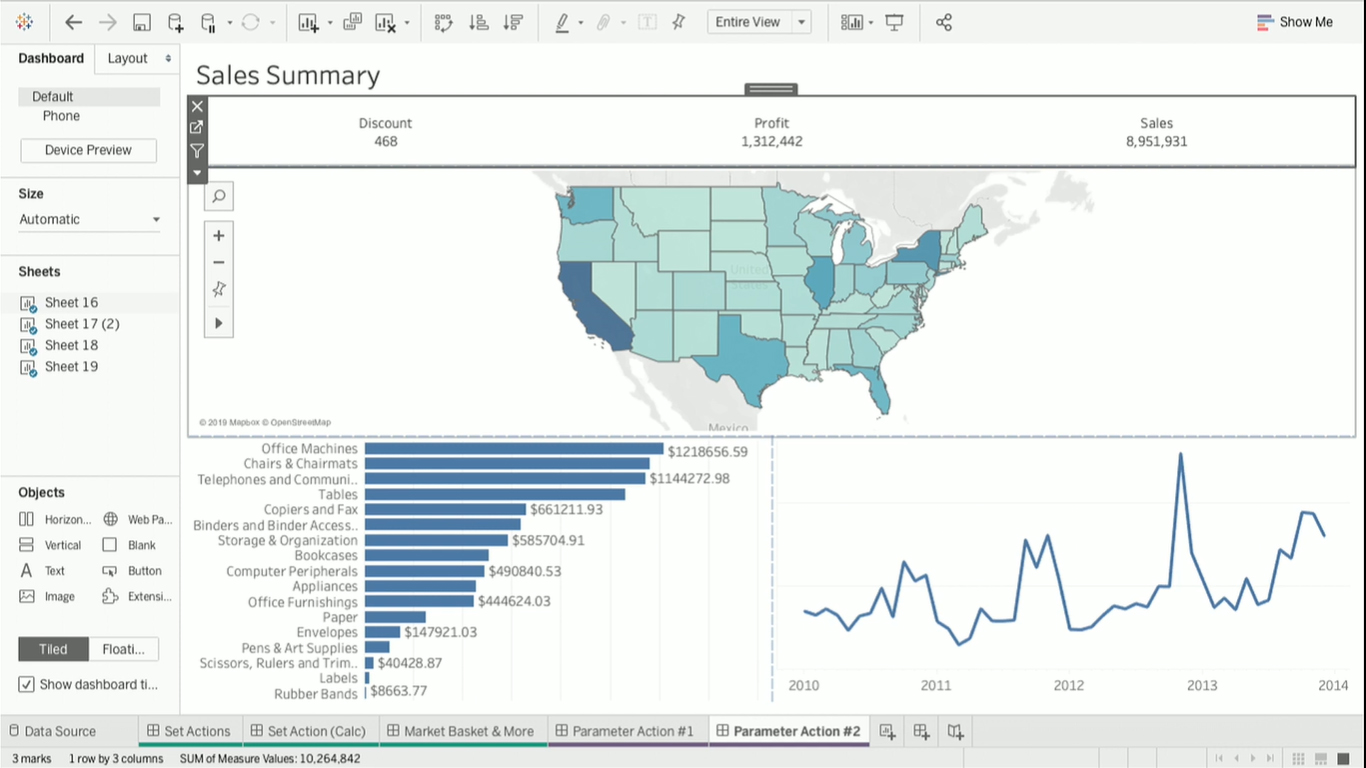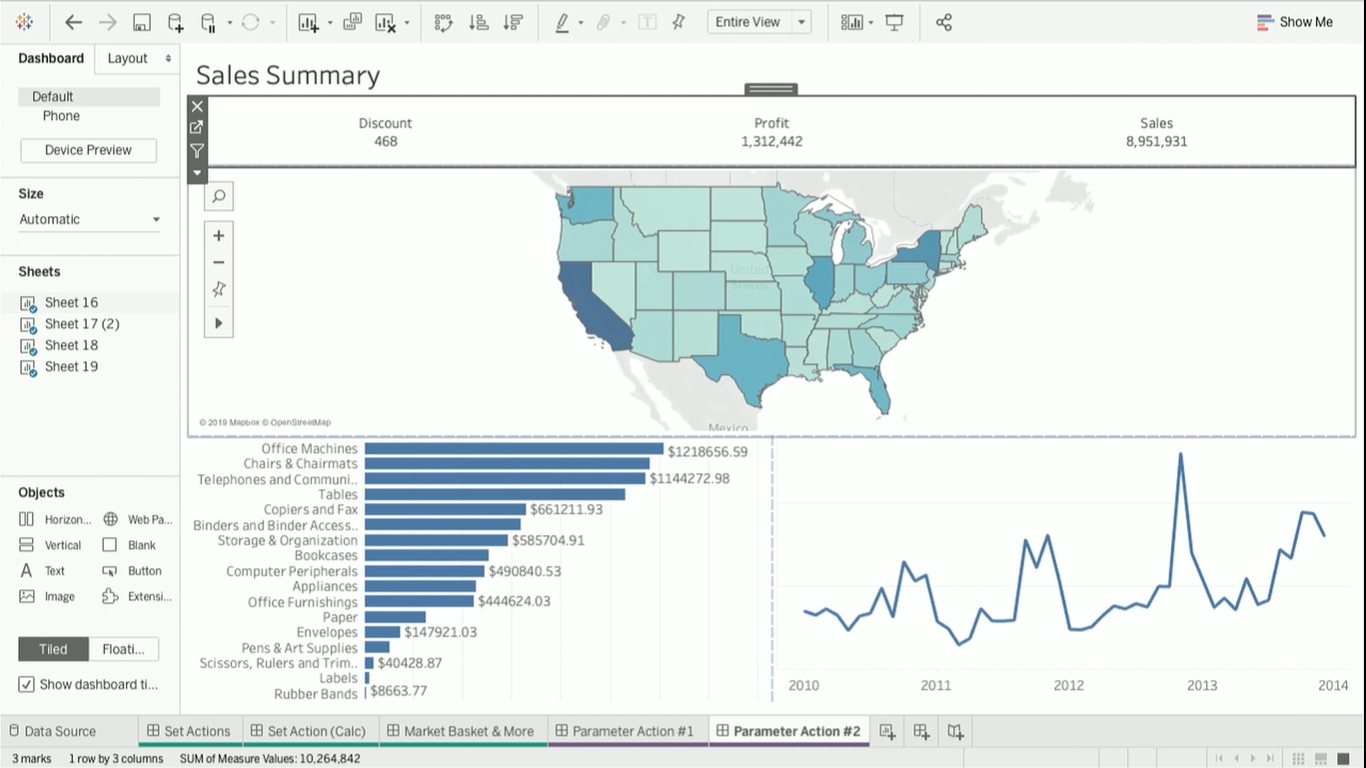 5. ChartMogul
ChartMogul is a business intelligence solution that works well with large user bases and those who are trying to grow their subscription service. That's because the system can derive deep understanding from your customer base and generate intelligent insights from it. Thus, it's able to use real-time metrics, segmentation, analytics, etc. to efficiently measure the lifetime value of customers as well as their churn rate.
Moreover, this BI tool is helpful in quickly determining the factors that make customers churn, downgrade, and upgrade their subscriptions. You can also use this to ensure that your billing and metric systems are always up-to-date by syncing it with your subscription data.
ChartMogul integrates with various business systems to ease out the process of importing and exporting customer records. It also natively integrates with Stripe, PayPal, and Shopify. The product is available through scalable pricing plans, which start at $125/month. For those with less than $10,000 monthly recurring revenue, the system is free.
6. Cluvio
Cluvio employs R and SQL to help businesses of any size to maximize their data usage and extract valuable information from them. The insights generated by the platform can be used by decision-makers to form smarter, data-driven decisions that will give their company the ever-needed competitive edge in today's business landscape.
At the system's core is the interactive dashboard, which you can treat as your analysis cockpit. It allows you to make queries and filter the results. Afterward, you can visually display the data in the most engaging and comprehensive way through the plethora of professional charts it offers. Dashboards are easily shareable as well, which makes collaboration as easy as sharing a link.
Cluvio works well with various databases, including Oracle, Google Cloud, MySQL, Amazon Web Services, and more. Moreover, the vendor provides pricing plans for teams of varying sizes, starting at $279/month. There's a package for a single user too, which is available for free. You can easily switch between the plans whenever necessary.
7. Kyubit Business Intelligence
Kyubit Business Intelligence is a flexible business intelligence solution that is most suitable for IT consultants, database admins, and reviewers in the computer and pharmaceutical industries. The platform itself is pretty easy to use, but the setup process might require some BI or data analytics knowledge for maximum impact.
The system allows for the creation of reports and dashboards from your CSV, SQL, and OLAP data. You can also convert them to analytics models that you can use for self-service data exploration, analytics, visualization, and sharing. This is easy to achieve, thanks to the system's user-friendly drag-and-drop mechanic. The BI tool is also accessible via your mobile devices and browsers.
Kyubit BI offers a personal edition, which is for a single user only and has limited features but is completely free. Additionally, subscription and permanent licenses are available starting at $295/year.
Try These Business Intelligence Tools Out
You might have noticed that almost all of the products mentioned here offer free standalone versions. For startups and small teams that only have basic business analytics needs, this can be a permanent setup. What's more, even those that don't offer a free plan have a free trial at the very least.
This allows you to test each product, which has caught your attention to ensure that they are good QlikView alternatives. If you don't know where to start, you can always try the top product on the list: Looker.