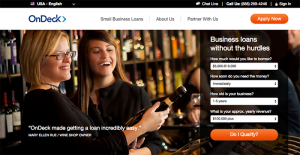 OnDeck was launched in 2007 to provide financing to small businesses. It uses the latest technology and evaluates businesses on their actual performance. OnDeck has delivered more than $2 billion in credit and helped more than 30,000 businesses in 700 industries.
OnDeck states that its first $1 billion in loans created 22,000 jobs and pumped $3.42 billion into the U.S. economy. It provides loans in the U.S. and Canada. OnDeck has a Better Business Bureau rating of A+. It was ranked number 11 on the Forbes 100 Most Promising Companies List.
Eligibility Criteria
To qualify for an OnDeck loan, your business should meet the following criteria:
1+ year in business
$100,000+ in annual revenue
500+ FICO score of the business owner
How is the lender different?
OnDeck provides business term loans and lines of credit. There is one application for OnDeck financing and the lender's system evaluates which one best suits your business' needs and credit profile.
OnDeck states it is faster than a bank, and better than a merchant cash advance. Unlike banks, OnDeck can take decisions in minutes and it values overall business performance – not just personal credit score. And unlike merchant cash advances, OnDeck builds your business credit and deducts fixed daily or weekly payments, instead of a batch percentage of your sales.
How much are the rates and fees?
For term loans, OnDeck's rates average about 15% of the total loan amount. It charges an origination fee of 2.5% of the total loan amount on the first OnDeck loan. Loan renewing customers get a discounted origination fee.
For lines of credit, OnDeck's rates average about 10% of the total amount drawn. There is a $20 monthly maintenance fee that is waived for the first six months if you draw $5,000 or more within one week of opening your line.
How to apply for a loan?
OnDeck has a simple and fast application process. You can apply online or call (888) 269-4246 to get started.
Lender Details
Most recurring positive comments
Great customer service
Knowledgeable staff
Easy and fast process
Most recurring negative comment
Website: www.OnDeck.com
Loan amount:
Term loans: $5,000 to $250,000
Line of credit: Up to $20,000
Loan Period:
Term loans:  3-24 months
Line of credit: Payments are made over 6 months.
Areas being served: OnDeck works with businesses in all 50 U.S. states as well as Canada (except Quebec).
Personal and business information required
OnDeck requires basic personal and business information. Depending on the loan amount, it may also ask for:
Bank statements for the previous 1 to 3
Business Tax ID
Credit card statements for the previous 3 months
Driver's license number and state of issue
Social Security number of business owner(s)
Contact details
Phone: (888) 269-4246
Email: [email protected]
Office address: 1400 Broadway, New York, NY 10018, United States