Most companies or managers will do some research about a particular software before buying it and the best and most common source of such a research is user reviews on various online platforms. Popular SaaS review directories can aid their users in making a better purchase decision, and it's common knowledge that products with lots of positive reviews and high ratings from experts sell better. Plus, high ratings can boost a product's popularity as well as it search ranking in Google.
There are many review platforms that focus on SaaS and B2B solutions. These sites offer customers and companies a chance to provide informative user reviews to other potential customers. Popular B2B review platforms can help people select suitable B2B solutions for their business. On the other hand, B2B vendors stand to gain a lot by ensuring their product is listed in the leading SaaS review sites particularly if they can ensure good ratings and can count on good user reviews.
One of the popular platforms of this type is Merchant Maverick, a rating and review site for merchant related software and services including mobile processors, shopping cart software, POS software, and merchant accounts. The website does in-depth research of all the companies they review. It also publishes informative general articles about the industry. However, their platform is not the only popular review site you should consider for listing and marketing your product. In this article, we'll discuss the most popular Merchant Maverick alternatives that can yield you good sales results. But first, let's have a look why such sites are beneficial in the first place.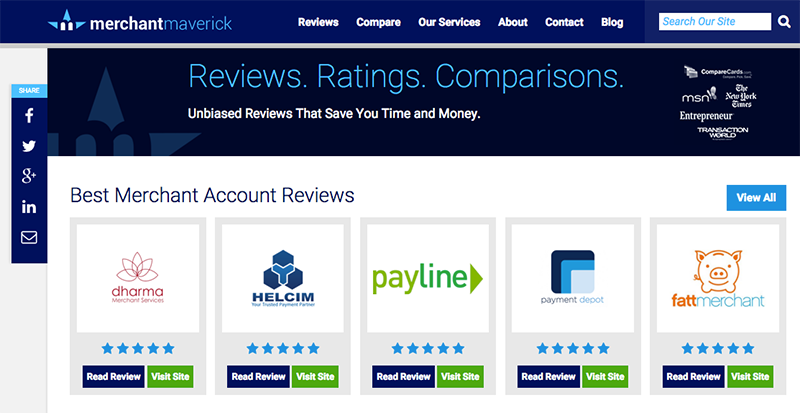 Social Proof Is Important To Boost Sales
Customers will buy your product if they trust your company. B2B buyers, especially, research products online, check out reviews, read testimonials and social media posts, and verify customer rants. A survey made by Google/CEB's Marketing Leadership Council shows that B2B buyers contact a vendor only after they complete 57% of the buying process, which means they read a lot of info about your product on independent sites such as review platforms before they even consider getting in touch with you directly.
Before the internet era, establishing social proof consumed a lot of time and money for businesses. But, now your product can simply get listed on a B2B review website to gain both user and expert social proof. These websites host expert and customer reviews of products that are read by hundreds of visitors daily.
They Are A Crucial Source Of Information For Customers
Company executives usually do not have the time to visit the websites of multiple B2B products to select a suitable system for their company. Plus, they may not have knowledge about the best applications which for many reasons may not show up in top of Yahoo or Google search results. A survey made by BrightLocal shows that about 85% of customers read up to 10 product reviews before they trust a company. B2B directories are a popular research choice for many executives because that provide valuable insights on products and companies in a single place, so they don't have to waste time researching each product individually. Instead, they offer the easy way to quickly compare the various alternatives side-by-side.
Review sites are also considered more objective compared to products' official websites. These review websites rank high in search engines and sometimes a review page of a product on such a site can even rank higher than a product's official website. A State of Demand Generation study made by Pardot shows that many B2B buyers use online search to research products, which allows these review sites to gather potential customers and send them to the landing page of the products that market on their platform.
Now let's discuss the most popular B2B platforms out there:
1. FinancesOnline.com
FinancesOnline.com is one of the most popular B2B and SaaS software review directory that lists hundreds of well-known services and attracts thousands of potential clients on a daily basis. The platform uses a unique proprietary algorithm to determine each product's quality based on a wide range of metrics. The SmartScore system evaluates such apects as: main features, mobile devices support, quality of customer support, customization possibility, available integrations, security, collaboration features, etc.  
FinancesOnline is also a leader among B2B review directories, because it uses a Customer Satisfaction Algorithm, which takes gathers social media mentions, user reviews, and comments about a given product, and then calculates an overall customer satisfaction percentage rating for that product. This rating gives customers a good idea about the user social proof of a product across a wide range of media without the need to look for them on their own. If you don't have your product listed on the site it's very easy to add it to their database. You can simply request a review here.
What is more, FinancesOnline experts often distinguish products they like with a wide range of industry awards, trust marks, and quality certificates. If you're a B2B vendor getting such an award can be a huge advantage. Industry awards such as Supreme Software or Best Project Management Software of 2016 will be an effective proof of your product's quality, thus helping you grow more trust and brand awareness. Awards will also directly influence how well you fare among competitors on the review site. With many software categories containing hundreds of options having an award is usually the best way to get the attention of a potential customer. If your product doesn't have any award yet it's usually possible to get one. Even fresh startups can showcase some unique feature or quality that merits an award. You can try to present your product in a good way (focus on your unique strenghts) and apply for an award for your product on the website.
The platform also provides various marketing possibilities to vendors who may be interested in promoting their solutions on the site. Vendors can benefit from an effective PPC campaign that will send potential clients to theirs website. Such leads will very often convert into actual clients (the average conversion rate for a product is 14%). Other aspects offered by FinancesOnline include publishing promotional content about your product, a more thorough and comprehensive review presenting your distinct strengths and features, blog posts as well as media promotion. It is also possible to acquire premium positioning for your service and have it presented as the best alternative when people compare your competitors' offers. Such highlights will usualy have a very big impact on your sales results. If you'd like to learn more about effective ways to promote your product you can request a review here.
2. IT Central Station
IT Central Station is a crowdsourced review website that publishes independent, user-generated reviews of B2B and SaaS applications. One of their unique features is they verify the identity of reviewers who write user reviews before publishing them. It's a dynamic platform that provides relevant information to a wide group of enterprise technology users. 
IT Central Station is designed for enterprise technology customers and offers various recommendations, reviews, tips, and expert advice for potential clients. It publishes relevant and objective information to guide buyers in making the best software investment decision. The website also offers marketing services including advertising and lead generation solutions.
It's very important that their site does not allow anonymous users to post reviews on the site. It only allows knowledgeable experts, real users, and independent consultants to share their feedback and expertise on the community site which makes their content very credible for potential clients.
3. Capterra
Capterra is a very popular platform that offers B2B and SaaS software reviews and comparison services to enable buyers to see how the selected systems fare compared side by side. With their help buyers can easily select a system that meets their business needs and also connect directly with vendors they're interested in. The site lists at least 300 software categories and offers blog posts, buyer's guides, and user reviews to help buyers evaluate a wide range of software services.
Capterra also helps B2B software vendors engage buyers more productively. An overview of their services offered to vendors reveals a range of lead generation possibilities.
4. G2 Crowd
G2 Crowd is a platform that gathers user reviews of a vast selection of leading business software solutions. Potential clients interested in enterprise technology as well as analysts and investors are able to benefit from their synthesized social data and review collection to easily compare and choose the most reliable software and services.
The platform enables B2B software users to share their reviews, experience and feedback in real-time. It gathers an active community of highly-motivated users who authored more than 25,000 authentic user reviews. They share reliable reviews that are an excellent way to tap collective knowledge that businesses across the world can benefit from to make sound decisions and purchase the best software possible. G2 Crowd also adopts a grid-based scoring methodology to facilitate the process of finding the ideal solution for specific business demands. B2B software users can easily contribute their own reviews to win rewards and earn recognition as an expert. A LinkedIn account is used to verify each user's identity and affiliation.
5. Ombud
Ombud.com is a community-based website. On this platform customers can contact product users, analysts, and B2B vendors to ensure they select a product that matches their business needs. They can also customize their research based on specific requirements. It is also possible to compare top solutions side-by-side to immediately see their strengths and drawbacks.
Ombud also plays the role of an online intermediary between customers and vendors, providing complete transparency of the features and unique aspects of an application, readily compared with its leading competitors. Ombud also sells its services to B2B buyers to help them gain greater return on investment when they purchase a certain application. The website is known for closely working with vendors.