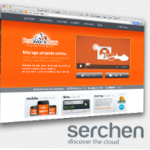 A lot of customers rely on online review websites to acquire trustworthy information about the things they want to buy and use such reviews as a factor reinforcing their purchase decisions. Those seeking to invest in B2B and SaaS solutions will most often resolve to the same strategy. Such buyers base their buying decisions mostly on peer recommendations and user reviews. They will ask their colleagues for recommendations and read about experience actual clients had with a particular app. In a study published recently by Capterra research reveals that 71% of B2B software buyers ask their peers and colleagues about product details and recommendations first. Another survey by a technology review site Software Advice and Research Now shows that 87% of large enterprises consult online reviews before deciding on B2B software purchases.
As a result, review sites like Serchen.com are widely used by B2B customers as online reference resources. Serchen boosts the knowledge of buyers about product features and benefits, and helps them make educated purchase decisions. Buyers can learn important details about the product implementation process and other facts they wish to know about. The platform hosts a community of buyers who provide advice via ratings and reviews about thousands of cloud service providers around the world. The website itself offers a combination of quality data and user reviews, which makes it one of the leading destinations for cloud service buyers. It also helps software vendors as they can make use of the user reviews and customer feedback on this site to improve their product's features and functionalities.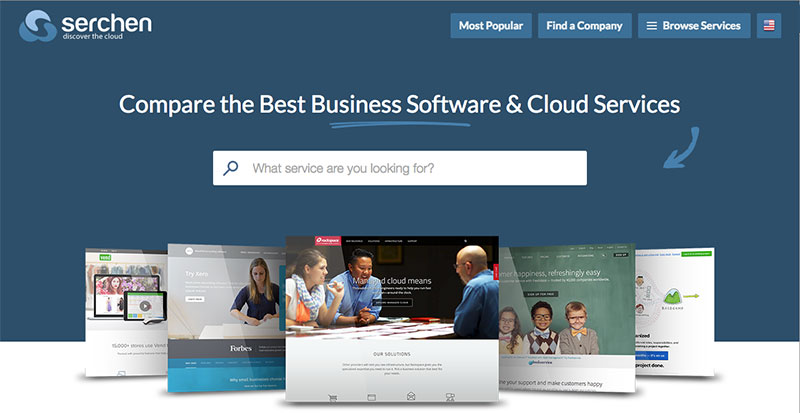 However, apart from Serchen, there are quite a few other high quality B2B review sites that you should consider getting listed on. As a matter of fact, B2B vendors should ensure their product is listed on all major review sites to maximize their exposure and sales. In this article we'll describe five great alternatives to Serchen and the benefits they can bring to you as a vendor. Here are the best Serchen alternatives:
1. FinancesOnline.com
FinancesOnline.com is currently fastest-growing online B2B review directory. Their platform offers independent, unbiased reviews of thousands of popular SaaS products. In addition to user reviews, it also has an in-house team of experts who prepare comprehensive and thorough product reviews and guides to help buyers make good decisions.
FinancesOnline.com is a proactive website. It constantly looks for new products and services to review. B2B vendors can gain a lot by getting their product reviewed on FinancesOnline.com as a high score can significantly improve the application's reputation and gain them a number of promising leads. You can use the site's search tool to check if your product is listed. If it has not been reviewed, you can easily request a review of your product.
FinancesOnline.com stands out from other review websites because it uses a proprietary algorithm to analyze product's value based on a variety of metrics. The SmartScore System provides a conventient summary score after evaluating the key functionalities of a product as well as other important factors such as customization, customer support, collaboration tools, and integration with other apps. The site also uses a sophisticated Customer Satisfaction Algorithm that analyzes user comments and social media mentions about your product and gives buyers an overall percentage figure that shows the general customer satisfaction with your application. This score helps buyers easily assess the user social proof for the software.
FinancesOnline.com's Verified Quality Seal is displayed on the review page of your product and the vendor can also show it on their own product site. The seal guarantees that your software is of high quality and has received good marks from independent and credible experts. Marketing research stats show that using this trustmark can improve product sales by about 14%.
FinancesOnline.com's team of experts also hands out industry awards, quality certificates, and other trust marks. You can gain a lot by getting one or more of these for your software. These awards provide solid proof of the quality of your software, which can help you boost customer trust in your product. These quality awards can also make your product stand out among the competitors on the website. They can help your product grab customer attention by differentiating it from the scores of other apps reviewed in each software category. If your product has not received an award, you can contact the website and request an evaluation for a quality award or certificate.
FinancesOnline.com also offers a variety of marketing features to help vendors promote their product. You can benefit from an efficient PPC campaign that directs quality leads to your website that can then convert them into clients and signups (the average conversion rate for an application is 14%). Other marketing features include promotional content about your software, a detailed review discussing the product's unique strengths and functionalities, media promotion, and blog posts. You can also benefit from premium positioning for your product on the website and have it suggested as an alternative when customers read about your competitors' products. Using these marketing features can significantly boost your sales figures. If you wish to learn more about effective methods to promote your software, you can request a review here.
2. Capterra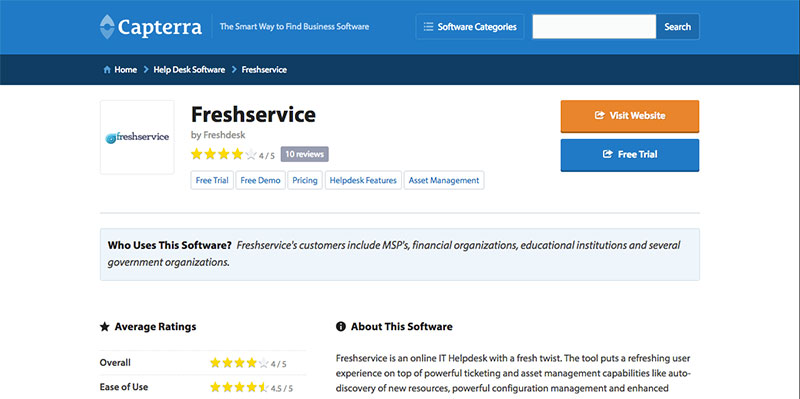 Capterra.com helps buyers find the right software for their needs by enabling them to identify and easily navigate all the available choices. The platform also helps software vendors reach these buyers more effectively.
Capterra helps buyers connect with the right software vendors and software vendors can profitably engage prospective buyers to boost their sales. The site lists products in more than 300 software categories and offers a large number of buyer's guides, blog posts, and independent user reviews. Its panel of experts can further help buyers by providing them with a suitable shortlist of products that meet their specific requirements.
3. IT Central Station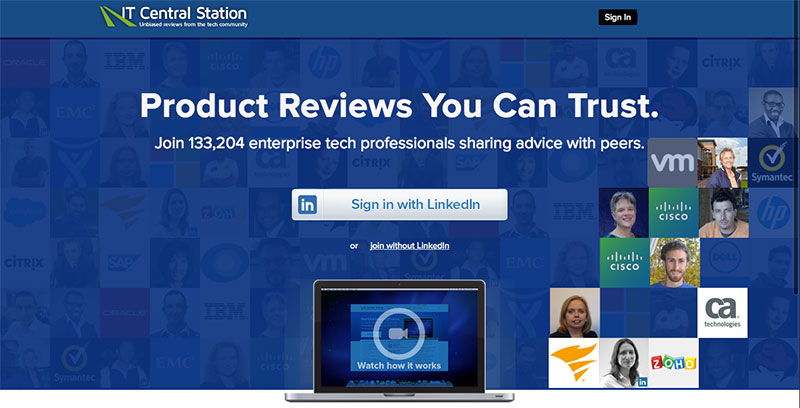 IT Central Station is the brainchild of Russell Rothstein and Naftali Marcus who founded this website to offer a better method for enterprise professionals to decide which technology solutions to invest in. IT Central Station is a crowdsourced knowledge website that helps global technology decision makers easily connect with independent experts and peers who offer advice without vendor bias.
Technology professionals need a trustworthy source of information about B2B and SaaS products. Technology end users need a website where they can share their expertise and knowledge with other professionals. IT Central Station connects both as it is a dynamic community site that hosts recommendations, reviews, and expert advice for B2B software buyers.
IT Central Station is a dynamic, real-time platform that offers relevant, objective, and current user information. Users can either post anonymously to freely express their opinions or use their real names to showcase their expertise. The Wall Street Journal calls IT Central Station the "Yelp for enterprise technology."
4. G2 Crowd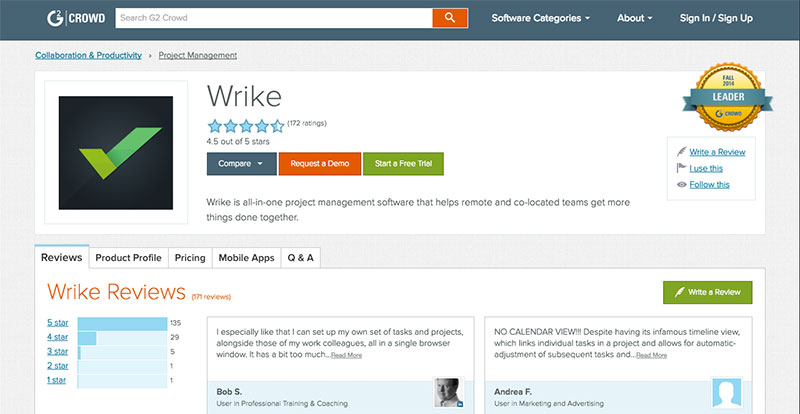 G2Crowd.com is one of the leading business software review websites. It hosts more than 60,000 user reviews that are read by nearly 600,000 software buyers each month. G2 Crowd makes use of the collective power of its user base to provide transparency to business buyers while evaluating B2B software products and technologies. The website uses The Grid system to score products on factors such as aggregated data, and insights from expert peers and everyday users.
G2 Crowd users enjoy a host of benefits. They get unfiltered reviews from actual users of software solutions. They can avoid hidden risks by getting an accurate picture of the product. Product rankings on the site can help them to start the vendor selection procedure easily. They do not have to rely on vendor-supplied references for expertise. Finally, product users can contribute to the global community and earn recognition as an expert.
5. Comparz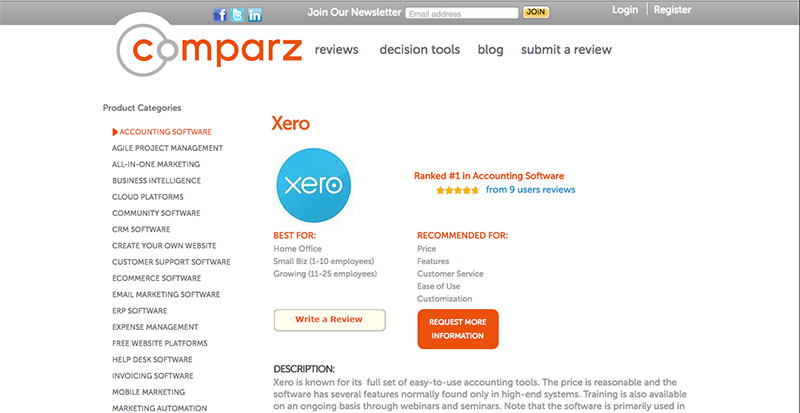 Comparz offers in-depth user reviews and rankings of software services and applications for small and mid-sized businesses. These services include email marketing, lead management services, web conferencing, and online data backup services.
Comparz's team makes it easier for you to make buying decisions by educating you appropriately about the pros and cons of each product. The website is constantly evolving to provide readers more effective ways to make sound investments to improve their business processes. Comparz provides clear and useful product reviews to help buyers avoid confusion while learning about product details and features.
Comparz's Decision Guides explain important facts and details about products and vendors in a simple way. The website identifies the top five products in each category and offers in-depth editorial reviews on the selected services.