Previously, remote work was always thought of as a low-paying customer service job, but as times have changed, it is now seen as a full-time career. With the help of technology, we can complete the same tasks from anywhere in the world. People are attempting to change to this technology all around the world. Businesses are attempting to enter this market in order to meet the changing needs of company employees and to integrate talent from across the world.
Why team collaboration matters in a remote setting?
To make the most from a group of employees, team collaboration combines project management with team collaboration techniques. This working method promotes collaboration, creativity, and engagement for the success of your remote team.
High levels of team collaboration  have a lot of advantages for businesses, such as more efficient meetings, happier employees, and increased adaptability. It also enhances abilities to perform certain job-related activities, increases job satisfaction, and helps employees to reach their professional and personal goals. 
When compared to other employees, remote teams may have a distinct perspective on your business, but as new technologies are developed, the gaps between remote and on-site team members are shrinking. Your remote team may work together in real time and get excellent results.
How is team productivity increased by collaboration tools?
When working remotely, many companies operate under the "work is more essential" philosophy, placing a low priority on methodological aspects like remote team collaboration. In these cases, it is acceptable to rely solely on emails and phone calls. Team who download numerous remote working tools, take the time to learn how to use them and teach other employees to do the same.
But do phone calls and emails ensure effective team collaboration and communication? Does it aid in the upkeep of work databases? Or permit timekeeping? Does it guarantee production integrity? No. Teams are increasingly at jeopardy of encountering a variety of operational missteps, communication breakdowns, and ultimately project failure due to these inadequacies.
Collaboration tools for businesses are made expressly to generate specific work norms can be a great benefit in this situation. By reframing workflows and tasks with better scheduling, concise objectivity, reducing communication barriers, and having more vital management tools, without sacrificing autonomy, the attributes, like automated time tracking, in-built applications for task making, constructing, connecting, attendance tracking, and file sharing, as well as accurate metric systems, are aimed at directing an entire workforce to be more efficient. Let's take a look at some of these apps for collaboration listed below to improve productivity while working remotely.
Top tools to increase the productivity of your remote teams
1. Chanty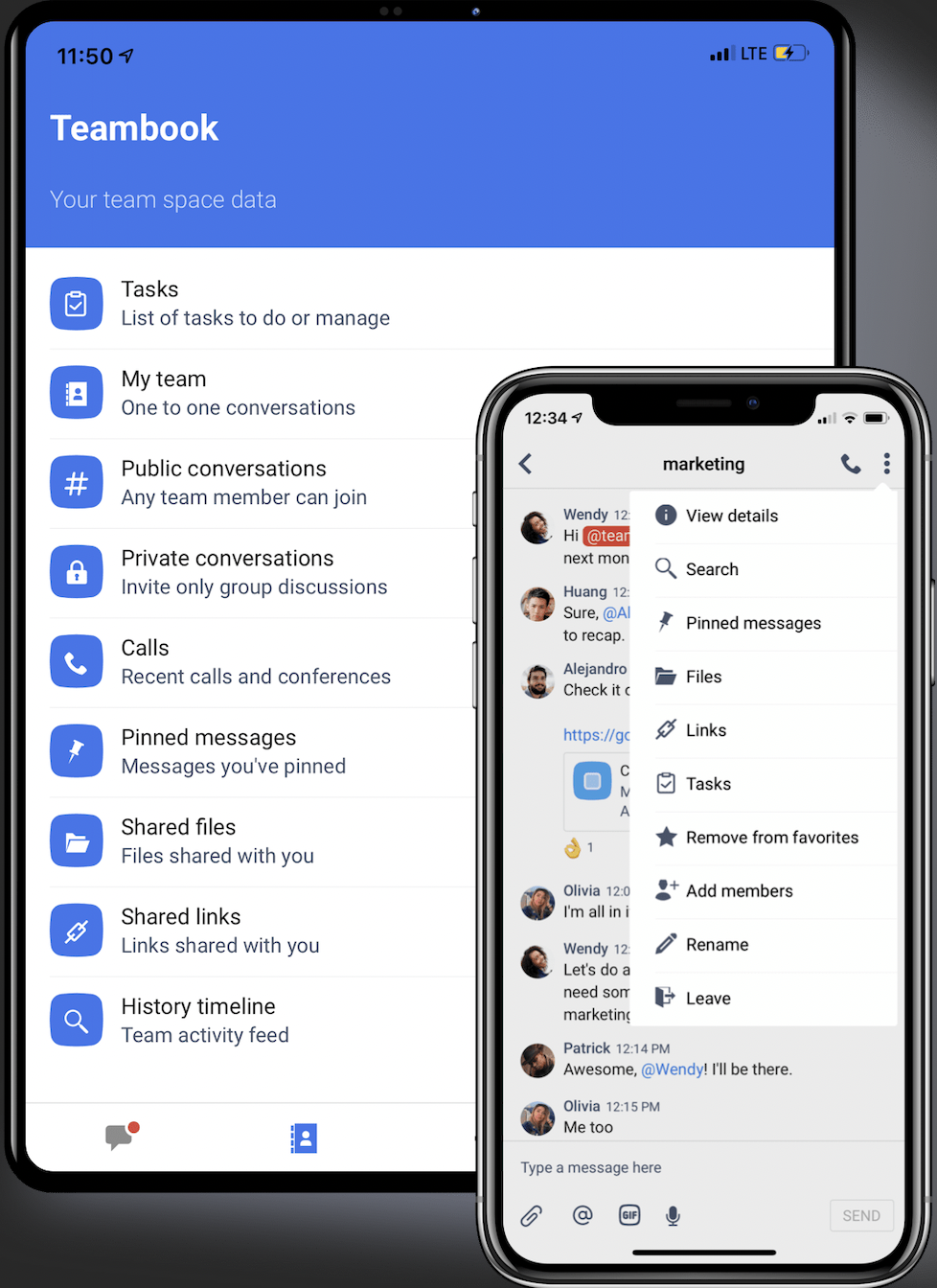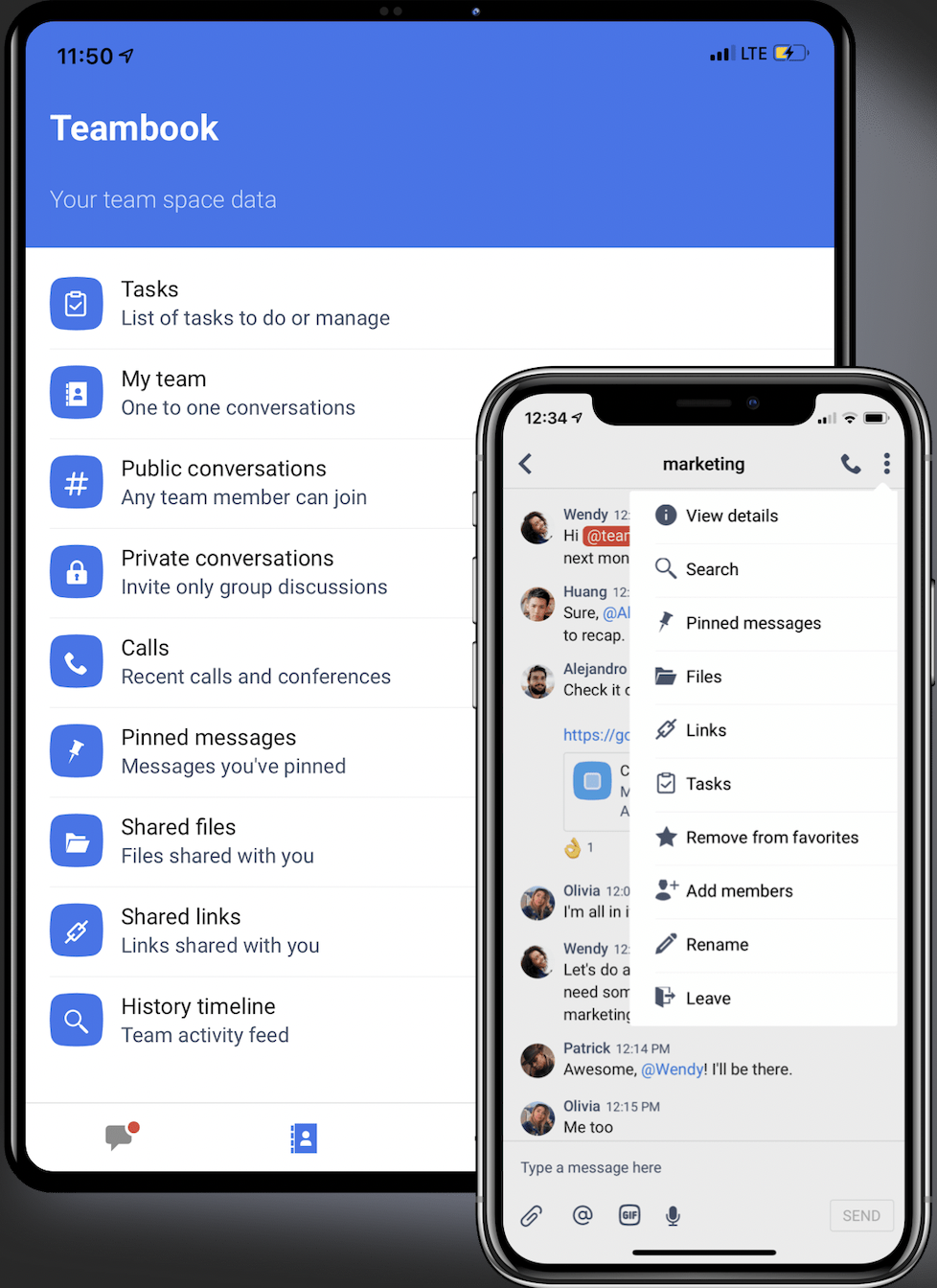 Chanty is a wonderful team communication and collaboration tool with a simple and intuitive design that promises to boost team productivity. You can seamlessly benefit from the well-organized chats in public, private, and one-on-one conversations. New and old team members can also take advantage of an unlimited searchable message history, smooth video and audio calling capabilities, and an intuitive user experience.
One of Chanty's most helpful features is the built-in task manager with the Kanban board, which aligns all your workflow in a clean manner. If switching between tabs at work is driving you crazy, Zapier can connect Chanty to any of the 1500+ available apps, converting your team conversation into a centralised notification area.
Main features
Voice messages

Searchable history

Audio and video chats

Personalized notifications

Unlimited message history 

Sharing and privacy features

Task management with Kanban board

Integrates with other project management tools
2. Hive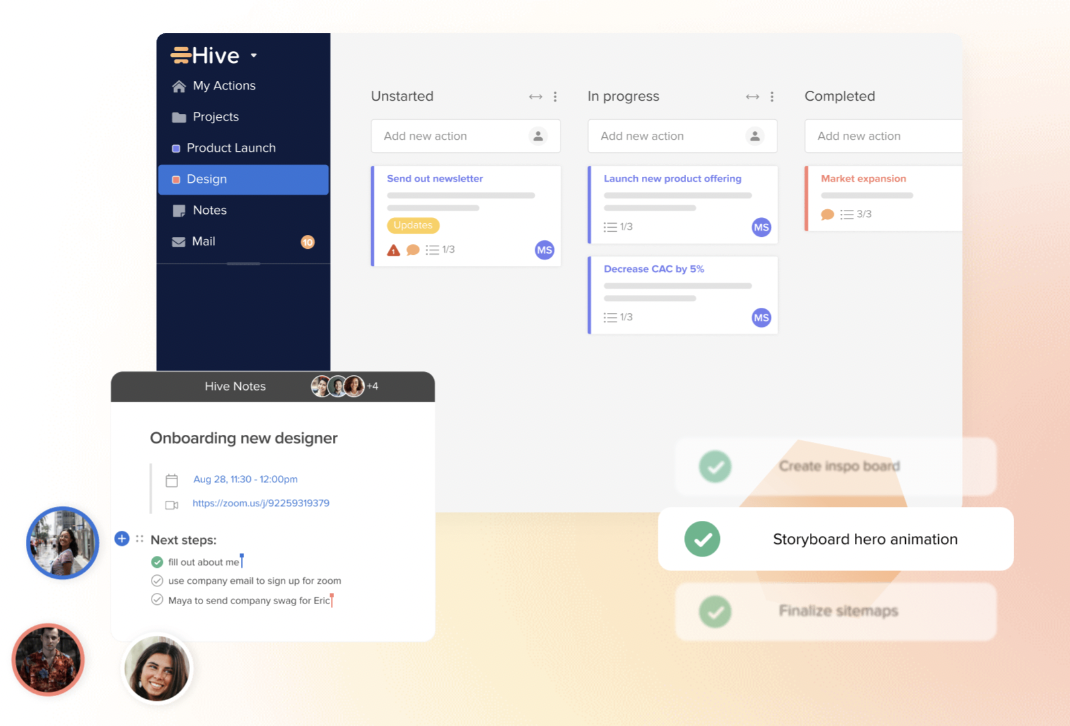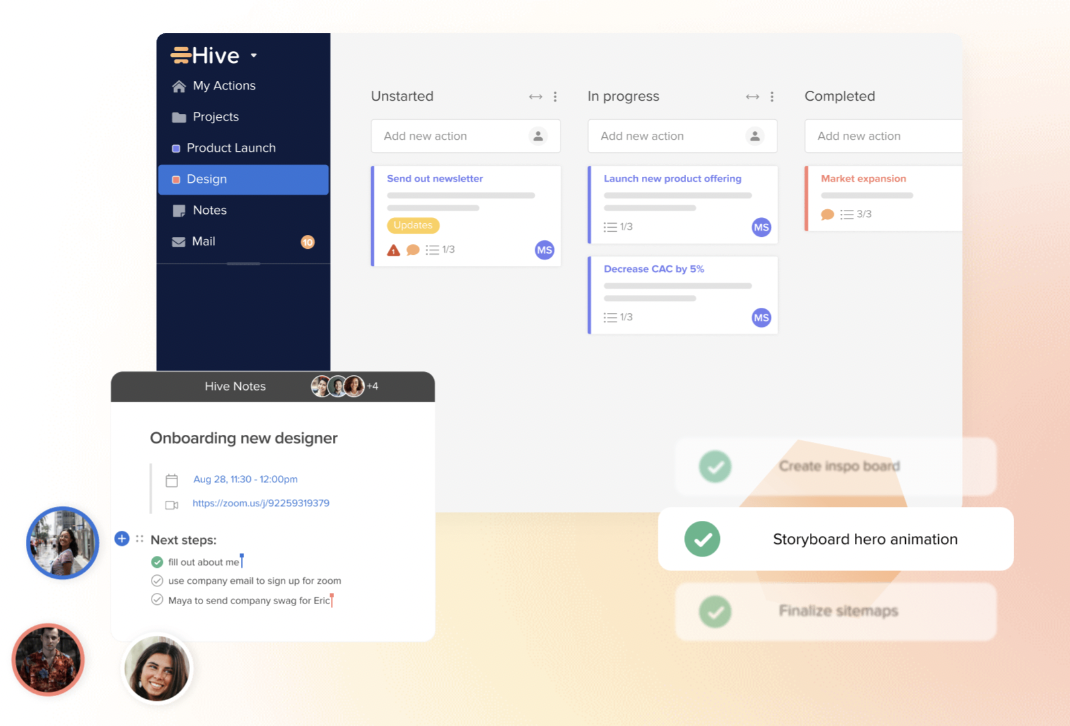 Hive is a cloud-based project management platform that can be used by businesses of any size to manage teams, optimize workflow processes, plan projects, allocate tasks, and collaborate.
Hive is the world's first democratic project management tool. Their product is built by those who want to use it, based on their requirements and feedback. With flexible task layouts, budgeting, group and one-on-one chats, and file transfer, Hive connects every aspect of your tasks.
The software integrates project management with AI, bringing together under one roof features like tailored workflows, automated task management, teamwork, and communication.
Main features
Hive calendar

Personal to-do-lists

Flexible project views

Ability to schedule meetings 

Give labels and group tasks

Time management capabilities

Multiple third-party integrations

Ability to prioritize important tasks
3. Venngage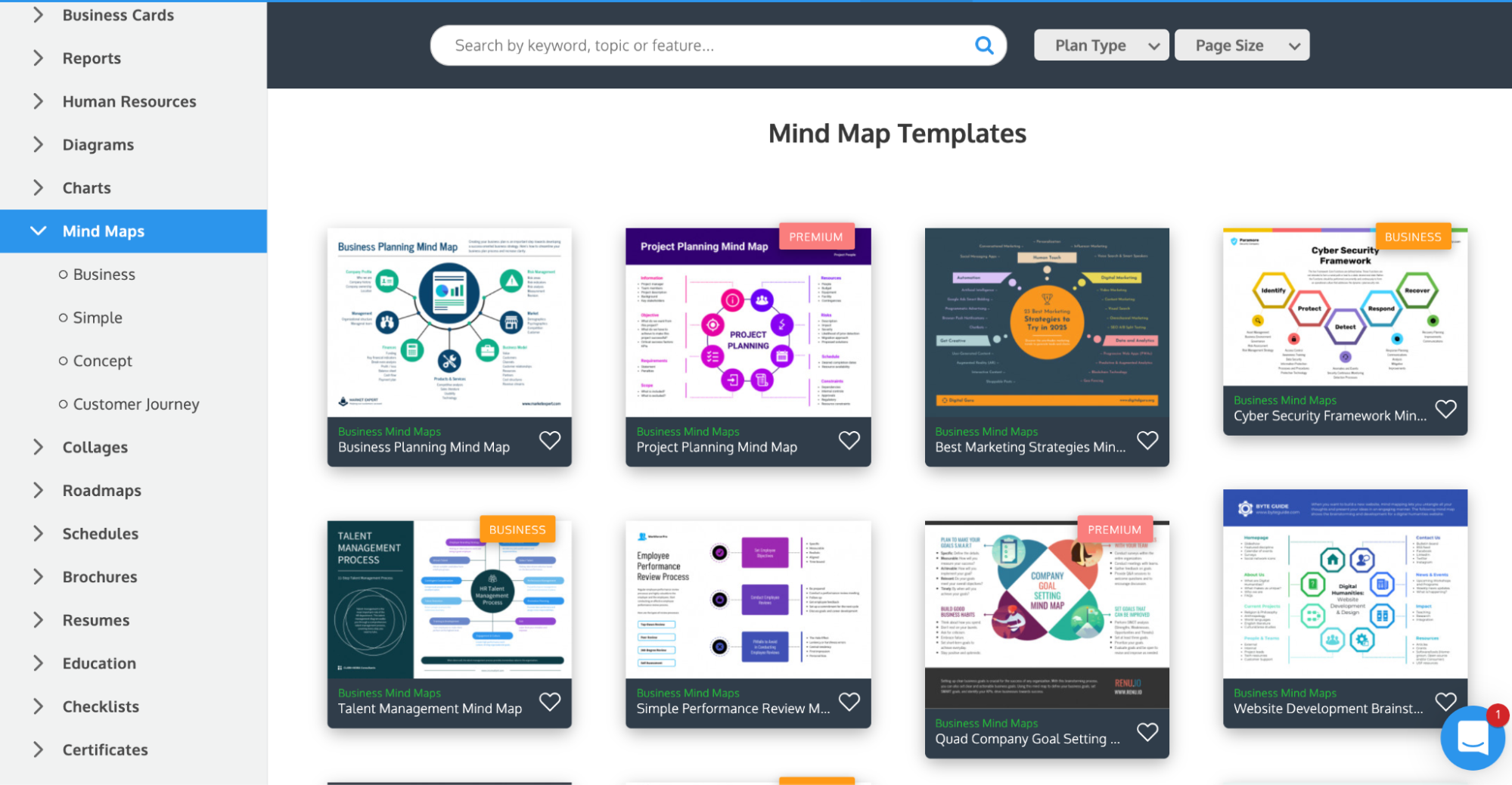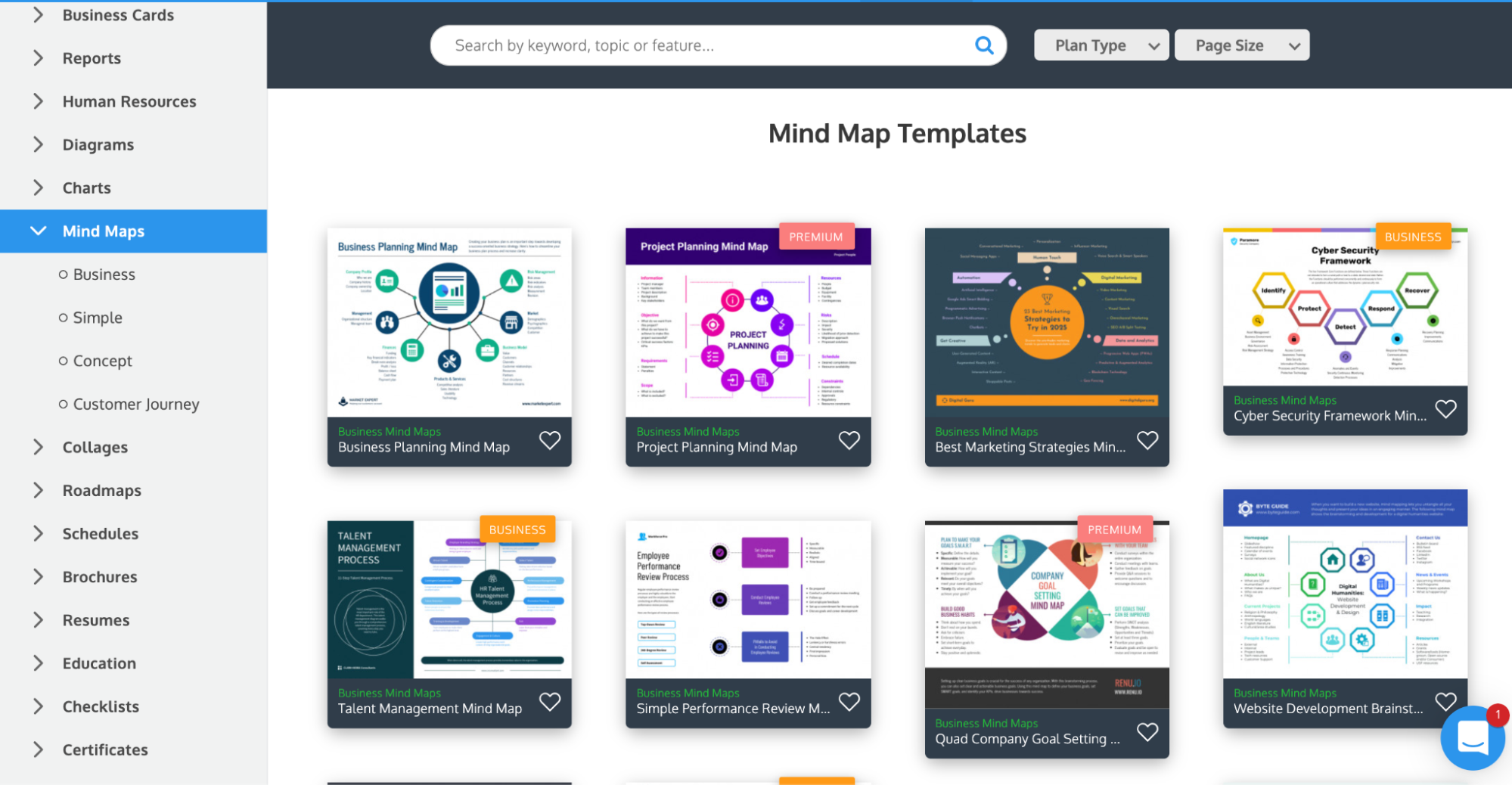 With Venngage's user-friendly interface, even users without prior design knowledge may create engaging material for use in social media, meetings, blogs, and other forums. There are other activities for which templates are accessible, including infographics, reports, posters, promotions, and social media photos.
The Venngage solution delivers engaging visual components to enhance your learning and development program, keeping your company informed about important decisions and practices. Save yourself the frustration of trying to understand design trends and concepts, let alone learn how to use challenging design software.
Main features
Ability to schedule 

Customizable templates

Publish your new infographic

Multitudes of images available

Interactive infographic elements

Different templates for multiple uses

Easy to use with its design friendly model

Multiple tools available for designing purposes
4. Proprofs Project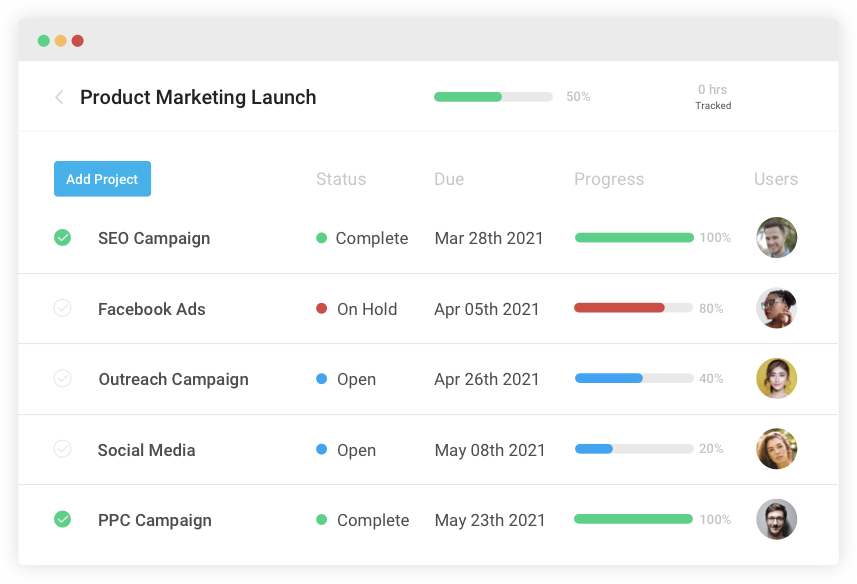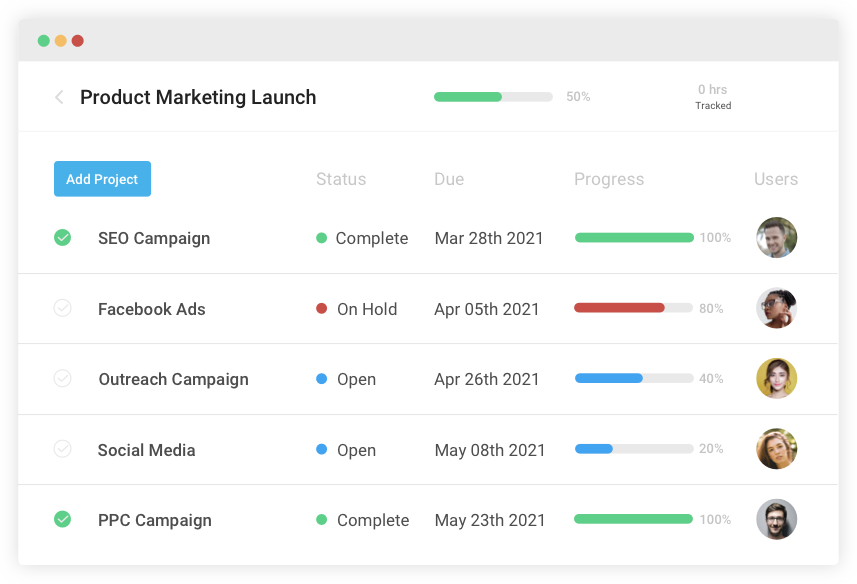 ProProfs Projects is a feature-rich method for organizing the work of distant team members and effectively completing a project is ProProfs Project. It creates an ecosystem where everyone can work together and complete tasks more quickly. To accomplish tasks on time and within budget, one might set a timeline, allocate resources, and construct project schedules. Everyone on the team stays informed about the project's progress, owning to its interactive project views.
With Proprofs Projects, you can also make use of shared calendar to plan, schedule and assign tasks for different projects at hand. All you need is to sync the software with your primary calendar application, such as Outlook, Google Calendar, or iCal. The tool gives you an opportunity to analyze your team members and their performance using a simple dashboard. 
Main features
Task automation

Prioritize projects

Actionable reports

Employee time tracking

Ability to draft Gantt charts

Set due dates for different tasks

Monitor the progress of various tasks

Project views that help visualize project progress 
5. Together Platform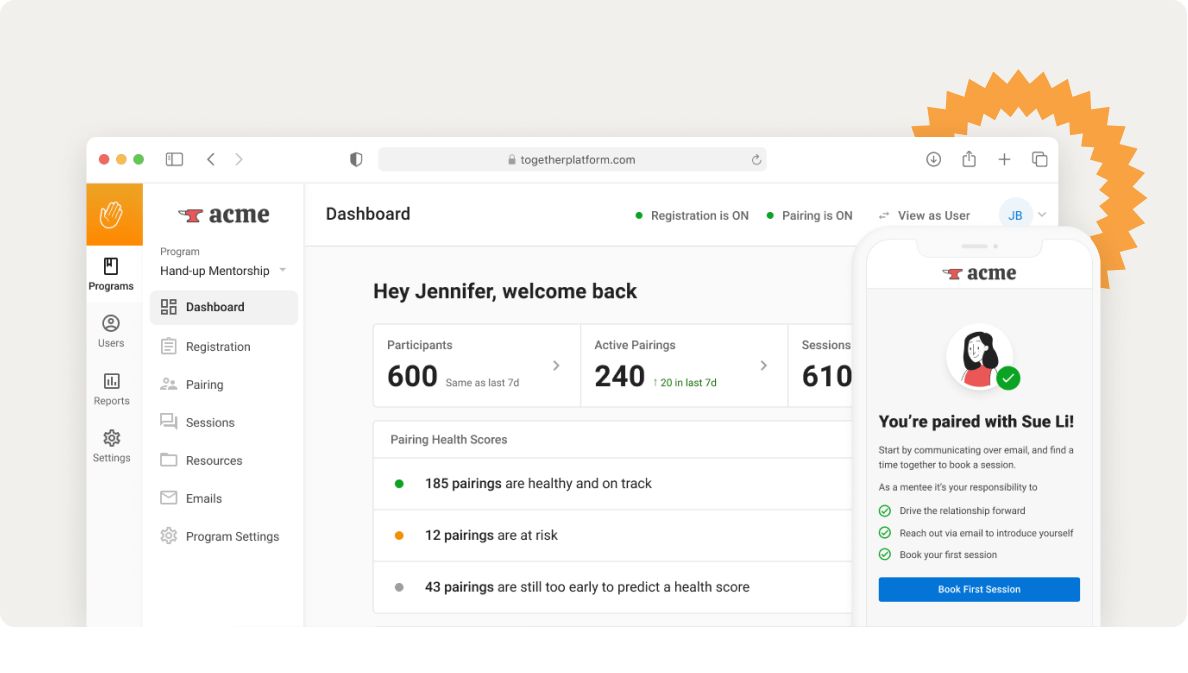 The leading mentorship management platform is offered by Together. The best practice mentorship program can be easily implemented and managed owing to its mentorship platform. It is renowned for being incredibly user-friendly, provides fantastic program customization, and moreover has a top-notch customer support team. It is appropriate for businesses looking for a sophisticated platform to advance their mentorship initiatives.
From registration to reporting, the platform manages the full mentorship lifecycle. It actively supports the mentorship process and motivates both mentors and mentees to embrace great practices, so it is more than just a clever matchmaking algorithm. Additionally, the platform as a whole is supported by extensive research to guarantee that you receive a best-practice mentorship program that increases employee efficiency and retention.
Main features
Built-in LMS

Robust reporting

Activity dashboard

Action item tracking

Career development

Multiple program types

Curriculum management

Powerful customization capabilities
Wrapping up!
Working from home offers many benefits, but it also presents many difficulties. The most significant is productivity. Employees and employers both have issues with job efficiency and the necessity for micromanagement. How then can you maintain high productivity levels while working from home? How can a business that is overseeing several projects at once communicate with its remote teams?
Collaboration tools are a prime solution. You can handle various projects, manage your team and time, along with much more with the aid of the tools indicated above.