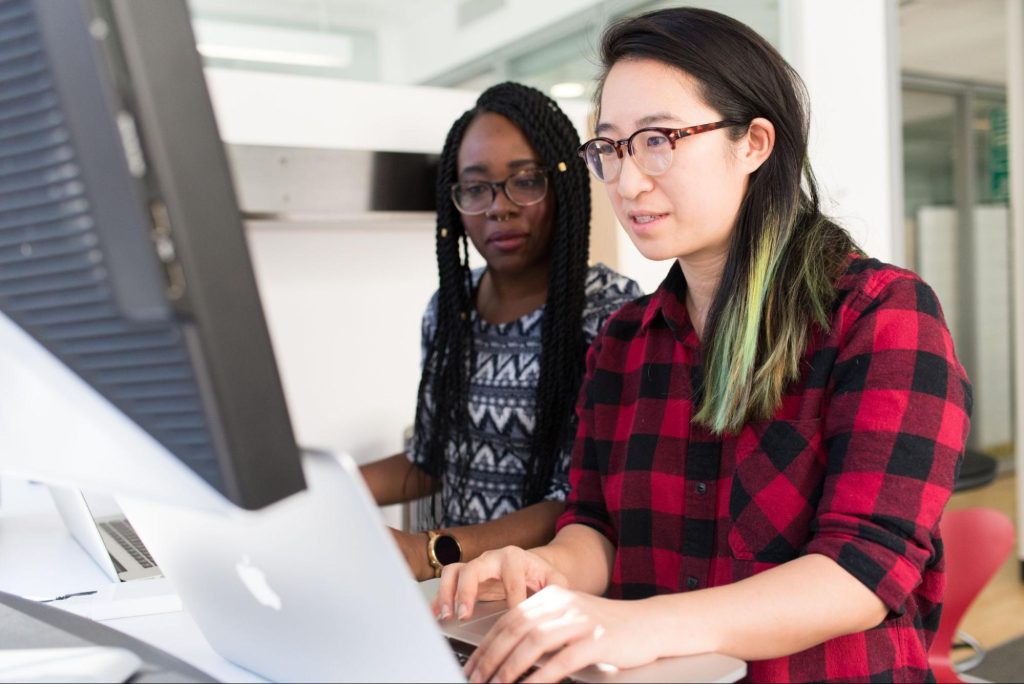 The hiring process can be a massive time and financial investment. 
The HR personnel, managers, and hiring teams involved in bringing on a potential candidate have endless tasks on their plates as they aim to fill roles with top-talent employees. 
If you're in HR, then you're familiar with the job posting stage, the candidate review step, the interviewing stage, and the onboarding phase. Each of these comes with multiple responsibilities and tasks — beyond just setting up meetings, completing forms, and conducting interviews. 
But what if there was a way to streamline the process, save time on redundant tasks, and even automate some of the work? 
Luckily, there is. 
With the right software tools, you can make your hiring process smarter and save time on needless to-dos. Sounds intriguing? Then you'll love today's article. 
Read on to learn more about how companies like yours can make their hiring processes smarter by using software.
Video tools streamline communication and build personal connections 
It's not surprising that video interviews are now a standard component of the hiring process in this age of ubiquitous media. Recruitment processes are becoming more streamlined and interesting for job-seekers and applicants thanks to video technology. 
With video software tools, employers can conduct interviews with candidates regardless of their physical location, which broadens the applicant pool and supports diversity.
For instance, using an AI voice generator to create short videos about your company's vision or candidate requirements can be helpful for both sides to facilitate better communication and a more personal connection.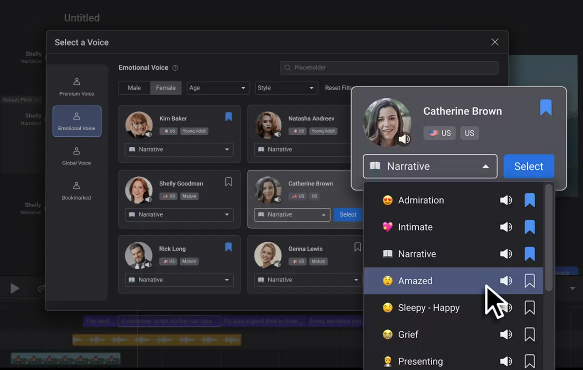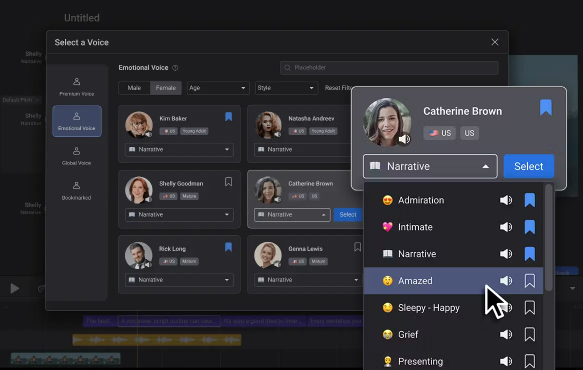 Another effective example would be using an online video platform for businesses to publish training, onboarding, and orientation videos new hires can watch from one central portal. This is extremely helpful in delivering an impactful corporate impression and unified message from the start of onboarding and beyond.
With a business video platform, you can record video communications from within your browser, monitor which employees are watching and how engaged they are, and publish videos without ever leaving the software. You can also protect your internal-only videos with passcodes to prevent them from getting into the wrong hands.
Data tools help inform the hiring process 
After implementing new software, it's important to measure and analyze the results to understand the impact they're having on your recruitment process. This is how you'll identify areas of improvement and determine which changes need to be made to optimize your workflows. 
One way to measure success is to track key performance indicators (KPIs) such as time-to-hire, cost-per-hire, quality of hire, and candidate satisfaction. 
In order to analyze these data metrics, you can use one of the best Notion widgets like Plus or a business intelligence platform to make sure your data is always up to date. By incorporating cutting-edge data software, you can take an agile approach to hiring and make data-driven decisions that optimize your processes. 
If you're not a pro at data interpretation, consider reaching out to someone on your team or hiring a data analyst with HR experience for support. They can help you make sense of the insights before you and recommend how to apply them to get better results. 
Cloud-based tools help streamline the process of hiring international contractors or remote workers 
If you're looking to hire international contractors or remote workers, keep in mind that the candidate search, interview stage, hiring phase, and onboarding process can differ significantly from that of a local worker. 
From mitigating scheduling conflicts due to varying time zones to administering new hire paperwork to facilitating interviews, there are tools that can help streamline all of these procedures for both the recruiter and the applicant.
If you're looking to fill many different roles with international contractors and remote workers, consider using an all-in-one global HR software solution or touchless tools to facilitate the hiring process.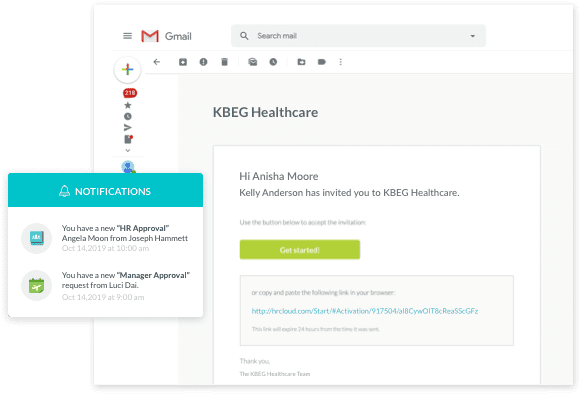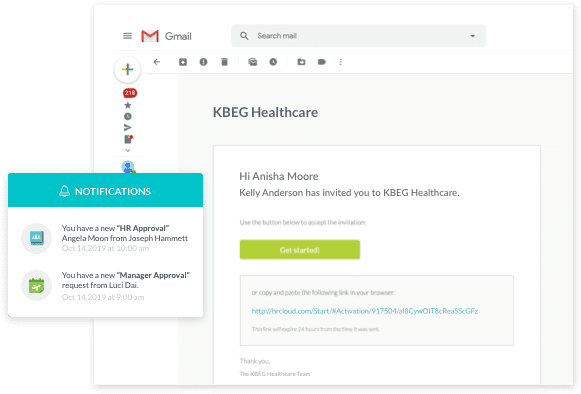 These tools are fast, secure, and offer everything you need to stay in compliance. 
If you're not going on a mass hiring spree, you might not need robust tools like these.
In this case, consider keeping your recruitment process organized with the following:
A productivity tool

e-Signature software

A training portal 

A password management tool
Here's a quick look at each option:
Productivity tool
Use a productivity tool like Trello or Kanbanize to create new hire checklists and organize tasks using Kanban boards. With this visual style, your HR reps can drag tasks over from the "to-do" board to the "doing" board and finally to the "done" board. This is a visually pleasing and simple way to keep track of all of your HR tasks. 
e-Signature software
For e-Signature software, try a tool like DocuSign or PandaDoc. With these options, you can create and manage contracts, request e-Signatures, and notarize your documents in one centralized workflow platform.  
Training portals
As far as training portals go, if you need something that's super simple, try Trainual, a cloud-based learning management system. 
With Trainual, you can automate the training and onboarding process with organized learning modules and new hire checklists in a central location. You can also customize the look and feel of your Trainual profile with your brand's logo and colors.
Password management tools
And finally, for password management, consider using a password vault like LastPass. LastPass acts as a password manager, storing all of your company login credentials in one secure place called a "vault". 
New hires and established employees can use LastPass to grab usernames and passwords in one swift click. By installing the browser extension on their computers, company sites will automatically prompt LastPass to fill in the fields necessary to access any given software tool. 
With a tool like LastPass, your team won't have to worry about remembering passwords or, worse, leaking them by mistake.
Work OS platforms to help create efficient workflows, track work, and automate redundant tasks 
If you're an HR firm or need to organize a massive hiring initiative, you may want to opt for a Work OS that you can completely customize to your business's specific needs.
With a Work OS, you can build your own custom boards and automations to save time on redundant tasks and have an organized system for every stage of the hiring process.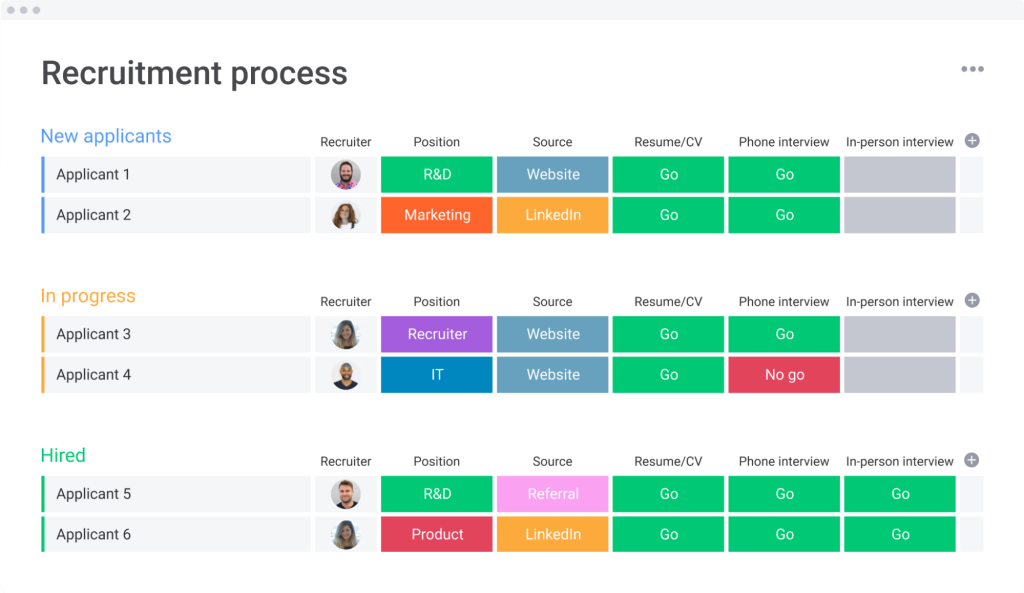 If customization is what you're really looking for, check out monday.com (lowercase "m"), Asana, or ClickUp. These cloud-based software solutions also offer robust Help Center articles you can comb through to learn more about how to build custom boards, workflows, and automations. 
Once you've put in the time to build out your Work OS to your specifications, you can add the appropriate team members and HR personnel to assigned workflows so everyone knows what their key responsibilities are. Here, you can assign checklists and automation recipes that'll auto-complete tasks when they're finished and populate the next to-do for the following team member.
These tools also offer a high-level view so you can spot process bottlenecks, balance workloads, and make sure your entire team stays on track.
AI-driven applicant tracking systems to help organize large hiring sprees 
Need an extra leg up to help you secure the right team members? Consider using an AI applicant tracking system to do the hard labor. 
With an applicant tracking system, you rely on AI to conduct talent matching for you. With this modern technology, AI software can strategically match up candidates with the most suitable roles in nanoseconds. 
If you've been looking to save time finding the right people for your team, this is a tool you don't want to skip out on.
Wrap up 
So long, outdated hiring processes, AI and software are here, and we couldn't be happier. With software tools on your side, there's no limit to the amount of time, money, and resources you can save throughout the hiring and onboarding stages. 
If you're ready to work smarter, set up a meeting with your team and start testing some of the tools we outlined in today's article. By signing up for free trials, you can test drive each software option before choosing to integrate it into your hiring process. 
Make sure to ask for feedback from your HR team, new hires, and potential candidates so you can continue improving your hiring systems over time.