Employers and hiring managers have a lot to keep up with—technological developments, globalization of the workforce, economic changes, and automation of business processes. Over the years, the labor force has undergone massive transformations, and it continues to do so to meet the needs of both employers and employees.
As we look ahead to the future of the labor force, it's important to keep up with the ever-changing trends in employment. Understanding how these trends are shaping today's workforce can help you stay competitive in the years to come.
That being said, we compiled the latest employment trends for you to keep tabs on. These developments will give you a clearer view of your current workforce and what you can expect from future employees.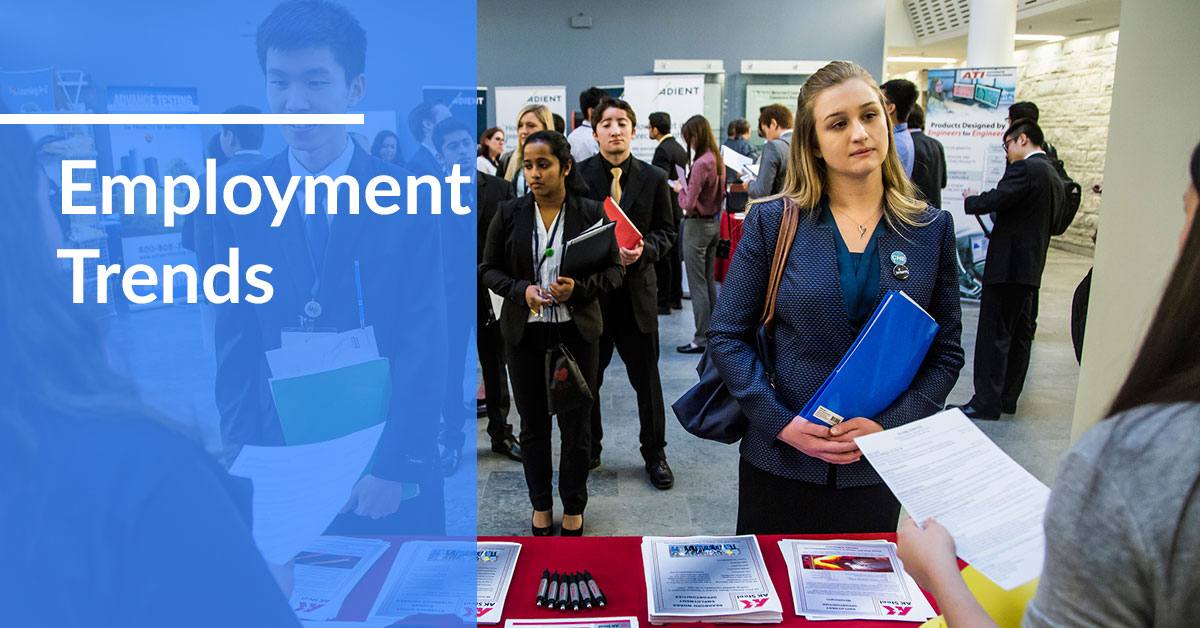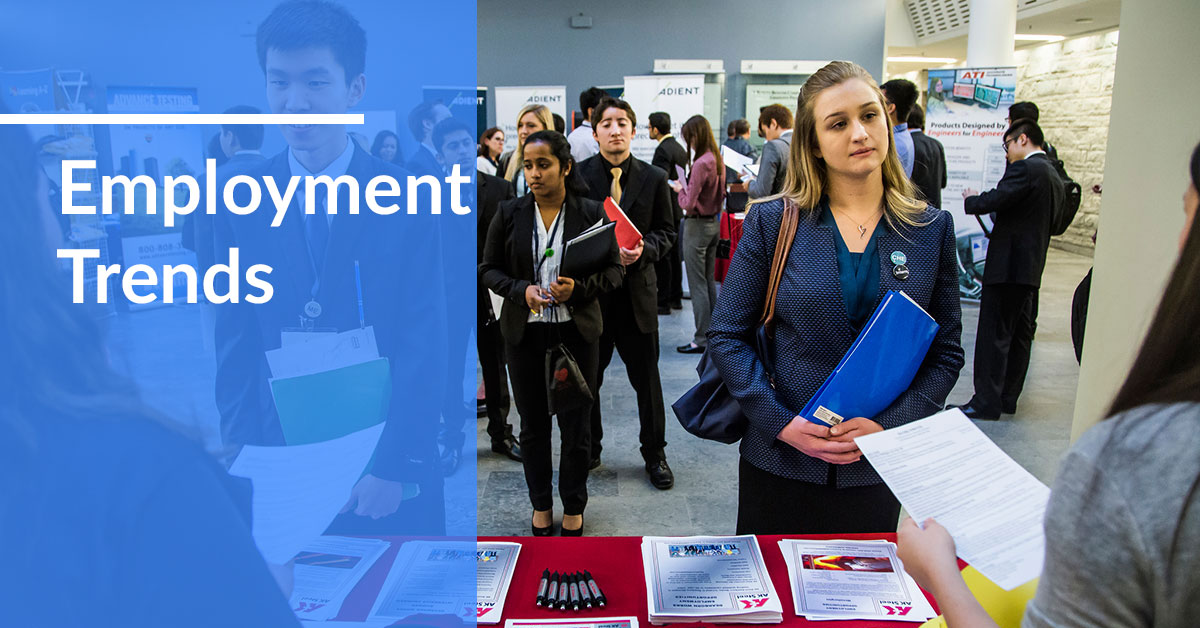 Employment Trends Table of Contents
The year 2020 is all but a good year for the labor market. The economic fallout brought about by the COVID-19 pandemic resulted in an alarming rate of job losses and unemployment. The services sector seems to be the hardest hit—tourism, travel, and entertainment businesses were forced to shut down, leaving millions of employees furloughed or otherwise unemployed.
As made apparent in the latest job report from the Labor Department of the United States, the labor market is suffering a devastating toll caused by the global pandemic. In a span of two months since lockdowns were enforced, the US labor force has already lost 20.5 million jobs. According to the Bureau of Labor Statistics, this is the worst decline the US has seen since the Great Depression.
Amid the coronavirus outbreak, American households reported someone who had either lost his/her job, had been laid off or had to take a cut in pay. In a study by the Pew Research Center, it was revealed that lower-income employees are more likely to experience major job disruptions than middle- and upper-income employees.
As a matter of fact, 39% of lower-income adults lost their jobs due to business lockdowns, while for middle- and upper-income adults, the percentage fell by 26% and 18%, respectively.
Source: Pew Research Center (2020)
Economists all agree that this is the most severe case of unemployment to date. It's reminiscent of the Great Depression when the global economy was in dramatic turmoil, and the unemployment rate peaked at 24.9%.
Since then, however, the labor force managed to bounce back, and it had undergone many transformations to shape the workforce we see today. And as history threatens to repeat itself, the latest employment trends should tell us where the labor force is headed in the future. Below, we compiled the relevant employment trends that you should keep an eye out for.
1. Focus on Soft Skills
In one LinkedIn survey, it was revealed that HR professionals and hiring managers today place more importance on soft skills than hard skills. Nearly 80% of surveyed professionals said that the lack of soft skills is among the qualities of most bad hires.
This only proves that soft skills have become an important factor for a potential candidate to get hired. Creativity, empathy, communication skills, and emotional intelligence have as much, if not more, value for employers when choosing the right candidate for their company.
2. Remote Work
In the past, the idea of working from home was mostly considered as a perk. But today, such work flexibility has become the new norm. Thanks to technological developments in the workplace, it's now possible for employees to take their tasks home and work comfortably in their chosen work hours and office space. The surge in project management software and communication platforms has enabled remote employees to collaborate on projects, regardless of their physical location.
Remote work has also become beneficial to most employers, allowing them to save on costs of office locations. Dell, for instance, reported saving $12 million every year because of its work flexibility program.
3. Diversity in the Workforce
Diversity is a common issue in the workplace, and hiring managers often go out of their way to embrace a diverse workforce. In fact, 78% of businesses believe that a diverse workforce is an asset to their organization.
Nonetheless, there is still plenty of work that needs to be done to improve diversity in terms of sexual orientations, educational backgrounds, cultures, religious and political beliefs, and even disabilities. A recent survey by HarveyNash reveals that there is a need for organizations to improve LGBTQIA+ representation by 14% and ethnicity and culture inclusivity by 41%. More importantly, businesses still need to improve gender diversity by 60%.
Source: HarveyNash (2019)
4. Blind Hiring
Blind hiring is the latest trend in employment that aims o address the issue of bias in most recruitment processes. This is done by removing identification details from resumes and applications, allowing hiring teams to evaluate candidates based solely on an applicant's skills and experience. Some of the well-known methods used in blind hiring include anonymously written aptitude tests, pre-hire tests, and phone call or chatbot interviews.
5. HR Technology
Technological advancements have made a huge impact across various industries. The HR landscape is not an exception. Modern solutions have seeped into HR processes, streamlining workflows and automating tedious, repetitive tasks.
In the coming years, professionals predict that more innovative solutions will emerge to improve the lives of HR employees. Applicant tracking software and remote work tools are only some of the relevant and legacy platforms, making their rounds in the HR space.
In one 2018 study by PricewaterhouseCoopers, 75% of companies revealed to have at least one HR process in the cloud. This signals the growing number of businesses adopting cloud-based solutions to streamline core HR processes.
On a related note, employers reveal in another survey that technology will have the most impact on talent sourcing and screening processes.
6. AI in Recruitment
AI is another employment trend that's increasingly becoming popular. It's taking the world of HR and recruitment by a storm, transforming the screening and candidate evaluation workflows for many businesses. There is also an increased use of AI in benefits management and employee onboarding. Automated candidate sourcing, facial expression analysis, and natural language processing are some of the most intriguing uses of AI in optimizing the recruitment process and making better hires.
7. Pay Transparency
In the past, several reports indicated that a vast majority of workers have no idea how their pay compares to the market rate. This means that a large percentage of the working population incorrectly thinks that they are underpaid.
According to Payscale's survey on pay transparency, 75% of employees who believe they are paid above the market rate are satisfied with their jobs. In comparison, 17% who believe their pay is below the market rate are unsatisfied and are more likely to leave their jobs. This shows that confusion regarding pay matters breeds discontent among workers. Thus, employers are putting in more effort to improve pay transparency.
Since 2014, however, pay transparency increased by more than 136%, which resulted in employees now placing more trust in their employers and their company's efforts to address inequalities, such as gender pay gaps.
8. Predictive Analytics
The use of predictive analytics has yielded good results for companies leveraging this piece of emerging technology. It is now a key driver of the overall hiring process, helping companies stay proactive in assessing and predicting candidate behavior based on actual data.
In Deloitte's Human Capital Trends Report 2018, 85% of surveyed companies recognize the importance of predictive analytics in their HR processes, and 42% said that they are ready to implement analytics in their organization.
9. Corporate Training and Development
Today's market is extremely competitive, and companies are addressing this by establishing a goal-oriented and efficient workforce. This is why there is now a sharper focus on corporate training and employee development, and the last few years saw tremendous changes in employee growth and development techniques.
For instance, personalized training programs are more prevalent, with companies tailoring their development tactics according to each employee's learning needs. As a result, businesses that implemented this approach experienced an increase in employee productivity and had better chances of employee retention. In fact, 87% of Millennial employees consider training and development opportunities important to their jobs.
Millennials and Non-Millennials Placing Importance on Career Growth and Development Opportunities
Source: Gallup
Created by CompareCamp.com
10. Automation
Controversies surround automation as this computer technology threatens to replace the human workforce. Some employees fear that automation will lead to mass unemployment in the future, requiring new policies in the workplace, such as a universal basic income to improve employment and well-being.
However, experts believe that this fear is misplaced, and they remain positive that human jobs will not be lost to automated machines in the future. According to them, automation technology will only emerge as a great way to increase business efficiency. It will continue to enhance the working experience, allowing employees to focus on more productive tasks instead of manual, repetitive labor.
11. Competition in Finding Top Talents
Based on recent studies, the talent shortage is continuously rising as the top risk for many organizations. Current hiring statistics reveal that competition to find the top talents is fiercer than ever. Talent shortage is becoming more common, with about 72.8% of employers finding it difficult to find skilled candidates to fill their job vacancies. This is also highlighted by the ManpowerGroup survey, which revealed that 67% of large enterprises worldwide are suffering from a talent shortage.
Source: Manpower Group (2018)
12. Workplace Culture
For most employees, having a healthy workplace culture influences their decision to stay with their employers. This propagates the idea that workplace culture is a crucial driver of employee retention.
As the workforce continues to evolve, changes in workplace cultures also become more apparent. Thus, cultivating a healthy and well-rounded work culture in every organization is now among the top priorities of many employers. In the coming years, employers are also expected to explore different and better approaches to improving workplace cultures.
13. Alternative Candidates
For so long, closing the skills gap was a constant worry for most employers. Talent shortage and unemployment just don't sound so well together—even though there are millions of unemployed people from all over the world, they may not have the necessary skills to get hired for a certain job position. As a result, extended job vacancies have had major impacts on a company's productivity, employee turnover, and revenue loss.
To address this issue, companies have started to consider hiring alternative candidates since the beginning of 2019.
Alternative candidates are those who are not the ones that hiring managers have in mind, but have an outstanding determination to train and learn the necessary skills needed for the job. As the unemployment rate continues to rise, more people are likely to apply for positions that are out of their expertise. Thus, hiring alternative candidates is a trend that's bound to continue in the future.
Source: Career Builder (2017)
14. The Millenials and Gen Z Workforce
The number of Millenials and Gen Zers in the workforce is a clear indication of how these two generations are gradually taking charge of the labor market. As of 2020, Millenials make up 41% of the global population, and they already account for more than 15% of the global labor force. Some members of Generation Z have begun working as well, making up 5% of the total workforce.
As the newer generations fill the labor force, organizations are geared toward more innovative workplace culture to address multi-generational employee demographics in the workplace.
15. Mobile Job Search
A growing number of job applicants are using mobile devices to search and apply for jobs. For employers prioritizing mobile job search, this means an 11.6% increase in the number of job applications. Interestingly, Gen X comprises 55% of the total applicants using mobile devices for job searches. One Glassdoor research reveals that mid-career workers in the age group 35 to 44 years old are most likely to look and apply for jobs using their mobile phones.
16. Newer Retention Approaches
Retaining top talent is just as challenging as finding them in the first place. According to a study by Tinypulse, 24% of employees who do not get recognized for their work are more likely to look for another job. It's also important to take into account the average cost of losing a top employee, which is more or less equal to 33% of a company's annual income.
This underlines the need for companies to implement an effective strategy for retaining employees, which led to increasing investments in modern employee experience solutions. In fact, 52% of talent professionals and hiring managers reveal that their company offers a positive employee experience as a way to increase employee retention and productivity.
The Future of the Workforce
It does no one good to ignore the major changes disrupting the labor market—there's just no stopping the workforce from getting into a more modernized environment. If anything, being negligent to the needs of the modern workforce will only cause you to lag in the race of finding good hires.
As a hiring manager, it's your top priority to ensure that your employment strategies can help you stay on top of your game. The trends discussed above are clear signs that the competition will only become tighter in the coming years, so it's now more important than ever to pay attention to the latest developments in the workplace and leverage them to your advantage.
As for employers and job seekers, the real benefits lie in modern solutions that support career and professional growth. You can begin by implementing modern platforms in the workplace, such as HR software and various workflow automation tools.
---
References:
Special Report: The Demand for Skilled Talent

15 Employment Trends Shaping The Future Of Jobs

LinkedIn Report: These 4 Ideas Are Shaping the Future of HR and Hiring

Insider Threat: 2018 Report

Most People Still Have No Idea Whether They're Paid Fairly

Millennials Want Jobs to Be Development Opportunities

Solving the Talent Shortage

The Skills Gap is Costing Companies Nearly $1 Million Annually, According to New CareerBuilder Survey

The Rise of Mobile Job Search