It's full steam ahead for the esports industry, which is showing no sign of slowing down anytime soon. Its explosive growth continuously attracts venture capitalists and investors, generating revenue and ensuring the flow of money through a number of avenues.
While esports had its humble beginnings as small-scale video game tournaments, it's now a billion-dollar industry. It continues to present a new wave of engaging content and innovative branding opportunities, and mainstream media is starting to pay attention.
In this article, we'll give you a complete overview of this rapidly-growing phenomenon. Below, you'll find the latest esports statistics to keep in mind while looking where the esports industry is headed in the coming years.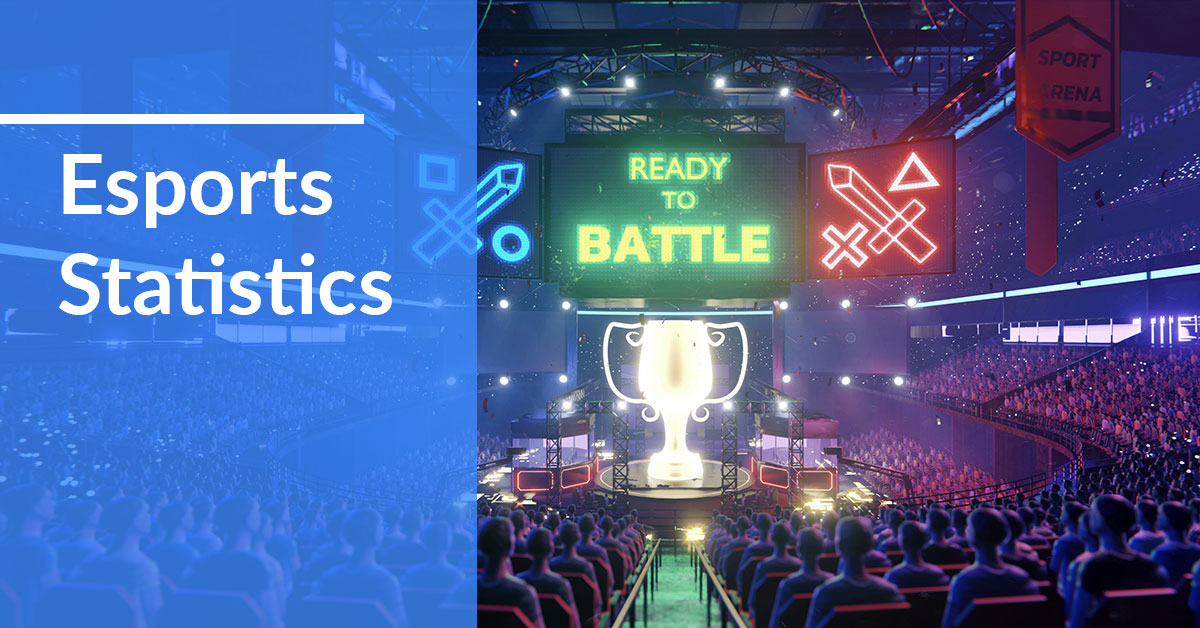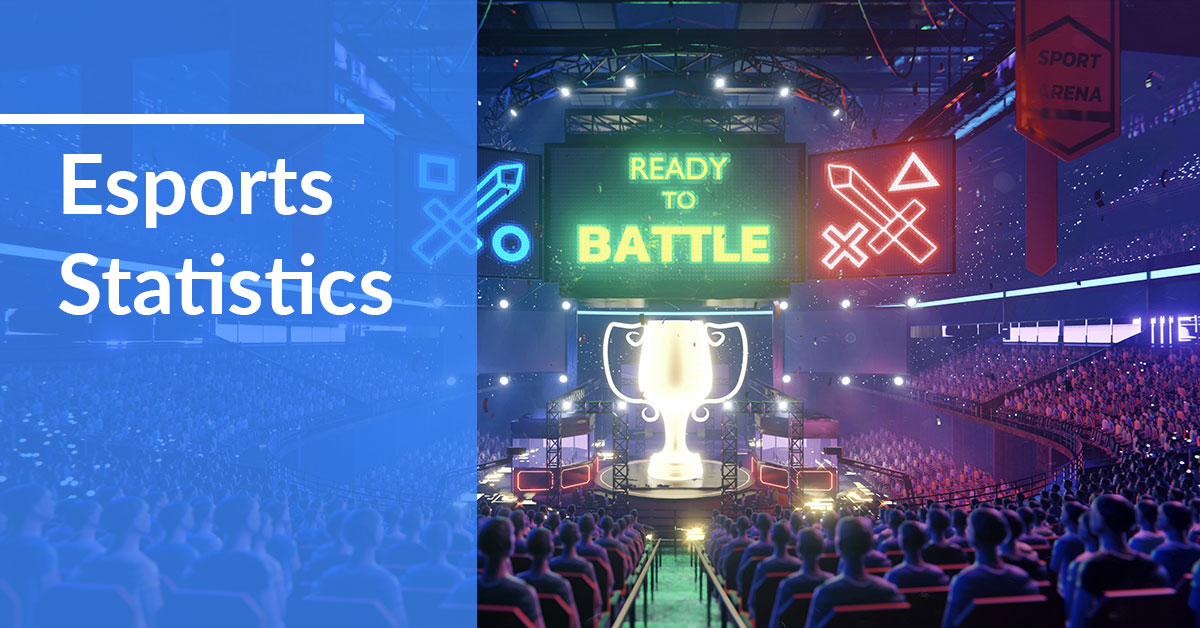 Esports Statistics Table of Contents
The Growth of Esports Industry
Esports has gone beyond gaming events—today, it shares the spotlight with commerce and branding opportunities, powering explosions in investments and revenue. Aside from viewership, sponsorship and advertising have contributed largely to the growing market of esports, with venture capitalists and private equity firms bringing in investments to stratospheric levels.
Pop-culturalization has also played a significant role in the growth of esports. Streaming platforms such as YouTube Gaming and Twitch have allowed esports to hit mainstream media, establishing a more accessible connection between fans and esports organizations from all over the world. These esports brands have aggressively moved into merchandising as well, lending brands more exposure and popularity.
As a result, esports has flourished and kept conquering new heights year after year. Check out these statistics:
From 2018 to 2023, the total esports viewership is predicted to grow at a 9% compound annual growth rate (CAGR).
$1.096 billion – total revenue by the end of 2019
19% – average year on year growth rate for the last six years (2012–2019)
443 million – the average number of users by the end of 2019. This audience size is now larger than that of American Football & Rugby, with 410 million global audiences in the same period. In 2022, it's poised to overtake American Baseball audience too, at 645 million vs. 500 million, respectively.
557 million – the projected average number of users by the end of 2020
From 34% in 2017, the number of investments doubled to 68% in 2018.
838% – the year-over-year growth rate of esports investments
In 2018, investments rose from $490 million in the previous year to $4.5 billion.
In 2020, the revenue of the esports industry is expected to surpass $1 billion.
69% of esports revenue comes from advertising and sponsorships.
The esports industry is worth $900 million.
Esports Revenue Per Country
As esports goes mainstream, it's only natural to expect that the growing revenue comes from different parts of the world, with each country varying in their contributions in terms of revenue and viewership. Asia-Pacific (APAC), North America, and Europe are the top three regions leading the esports market.
57% of the total global esports viewership came from APAC.
North America's esports revenue is expected to reach $300 million in 2020.
Forecasts reveal that Europe's esports revenue in 2020 will reach $138 million.
Latin America is the fastest-rising esports market, with its revenue hitting $18 million in 2018 and possibly reaching $43 million by the end of 2023.
Top 10 Countries Based on Game Revenue
In terms of game revenue, China emerges as the top esports market. The following countries are ranked based on their 2019 revenue estimates.
China – $36.5 million
USA – $35.5 million
Japan – $18.6 million
Republic of Korea – $6.1 million
Germany – $5.7 million
United Kingdom – $5.3 million
France – $3.8 million
Canada – $2.9 million
Spain – $2.6 million
Italy – $2.5 million
Advertising and Branding Opportunities in Esports
The explosive growth of esports has caught the eye of big-spending advertisers and marketers. Brands such as Coca-Cola, Gillette, Arby's, and Audi have stepped into the esports landscape, hoping to reach the gaming audience who were originally elusive to traditional advertising approaches. And for these brands, the effort is well worth it—various studies have proven that gamers tend to show loyalty to brands that capture their attention.
The esports market continues to propel forward because of the many advertising and branding opportunities it presents. A growing number of advertisers are taking advantage of the receptive gaming audience, which has now led to fiercer competition among brands and advertising companies.
43% of the esports audience is appreciative of brands that reach out to them.
By the end of 2020, sponsorship will reach $655 million.
Ad spending will rise to $224 million in 2020.
Esports ad revenue will grow over from $178 million in 2019 to $214 million in 2020.
In the past five years, the number of athletes courted for marketing partnerships of sponsorship tripled from 8,000 to 25,000.
7 in 10 esports fans aged 13 to 40 years old prefer promotions of gaming-related brands.
40% of esports revenue comes from sponsorships.
In the US, 81% of esports audiences prefer gaming-related brands, while 29% prefer non-endemic brands.
Brands are expected to spend $325 million on sports.
Esports Revenue Streams
Sponsorship – 40%
Advertising – 19%
Media rights 18%
Game publisher fees – 13%
Merchandise and tickets – 11%
Source: Influencer Marketing Hub (2019)
The Esports Audience
Back in the 1970s, esports started as informal competitions held at video game arcades. The first significant breakthrough for esports happened in 1980 when 10,000 participants attended Atari's National Space Invader's Championship. However, one of the first esports broadcasting events was in South Korea, when cable networks began to broadcast Starcraft tournaments in the year 2000.
Since then, esports viewership has been rapidly growing. From 134 million in 2012, it climbed to 395 million in 2018, proving that esports is at its tipping point. As the public warms up to esports as a mainstream form of entertainment, the number of people watching video game tournaments from different age groups is set to surge in the next few years.
Among internet users, 15% are esports fans.
Among esports fans, 1 in 3 are aged 20–25.
1 billion people from all over the world watch video game tournaments.
60% of the total esports audience in the world come from the age group 16 to 24 years old.
22% of Internet users say that they have watched a video game tournament.
32% of Internet users in the age group 16 to 24 years old say that they watch esports.
31% of Internet users aged 16 to 24 years old say that they prefer watching conventional sports to watching esports.
The number of people who watch esports is 10 times bigger than the 2019 Super Bowl audience.
More than 300 million people in China alone watch esports.
In North America and Europe, only 10% of Internet users watch esports.
3 in every 10 Internet users watch video game live streams.
The global audience for video game live streams is close to 1.25 million people.
1 in every 6 adults watches video game tournaments.
By 2022, esports viewers are expected to grow to 644 million.
Growth in total esports viewership is poised to increase over 63% in the next four years.
Esports Audience By Age
3% – 55 to 64 years old
6% – 45 to 54 years old
19% – 35 to 44 years old
38% – 16 to 24 years old
35% – 25 to 34 years old
Esports Audience By Gender
Esports Audience by Income Level
5% prefer not to say
22% belong to the bottom 25%
27% are from the top 25%
46% belong to the middle 50%
Top 10 Esports Engagement by Country
40% – Philippines
39% – China
37% – Malaysia
35% – Singapore
35% – Vietnam
34% – Poland
32% – Thailand
32% – Sweden
32% – Turkey
31% – South Korea
Source: Global Web Index 2018
Top Platforms for Esports
To this day, there are thousands of esports tournaments being broadcasted daily. Thanks to various esports platforms worldwide, fans and spectators alike can easily take their gaming experience up a notch. Aside from being a live streaming tool, esports platforms also serve as a place where participants, tournament organizers, and fans can battle out for prizes and real cash.
Major Esports Streaming Platforms
Streaming platforms have become essential to live engagement, especially in the esports landscape. Gaming trends reveal that Twitch, YouTube, and Facebook Gaming are the top esports streaming platforms. Today, they all play a significant role in the transformation of esports as a mainstream form of entertainment.
73% – Twitch
21% – YouTube
3% – Facebook gaming
3% – Mixer
Twitch
Twitch leads the esports streaming race, garnering 1.13 million active streamers per quarter.
In 2019, Twitch has reached 1.28 million concurrent viewers.
There are 51,000 people currently subscribed to the top Twitch streamer.
Twitch had 56,700 average concurrent live channels in 2019.
81.5% of the total Twitch audience is comprised of males.
About 55% of Twitch users belong to the age group 18 to 34 years old.
The average Twitch user spends 95 minutes per day watching a live video game tournament.
21.32% of Twitch users come from the United States.
YouTube
YouTube is host to 432,000 active esports steamers every quarter.
During the second quarter of 2019, esports audience streamed a total of 736 million hours on YouTube Gaming.
The daily average number of gaming streamers on YouTube is 4,505.
YouTube has reached a total of 460,000 hours of gaming content.
Mobile users prefer to stream gaming tournaments on YouTube, as proven when Garena Free Fire was streamed by 1,200 YouTubers that pales in comparison to the 26 users who streamed on Twitch.
Facebook Gaming
In 2019, Facebook Gaming experienced a 210% growth in terms of monthly viewership.
On average, the number of hours that streamers spent on Facebook Gaming rose to 63% in 2018.
Facebook's year-over-year market share is 9%.
By the end of 2019, Facebook Gaming experienced a 6% increase in streamers.
Esport Platforms Growth Rate (YoY)
20% – Twitch
16% – YouTube Gaming
210% – Facebook Gaming
149% – Mixer
Most Popular Games on Twitch Based on Hours Watched, 2019
League of Legends – 990,286,084
Fortnite – 884,923,121
Just Chatting – 651,482,796
Grand Theft Auto V – 523,263,689
Dota 2 – 458,993,535
Counter-Strike: Global Offensive – 397,730,313
World of Warcraft – 372,471,119
Apex Legends – 294,463,401
Overwatch – 247,522,205
Hearthstone – 217,592,241 (Total top 10: 5,038,728,503)
Source: StreamElements, 2019
Esports Earnings
One look at Steam statistics reveals that the number of gamers worldwide is continuously rising. The adage, however, that video games ruin lives has been long disproved by these pro gamers and esports stars. Today, players, fans, and spectators are all earning from minuscule cash amounts to millions of dollars year after year.
The growth in esports viewership came hand in hand with a massive increase in cash prizes. Since 1998, prize winnings have reached stratospheric levels, providing players with a massive paycheck and allowing them to become one of the wealthiest sports stars in the world.
Esports tournament prize winnings have surged to $151,097,817 since 1998.
The highest-earning esports player is Kuro Takhasomi, who has earned over $4,000,000.
The total yearly player winning was expected to go over $195,000,000 in 2019.
In 2018, the yearly increase in esports earnings rose to $151,229,517.
The average tournament prize pool increased to $44,427 in 2018.
The Future of Esports
The esports industry is growing at an impressive rate year after year. Thanks mainly to its popularization, esports has flourished into one of the fastest-rising industries today.
Once a mere subset of sports culture, esports has managed to break free from its vibrant niche and has grown into an industry in its own right. Take for example how Fortnite alone garnered over 67.7 million hours of viewership on Twitch, making it one of the most played video games taking charge in the growth of esports. You can also check out these Fortnite statistics to better understand its impact on the esports industry.
And even as the ongoing convergence of esports has been trending upward, there's still significant room for growth beyond it. It has now managed to hit the mainstream, and as a result, more gamers are looking into it to earn an enormous amount of cash. Brands have recognized the potential of the esports market and are now taking advantage of the fans' buying power. Likewise, sponsors and investors are more encouraged to inject real money into the unique esports ecosystem.
At the rate esports is growing, it's more than likely to soon surpass traditional sports in terms of viewership and revenue. These Minecraft statistics also show how video games are impacting society, outgrowing their niche, and crossing over to strengthen the esports industry.
References:
State of the Stream 2019: Platform Wars, the New King of Streaming, Most Watched Game and More!

Top 10 Countries by Game Revenue

Esports Statistics

Esports Market

Newzoo: Global esports will top $1 billion in 2020, with China as the top market

Esports Market by Revenue Streams

Esports Ecosystem Report 2020: The key industry players and trends growing the esports market which is on track to surpass $1.5B by 2023

The Incredible Growth of eSports

Esports outlook 2020: What brands need to become winning players

U.S. esports advertising revenue to top $200 million by 2020: report

Behind the Rise of Esports

Esports Viewership vs Sports

Esports: A Global Picture of Fan Behaviors